Hello everyone, and welcome to PT Pioneer.
Today we're going to be looking at yet another state in my state-by-state series.
This series is designed to provide insight into how each state fares for opportunities in the fitness industry.
I've used a blend of raw data, anecdotal accounts, and my own expertise to bring you this knowledge.
Hopefully, you'll be able to form your own decisions and strategies on where to work as a CPT, while helping people achieve their fitness goals.
In the spirit of keeping things simple, I'll only be looking at the top three cities in each state by population size.
In this article, I'm going to be looking at how to become a personal trainer in Oklahoma. That means I'll be looking at personal trainer jobs in Oklahoma City, Tulsa, and Norman.
I'm also going to give you a low-down on personal trainer certification in Oklahoma City and other areas.
With that said, let's jump right into it.
Make sure to check out the general guide on how to become a personal trainer.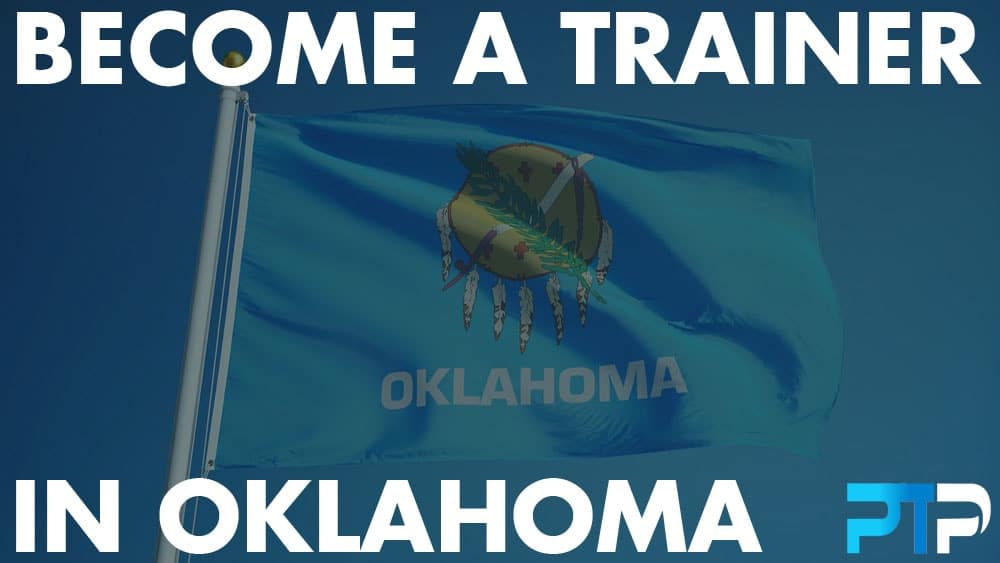 Post 36 of 50 in the PT By State Series
State Fitness Rating
Before we look at personal trainer certification in Norman and other cities, we're going to begin with the state fitness rating.
This ranking is based on several key metrics that give us an idea of how healthy a state's population is.
A population's health correlates reliably with how active and engaged the population is with the fitness industry.
That means the healthier the residents of a state are, the more business opportunities you'll have as a personal fitness trainer.
For this, we will be looking at two categories. Those are:
Obesity prevalence
Top gyms per capita
The obesity prevalence shows us how conscious and active the population is when it comes to healthy lifestyle choices.
Chief amongst these choices is the decision to exercise and maintain their wellness, which is where an OKC personal trainer comes in.
Oklahoma has an obesity prevalence of 32.8%. This high rate of obesity gives Oklahoma 43rd place out of all states.
Such a low ranking indicates a low market interest in fitness as compared to most other states.
Now, let me show you the top gyms per capita category.
This statistic shows us how much access the general public has to commercial gyms.
Top gyms or commercial gyms include the following:
Gold's Gym
24 Hour Fitness
Anytime Fitness
Crunch Fitness
LA Fitness
Orange Theory Fitness
Planet Fitness
Snap Fitness
YMCA
These are used as a reliable reference because they signify the most affordable and accessible exercise facilities for most people.
Oklahoma has 179 top gyms, so with a population of 3,923,516, the state has a gyms per capita ratio of 4.56, putting it in 43rd place.
Exclusive PTP Offers



Gold Standard Cert

Most Popular Cert

A Good Option

Best Study Materials

Best online PT course

The Top PT Software

This low ranking not only means locals have limited access to fitness facilities; it also means Oklahoma city personal trainers will have limited access to potential job opportunities.
Overall, Oklahoma comes 47th in terms of state fitness rating, making it one of America's most unfit states.
Personal trainers in OKC have to put in more effort to convince the populace on the importance of weight loss training programs.
Fitness Market Makeup
With a high obesity prevalence and limited access to gyms, the Oklahoma fitness market is small, to begin with.
And within such a small market, you can expect clients within the sedentary and overweight categories.
These types of clients require assistance with the fundamentals of health and fitness, so you won't find much work in other specialist categories.
Often I've found that clients in this category also have a preference for group training options.
You'll also do well to sharpen your nutritional and group fitness knowledge since this will count towards better results.
Personal Trainer Certifications in Oklahoma
Personal trainer certification in Norman and other cities is needed to get a job as a personal trainer in Oklahoma.
I have written an article on my best personal trainer certifications. Use this as a guide on how to become a certified personal trainer in Oklahoma.
Overall here are my top 2 best personal trainer certificates in Oklahoma. Ensure you have all or any of them when you decide to become a personal trainer in Norman and other areas.
Personal training schools in Oklahoma
Besides getting a personal trainer certification in Tulsa and other areas, obtaining a higher qualification can tremendously boost your career prospects.
Acquiring a college or university degree has been shown to put trainers in line for bigger and better opportunities.
Firstly, you're viewed as having more authority and useful knowledge when carrying an associate or bachelor's degree. This allows you to have a better preference when applying for fitness jobs OKC.
It also opens you up to positions and opportunities that regular certified personal trainers Oklahoma city wouldn't have access to.
Lastly, you can leverage your degree for higher rates and salaries due to the value proposition it offers.
There are quite a few exercise science schools in Oklahoma you can choose from. Let's have a look:
With all these options for kinesiology schools in Oklahoma, you will definitely find something for yourself.
Having said that, it's very important to weigh out the pros and cons when thinking about a degree for personal trainers OKC.
Enrolling in a degree program is a huge financial investment, and it also takes a lot of time. Be sure it's the right choice for you and your aspirations.
Personal Trainer Jobs in Oklahoma
With only 179 top gyms in the state, this isn't the most opportune place for personal trainer jobs OKC.
However, if you do become a personal trainer in Tulsa or any other city, working in a gym certainly has its perks.
For instance, you will be exposed to a large influx of fitness consumers with whom you can build your status in preparation for the launch of your independent business.
There will also be that initial safety net of fixed income and benefits, which is great at the beginning as Tulsa personal trainers.
Having said that, real success in fitness comes from carving out your own niche in the industry.
One of the best ways to do this is to develop an online fitness business model.
Best Cities to Be a Personal Trainer in Oklahoma
When thinking of personal trainer jobs in Tulsa, or anywhere else for that matter, remember to consider access to client prospects.
What I mean by that is target the most significant population centers.
As a general rule of thumb, populations of 100k residents or higher are your best bet.
| | |
| --- | --- |
| City In Oklahoma | Population |
| Oklahoma City | 643,692 |
| Tulsa | 402,324 |
| Norman | 122,837 |
| Broken Arrow | 108,496 |
| Lawton | 94,017 |
| Edmond | 92,009 |
| Moore | 60,943 |
Oklahoma City should be your first choice; barring that, Tulsa also has excellent odds.
Personal trainers in Tulsa Ok are definitely at the top of their game.
Personal trainer jobs in Norman and Broken Arrow also fare well if you have limited options.
Exclusive PTP Offers



Gold Standard Cert

Most Popular Cert

A Good Option

Best Study Materials

Best online PT course

The Top PT Software

Personal Trainer Salary in Oklahoma
Before becoming a personal trainer in Tulsa, Oklahoma City, or Norman, an important thing to consider is how much you can expect to earn.
According to salary.com, the average annual income for trainers in Oklahoma is $56,546 per year. This is significantly lower than the national average of $61,802.
With that in mind, we need to look at affordability and the cost of living in the state to determine the value of the average income truly.
Make sure to check out the full guide on personal trainer salary.
Quality of Life Rating
Oklahoma often finds itself at the bottom of state rankings when it comes to the quality of life. The state battles with crime, inadequate health care, education, and infrastructure.
Despite this, Oklahoma does have a favorable cost of living, which sits well below the national average.
This makes the below-average income somewhat reasonable.
With all that said, I give Oklahoma a 5 out of 10 quality of life rating.
Methodology
After in-depth research, I was able to come up with this detailed review based on the following points:
The population of the state and its major cities.
The obesity figures as compared with other states.
Personal trainer certifications that are available in Oklahoma
Availability of personal training schools & colleges.
Career prospects for personal trainers.
Earning potential for certified PTs.
Quality of Life (QoL).
Final Words on How to Become a Personal Trainer in Oklahoma
Oklahoma is not the best option when it comes to maximizing your career potential as a PT based on your location.
I would suggest situating yourself in a different state. However, if you don't have that option, your best bet is to become a personal trainer in Oklahoma City.
Also you won't regret being a "personal trainer Norman Ok" or "personal trainer Tulsa OK".
You can still forge a good career with the right timing and strategy in place, which is exactly what PT Pioneer is here to help you with.
Information gathered from the Bureau of Labor Statistics and the US Census shows that there is a huge demand for "personal trainers Tulsa", "personal trainers OKC", "personal trainers Norman OK".
FAQs on How to Become a Personal Trainer in Oklahoma
References
https://www.exercise.com/learn/ten-fittest-states-in-the-us/
https://www.americankinesiology.org/SubPages/Pages/Kinesiology%20Institution%20Database