Hey Everyone, and welcome back to PT Pioneer.
This article is going to help you learn more about the intricacies of how location affects your career prospects in fitness.
As part of a state-by-state series, this, along with 50 other articles, will be looking at data and anecdotal evidence concerning the fitness industry in each state and what that means for you working there.
This time around, I'm heading to Ohio so we can gain a better picture of what work and life are like there for a PT such as yourself.
For the sake of simplicity, we'll only be looking at the three major cities in the state based on population size.
That means looking at Personal trainer jobs in Columbus, Cleveland, and Cincinnati.
I'll also go over qualifications and credentials options for personal trainer certification in Cincinnati and the other 2 major cities.
This will help us paint a more realistic picture based on the ideal opportunities that exist.
So with that said, let get right into it.
Make sure to check out the general guide on how to become a personal trainer.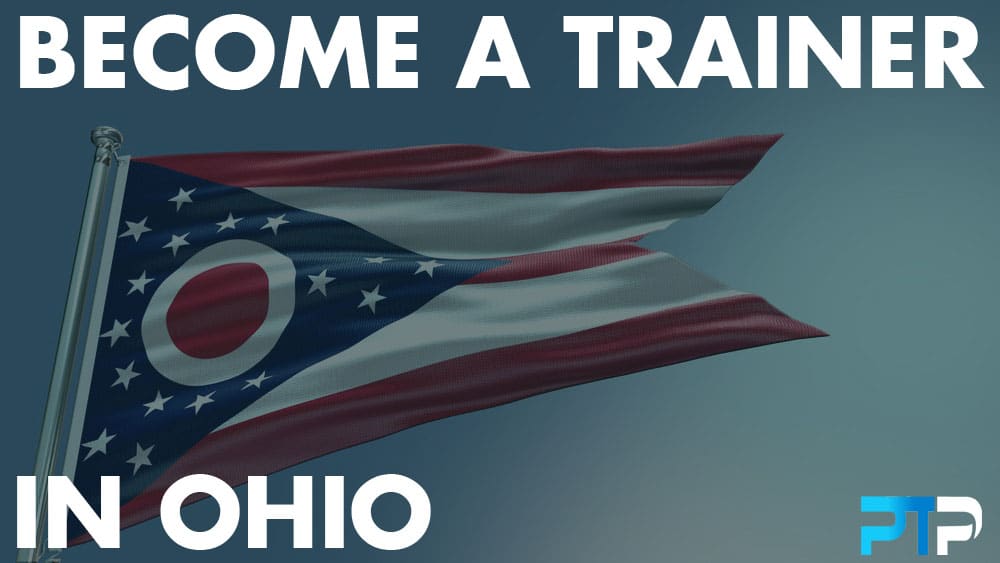 Post 35 of 50 in the PT By State Series
State Fitness Rating
Before delving into personal trainer certification in Columbus and other cities, we need to check the local fitness industry's viability.
The state fitness rating is a measurement based on how Ohio ranks against 49 states and one district (DC).
This is a measure of the population's health, which indirectly impacts your career, as you'll soon learn.
The data I'm using was taken from exercise.com, which has done a great job of compiling a list of states based on fitness.
Personal fitness goals may differ from individual to individual, but the overall fitness level of a state can be estimated using certain stats.
Several stats and factors have gone into these rankings, but we'll only be dealing with two in this article.
Those are the obesity prevalence and gyms per capita.
These give us a fair idea of market activity as it pertains to how viably you can operate as a PT in that state.
When it comes to obesity, having a high prevalence population means there is a relatively low engagement with healthy lifestyle habits, which would normally lead to spending within the fitness industry.
Ohio does have somewhat of a high obesity prevalence sitting at 31,5%.
This gives them a state ranking of 33, which isn't very ideal, showing a low market engagement with the same services you aim to provide.
This can also be good for a fitness trainer whose aim is to start a personal training business or get a job at a health club.
Next, we have the top gyms per capita category.
This shows us how much access the general population has to large commercial gyms.
These gyms are a good yardstick because they are the most accessible, easy to use, and affordable fitness facility options around.
They include brands such as:
Gold's Gym
24 Hour Fitness
Anytime Fitness
Crunch Fitness
LA Fitness
Orange OrangeTheory Fitness
Planet Fitness
Snap Fitness
YMCA
Ohio has 598 of these gyms.
With a population of 11,614,373, the state has a gym per capita ratio of 5.15, giving it a low rank of 34th place in terms of public access.
This, however, doesn't mean bad news for you.
Exclusive PTP Offers



Gold Standard Cert

Most Popular Cert

A Good Option

Best Study Materials

Best online PT course

The Top PT Software

598 is a lot of gyms, and thus a lot of opportunities if you manage to position yourself in the right city with the right credentials.
Overall, Ohio is ranked 39th out of 51 in terms of state fitness rankings, placing it well on the scale's low end.
Fitness Market Makeup
With a high obesity prevalence and large urban centers, the majority of your clients and client prospects will be somewhat sedentary and overweight, simply looking to improve baseline health indicators.
After obtaining your personal trainer certification in Cleveland, your knowledge of nutrition will be a key factor in helping you stand out and deliver service that will bring results.
This will help your clients while growing your reputation.
Such a fitness market will also likely be adoptive of group training, so brush up on your crowd control skills to tap into that market segment.
Personal Trainer Certifications in Ohio
Personal trainer certification in Cincinnati and other cities is needed to get a job as a personal trainer in Ohio.
I have written an article on my best personal trainer certifications.
Use this as a guide on how to become a certified personal trainer in Ohio.
Overall here are my top 2 best personal trainer certificates in Ohio.
Ensure all of them when you decide to become a personal trainer in Cincinnati and other areas.
Personal training schools in Ohio
Personal training certification, Ohio can be obtained in one of two ways.
First, by obtaining a personal trainer degree or by enrolling in one of the exercise programs offered by NCCA or DEAC-approved agencies.
Accredited certification is a great way to start things off.
In fact, I strongly advise it and would suggest you do that before jumping in.
But besides certification, there are other options for credentials.
Though not physical trainer requirements, a university or college degree can help you make massive strides as a fitness professional.
That's because having a degree under your belt can allow you to bargain for preference, higher positions, and better income.
You're seen as something of an authority figure, especially with a master's or doctoral degree.
There is no shortage of kinesiology schools in Ohio.
Take your pick:
With all the benefits of a degree, there are a few drawbacks.
Enrolling in a degree program is a significant financial and time investment, one you should pay close attention to in terms of outcomes.
With all the exercise science schools in Ohio, you'll certainly find one that fits, just make sure getting a degree is worth it for you.
Remember, how much a personal trainer makes is determined by a combination of experience, certification, and whether or not there's a university degree too.
Personal Trainer Jobs in Ohio
Ohio may not have the fittest population in America, but it has almost 600 commercial gyms, which means at least many potential job openings.
Working the field as an employed trainer may not be that glamorous when it comes to income, but it's very useful when you're just starting.
Having a fixed, guaranteed income and benefits at the start of your career is a huge safety net while you hone your skills in health promotion and build your reputation with clients.
Beyond this, as an independent trainer, you will be able to charge your own rates and set your own schedule.
Remember to include online training as part of your business model.
Economies and the way we transact are shifting to an online landscape more and more, with online fitness being one of the fastest-growing sectors in the industry.
Best Cities to Be a Personal Trainer in Ohio
The biggest city is always the best when it comes to finding opportunities as a PT.
I find that cities with populations over 100k often present the best potential.
Fortunately, 6 of Ohio's top cities check this box.
| | |
| --- | --- |
| City In Ohio | Population |
| Columbus | 878,553 |
| Cleveland | 385,282 |
| Cincinnati | 301,394 |
| Toledo | 276,614 |
| Akron | 198,051 |
| Dayton | 140,569 |
| Parma | 79,091 |
Personal trainer jobs in Columbus should be your first bet, with a population of over 800k!
If you become a personal trainer in Cleveland and Cincinnati together, you won't even make up the numbers of a Columbus personal trainer, although they both do have sizable populations to work with.
Personal trainer jobs in Cleveland and Cincinnati are therefore viable to a lesser but satisfactory extent.
Personal Trainer Salary in Ohio
When deciding to become a personal trainer in Cincinnati, one must consider their earning potential.
The average personal trainer salary in Ohio is $58,125 per year.
Exclusive PTP Offers



Gold Standard Cert

Most Popular Cert

A Good Option

Best Study Materials

Best online PT course

The Top PT Software

This is much lower than the national average of $61,802.
This immediately looks like a major drawback.
However, income statistics in a location are largely influenced by the cost of living, one of the key quality of life measures.
A personal trainer with a bachelor's degree salary is much higher than a personal trainer's pay without a degree.
Make sure to check out the full guide on personal trainer salary.
Quality of Life Rating
Right off the bat, Ohio has a cost of living below the national average.
As mentioned, the cost of living is the real determining factor behind income value.
That means your average expected income as a PT in the state is not bad at all.
Not bad, considering Ohio is the second most affordable state in America, according to usanews.com.
Besides that, Ohio ranks high when it comes to housing, business freedom, and healthcare.
Overall, 'll give Ohio a 7.5 out of 10 quality of life rating.
Methodology
After extensive research, I was able to come up with this comprehensive review based on the following considerations:
The population of the state and its major cities.
The obesity figures as compared with other states.
Personal trainer certifications available in Ohio
Availability of personal training schools & colleges.
Career prospects for personal trainers.
Earning potential for certified PTs.
Quality of Life (QoL).
FAQs on How to Become a Personal Trainer in Ohio
Final Words on How to Become a Personal Trainer in Ohio
Ohio has a lot to offer.
It's a busy state with a large population and many opportunities to work as a PT.
Whether you decide to become a personal trainer in Columbus, Cincinnati, or Cleveland, there are many ways to break into the industry.
Personal training certification Columbus Ohio is like any other city in the US.
Most certifying bodies require that you hold at least a high school diploma or bachelor's degree before you can enroll to become a health coach.
However, there are better states and cities in America.
Ohio sits somewhere in the middle when it comes to opportunity and potential.
References
https://www.exercise.com/learn/ten-fittest-states-in-the-us/
https://www.americankinesiology.org/SubPages/Pages/Kinesiology%20Institution%20Database