Hey Everybody, and welcome to PT Pioneer.
I will answer an important question in yet another career review article.
What is the best state in America to work as a PT?
From my extensive research on personal training programs, I discovered that the state and city you practice in have a major role to play in your overall success.
So, this article is part of a state-by-state guide that will allow you to determine which location best serves your career aspirations in fitness.
I've used data, statistics, anecdotal evidence, and my own expertise to bring insight into the world of personal training as it relates to each state.
In this article, I will look at how to become a personal trainer in North Dakota.
I will, however, only be dealing with the top three cities in the state by population size.
That's because these present the best and most sensible odds for a career in fitness, especially if you're starting.
I'll also look at personal trainer certification in Fargo and other qualification options to help you on your way up.
With that said. Let's dig in.
Make sure to check out the general guide on how to become a personal trainer.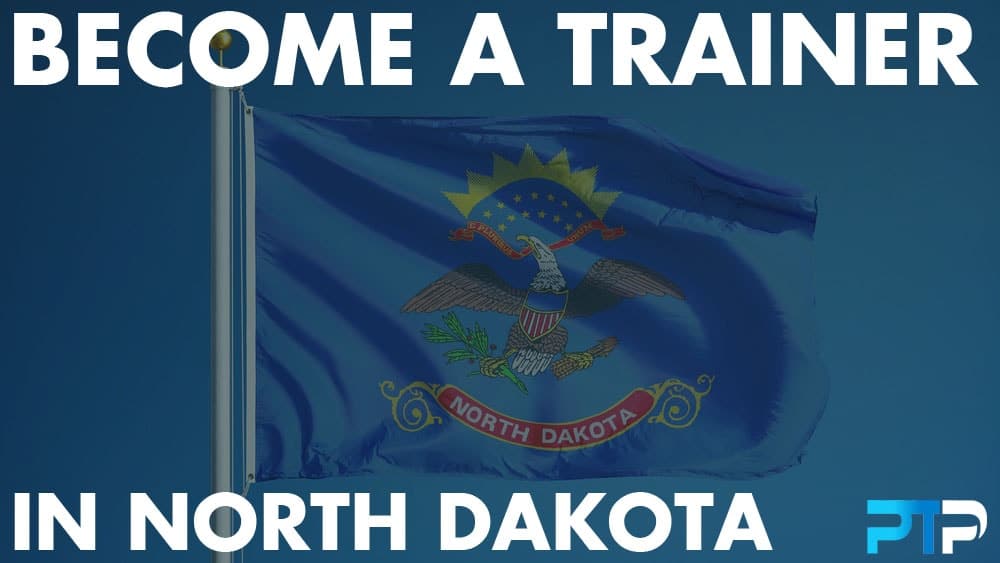 State Fitness Rating


I want to touch first on the state fitness rating or ranking.
This measures how to fit a state's population based on two main categories.
Those are the obesity stats and the gym access stats.
The talented team at exercise.com gathered the data I'm using.
Their findings revealed that there is a variation among all the states analyzed based on their lifestyle and fitness assessment.
Regarding obesity prevalence, North Dakota has a rate of 31.9. This is considerably high, putting the state in 37th place overall.
This indicates a population that is below average in terms of health and fitness goals, as indicated by obesity, which is a medically reliable indicator of poor health.
This means that the local population of North Dakota is not as engaged with the fitness market or exercise program as one would like.
That makes it harder for you to find your stride as a fitness professional.
From experience, you must put in extra effort to educate the populace on the importance and relevance of personal training sessions on their health.
As for gym access, we'll be looking specifically at top gyms per capita.
But what does that mean?
It means how many mainstream commercial gyms are available for every 100 thousand residents.
Exclusive PTP CPT Offers



Gold Standard Cert

Most Popular Cert

Best Study Materials

A Good Option

A Good Option

Best CPT for you?

Mainstream commercial gyms are included in this category due to their relative affordability, accessibility, and ease of use.
They include the likes of:
Gold's Gym
24 Hour Fitness
Anytime Fitness
Crunch Fitness
LA Fitness
Orange Theory Fitness
Planet Fitness
Snap Fitness
YMCA
North Dakota has 52 gyms with a population of 757,952 residents.
This means a gym per capita ratio of 6.86, putting ND in 11th place.
This is a good ranking for the population's access to fitness; however, with only 52 gyms to look at for employment opportunities, the odds aren't ideal for PTs in this state.
I would rather say it affords personal trainers a vast opportunity to set up their own private gym around town.
North Dakota is ranked 24th out of 51 states and districts regarding national fitness.
This is great for the population of North Dakota as it signifies an above-average state of health, but it could be better for trainers and fitness pros.
Fitness Market Makeup
Before you become a personal trainer in Fargo, you'll need to know the type of people you'll likely be training.
The fitness market in North Dakota would consist primarily of your general consumers.
Those are mainly looking to lose weight and trim down for health reasons.
Considering the high obesity prevalence, you will be dealing with many novices regarding fitness and the lifestyle it comes with.
Sound nutrition knowledge to back up your fitness services will help you and your clients achieve more notable results.
Personal Trainer Certifications in North Dakota
Personal trainer certification in Grand Forks and other cities is needed to get a job as a personal trainer in North Dakota.
You can't be a personal trainer without certification.
Having a CPR certification in Fargo, ND, is the first step to becoming a personal trainer in Fargo, ND.
I have written an article on my best personal trainer certifications. Use this as a guide to becoming a certified personal trainer in North Dakota.
Overall here are my top 2 best personal training certifications in North Dakota. Ensure you have all or any of them when you decide to become a personal trainer in Grand Forks and other areas.
Personal training schools in North Dakota
Personal trainer certification in Bismarck is one avenue for getting qualified for the job. Still, you can take it a step further and gain a degree in an exercise science-related field.
The reason this is such a good idea is that trainers and fitness experts with college or university qualifications under their belt tend to be the top earners in the industry.
Having a bachelor's degree allows you to leverage better pay, higher positions, and more opportunities than a fitness trainer who is just certified.
Fortunately, you can choose from several exercise science schools in North Dakota. Let's take a look:
The limited selection of kinesiology schools in North Dakota indicates the state's small size. Regardless, these are good quality institutions and will surely get you where you want to go.
Just be sure you really want to go there. A degree program is quite an investment in terms of time and money.
Personal Trainer Jobs in North Dakota
Before going into personal trainer jobs in Grand Forks and other cities, we need to look at what sort of job opportunities you should be considering as a trainer.
The first way to ply your trade would be as an employed fitness coach at one of the mainstream commercial gyms.
Exclusive PTP CPT Offers



Gold Standard Cert

Most Popular Cert

Best Study Materials

A Good Option

A Good Option

Best CPT for you?

This is a great place to start since it offers you immediate security through a fixed income and benefits.
You will also be able to learn sales and marketing skills while sharpening your fitness instructor services.
The only drawback is that North Dakota only has 52 large commercial gyms. The state certainly has more fitness facilities, but these would likely require a specialized set of skills instead of general fitness instruction.
Going beyond that, you could work as an independent trainer. Offering service to clients while renting out space in gyms or conducting house call sessions.
You can also, and probably should, enter the world of online fitness.
This has proven to be one of the fitness services industry's most lucrative and fastest-growing sectors.
Best Cities to Be a Personal Trainer in North Dakota
As mentioned, I'll only be looking at the top 3 cities in North Dakota regarding the state's best places.
That's because fitness is a numbers game, and to increase your odds of success, and you need access to more people.
Personal trainer jobs in Fargo are your best bet.
Not only is it the largest city, but it also has the only population above 100k inhabitants.
Next, you can look at personal trainer jobs in Bismarck, which has a population of just over half that of Fargo.
Last is Grand Forks, with only 56k residents.
Whether there are personal trainers in Minot, ND, or personal trainers in Bismarck, ND, you have to start from somewhere, irrespective of the population.
| City In North Dakota | Population |
| --- | --- |
| Fargo | 121,889 |
| Bismarck | 72,777 |
| Grand Forks | 56,500 |
| Minot | 48,261 |
| West Fargo | 35,397 |
| Williston | 27,250 |
| Dickinson | 22,882 |
Going down from there, I can say it's not really worth it. Usually, population figures below 50k aren't very viable.
Fargo should be your main target. If not, become a personal trainer in Bismarck or Grand Forks.
However, this low population does not mean there are no personal trainers in Minot, ND, or personal trainers in Bismarck, ND.
They only need to do more to break even.
Personal Trainer Salary in North Dakota
Before becoming a personal trainer in Fargo or any other city, one must consider the income potential.
North Dakota Trainers can earn an average of $58,125 per year.
The national average for PTs in America is $61,802.
With the North Dakota Salary average falling well below the national average, you might think it isn't great for earning potential.
That may very well be the case, but to truly know, we'll need to look at the cost of living and other quality of life metrics.
Make sure to check out the full guide on personal trainer salary.
Quality of Life Rating
North Dakota is not only one of the best states regarding the quality of life but also the best state across multiple surveys.
This might sound shocking considering the mediocre fitness ranking and the tiny population, but several things allow ND to rank up in terms of quality.
The small population and small-town communities that form North Dakota's urban makeup provide a closeness in community coherence that allows residents to avoid many of the socio-economic ills associated with large sprawling cities such as LA or NYC.
ND also has a pristine natural environment with a low rate of pollution as well as an excellent infrastructure.
Lastly, the cost of living is significantly below the national average, making the below-average income much more reasonable than one would initially assume.
I'll give North Dakota an 8 out of 10 QoL rating.
Methodology
This article was reviewed using time-tested parameters alongside facts and figures from intensive research, and my final results were collated on the:  
The population of the state and its major cities.
The obesity figures as compared with other states.
Personal trainer certifications are obtainable.  
Availability of personal training schools & colleges.
Career prospects for personal trainers.
Earning potential for certified PTs.
Quality of Life (QoL).
Final Words on How to Become a Personal Trainer in North Dakota
North Dakota is a small state full of small towns.
The fitness industry, which is very sales and marketing-driven, naturally wouldn't have a significant foothold as in bigger, faster metropolitan regions.
There is a market, albeit small, and with the right strategy, you can make it work.
You have to be resolute about becoming a personal trainer in Fargo or a personal trainer in Minot, ND.
But first, ensure you have the credentials and experience.
FAQ
How do I become a personal trainer in North Dakota?
There are two routes to becoming a personal trainer in North Dakota.
You can decide to undergo a degree program in a university or college by studying an exercise-related program.
Alternatively, you can opt for any of the personal trainer certification programs from a recognized and approved body.
What is the hardest personal trainer certification?
From research and years of experience in the personal training industry, the National Strength and Conditioning Association (NSCA-CPT) is the most difficult certification program.
This is because the content is somewhat technical and has a detailed background in subjects such as physics, physiology, and anatomy.
Can you be a personal trainer without a certification?
You need to be certified before becoming a personal trainer.
As you grow in your career, you should also get a specialized certification that will showcase you as an authority in that field of specialization.
What certifications should a personal trainer have?
Firstly, a personal trainer should have a certification in CPR, AED, and First Aid.
They should be accredited with either ISSA, NASM, ACE, ACSM, AFFA, NPTI, etc.
Lastly, they can go further to have a degree in exercise science or a related field.
References
https://www.exercise.com/learn/ten-fittest-states-in-the-us/
https://www.americankinesiology.org/SubPages/Pages/Kinesiology%20Institution%20Database