Hello everyone, and welcome to yet another PT Pioneer career article.
This article, along with 50 others, forms part of a series looking at working as a PT in each state.
The goal is to provide the insight you can use to decide whether to relocate or stay put and the best ways to make it big in the location you find yourself in.
Location is a huge factor in determining the potential success of your career in fitness, and for that reason, I'll be going in-depth with some data, facts, and figures.
This article will be dealing with how to become a personal trainer in North Carolina.
For the sake of brevity, I'll only look at the top 3 cities in the state.
Those are Charlotte, Raleigh, and Greensboro.
I'll also be discussing personal trainer certification in Raleigh and the other cities.
So without further ado, let's jump into it.
Make sure to check out the general guide on how to become a personal trainer.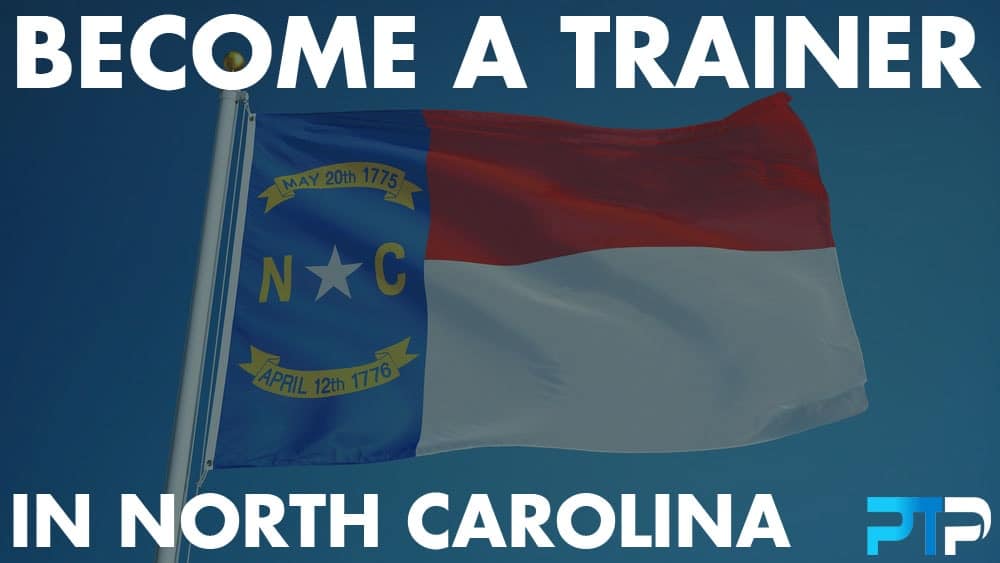 Post 33 of 50 in the PT By State Series
State Fitness Rating
Our first focus will be the state fitness rating.
This is a measure of how healthy or inclined to healthy habits a state is based on data gathered by exercise.com.
The two main aspects we'll be looking at are the obesity statistics and the top gyms statistics.
Both of these pieces of data will help us paint a picture of how busy the fitness industry in North Carolina is.
First, let's start with obesity, where North Carolina has a prevalence rate of 31.8.
This is reasonably high, and with a rank of 36, it indicates a population with a little inclination towards health and fitness.
A high obesity prevalence indicates a mostly overweight population, which in itself shows a low market interest in fitness.
Secondly, let's take a look at gym statistics in North Carolina.
As categorized by exercise.com, top gyms are those that are most accessible, affordable, and easy to use by the average member of the public.
They include such household names as:
Gold's Gym
24 Hour Fitness
Anytime Fitness
Crunch Fitness
LA Fitness
Orange OrangeTheory Fitness
Planet Fitness
Snap Fitness
YMCA
These gyms are a significant statistic because they signify the most readily available fitness options for most people.
They also signify the most available job opportunities for physical trainers like you.
North Carolina has a total of 451 top gyms to a population of 10,146,788 inhabitants.
That leaves the state with a gym per capita (per 100 thousand residents) ratio of 4,44 for every 100,000 inhabitants.
That's pretty low, giving the state 50th place in terms of gym access for its population when compared with other states in this regard.
This, however, doesn't spell doom for you as a fitness trainer.
That's because 451 gyms are still a decent number to work with despite being a challenge for consumers.
Exclusive PTP Offers



Gold Standard Cert

Most Popular Cert

A Good Option

Best Study Materials

Best online PT course

The Top PT Software

Overall, North Carolina is ranked near the bottom in 47th place.
This indicates a fitness market that hasn't fully developed in comparison to other parts of the country.
Fitness Market Makeup
The fitness market in North Carolina would mainly consist of sedentary adults who are overweight or obese.
I doubt there would be a significant variation in the clientele you would potentially deal with.
It's great to brush up on your nutritional knowledge and coaching skill for such a client base and polish your group training skill.
Taking an online training program and a certification exam might be a great incentive to increase your chances of getting a job at a fitness center or gym.
Usually, these clients just want fitness professionals to help them achieve their fitness goals (mainly weight loss).
Personal Trainer Certifications in North Carolina
Personal trainer certification in Greensboro and other cities is needed to get a job as a personal trainer in North Carolina.
I have written an article on my best personal trainer certifications.
Use this as a guide on how to become a certified personal trainer in North Carolina.
Overall here are my top 2 best personal trainer certificates in North Carolina.
Ensure all of them when you decide to become a personal trainer in Greensboro and other areas.
Personal training schools in North Carolina
Obtaining your personal trainer certification in Charlotte or any other city is just one way you could go.
It might interest you to know that enrollment in a certification program is not the only route to becoming a personal trainer.
The other route would be gaining a higher learning qualification through a university.
Though most NCCA-approved personal training certification courses require a high school diploma, this is not equivalent to a university degree.
Personal trainers with such high-level academic accolades open themselves up to a bevy of opportunities.
Specific careers in the fitness field require a degree, and they also come with higher pay in most cases.
Fortunately, exercise science schools in North Carolina are a common fixture in the academic world.
Take a look at some of these:
With such large biology schools in North Carolina, it's merely a matter of choice.
Just make sure you consider if enrolling in a degree program is really worth it.
Weigh out the pros and cons and figure out if your career really needs to go down that route.
You can also take personal training courses and fitness certifications and continually meet with the recommended continuing education units.
Now you know you have the option of getting a group fitness training and group trainer certification from a recognized personal trainer school (not necessarily a college).
Personal Trainer Jobs in North Carolina
Personal trainer jobs in Charlotte and other cities might actually be more comfortable to come by than you'd expect.
Despite the low gyms per capita ratio, this doesn't equate to a low number of gyms in general.
It simply means that the public's access to gyms is less than ideal, but that doesn't affect your access to job opportunities.
Starting as a gym employee will allow you to launch your career safely and with a decent amount of experience and exposure.
That's because you will have the safety of a fixed income and benefits to carry you as you progress your skills and knowledge.
As an independent trainer, you will have the flexibility and freedom to price and package your services your way, but with this freedom comes a need for discipline and business acumen.
Best Cities to Be a Personal Trainer in North Carolina
Before you become a personal trainer in Raleigh, Greensboro, or Charlotte, it's crucial to feel how other cities compare.
Personal training is a numbers game, so your best odds are to go where there are the most people.
Charlotte is a fairly large city and has a population nearly double that of second-place Raleigh.
I would strongly suggest you try and make it there as a first choice.
Exclusive PTP Offers



Gold Standard Cert

Most Popular Cert

A Good Option

Best Study Materials

Best online PT course

The Top PT Software

Barring that, Raleigh Greensboro and even Durham are decent choices, all with populations above 200k.
| | |
| --- | --- |
| City In North Carolina | Population |
| Charlotte | 857,425 |
| Raleigh | 464,485 |
| Greensboro | 291,303 |
| Durham | 269,702 |
| Winston-Salem | 244,115 |
| Fayetteville | 210,432 |
| Cary | 166,268 |
Personal Trainer Salary in North Carolina
Before you decide to become a personal trainer in Charlotte or anywhere else, it's important to understand the income expectations.
North Carolina has a median annual income of $59,053 per year for personal trainers.
This is less than the $31,802 per year national average.
On initial inspection, it looks terrible, but the cost of living really determines the real value of an income.
The good thing about North Carolina is that the cost of living is lower than the national average and considerably so.
That means the lower-income is easily justified and can sustain a comfortable lifestyle.
Make sure to check out the full guide on personal trainer salary.
Quality of Life Rating
Personal trainer jobs in Raleigh and other cities would require long-term commitment when it comes to city living.
Along with the cost of living and affordability, other qualities of life categories are essential to look at.
After all, you want to be able to enjoy life as a personal trainer and not just focus on the grind.
Across many surveys and analytics, North Carolina strikes a middle ground when it comes to the quality of life.
That means it's not the best, nor is it the worst, but somewhere in the middle.
The economy, infrastructure, and crime stats bring out the state in good graces, while factors such as health care, business opportunity, and natural environment are seen as drawbacks.
I'll give North Carolina an overall 6 out of 10 quality of life rating.
Methodology
I approached this review based on carefully curated facts and figures and my final verdict was based on:
The population of the state of North Carolina and its major cities.
The obesity prevalence figures as compared with other states.
Personal training certifications offered in NC
Availability of personal training schools & colleges.
Career prospects for personal trainers in NC.
Earning potential for certified PTs in NC.
Quality of Life (QoL).
Final Words on How to Become a Personal Trainer in North Carolina
North Carolina has little to offer if you have the power to choose where you want to work as a PT.
If you don't have the power to choose, and it turns out to be one of a handful of options, you can still make it work, especially with the decent amount of gyms available.
FAQs on How to Become a Personal Trainer in North Carolina
References
https://www.exercise.com/learn/ten-fittest-states-in-the-us/
https://www.americankinesiology.org/SubPages/Pages/Kinesiology%20Institution%20Database