Hey Everybody, and welcome to yet another PT Pioneer career guide article.
You are reading part of a big series where I look at each state and its fitness industry.
As you probably know, location is a big part when it comes to potential opportunities in most career fields, including fitness.
For that reason, I will be breaking down how viable a fitness career is in each state.
This time around, I'll be traveling to New York to understand what the fitness industry and business environment look like.
In these articles, I usually focus on three or four of the largest cities by population, but this time, I'll only be looking at how to become a personal trainer in New York City.
That's because nearly half the state's population lives and works in just this one city, so there's little point in trying to work anywhere else.
New York City is a global metropolis and one of the most influential cultural and economic hubs in America, if not the world.
I might as well just deal with this city, which includes looking at personal training certification programs and requirements for becoming a personal trainer.
With that said, let's jump right to it.
Make sure to check out the general guide on how to become a personal trainer.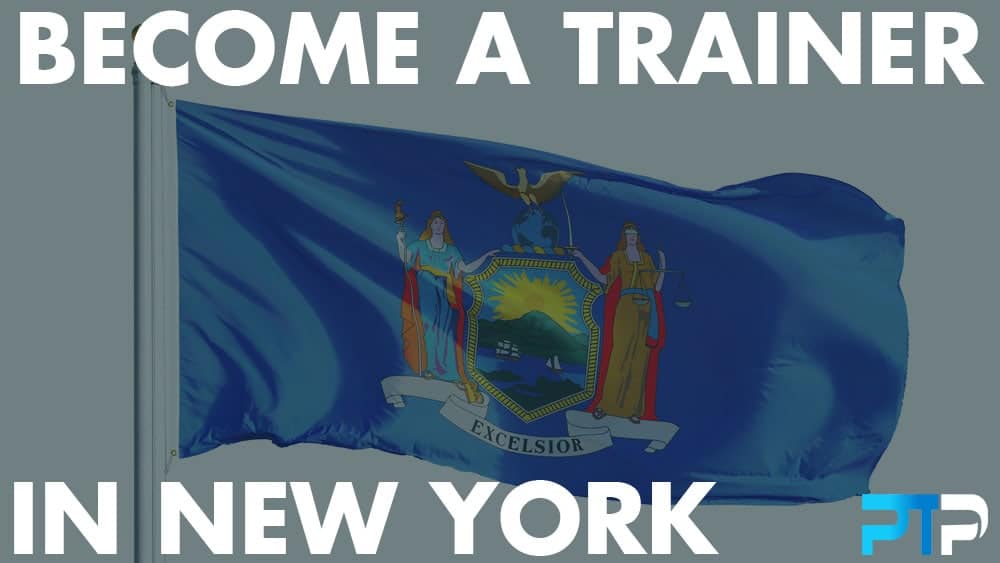 Post 32 of 50 in the PT By State Series
State Fitness Rating
The first thing I'm going to look at is the state fitness rating. This is a measure and ranking of how healthy a state's population is.
This is useful because it shows us how active the fitness industry is under how engaged the population is with services that promote health.
The data I'll be using was gathered from exercise.com, which has done a tremendous job of analyzing and rating each state based on several key metrics.
The two statistics I'll be using are the obesity prevalence and the top gyms per capita metric.
Obesity statistics are an accurate indicator of a population's health and fitness levels, and health and fitness are strong indicators of the size and activity of the wellness industry.
As an exercise specialist in this industry, your success and potential opportunities are partially influenced by obesity prevalence.
New York has an obesity prevalence of 25.5%, putting it in 7th place out of 51 states and districts.
This is a useful statistic, indicating a below-average obesity rate, translating as a good engagement with the fitness industry by the general population.
Next, let's look at top gyms, fitness facilities categorized by their mainstream appeal, affordability, and widespread accessibility.
Top gyms or fitness centers include the likes of:
Gold's Gym
24 Hour Fitness
Anytime Fitness
Crunch Fitness
LA Fitness
Orange Theory Fitness
Planet Fitness
Snap Fitness
YMCA
These gyms are a crucial indicator of the industry's state because they represent the most accessible way for the average person to get a quality workout.
New York has 615 of these top gyms. With a population of 19,745,289, that's a gym per capita ratio of 3.11 gyms per 100 thousand residents.
That makes New York the worst state when it comes to gym accessibility for the masses.
But is this bad news for you?
Exclusive PTP Offers



Gold Standard Cert

Most Popular Cert

A Good Option

Best Study Materials

Best online PT course

The Top PT Software

Well, not necessarily. From a consumer perspective, it might be more of a challenge than in any other state, but from a fitness professional perspective, your odds are still okay.
That's because 615 gyms have a lot of employment opportunities.
The fact that there is a high demand from the market just means your experience working as a NYC personal trainer will provide accelerated benefits.
Fitness Market Makeup
New York City is a very cosmopolitan population center.
Fashion, beauty, and aesthetics dominate the fitness culture of this image-driven city.
A personal training program design on weight management will be helpful for those interested in weight loss programs.
A large portion of your prospects will have aesthetic goals in mind.
As a certified health coach in New York City, you should create personal trainer programs and exercise programs that aligns with the needs of the populace.
This is where it would pay to brush up on skill sets concerning body transformation and bodybuilding.
New York also has a decent athletic heritage, so expect a significant portion of the market to be focused on performance enhancement training methodologies as part of their fitness goals.
Personal Trainer Certifications in New York
Personal trainer certification in New York City and other cities is needed to get a job as a personal trainer in New York.
With a personal training certification NYC, you have a personal trainer license to operate effectively.
I have written an article on my best personal trainer certifications. Use this as a guide on how to become a certified personal trainer in New York.
Overall here are my top 2 best personal trainer certificates in New York. Ensure you have all or any of them when you decide to become a personal trainer in New York City and other areas.
Having the best personal training certification NYC gives you entrance to the best places to work as a personal trainer.
Personal training schools in New York
Aside from an accredited fitness certification NYC, you can also look into obtaining a university degree in a fitness-related program.
This might be an attractive option because fitness trainers with college or university credentials tend to be on the higher end of the income bracket.
A bachelor's degree in sports science or fitness opens you up to better jobs and a better salary. It also allows you to charge a higher premium on your services as independent professional trainers.
There are more than enough options when it comes to personal training schools NYC or exercise science schools in New York.
Let's take a look at the best schools for personal training:
You're spoiled for choice when it comes to kinesiology schools in New York.
Just remember, enrolling in a personal trainer schools NYC for degree program is a considerable investment in time and money. 
There's also the matter of student loan debt, so make sure you have a clear roadmap of how you want your career to progress, and if going to college fits that plan.
Personal Trainer Jobs in New York
Personal trainer jobs in New York City come in a diverse array of opportunities.
You have your commercial gym or health clubs positions, which I recommend should be your first option.
The reason being these are stable, albeit relatively low paying opportunities.
What you'll lose in the size of your income, you'll gain in security and benefits.
You'll also be on a fast track in learning how to be an effective fitness instructor and fitness salesperson, essential skills for when you decide to strike out on your own.
As an independent fitness business owner, there are few places more exciting than New York City.
The variety of influences and cultures means you can find a niche and position yourself in a way that creates your sub-market.
You'll need a blend of sticking to the basics while being creative and thinking outside the box with the fitness programs.
Best Cities to Be a Personal Trainer in New York
New York City is the best place to work as a CPT in the state, as I've already mentioned.
The sheer size of the population eclipses that of entire states in many cases.
Exclusive PTP Offers



Gold Standard Cert

Most Popular Cert

A Good Option

Best Study Materials

Best online PT course

The Top PT Software

It would be foolish not to focus on your career aspirations here.
However, if you don't have the option of being based in NYC, Buffalo, Rochester, and Yonkers offer a similar level of opportunities to most other cities I've reviewed.
Fitness is a numbers game at the end of the day, so population size is your primary opportunity indicator.
| | |
| --- | --- |
| City In New York | Population |
| New York City | 8,323,340 |
| Buffalo | 255,244 |
| Rochester | 203,792 |
| Yonkers | 199,021 |
| Syracuse | 140,987 |
| Albany | 96,853 |
| New Rochelle | 77,912 |
Personal Trainer Salary in New York
The annual average income for PTs in New York is $74,466. This is a remarkably high figure and would be a comfortable salary in most professions, not just fitness.
However, I hate to burst your bubble and point out that life in New York, especially NYC, is super expensive.
The cost of rent and housing is astronomical, so $74k per month is relatively conservative.
Make sure to check out the full guide on personal trainer salary.
Quality of Life Rating
As one of the most populated states in America, New York has a lot going on that causes a tremendous fluctuation in the standard of living across all categories.
Health care, education, culture & entertainment, infrastructure, and business opportunity rank very high.
The cost of living and housing is, unfortunately, significant downsides. You'll also have high taxation chewing into your income.
Overall, I'll give New York a 6 out of 10 quality of life rating. It's a great place to live if you can afford it, and affording it is the real issue.
Methodology
The methodology I used in reviewing this article on how to become a personal trainer in New York are stated below:
The population of the state and its major cities.
The obesity figures as compared with other states.
Personal trainer certifications attainable in the state.
Availability of personal training schools & colleges.
Career prospects for personal trainers.
Earning potential for certified PTs.
Quality of Life (QoL).
Final Words on How to Become a Personal Trainer in New York
New York is an opportunity goldmine for fitness training, primarily when focusing on New York City.
The fitness industry thrives there, as one would expect from one of the world's biggest cosmopolitan cities.
This does mean the market is saturated, and success will be hard-earned.
There's also the challenge of affordability should you choose to focus on NYC.
But then, having the requirements for a personal trainer license NYC will give you an edge with potential clients.
FAQs on How to Become A Personal Trainer in New York
References
https://www.exercise.com/learn/ten-fittest-states-in-the-us/
https://www.americankinesiology.org/SubPages/Pages/Kinesiology%20Institution%20Database