Hey Everyone, and Welcome to yet another PT Pioneer career review.
Ever wondered where the best and worst places to work as a personal trainer are?
Well, you're in the right place because I'm about to give you some perspective on how it all breaks down.
As you can imagine, location plays a big part in the success of any career, and fitness training is no exception.
That's why I've gone in-depth to give you insight into which states are the best and which are not so great when deciding where to ply your trade.
This time, we will be looking at how to become a personal trainer in New Mexico, where I'll use data, facts, and figures to break down the fitness industry there.
I'll only be looking at the top three cities, which means personal trainer jobs in Albuquerque,
Las Cruces y el Río Rancho.
There are also a couple of sections on personal trainer certification in Albuquerque and other major cities.
And with that said, let's jump right into it.
Make sure to check out the general guide on how to become a personal trainer.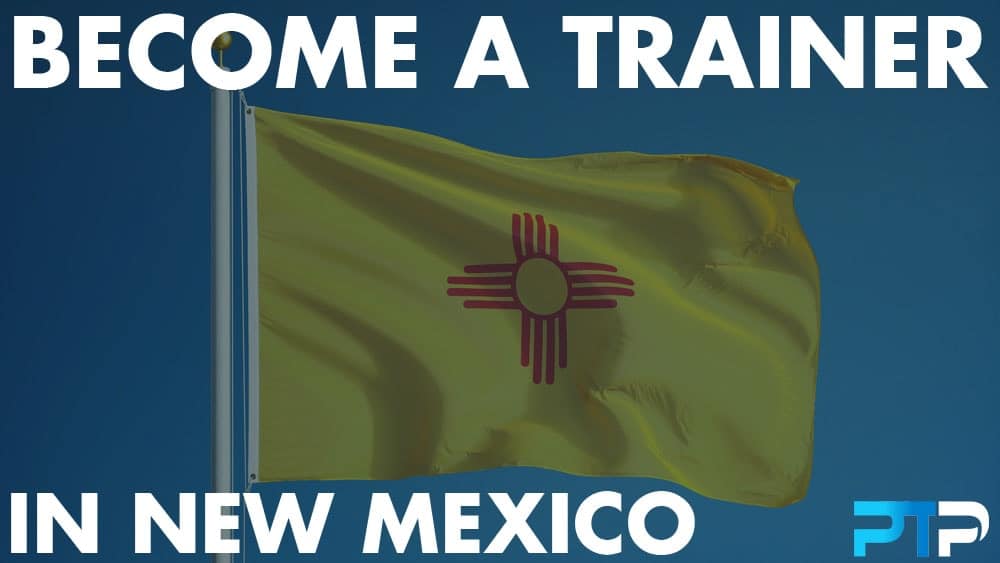 State Fitness Rating


Before we begin discussing personal trainer jobs in Rio Rancho and how to become a personal trainer in Albuquerque and other cities, we need to take a look at the fitness trainer industry in New Mexico.
To do this, I've pulled data from the talented team at exercise.com. They've done a great job of breaking down the fitness stats for each state.
The main aspects we will deal with are obesity prevalence and top gym access.
Obesity prevalence is a good indicator of the health of a population.
By extension, the obesity rate also shows us how engaged the population is with fitness services, the same services you will be delivering as personal trainers in Albuquerque.
New Mexico has an obesity prevalence rate of 28.3%. This puts it in the 19th position across all states.
With a decent obesity rating, you can expect this to translate into a good engagement with the fitness industry by the local market.
In my view, there are many opportunities to be tapped into by a new personal trainer who needs working experience.
Now onto the topic of top gyms.
Top gyms are categorized as popular commercial gyms. The household names such as Gold's Gym, Planet Fitness, and 24 Hour Fitness, to name a few.
These gyms offer affordable memberships, are relatively widespread, and have an easy use you won't find in specialist gyms, such as boxing gyms or CrossFit boxes.
Here are a few of the gym brands that fit this description:
Gold's Gym
Orange Theory Fitness
Crunch Fitness
Anytime Fitness
YMCA
Snap Fitness
Planet Fitness
LA Fitness
24 Hour Fitness
I will advise you also check out some other top gyms that are not mentioned above, like:
GoTime Fitness
Iron Soul Gym
Mandrill's Gym
Based on this categorization, top gyms represent the most accessible option for the general public to engage with wellness services.
Exclusive PTP CPT Offers



Gold Standard Cert

Most Popular Cert

Best Study Materials

A Good Option

A Good Option

Best CPT for you?

The more of them there are in each city, the bigger the fitness market. This also presents more job and business opportunities for you as a fitness trainer.
New Mexico has 100 top gyms, according to exercise.com. With a population of 2,081,015, there are 4.81 gyms per capita (per 100,000 residents).
This low figure puts New Mexico in the 41st place regarding gym availability.
The gym's per capita ranking starkly contrasts the promising obesity figures.
This indicates a market that is starved for accessible options but still willing to take its personal fitness training program seriously.
From my findings, there is a gap waiting to be filled by personal trainers who know what they want and have plans that will benefit the populace.
Fitness Market Makeup
Before you become a personal trainer in Albuquerque, Rio Rancho, or anywhere else, you need to understand the fitness market's nature.
With the obesity stats showing a relatively fit population but the gym access figures indicating a lack of infrastructure, the fitness market in New Mexico is naturally engaging with other fitness options.
This could mean a high demand in other areas, such as specialist gyms, group fitness instructors, or independent trainers.
Because of this, your success might lie in fast-tracking the implementation of your own fitness center business and capitalizing on market demand.
To do this, you should thoroughly understand how personal training in Albuquerque works.
Personal Trainer Certifications in New Mexico
Personal trainer certification in Las Cruces and other cities is needed to get a job as a personal trainer in New Mexico.
The cost of becoming a certified personal trainer is not as much as you think.
I have written an article on my best personal trainer certifications. Use this as a guide on becoming a certified personal trainer in New Mexico.
Overall here are my top 2 best personal training certifications in New Mexico. Ensure you have all or any of them when you decide to become a personal trainer in Las Cruces and other areas.
My findings so far reveal that going through any of these fitness certification programs will get you your desired job in any of the top gyms in major cities of New Mexico.
Personal training schools in New Mexico
Although a personal trainer certification in Rio Rancho and other areas is enough to get your foot in the door, there is a way to get ahead of the pack irrespective of the personal trainer school cost.
Upgrading your credentials in the form of a sports or exercise science-related degree in courses such as Exercise Science, Sports Medicine, Kinesiology, Physical education, Exercise Physiology, or Health and physical education is one way of doing that.
From my years of experience, trainers with degrees in these fields typically find themselves in the top earnings bracket.
That's because a bachelor's degree is a permanent and prestigious indicator of knowledge, skill, and dedication.
Many top-level positions in fitness jobs in Albuquerque also require a degree and won't accept anything less. Naturally, these types of defined fitness jobs also pay very well.
Even if employment is not your cup of coffee, a degree can add value to your services.
Your credibility makes for an attractive value proposition that you can leverage to offer more expensive services.
There is a small selection of exercise science schools in New Mexico you can choose from.
Take a look below:
Exclusive PTP CPT Offers



Gold Standard Cert

Most Popular Cert

Best Study Materials

A Good Option

A Good Option

Best CPT for you?

The kinesiology schools in New Mexico offer you the opportunity to upskill and raise your earning potential and your grounding in the industry.
Just bear in mind that although a degree is a huge benefit, it's not necessary. It would help if you considered the significant investment you'll need to make as a personal trainer certification cost does not come cheap.
Personal Trainer Jobs in New Mexico
As I've already discussed, the sparsity of commercial gyms means you have limited options regarding fundamental job prospects in fitness in New Mexico.
So, what effect does this have on the prospect of personal training in New Mexico?
Ideally, as a fledgling trainer, having a job in a popular commercial space is a great way to springboard your career.
With the safety of a fixed income and benefits, along with the experience and exposure you will gain. Gym employment is an excellent place to start.
So, you might as well try your luck and apply to one of the one hundred top gyms.
Moving forward from there, a career as an independent business owner is the next phase.
Given the lack of gyms, this might be the more sensible way to work as a New Mexico trainer.
An essential consideration in this regard is online fitness.
As the fastest-growing sector in the fitness services industry, it would not be very smart to not have online training as a component of your business model.
Best Cities to Be a Personal Trainer in New Mexico
Regarding New Mexico, the best city to work in is Albuquerque.
With a population nearly as large as the next six biggest cities combined, it's definitely the place to be.
Albuquerque personal trainers with the right specialized certification will find potential clients easily if effective physical fitness guides are on the ground.
| City In New Mexico | Population |
| --- | --- |
| Albuquerque | 559,374 |
| Las Cruces | 102,102 |
| Rio Rancho | 96,210 |
| Santa Fe | 83,922 |
| Roswell | 47,941 |
| Farmington | 45,258 |
| South Valley | 40,080 |
Other cities like Las Cruces and Rio Rancho offer modest but adequate CPT job posting opportunities.
From there, the population figure offers fewer and fewer opportunities for fitness professionals.
If you are a seasoned personal trainer, you'll still be able to maximize the opportunities these cities with less population have to offer.
You can also offer specialized fitness training sessions to those not novices in the personal training industry and help them achieve their fitness goals.
Personal Trainer Salary in New Mexico
The median annual income for PTS based in New Mexico is $57,013 annually.
This is considerably lower than the national average, which sits at $61,802, according to salary.com.
This might seem like a loss, but remember, what you earn is only really worth what you have to spend.
It's all about the cost of living. And as far as New Mexico is concerned, the cost of living is way cheaper than the national average.
That means a lower than average salary potential will sting very little if at all.
I can tell you that a personal trainer that decides to practice in New Mexico does not have to worry much about the cost of living.
Make sure to check out the full guide on personal trainer salary.
Quality of Life Rating
Along with affordability and population fitness, New Mexico ranks pretty high in many quality of life categories.
A significant contributor to this is the booming oil industry, which sures up the local economy.
However, in a bizjournals.com survey, the state placed 48th out of 50.
This is mainly due to the lackluster education statistics, which make the state the worst for education.
Healthcare also pulls the state down.
Overall, I'll give New Mexico a 6.5 out of 10 for QoL. It should be lower, but the key categories concerning your career as a PT manage to keep it somewhat in good graces.
Methodology
The methodology I adopted in approaching this review is dependent on well-research facts and figures and the final verdict was based on the following:
The population of the state and its major cities.
The obesity figures as compared with other states.
Personal trainer certifications are obtainable.
Availability of personal training schools & colleges.
Career prospects for personal trainers.
Earning potential for certified PTs.
Quality of Life (QoL).
Final Words on How to Become A Personal Trainer in New Mexico
New Mexico is a mixed bag of opportunity and challenge.
Success is possible but would require a slightly different approach from how a typical fitness career would unfold.
It doesn't matter if you are a personal trainer in Santa Fe, a personal trainer in Las Cruces, or a personal trainer in Albuquerque; if you have a strong entrepreneurial drive, this is the right place for you.
FAQs on How to Become a Personal Trainer in New Mexico
How to get personal trainer certified?
Have a High School Diploma.
Be AED/CPR certified.
Pass your personal trainer certification exam.
Ensure the National Commission accredits it for Certifying Agencies (NCCA) and Distance Education Accrediting Commission (DEAC).
How do I become a personal trainer in New Mexico?
Just like in other states, you should either have a degree in an exercise-related field, such as kinesiology, or obtain a personal training certification from a reputable certifying body.
What personal trainer certificate is most respected?
The most respected personal training certifications are:
– NASM (National Academy of Sports Medicine)
– ISSA (International Sports Sciences Association)
– ACSM (American College of Sports Medicine)
– NSCA (National Strength and Conditioning Association)
How much do personal trainers make in New Mexico?
As of April 27, 2021, the average personal trainer salary is $57,013 for New Mexico.
However, the amount you'll earn depends on factors such as your education level, certification, and years of experience.
References
https://www.exercise.com/learn/ten-fittest-states-in-the-us/
https://www.americankinesiology.org/SubPages/Pages/Kinesiology%20Institution%20Database