Hello everyone, and welcome back to PT Pioneer.
In this article, I'm going to be focusing on location.
Ever wonder what it takes to become a personal trainer in each state?
If this is a burning question you've had, then you've come to the right place.
This article is part of a series where I break down the career prospects for a trainer like you in each state.
I'll use raw data, market statistics, and some of my professional advice to guide you to the right location for your career ambitions.
This time around, I'm looking at how to become a personal trainer in New Jersey.
I'll be looking at the state as a whole, but it's more important to hone in on the top 3 cities.
These cities have the largest populations and busiest economies, so your best odds lie there naturally.
That means looking at personal trainer jobs in Newark, Jersey City, and Paterson.
I'll also be looking at the various qualification options so you can get your career off to the right start.
So without further ado, let's get right into it.
Make sure to check out the general guide on how to become a personal trainer.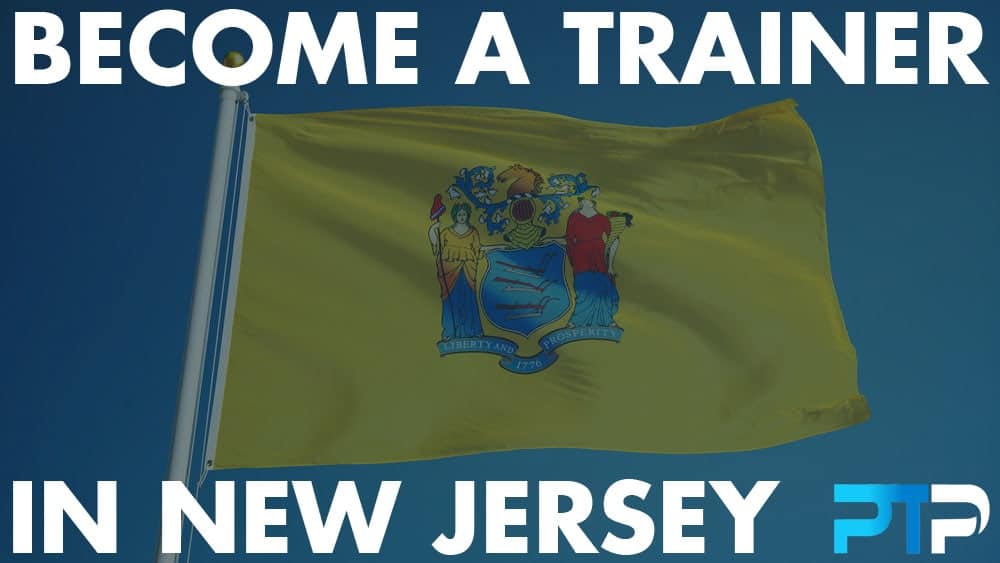 State Fitness Rating


Before discussing how to become a personal trainer in Newark and other cities, I would like us to do evaluate the level of engagement the local population has with fitness services.
To paint this picture as accurately as possible, I've gathered data from exercise.com.
This data gives us an impression of how healthy the population is, signifying their engagement with the health and fitness industry.
Two key aspects that will help us arrive at this figure are obesity and gym access statistics.
New Jersey has an obesity prevalence of 27.4%. This is pretty good relative to the rest of the country, giving New Jersey the title of 14th least obese state in America.
This also indicates a population with a decent level of consciousness and engagement with health and fitness.
Next, let's look at the gym access statistic, in this case, top gyms per capita.
But what are "top gyms"?
Top gyms are those fitness facilities with a mainstream presence and widespread accessibility.
The large commercial gyms are household names and fully equipped with an easy-to-use layout.
Exclusive PTP CPT Offers



Gold Standard Cert

Most Popular Cert

Best Study Materials

A Good Option

A Good Option

Best CPT for you?

The following brands represent top gyms in America:
Gold's Gym
Orange Theory Fitness
Crunch Fitness
Anytime Fitness
YMCA
Snap Fitness
Planet Fitness
LA Fitness
24 Hour Fitness
The presence of these gyms shows us two things. It shows that the population has more access to fitness services and services you provide, and it shows the number of potential employment opportunities.
New Jersey has 405 top gyms as of writing. For a population of 8,994,469, that's a low ratio of 4.53 gyms for every 100,000 residents.
This low ratio puts New Jersey in 46th place regarding gym access rankings.
While this might be a low figure if you're a member of the fitness market, having at least 405 opportunities to work is not bad as a member of the fitness industry.
Overall, New Jersey places 34th out of 51 states and districts.
This ranking is only held down by the low presence of gyms, but with a decent obesity figure, you can expect a well-engaged market.
Fitness Market Makeup
The fitness market in New Jersey will probably be a blend of somewhat healthy individuals living a sedentary lifestyle with modest fitness goals.
New jersey personal trainers will also have a higher than average exposure to image-conscious clientele.
Those with aesthetic goals such as bodybuilding and "toning. "
New Jersey's fitness culture has a large bodybuilding community.
In fact, NJ has one of the nation's highest bodybuilders per capita ratios, with 101 physique enthusiasts per 100,000 residents.
To capitalize on this market, you should brush up on your hypertrophy and body composition training repertoire as a fitness trainer.
With the right communication skills, trainers can package training programs or fitness programs to help people keep fit during personal training sessions.
Personal Trainer Certifications in New Jersey
Personal trainer certification in Jersey City and other cities is needed to get a job as a personal trainer in New Jersey.
NJ trainers must have a personal training certification NJ as a license to practice.
I have written an article on my best personal trainer certifications. Use this as a guide to becoming a certified personal trainer in New Jersey.
Overall here are my top 2 best personal trainer certificates in New Jersey. Ensure you have all or any of these fitness certifications when you decide to become a personal trainer in Jersey City and other areas.
If I want to become a personal trainer, it is important to get a personal trainer certification NJ.
Personal training schools in New Jersey
Aside from personal trainer certification in Newark, you might be keen on considering other options in terms of qualifications.
Enrolling in a degree program in the exercise science or sports medicine field might tremendously boost your career prospects.
That's because fitness professionals with higher learning qualifications categorically earn more.
A degree also verifies you for many top-level positions that a cert couldn't.
Fortunately, there are quite a few exercise science schools in New Jersey you can choose from.
Exclusive PTP CPT Offers



Gold Standard Cert

Most Popular Cert

Best Study Materials

A Good Option

A Good Option

Best CPT for you?

Let's take a look at personal training schools NJ :
With all these options for personal trainer school NJ or kinesiology schools in NJ, you're sure to find one that fits your profile and ambitions.
Obtaining a degree in personal training in NJ is akin to getting your personal trainer license in New Jersey.
That's because you can leverage such a qualification for higher pay and more lucrative opportunities.
The catch is getting a degree takes way more time and money than a cert. Time and money you could otherwise invest in accelerating your career as a New Jersey personal trainer.
With that in mind, it's worth carefully considering before jumping.
Personal Trainer Jobs in New Jersey
After obtaining your personal trainer certification in Paterson or anywhere else, your first port of call as a personal trainer should ideally be getting employed in a commercial gym, fitness center, or health club.
The reasoning is that they are well-established, highly rated businesses, which means you have more job security and access to the market.
Working as a fully employed trainer starting is a great idea because the security of a fixed monthly income and employment benefits will allow you to grow into your career with a decent safety net.
As a gym fitness trainer or group fitness trainer, you're also developing skills and exposure that will help you launch a successful independent business.
When it comes to doing business as personal trainers in New Jersey, it's important to remember that just having a health and fitness skillset won't cut it. You need to develop business acumen.
Knowing how to run a business, execute marketing strategies, and drive sales are the pillars to success for personal trainers in NJ.
This, along with having an online training business front, are essential to succeed in fitness.
Best Cities to Be a Personal Trainer in New Jersey
The biggest cities are always the best cities. That's why personal trainer jobs in Newark should be your first option when scouting for personal trainer jobs in NJ.
The more people in a population group, the more of them you will convert into clients.
Larger cities also tend to have more significant economies and a more free attitude to startups and new business ventures.
Most states will have a couple of comparatively large cities, followed by a sharp drop in population size for all subsequent towns.
New Jersey is a little different in that most of its top cities have little that separates them in terms of population size.
Newark is the largest city by population, but only by a little. It's closely followed by Jersey City, then somewhat of a sharp but not massive drop toward Paterson.
| City In New Jersey | Population |
| --- | --- |
| Newark | 281,054 |
| Jersey City | 261,940 |
| Paterson | 145,710 |
| Elizabeth | 128,333 |
| Lakewood | 102,466 |
| Edison | 100,447 |
| Woodbridge | 100,089 |
As I said, the biggest is always the best, so aim for either Newark or Jersey City.
If you do have to work in another city besides those two, it won't be a significant disadvantage, which is a useful feature of NJ's population spread.
If you become a personal trainer in Paterson, you will have similar opportunities for NJ personal trainer jobs in most other top cities.
Personal Trainer Salary in New Jersey
Trainers in New Jersey can look forward to an annual average income of $68,437 per year.
That's remarkably higher than the national average of $69,184, making NJ one of the best paying states to be a fitness professional.
Personal trainer NJ salary is one thing, but how much you have to let go of is the real test of income potential.
The cost of living truly puts a value on the income you could earn as one of the best personal trainers in NJ.
Let's look at the quality of life rating for that and other life features in New Jersey.
Make sure to check out the full guide on personal trainer salary.
Quality of Life Rating
New Jersey regularly ranks as one of the best states regarding quality of life.
Healthcare, business opportunity, crime safety, and education are significant pulling factors, while the economy and infrastructure can be a bit volatile.
The cost of living is also somewhat lacking, but with a high-income potential, I would say it evens out.
Overall, I'll give New Jersey a 7.5 out of 10 quality of life rating.
Methodology
The methodology I have chosen to adopt to critically evaluate how to become a personal trainer in New Jersey is outlined below:
The population of the state and its major cities.
The obesity figures as compared with other states.
Personal trainer certifications are attainable in the state.
Availability of personal training schools & colleges.
Career prospects for personal trainers.
Earning potential for certified PTs.
Quality of Life (QoL).
Final Words on How to Become a Personal Trainer in New Jersey
New Jersey is a decent option if you are looking for a stable career in fitness.
The opportunity and income potential are decent enough for most career ambitions.
Personal trainer jobs in Paterson and other cities are easier to come by than in most other states.
It's also a good place to settle down based on the quality of life there.
FAQs on How to Become A Personal Trainer in New Jersey
Do you need a license to be a personal trainer in NJ?
Yes, your license to practice as a personal trainer in NJ is your personal trainer certification.
Ensure you get certified with the acceptable certification to get employed in your city of residence.
What to do to become a personal trainer?
If you want to become a personal trainer, you should obtain the following:
– A high school diploma
– A CPR/AED certification
– A First Aid Certification
A personal trainer certification program endorsed by certifying agencies such as DEAC or NCCA.
An associate or bachelor's degree cert in an exercise-related field.
How to become a personal trainer in NJ?
To become a personal trainer in NJ, you should possess any of these certs with other specialized prerequisites such as Pilates, etc.
– Aerobics and Fitness Association of America (AFAA)
– American College of Sports Medicine (ACSM)
– American Council on Exercise (ACE)
– National Strength and Conditioning Association (NSCA)
How much does a personal trainer make in NJ?
The average salary of a personal trainer in New Jersey is $69,184 as of June 28, 2021.
The amount each will earn will depend on the city, education, certifications, skills, and years of experience.
References
https://www.exercise.com/learn/ten-fittest-states-in-the-us/
https://www.americankinesiology.org/SubPages/Pages/Kinesiology%20Institution%20Database