Hey Everyone, and welcome to yet another PT Pioneer career review.
This article is an eye-opener on the effect of location on the successful outcome of a personal trainer career.
This time we're continuing with our state-by-state guide on how to make it as a personal trainer across the United States.
These articles' premise is to give a good perspective on how viable a career in fitness is in each state.
You'll be able to decide which state is best for you or if your current location serves your ambitions.
This time around, we're delving into how to become a personal trainer in New Hampshire.
We will be discovering what the fitness industry is like there and how it will serve you.
In this article, I'll be looking at the three major cities in the state based on their population size.
For the sake of sticking to the point, we will only deal with the top three cities in New Hampshire.
That means how to become a personal trainer in Manchester, Nashua, and Concord.
I will also introduce you to how to get certified and qualified as a fitness trainer in New Hampshire.
It will help you have an ideal picture of the opportunities that exist for new personal trainers in these cities.
With that said, let's get right into it.
Make sure to check out the general guide on how to become a personal trainer.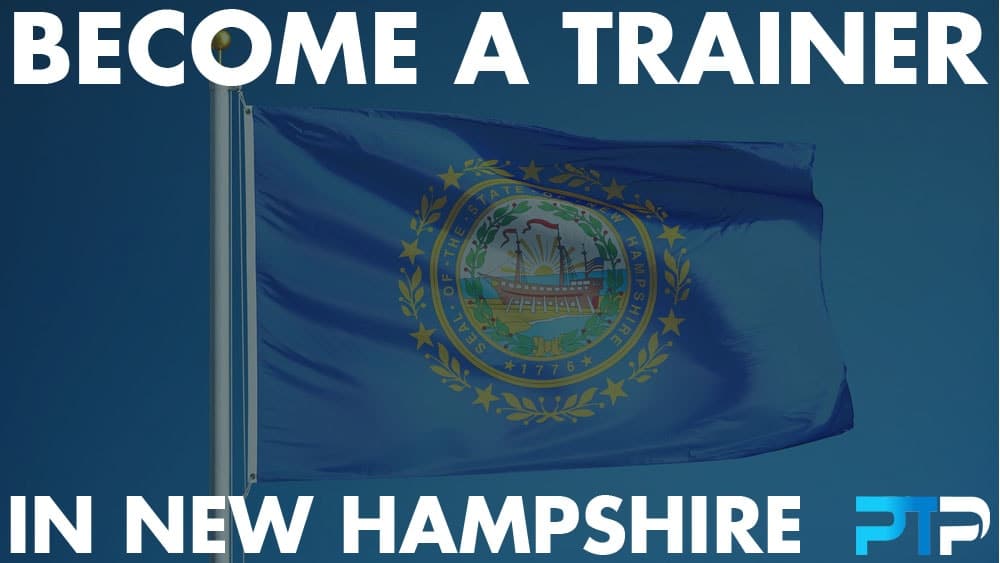 Post 29 of 50 in the PT By State Series
State Fitness Rating
Before looking thoroughly into personal trainer certification in Manchester and other cities, you need to check the local fitness industry's viability.
To kick things off, we're going to look at New Hampshire's national fitness ranking.
The state fitness rating is a measurement based on how New Hampshire ranks against 49 states and one district (DC).
While the personal fitness goals of each individual differ, you can still find out the overall fitness level of a state using certain stats.
You can measure how healthy the general population is using two key criteria.
These criteria are obesity prevalence and access to fitness facilities.
Both of these pieces of data paint a picture of how active and vibrant the fitness industry is, which, in turn, indicates what level of opportunity you can expect.
The obesity prevalence in New Hampshire sits at 26.6%, making it the 11th least obese state in America.
This is great news as it shows a healthy population that is most likely well engaged with the fitness industry.
Engagement with the fitness industry means engagement with you.
Next, we have the top gyms per capita statistic.
Top gyms, according to the data gathered from exercise.com, are fitness facilities with a mainstream reach and appeal.
This is mainly due to their accessibility, ease of use, and affordability.
Fitness facilities in this category include the likes of:
Gold's Gym
Planet Fitness
Orange Theory Fitness
Crunch Fitness
Anytime Fitness
24 Hour Fitness
Snap Fitness
YMCA
LA Fitness
The prevalence of these gyms is an indication of how busy and primed the local fitness industry is.
New Hampshire has 97 top gyms to a population of 1,334,795 residents.
This gives the state a gyms per capita ratio of 7.27 gyms per 100 thousand residents. That's pretty high and places New Hampshire in 5th place as far as gyms are concerned.
Exclusive PTP Offers



Gold Standard Cert

Most Popular Cert

A Good Option

Best Study Materials

Best online PT course

The Top PT Software

Despite this, it still leaves you with just 97 large commercial gyms to potentially work from. So while it's a great number for members of the public, it's not that amazing for your career prospects.
Overall, New Hampshire is the 3rd fittest state in America.
That means despite the low gym presence, the healthy population means there are many avenues through which you can capitalize as a fitness coach.
Becoming a successful personal trainer in Concord NH, personal trainer Nashua NH personal trainer Portsmouth NH, personal trainer Dover NH, involves a lot of commitment from you, irrespective of the population.
Fitness Market Makeup
New Hampshire's healthy population means the market is busy, but what type of people is a CPT expected to train?
For the most part, as with any fitness training market, the majority of your prospects as a personal trainer NH will be in the weight loss and general fitness category.
However, due to New Hampshire's unique outdoor culture, you'll have considerable exposure to people wanting to enhance or correct their performance or rehab injuries related to mountaineering.
Hiking, trail running, and rock climbing are big in New Hampshire, so expect a large contingent of clients in this space.
New Hampshire is also known for its winter sports, so expect that crowd too.
What you won't find much of in the state is many clients with aesthetic goals as you would in body image-driven communities like Los Angeles or New York.
There is a relatively high demand for fitness jobs NH.
Personal Trainer Certifications in New Hampshire
Personal trainer certification in Concord and other cities is needed to get a job as a personal trainer in New Hampshire.
I have written an article on my best personal trainer certifications. Use this as a guide on how to become a certified personal trainer in New Hampshire.
Overall here are my top 2 best personal trainer certificates in New Hampshire. Ensure all of them when you decide to become a personal trainer in Concord and other areas.
Obtaining certification is an important prerequisite for personal trainers Manchester NH, personal trainers Concord NH, personal trainers Nashua NH, and personal trainers Portsmouth NH.
Having a fitness program certification from a credible organization gives credibility and recognition to your skills and abilities.
Personal training schools in New Hampshire
Personal trainer jobs in Nashua and other areas depend on having the right credentials.
Aside from getting your personal trainer certification in Manchester, for example, you can also add to your credentials something a bit more substantial.
I'm talking about getting a bachelor's degree in a sports science-related field.
The reason this might be useful is that trainers with degrees or associates degree categorically earn more than those without.
This income potential increases with the level of qualification, where a doctoral degree program will give you more opportunity than a bachelor's, for example.
You can leverage a degree for better positions, a higher income, and more diverse opportunities than with a cert.
Fortunately, there are several exercise science schools in New Hampshire you can look at to obtain a degree or certificate programs in NH.
Check these out for more information:
With a decent selection of kinesiology schools in New Hampshire, you'll have access to some great qualification opportunities.
However, I highly advise that you take time to think through your decision to enroll in a higher learning institution.
Enrolling in university or college is a big financial investment and is also rather time-consuming.
Make sure you have a clear idea of your career trajectory before making the big jump.
Personal Trainer Jobs in New Hampshire
Personal trainer jobs in Concord and other cities come down to how many employment spaces are available.
New Hampshire has a high gym per capita ratio, but with a tiny population, that also means a small number of popular gyms.
Regardless of how limited the opportunity is, it is still an opportunity for physical activity, strength training, or small group training.
Working in one of these gyms is a great way to launch your career.
Firstly, as an employee, you'll have the safety of a fixed income and benefits, two things that will help you at the start of your career.
Secondly, you will gain a tremendous amount of experience both in terms of selling individual or group fitness and instructing it.
Lastly, being present and on the floor will expose you to clients with whom you will gradually build rapport and trust.
All these things will come together and allow you to launch a successful fitness business, which should come complete with an online component.
That's because online fitness services are becoming a dominant feature in the fitness industry, with online trainers now earning in the top bracket when it comes to being a fitness professional.
Best Cities to Be a Personal Trainer in New Hampshire
When looking at a state, it's easy to generalize how viable working there as a PT would be.
The reality is that each state is broken down into several cities and metropolitan districts.
In many cases, these different areas within a state have such unique and divergent characteristics that it's futile to generalize them based on a statewide approach.
Exclusive PTP Offers



Gold Standard Cert

Most Popular Cert

A Good Option

Best Study Materials

Best online PT course

The Top PT Software

The biggest cities by population are always the best to work in and depending on the state. These cities are usually very different from all the rest.
New Hampshire's largest city by population is Manchester. By that fact, this is really where you need to be focusing your personal training programs efforts.
Personal trainer jobs in Manchester will present the best odds of success simply due to population size and economic activity.
Nashua comes in second place and shows considerable potential in terms of population data. That means your fallback should be to become a personal trainer in Nashua.
After that, we see a sharp drop off in population numbers, with Concord, the 3rd largest city, being less than half the population size of Nashua.
| | |
| --- | --- |
| City In New Hampshire | Population |
| Manchester | 112,109 |
| Nashua | 88,815 |
| Concord | 43,244 |
| Derry | 33,448 |
| Dover | 31,577 |
| Rochester | 30,955 |
| Salem | 29,234 |
Personal Trainer Salary in New Hampshire
New Hampshire trainers can expect an average income of $62,829 per year.
This is around $1,000.00 more than the national average, which is good news on the face of it.
The state of NH salaries is a plus to potential personal trainers.
But income value is determined by the cost of living.
To find out how far your dollar can go, we'll need to understand the affordability of life in New Hampshire as well as other quality of life statistics.
Make sure to check out the full guide on personal trainer salary.
If you are planning to secure employment at any of the top gyms, you can check out planet fitness salaries to have an idea of how much they pay also.
Quality of Life Rating
The Granite State has one of the best quality of life ratings across multiple rating agencies.
It scores really high with healthcare, crime and safety, education, and business opportunity. It also ranks high in terms of the natural environment and low pollution.
However, life in New Hampshire is slightly more expensive than most other states in America, which justifies the higher median income.
Overall, I'll give the state an 8.5 out of 10 quality of life rating.
Methodology
This review was conducted using a methodology that involves gathering carefully researched data and analyzing them, and my final verdict was based on:
The population of the state and its major cities.
The obesity figures as compared with other states.
Personal trainer certifications that are obtainable.
Availability of personal training schools & colleges.
Career prospects for personal trainers.
Earning potential for certified PTs.
Quality of Life (QoL).
Final Words How To Become A Personal Trainer in New Hampshire
New Hampshire is a fantastically fit state. If you are a fitness enthusiast and want to immerse yourself in the outdoor culture it has to offer, you'll be right at home.
With that said, it is important to realize that New Hampshire is a small state, with a population barely over the 1 million marks.
This presents limited opportunities despite having a highly engaged fitness community.
Remember to look into getting your personal trainer certification in Nashua or any other city before you proceed into creating amazing personal training sessions for the populace.
FAQs on How to Become a Personal Trainer in New Hampshire
References
https://www.exercise.com/learn/ten-fittest-states-in-the-us/
https://www.americankinesiology.org/SubPages/Pages/Kinesiology%20Institution%20Database