Hey Everyone, and welcome back to PT Pioneer.
In this career review article, I'll continue with my state-by-state review of working as a PT across different parts of America.
I aim to provide you with just enough insight to allow you to make the right choice regarding where to ply your trade as fitness professionals.
To do this, I will be using a blend of facts, figures, anecdotal evidence, and expert opinion.
From my perspective, this will help you understand the viability, income potential, and standard of living in each state.
This article will be on How To Become A Personal Trainer in Nevada and checking out what the fitness industry looks like there.
I'll only be looking at the top three cities in the state for the sake of simplicity as well as the fact that they offer the most worthwhile opportunity.
That means we will mainly discuss how to become a personal trainer in Las Vegas, Henderson, and Reno.
I will also introduce how you can go about getting your personal trainer certification in Las Vegas and other cities and the different options available in that regard.
I'll also point out the qualifications and career options for personal trainer certification in Henderson and the other 2 major cities.
In this article, I will make use of my years of experience in obtaining different PT certifications to confidently analyze the career prospects of a personal trainer in the state of Nevada.
With that said, let's buckle up and fly over to Nevada.
Make sure to check out the general guide on how to become a personal trainer.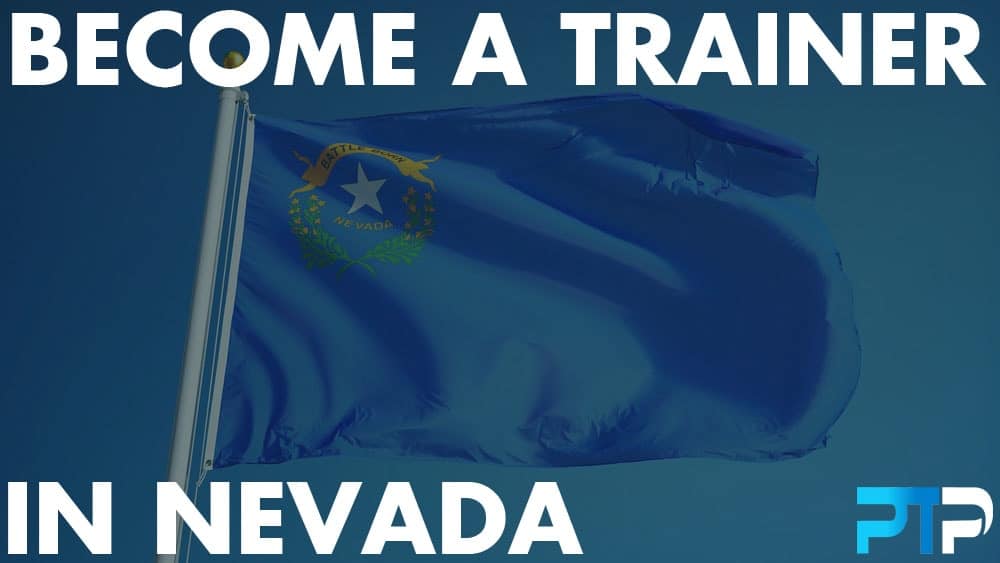 Post 28 of 50 in the PT By State Series
State Fitness Rating
Before examing in detail, how to obtain a personal trainer certification in Las Vegas and other cities, I need to give you a breakdown of the state fitness rating and the local fitness industry's viability.
This rating, or rather, ranking, is a measure of how healthy a state's population is based on two key aspects.
Obesity stats and gym access stats.
The obesity statistics appear in the form of the obesity prevalence rate, a percentage of the population considered morbidly obese.
This paints a picture of how conscious and engaged the population is over matters of health and fitness.
As far as Nevada is concerned, the obesity prevalence sits at 25.8%.
This is an excellent number by American standards as it sits well below the average obesity rate, making Nevada the 9th least obese state in America.
This indicates a population that is somewhat conscious of health and fitness, meaning their engagement with fitness products and services creates a viable space for you.
Next up, we have the top gyms statistic. This is a look at how much access the local population has to fitness facilities.
Top gyms are simply categorized as popular, accessible, and affordable fitness facilities such as the ones listed below.
Gold's Gym
24 Hour Fitness
Anytime Fitness
Crunch Fitness
Orange Theory Fitness
Planet Fitness
Snap Fitness
YMCA
LA Fitness
These are considered essential statistics because they present the most accessible means of getting fit for the average person.
Nevada has a total of 142 of these top gyms.
For a population of 2,940,058, there are 4.83 gyms per 100 thousand locals.
That's a pretty low figure relative to many other states, giving Nevada 40th place out of all states when it comes to this statistic.
It's not all doom and gloom, however. Despite not being a high ratio of gyms for members of the general population, it's still a reasonable amount of opportunity for trainers such as yourself to create customized fitness programs.
Exclusive PTP Offers



Gold Standard Cert

Most Popular Cert

A Good Option

Best Study Materials

Best online PT course

The Top PT Software

Jobs for personal trainers will certainly be in high demand in all its cities.
Fitness Market Makeup
Before you can have a proper understanding of the prospects of a personal trainer Henderson NV, personal trainer Las Vegas, and Reno, let me show you the stats that influence the market.
Nevada, especially Vegas, presents a unique population mix.
As one of the Nation's entertainment and tourism hubs, Nevada's personal fitness trainer market will be flavored by the influence of the overarching hospitality industry.
Las Vegas personal trainers will no doubt have access to many travelers and holidaymakers.
You will also find many of your opportunities based in and around the resort and casino scene.
Given the entertainment aspect of vegas' economy, working in this city might also expose Las Vegas trainers to training or facilitating the training of performers such as those in circus or dance troops.
The low obesity index will mean that as far as the general population is concerned, a Las Vegas fitness trainer will have more client prospects seeking performance enhancement or some form of aesthetic achievement as primary goals.
This should translate to high demand for health wellness coach jobs or personal trainer jobs Las Vegas.
Personal Trainer Certifications in Nevada
Personal trainer certification in Henderson, personal trainer certification in Las Vegas, and other cities is needed to get a job as a personal trainer in Nevada.
I have written an article on my best personal trainer certifications. Use this as a guide on how to become a certified personal trainer in Nevada.
Overall here are my top 2 best personal training certifications in Nevada. Ensure you have all or any of them when you decide to become a personal trainer in Henderson and other areas.
Personal training schools in Nevada
As tremendous and recommended as getting a cert is, It's not the be-all and end-all of personal trainer qualifications.
Aiming for a higher education credential such as a degree in a sports or exercise science field might be the right choice.
That's because certified personal trainers with degrees typically earn more and have more opportunities to choose from.
A degree is easier to leverage for better pay and is a great value proposition for higher premiums on services.
You are also seen as somewhat of an authority, especially if you have a doctoral degree behind your name.
However, there aren't a lot of choices when it comes to exercise science schools in Nevada. Based on my research, your only option is University of Nevada, Las Vegas Kinesiology, and Nutrition Sciences.
Regardless of the limited options, it's still a worthy choice as far as kinesiology schools in Nevada are concerned especially personal trainer school Las Vegas, NV.
Just be sure this is the right decision for you if you are thinking of personal training in Las Vegas.
Enrolling in college or university is certainly time-consuming and likely financially draining.
It's worth doing a proper career analyst and some long-term projections before fully committing to an advanced certification course.
Personal Trainer Jobs in Nevada
With 142 top gyms and the likelihood of many more due to the busy hospitality industry, Nevada should have a decent amount of job opportunities.
I advise fledgling personal trainers in Las Vegas to start as gym employees to gain experience in sales and correct exercise techniques instruction.
Working on the floor as a personal trainer in Las Vegas also allows you to develop a professional relationship and build connections with potential clients.
Lastly, an employment position at the start of your career allows you to have a safe and secure start owing to the guaranteed income and employment benefits.
Branching off from that situation, working as a PT in Nevada, or even health coach jobs Las Vegas could prove to be quite lucrative.
The tourism and entertainment industries will expose you to some great prospects.
Be sure to capitalize on such an opportunity by creating and optimizing the online training component of your business.
Get prepared to become an online personal trainer or group fitness instructor in Las Vegas NV with personal training sessions that are intensive and detailed.
This is the best way to retain clients who are frequent travelers, as will often be the case in Nevada.
While you can be sure of personal trainer jobs in Reno, it's not the best place to work in the state. So let's take a look at PT careers, city-by-city
Best Cities to Be a Personal Trainer in Nevada
Las Vegas is uncountably the best place to do pretty much anything with personal trainer programs in Nevada, including a career in fitness.
As mentioned, it is one of the biggest tourism and entertainment hubs in America, so the market is bustling.
It also has the largest population in the state by far, with over 600 thousand inhabitants.
That's more than double the population of the next biggest city, Henderson.
Exclusive PTP Offers



Gold Standard Cert

Most Popular Cert

A Good Option

Best Study Materials

Best online PT course

The Top PT Software

You should be able to get employed in a fitness center with the right credentials.
| | |
| --- | --- |
| City In Nevada | Population |
| Las Vegas | 634,773 |
| Henderson | 300,116 |
| Reno | 246,500 |
| North Las Vegas | 241,369 |
| Paradise | 235,087 |
| Spring Valley | 207,127 |
| Sunrise Manor | 193,781 |
Going down from Henderson, you'll find that the population size of each subsequent city doesn't differ much, which means outside of Vegas, your prospects for fitness assessments are more or less the same.
If you decide to become a personal trainer in Reno, you'll have similar odds as if you chose to take on personal trainer jobs in Henderson on a full-time or part-time basis.
Personal Trainer Salary in Nevada
Before pursuing personal trainer jobs in Las Vegas, you need to consider your income potential.
As a personal trainer in Nevada, you can expect an average annual income of $63,232 per year. This is more than the national average, which is just below $62k.
With this in mind, it's important to remember that the value of your earnings is dependant on the cost of living.
How much money you have is one thing, but how far you can stretch your dollar is actually more significant.
For that, we'll need to look at Nevada's quality of life rating, which will tell us what
Make sure to check out the full guide on personal trainer salary.
Quality of Life Rating
Nevada has one of the lowest quality of life ratings across many major indexes and survey groups.
It has the dubious dishonor of having a high rate of child abuse and adult suicide rates, as well as ranking quite low in terms of education.
When we hone in on Las Vegas, things do look a bit more positive. Crime and education are still an issue, but housing and cost of living are decent.
That's great news when considering your income potential as a Las Vegas personal trainer.
Overall, I'll give Nevada a 6 out of 10 quality of life rating.
Methodology
The methodology I used in conducting this review involves a lot of research based on the parameters outlined below.
The population of the state and its major cities.
The obesity figures as compared with other states.
Personal trainer certifications available in Nevada
Availability of personal training schools & colleges.
Career prospects for personal trainers.
Earning potential for certified PTs.
Quality of Life (QoL).
Final Words on How to Become A Personal Trainer in Nevada
Nevada is an exciting place to forge a career in fitness.
With its booming tourism and entertainment industries, many colorful opportunities exist for an up-and-coming personal trainer.
The options to upskill are relatively sparse, though, with only one kinesiology school in Nevada.
Getting your personal trainer certification in Reno and other areas is your easiest option.
You should try by all means to target Las Vegas for a genuinely lucrative experience.
FAQs on How to Become a Personal Trainer in Nevada
References
https://www.exercise.com/learn/ten-fittest-states-in-the-us/
https://www.americankinesiology.org/SubPages/Pages/Kinesiology%20Institution%20Database