Hello everyone, and welcome to another PT Pioneer career review.
This article is part of a state-by-state series where I peel the lid off each state to reveal how to cut it as a CPT in that particular location.
As you probably know, location is one of the key factors behind determining the potential for success for most careers, including fitness.
With that in mind, I'll be giving insight into what makes or breaks each state when it comes to forging a career in fitness.
For this article, I'm going to be looking at How To Become A Personal Trainer in Nebraska.
For the sake of simplicity and keeping things to the point, I'll only be looking at fitness instructor training in the top cities of Nebraska in terms of population.
That means how to become a personal trainer in Omaha as well as personal trainer jobs in Omaha, Bellevue, and Lincoln.
The reason for this is fitness is a numbers game. To increase your odds of success and opportunity, you need to be exposed to more prospects.
I'll also delve into the credentials available in Nebraska, so you have an idea of how to get personal trainer certification in Omaha and other cities.
With that said, let's jump right into it.
Make sure to check out the general guide on how to become a personal trainer.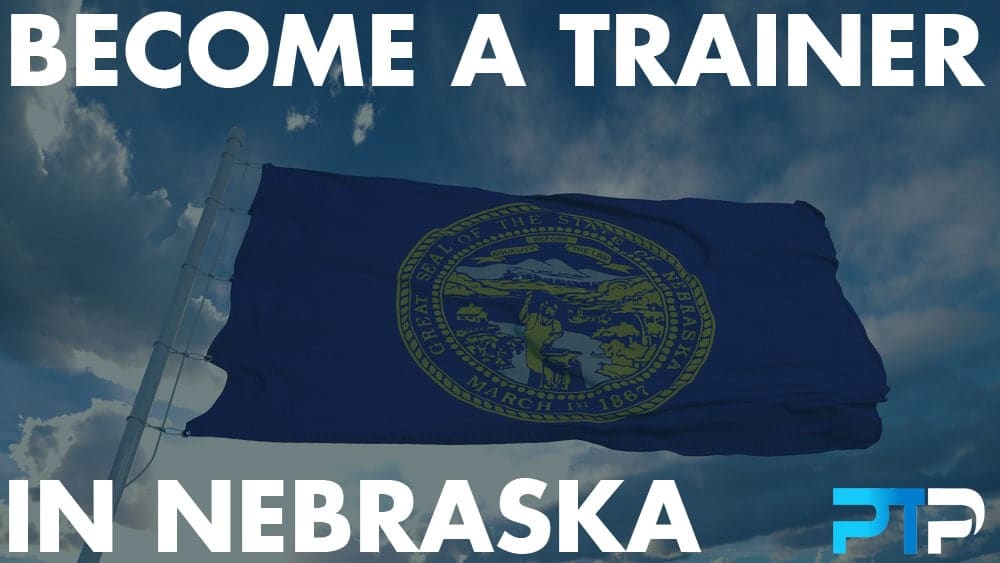 State Fitness Rating
So the first critical bit of information I'd like us to look at is the state fitness rating or ranking in this case.
This is a measure of how fit a state is based on population health and population access to health and fitness infrastructure.
The data I'll be using was sourced from exercise.com and included two important aspects.
Those are the obesity prevalence and access to gyms.
Obesity statistics show us how healthy a population is by medical standards. And the health of a population tells us how engaged it is with health and fitness.
Given that you are a health and fitness professional, this lets you know how viable and opportune a particular state is for you to ply your trade as a fitness trainer.
As far as Nebraska is concerned, you're dealing with a 32% obesity prevalence. This is pretty high and indicates a population with a relatively low engagement with the fitness industry.
Coming 38th out of 50 states and one district (DC), Nebraska's obesity means you'll have your work cut out for you.
The other piece of the puzzle is top gyms.
Exclusive PTP CPT Offers



Gold Standard Cert

Most Popular Cert

Best Study Materials

A Good Option

A Good Option

Best CPT for you?

This metric shows us how many fitness facilities Nebraskans have access to in achieving their fitness goals; in particular, it shows how many affordable, accessible fitness options there are.
That's because top gyms are categorized based on being cheaper, more available, and easier to use than other specialist fitness facilities.
Top gyms include household names such as:
Gold's Gym
24 Hour Fitness
YMCA
LA Fitness
Anytime Fitness
Crunch Fitness
Orange Theory Fitness
Planet Fitness
Snap Fitness
Nebraska has 135 top gyms to a population of 1,907,116 inhabitants.
That means, for every 100 thousand residents, there are 7.08 gyms, giving Nebraska the 9th spot out of 51 when it comes to gym access.
The gym statistics spell opportunity and balance out the high obesity prevalence, making Nebraska a decent prospect with a rank of 23 out of 51.
Information gathered shows there are lots of fitness enthusiasts in need of specialized exercise programs with a local personal trainer.
Other popular gyms are:
The University of Nebraska Omaha gym
Grand Island NE gyms
Gyms in North Platte NE
CrossFit Lincoln NE
Elite gym Omaha
Fitness Market Makeup
Nebraska's fitness market will be very general for the most part, composed mainly of adults living sedentary lifestyles, many of which are seeking help with weight loss.
A fitness market of this type would also include many who want to participate in group fitness programs.
Having group fitness instruction in your repertoire as well as dietetics or nutrition coaching is essential, given the local market.
Personal Trainer Certifications in Nebraska
Personal trainer certification in Lincoln and other cities is needed to get a job as a personal trainer in Nebraska.
I have written an article on my best personal trainer certifications. Use this as a guide on how to become a certified personal trainer in Nebraska.
Overall here are my top 2 best personal trainer certificates in Nebraska. Ensure you have any or all of them when you decide to become a personal trainer in Lincoln and other areas.
It is important to pass the personal training certification exams to obtain a personal trainer certification Omaha and other major cities.
Personal training schools in Nebraska
Besides personal trainer certification in Bellevue and other cities, I would suggest you also look at higher education options.
A college or university degree could count in your favor. That's because trainers with degrees tend to earn more and hold higher positions.
The leveraging power of a degree means you can bargain for more money and place yourself ahead of the pack when it comes to job placement.
There is a decent selection of exercise science schools in Nebraska; let's take a look at them:
With such a wide assortment of kinesiology schools, the opportunity to upskill is wide open, thus helping you have an edge in getting the best exercise science jobs Nebraska.
Exclusive PTP CPT Offers



Gold Standard Cert

Most Popular Cert

Best Study Materials

A Good Option

A Good Option

Best CPT for you?

With that said, it is very important to think things through when considering an associate or bachelor's degree.
Enrolling in a degree program requires a lot of time and money, with the possibility of your career starting with a mountain of debt.
Ensure you have a clear idea of where you want to take your fitness career and how having a degree will serve that purpose.
Personal Trainer Jobs in Nebraska
With 135 top gyms and numerous other fitness centers, health clubs, and facilities, there is ample employment opportunity, so long as your credentials are in check.
Starting your career off in a gym, especially one of the top gyms is a great way to build your reputation and skillset.
An Omaha personal trainer can work with a college or professional athletic training program.
Being an athletic trainer on a full-time or part-time basis has its benefits.
Simply google online for "personal training jobs Omaha" or "personal trainer jobs Omaha" to find the current vacancies.
It's also a safe way to launch into the industry, given the employment benefits and guaranteed income.
Having said that, your endgame should be on building a business, with special consideration to having an online training platform.
The digital fitness market is one of the fastest-growing sectors in health and fitness, so best you jump on it as soon as possible.
Best Cities to Be a Personal Trainer in Nebraska
As I mentioned earlier, I'll only be looking at the top 3 cities in Nebraska when it comes to jobs in fitness.
Ideally, you should only be concerned with Personal trainer jobs in Lincoln and Omaha, as these are the only two with populations above 100k.
I believe your most comfortable odds are in cities with a minimum population of 100,000.
Omaha personal trainers certainly have an edge here.
| | |
| --- | --- |
| City In Nebraska | Population |
| Omaha | 475,862 |
| Lincoln | 283,839 |
| Bellevue | 53,324 |
| Grand Island | 51,147 |
| Kearney | 33,464 |
| Fremont | 26,437 |
| Norfolk | 24,906 |
Outside of Omaha and Lincoln, most towns and cities have tiny populations in comparison. If you become a personal trainer in Bellevue, the third-largest city, you'll have barely more than one 10th the opportunity as Omaha.
Personal Trainer Salary in Nebraska
Trainer in Nebraska typically earns an annual average income of $56,736 per year.
This is below the national average for PTs in America entirely, which is $61,802.
At face value, this means Nebraska has a low-income potential, even though earning an above-average salary is entirely possible.
With that said, it's important to factor in the cost of living. What you earn is made or broken by how much you will need to spend.
Let's take a look at the cost of living, along with other quality of life signifiers.
Make sure to check out the full guide on personal trainer salary.
Quality of Life Rating
Nebraska is often in the top 10 most livable states based on numerous quality of life indices.
One of the key pull factors, which leads us back to the average salary in Nebraska, is the affordability and relatively low cost of living.
Housing, business freedom, and healthcare are also top-notch in this state.
Nebraska only really suffers when it comes to travel and transport.
With all that considered, I'll give Nebraska an 8.5 out of 10 QoL rating, propped up by a significant cost of living statistic.
Methodology
After extensive research, I was able to come up with this comprehensive review based on the following considerations:
The population of the state and its major cities.
The obesity figures as compared with other states.
Personal trainer certifications available in Nebraska
Availability of personal training schools & colleges.
Career prospects for personal trainers.
Earning potential for certified PTs.
Quality of Life (QoL).
Final Words on How to Become A Personal Trainer in Nebraska
Nebraska is a small state, but one with a robust fitness industry from the looks of things.
Despite the state as a whole looking great, you really should focus your efforts on working in Omaha and maybe Lincoln. Personal trainer jobs in Bellevue and other smaller cities are just not worth it.
That's because Omaha holds almost a quarter of the entire state's population, so there will be much more opportunity there than anywhere else.
FAQs on How to Become a Personal Trainer in Nebraska
References
https://www.exercise.com/learn/ten-fittest-states-in-the-us/
https://www.americankinesiology.org/SubPages/Pages/Kinesiology%20Institution%20Database