Hey everyone, welcome to PT Pioneer, a platform dedicated to helping fitness professionals excel in their careers.
Have you ever wondered where the best place to work as a personal trainer is?
Are you trying to figure out what the industry looks like where you currently are?
If the answer to any of those questions was a yes, then you're in the right place.
This article is part of a series of in-depth insight pieces to reveal the fitness industry's status in each state.
By doing this, you will understand which are the best locations to work in the health and fitness space.
As you can imagine, location is one of the key factors behind the level of opportunity you can expect in fitness or any career field, for that matter.
This time I'll be looking at how to become a personal trainer in Missouri.
I'll be keeping things simple and only focusing on personal trainer jobs in Springfield, Kansas City, and St. Louis, and providing info on personal trainer certification in Kansas City and other areas.
So with that said, let's jump right into it.
Make sure to check out the general guide on how to become a personal trainer.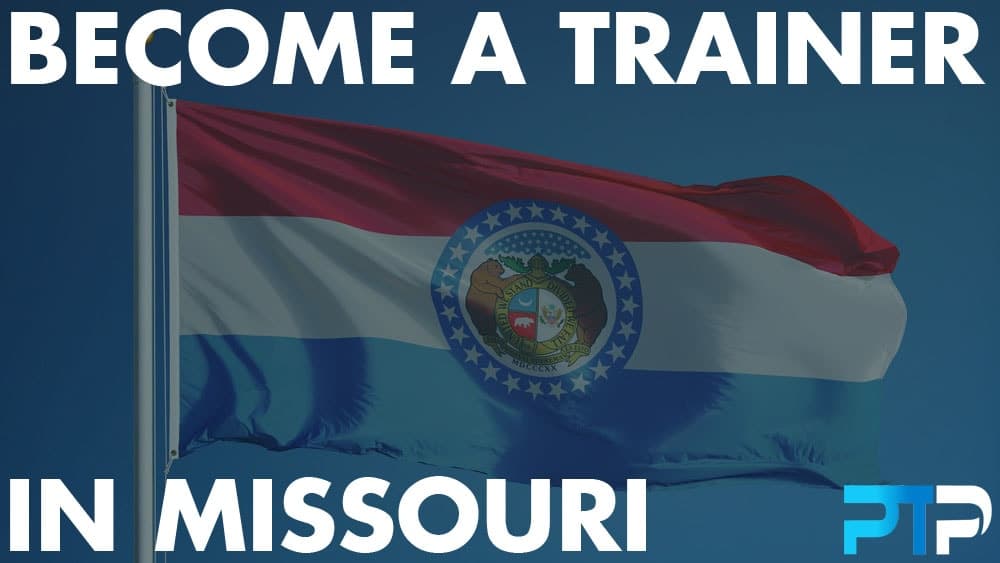 Post 25 of 50 in the PT By State Series
State Fitness Rating
Before looking at personal trainer jobs in Kansas City and other cities, I'd like to cover the state fitness rating, or in this case, ranking.
This is a primary indicator of what to expect from Missouri's fitness industry, the industry you will be a part of.
Using data sourced from exercise.com, I've isolated two essential metrics that will help us understand Missouri's fitness market.
These are the obesity prevalence rate and top gyms access.
The obesity prevalence rate shows us how healthy the general population is. This, in turn, gives a fair indication of how engaged the population is with the health and fitness industry.
Knowing how engaged the population is with your industry indicates the level of opportunity you can expect as a fitness trainer.
In Missouri's case, the obesity prevalence sits at 31.2%.
This shows a population that is at an unhealthy weight at a rate above the national average.
This puts Missouri in 35th place out of 50 states and one district (DC).
A placement like that shows a low engagement with the personal fitness training industry through physical activities or physical fitness, leading us to believe there is potentially less opportunity than one would like.
Nevertheless, this could also signify an untapped opportunity.
The next metric is the top gym access.
A top gym is simply categorized as one of the numerous, mainstream commercial gyms dotted around the country.
Such household names as the following:
Gold's Gym
24 Hour Fitness
Anytime Fitness
Crunch Fitness
Orange Theory Fitness
Planet Fitness
Snap Fitness
YMCA
LA Fitness
The reason these gyms are included here is that they indicate how developed the fitness industry is, as well as the number of potential employment opportunities.
Exclusive PTP Offers



Gold Standard Cert

Most Popular Cert

A Good Option

Best Study Materials

Best online PT course

The Top PT Software

Top gyms are easy for the general public to use; they are widespread and relatively affordable.
In the case of Missouri, there are 329 top gyms to a population of 6,093,000.
That means for every 100 thousand residents, there are 5.4 gyms available.
This gives Missouri a top gym ranking of 28, placing it somewhere close to the middle.
Overall, Missouri comes in 36th place out of all states. It's not the best option, nor should it be your first, but there is a good market to work with if push comes to shove.
Fitness Market Makeup
To fully understand the prospects of personal trainer jobs in Kansas City, St.Louis, Springfield, Columbia, a detailed understanding of the fitness status of the population is important.
Given the below-average statistics presented by Missouri's fitness ranking, you can expect a fitness market comprised of mostly sedentary, overweight individuals.
Due to this fact, your general PT repertoire would suffice, requiring little to no focus in other more specific aspects during training sessions.
You might want to brush up on your nutrition, though, since this is a key factor in healthy weight loss, likewise specialized exercise programs or fitness programs.
Personal Trainer Certifications in Missouri
Personal training certification in St. Louis and other cities is needed to get a job as a personal trainer in Missouri.
How to get a trainer certification?
I have written an article on my best personal trainer certifications. Use this as a guide on how to become a certified personal trainer in Missouri.
Overall here are my top 2 best personal trainer certificates in Missouri. Ensure you have any or all of them when you decide to become a personal trainer in Kansas City and other areas.
Obtaining a cert from an accredited organization is the easiest way to become a personal trainer.
Personal training schools in Missouri
Personal trainer certification in Springfield from the agencies mentioned above is essential, although you do have the option of upgrading your credentials.
A college or university degree can set you apart from your peers, offering more credibility and authority behind your name.
Consider having a degree as obtaining your personal trainer license in Missouri.
The reason is, a degree is a permanent and far more prestigious qualification than a cert. It can allow you to leverage for better opportunities and income.
Fortunately, Missouri has a ton of options when it comes to higher learning.
Take a look at these exercise science schools in Missouri:
As you can see, there is quite a wide selection of kinesiology schools in Missouri.
However, consider your options carefully. While a degree and its benefits are attractive, the trade-off is a lot of time and money you will have to spend before even getting there.
Personal Trainer Jobs in Missouri
While the gyms to population ratio in Missouri isn't spectacular from a resident's perspective, it's still decent from a job seeker's perspective.
You have at least 329 job openings to try for, which isn't terrible odds at all.
Working in a gym environment is excellent because of the skills you'll develop in the instruction and selling of fitness services.
Whether you want to work in a fitness center, fitness studios, health clubs, or gyms in Missouri, the key goal is to help them achieve their fitness goals.
You will also build your reputation and leverage that for clients.
This allows you the opportunity to make a smooth transition into being an independent trainer.
You should strive for professional development as part of personal trainer recertification to develop yourself.
Getting a certified personal trainer job with ease can involve making a search on Google for "personal trainer jobs St Louis", "fitness jobs Springfield MO", "exercise science jobs St Louis MO".
Best Cities to Be a Personal Trainer in Missouri
While this article and others in the series are about the state in question, we need to look at things city by city.
The best indication of how a career in a state would look is how it is in the top cities.
For Missouri, you're looking at Kansas City and St. Louis, with some consideration towards Springfield and Columbia.
Personal training in St Louis and other cities can be more impactful to you if you have national certification programs and also package the right personal training programs for clients.
There will be a need for "personal trainers Springfield MO", "personal trainers Columbia MO, personal trainers Kansas City MO, and personal trainers St Louis MO due to their population.

Exclusive PTP Offers



Gold Standard Cert

Most Popular Cert

A Good Option

Best Study Materials

Best online PT course

The Top PT Software

| | |
| --- | --- |
| City In Missouri | Population |
| Kansas City | 505,198 |
| St.Louis | 293,792 |
| Springfield | 169,552 |
| Columbia | 125,976 |
| Independence | 116,715 |
| Lee's Summit | 100,683 |
| O'Fallon | 90,684 |
With over half a million residents, Kansas City should be your priority, although any population center of over 100 thousand residents would present good opportunities.
Personal training jobs in Kansas City will be readily available with this population.
Personal Trainer Salary in Missouri
When deciding to become a personal trainer in St. Louis or anywhere else, what you stand to earn is an important factor.
The average income for PTs in Missouri is $58,991. This is below the national average of $61,802, which can be expected.
Since there is relatively low engagement with the fitness industry, you can expect lower wages in general.
Having said that, the value of wages is really determined by the cost of living, which falls under the quality of life. Let's take a look.
Make sure to check out the full guide on personal trainer salary.
Quality of Life Rating
Missouri typically ranks as having one of the lowest quality of life ratings in America.
Social tolerance, crime, and taxation are the main drawbacks of these statistics.
Fortunately, the cost of living index is somewhat of relief along with healthcare and housing if you're looking at personal trainer jobs in St. Louis for example.
That means as far as wages are concerned, the below-average income a PT in Missouri can expect could prove more than adequate.
I'll give Missouri a 6 out of 10 QoL rating.
Methodology
I approached this review based on carefully curated facts and figures and my final verdict was based on:
The population of the state and its major cities.
The obesity figures as compared with other states.
Personal trainer certifications that are obtainable.
Availability of personal training schools & colleges.
Career prospects for personal trainers.
Earning potential for certified PTs.
Quality of Life (QoL).
Final Words on How to Become a Personal Trainer in Missouri
While Missouri has a relatively low fitness and quality of living ranking, it does present a few golden opportunities.
This is especially true with regards to major population centers such as St. Louis and Kansas City, which prove to have lucrative freedom of business and comparatively low cost of living.
If you decide to become personal trainers in St. Louis or Springfield or, the odds would be lower than aiming for a job in Kansas City.
As a St Louis personal trainer or personal trainer Kansas city, your chances of succeeding in your career are still very high.
FAQs on How to Become a Personal Trainer in Missouri
References
https://www.exercise.com/learn/ten-fittest-states-in-the-us/
https://www.americankinesiology.org/SubPages/Pages/Kinesiology%20Institution%20Database