Hey everyone, and welcome to another PT Pioneer career review.
This article is part of a series that looks at personal training state-by-state.
I aim to provide insight and information on how to make it big in each state, and if at all, it's worth it.
To give you the low-down, I'll be digging into some data, statistics, and anecdotal evidence around PT careers in each state.
I'll also give you my take based on my experience and expertise in the industry.
In this article, I'm looking at how to become a personal trainer in Minnesota.
We will only look at the significant population centers since these are the only ones that will present good opportunities.
That means Personal trainer jobs in Minneapolis, St. Paul, and Rochester since these are the top three cities by population.
I'll also point you towards personal trainer certification in Rochester and other cities so you can get the required credentials.
With that said, let's get right into it.
Make sure to check out the general guide on how to become a personal trainer.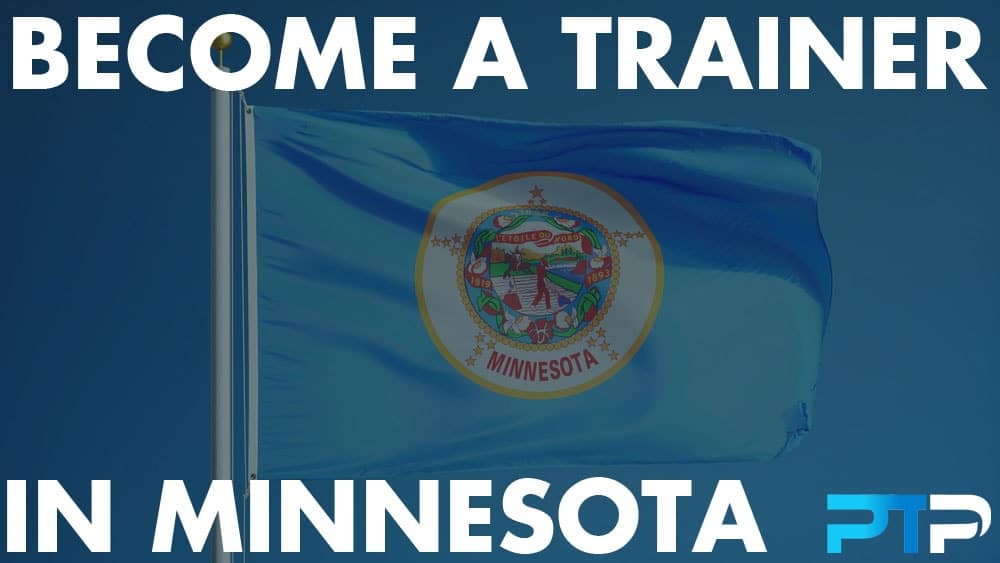 Post 23 of 50 in the PT By State Series
State Fitness Rating
The very first thing to consider is how engaged the local fitness market is.
In order to really get a handle on what the situation is, we need to know the state fitness rating based on how it ranks up amongst the other states.
There are two critical pieces of data I'm going to address in order to understand the rating.
I gathered this data from exercise.com, who have done a great job of putting things together.
The data we will use is the obesity prevalence rate and the top gyms per capita availability.
Obesity prevalence is a reliable indicator of the general health of a population.
That's because obesity typically occurs as a result of poor nutrition and a lack of engagement with exercise programs.
Therefore, a high obesity prevalence indicates a low engagement with the health and fitness industry, while a low obesity prevalence suggests the opposite.
As far as Minnesota is concerned, the obesity prevalence is 27.8. This puts Minnesota in 18th position out of all states in the US.
This is a good figure, not just for public health, but for the fitness industry you are a part of.
This is a good primary indicator of employment and business opportunity.
Next up, we have the top gyms per capita rating.
This is a significant statistic because it shows how primed and accommodating the local fitness industry is to its potential market.
It also shows the amount of employment and business opportunities: the more gyms, the more career options.
Top gyms are categorized as popular, mainstream commercial gyms.
These are used as a significant statistic simply because they are the most accessible and most affordable commercial fitness facilities.
They include businesses such as:
Exclusive PTP Offers



Gold Standard Cert

Most Popular Cert

A Good Option

Best Study Materials

Best online PT course

The Top PT Software

Orange Theory Fitness
Planet Fitness
Snap Fitness
YMCA
LA Fitness
Gold's Gym
Crunch Fitness
Anytime Fitness
24 Hour Fitness
Minnesota has a total of 571 gyms as of writing. For a population of 5,519,952, that means every 100 thousand locals can choose from 10.34 gyms.
That is an incredible ratio; in fact, Minnesota has the highest gyms to population ratio in America.
With a relatively low obesity rate and the best gym access in the country, Minnesota is the 5th fittest state in the US, making it one of the best locations to establish a PT career.
Fitness Market Makeup
Minnesota has the highest gyms to population ratio, so the market you will primarily target is in these fitness centers.
Another important aspect of life, and therefore the people in Minnesota, is that they are regularly subject to adverse cold weather.
That means a lot of your client prospects just want to keep moving to beat the cold.
This could indicate a good opening for group-based fitness services like group classes and small group exercise classes.
A fit population will not need a weight loss program but a bit of athletic training.
Minnesota also has something of a sporting and outdoor adventure culture which you could align yourself with as a fitness educator.
Personal Trainer Certifications in Minnesota
Personal trainer certification in St. Paul and other cities is needed to get a job as a personal trainer in Minnesota.
Personal trainer certification MN is the personal training licensure you need to work in a gym or set up an independent practice.
I have written an article on my best personal trainer certifications. Use this as a guide on how to become a certified personal trainer in Minnesota.
Overall here are my top 2 best personal trainer certificates in Minnesota. Ensure you have any or all of them when you decide to become a personal trainer in St. Pauls and other areas.
Having a personal training certification MN that is widely acceptable will help you when searching for personal trainer jobs MN.
Personal training schools in Minnesota
While getting an accredited cert is advisable and necessary. It's not the be-all and end-all when it comes to PT credentials.
Taking things a step further means you could be looking at a degree program from a university.
But why take such a huge step?
Well, evidence suggests that personal trainers with higher learning credentials such as a degree tend to find themselves in the upper percentiles of income statistics regarding fitness professionals.
Basically put, trainers with degrees earn more.
That's because credentials like a bachelor's, master's, or doctoral degree can easily be leveraged to optimize one's career prospects.
When it comes to employment, trainers with degrees will find themselves at the front of the line when it comes to hiring. They will also have access to higher positions with an inherently better salary.
Independent trainers with degrees are able to leverage their credentials in their marketing and value proposition, which allows them to charge a premium on the simple fact that they went to college.
But it's not all superficial. Having a degree will inevitably ingrain a level of skill and knowledge that sets you far above fitness trainers who simply have certs.
If this sounds good to you, take a look at some of the exercise science schools in Minnesota:
With quite a decent selection of kinesiology schools in Minnesota, you have great options at your disposal to get an education for a personal trainer.
Upskilling for personal trainer jobs in St. Paul and other cities is a great way to guarantee success.
However, embarking on a degree program is something you should take on after careful consideration.
The amount of time, money, and potential debt involved when going to college or university could prove to be more of a drawback than a benefit in some cases.
Think it through before you take such a big step.
Personal Trainer Jobs in Minnesota
With the numerous top gyms, which don't include other fitness facilities, there is a wide breadth of job opportunities to become a personal trainer in Rochester and other cities.
Starting off as a gym employee is great, albeit not quite as glamorous as the internet celebrity trainers you see on youtube, but you'll get there.
The good thing about starting in a gym is that you develop the fundamental skills and training experience in terms of sales, communication, and fitness instruction necessary to manage your own operation.
It's also a good place to start because you will have the safety net of a fixed income and employment benefits while you build yourself into the entrepreneur you want to be with your own training programs.
Once you reach the point of branching off on your own, you will have more freedom but also more responsibility.
You will have the freedom to price your services according to the value you offer, but the management of expenses, admin, and resources will be in your hands.
Make sure to also include an online fitness component to your business.
This will count in your favor since online fitness is one of the fastest-growing sectors in the industry.
Obtaining a certification from top personal training schools will help you get the best personal training jobs MN.
Exclusive PTP Offers



Gold Standard Cert

Most Popular Cert

A Good Option

Best Study Materials

Best online PT course

The Top PT Software

Best Cities to Be a Personal Trainer in Minnesota
Minnesota seems like a great state to work as a personal trainer, but it's a good idea to hone in on specific locations that may offer more opportunities.
That's why we've not only been looking at Minnesota as a whole but also looking at its biggest cities.
Your best odds are to become a personal trainer in Minneapolis since it is the most populated member of Minnesota state, followed closely by St. Paul and Rochester.
All three of these areas should present ample opportunity for business and career growth in the fitness training industry.
Of course, you should aim for the best possible odds, which would be personal trainer jobs Minneapolis or St.Paul, although Personal trainer jobs in Rochester are adequately abundant.
| | |
| --- | --- |
| City In Minnesota | Population |
| Minneapolis | 429,606 |
| St. Paul | 308,096 |
| Rochester | 118,935 |
| Duluth | 85,618 |
| Bloomington | 84,943 |
| Brooklyn Park | 80,389 |
| Plymouth | 79,768 |
A Minneapolis personal trainer certainly has a large population to work with.
Personal Trainer Salary in Minnesota
Aside from getting your personal trainer certification in Minneapolis, another essential consideration is the expected personal trainer salary MN.
According to salary.com, Minnesota based fitness instructors can expect an annual average income of $65,949. That's considerably more than the national average of $61,802.
This, along with the abundance of opportunity, all looks promising, but there's one final thing to look at, and that's the quality of life.
Make sure to check out the full guide on personal trainer salary.
Quality of Life Rating
Minnesota regularly scores high on many quality of life indicators.
We can just tell by the fitness ranking that society must be well adjusted there.
Business freedom and health care lead the charge, with low levels of pollution and great entertainment coming in close behind.
The cost of living isn't too high, but it's nothing to write home about.
The only real downsides are taxation and travel connectivity, according to teleport.org.
I give Minnesota an 8.5 out of 10 quality of life rating.
Methodology
The methodology used to critically review this writeup was based on the following points:
The population of the state and its major cities.
The obesity figures as compared with other states.
Personal trainer certifications that are available in Minnesota
Availability of personal training schools & colleges.
Career prospects for personal trainers.
Earning potential for certified PTs.
Quality of Life (QoL).
Final Words on How to Become a Personal Trainer in Minnesota
Minnesota is an amazing opportunity if you're heading into the personal fitness industry.
It has a population that consciously engages with fitness services and products and has a vast number of employment opportunities due to the numerous gyms.
You'll also enjoy an excellent quality of life if you don't mind braving some frequent cold weather.
FAQs on How to Become a Personal Trainer in Minnesota
References
https://www.exercise.com/learn/ten-fittest-states-in-the-us/
https://www.americankinesiology.org/SubPages/Pages/Kinesiology%20Institution%20Database