Hey everybody, and welcome back to PT Pioneer.
Today I'll be continuing my state-by-state tour by visiting Michigan.
I aim to provide you with enough insight and guidance to decide what the best location is for you to work as a Certified Personal Trainer.
As you can imagine, where you are located is a significant factor in determining the opportunities and outcomes you can expect from any career, including personal training.
So I'll go through the highs and lows of how to become a personal trainer in Michigan using a blend of raw data and anecdotal evidence.
I will only be dealing with the top population centers in Michigan to keep things simple and to the point.
That means I'll only be looking at personal trainer jobs in Detroit and Grand Rapids and how to become a personal trainer in Warren.
I'll also touch on qualifications, so you know how to go about personal trainer certification in Detroit and other areas.
With that said, let's get right into it.
Make sure to check out the general guide on how to become a personal trainer.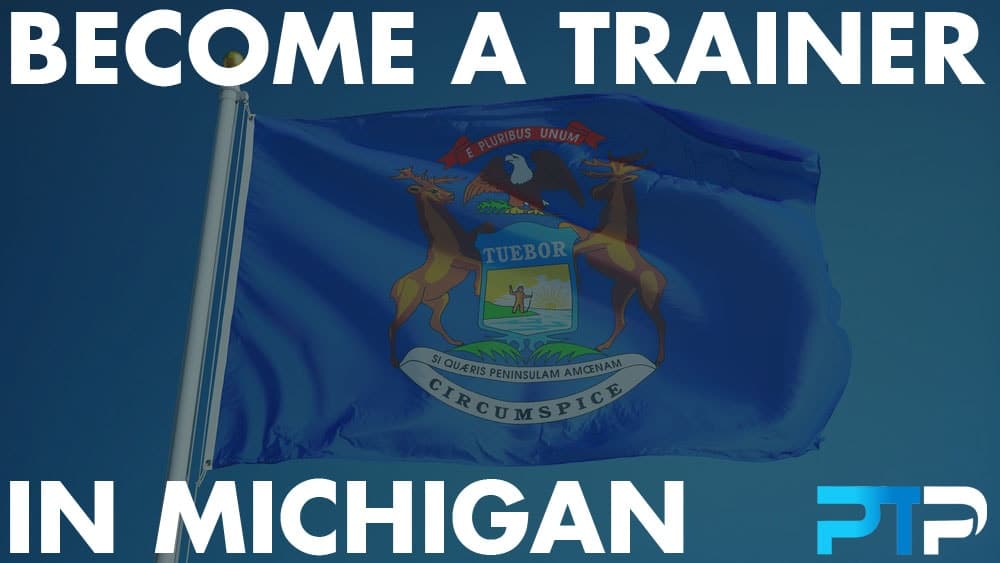 State Fitness Rating
Before you become a personal trainer in Detroit, I'd like you to consider Michigan's fitness profile.
This will give us an initial idea of what size and level of activity the local fitness market currently operate at.
For this, I've used data gathered from exercise.com. The two principal statistics I'll be looking at are obesity and top gyms availability.
Obesity data shows us how healthy the population is. It's one of the best indicators of how well a population has adapted to health and fitness lifestyle protocols.
Adoption of these protocols amounts to engagement with the personal fitness industry, which means jobs and business opportunities for you.
Michigan's obesity prevalence sits at 32.5%, putting it in 41st place in terms of state rankings.
This high rate of obesity prevalence is not an ideal situation based on what I've just explained.
It shows a local population that has a relatively low engagement with the fitness industry. This means a lower interest in the services you provide.
The second important metric is the top gyms per capita statistic.
The number of operating fitness facilities correlates to the amount of job and business opportunities available.
Top gyms are categorized as popular commercial gyms. They are an essential metric because they present the most accessible standard in terms of fitness facilities for the general public.
Exclusive PTP CPT Offers



Gold Standard Cert

Most Popular Cert

Best Study Materials

A Good Option

A Good Option

Best CPT for you?

They are easy to use, widespread and affordable compared to the more specialist fitness clubs and gyms.
Top gyms include franchises like:
Orange Theory Fitness
Planet Fitness
Snap Fitness
YMCA
LA Fitness
Gold's Gym
Crunch Fitness
Anytime Fitness
24 Hour Fitness
Michigan has a total of 516 top gyms to a population of 9,928,300 local residents.
That means for every 100 thousand locals, there are 5.2 gyms available, leaving Michigan in 33rd place in terms of state rankings.
While in the lower half of rankings when it comes to gyms, there is still plenty of opportunity for someone applying for work.
Overall, Michigan comes in with a state ranking of 42, making it one of the ten least fit states in America.
From a personal training perspective, this can be seen as a challenge, but challenges are often the source of opportunity.
Fitness Market Makeup
Your average Michigan fitness consumer will probably be concerned with the fundamentals only.
That would likely be healthy weight loss due to the rampant obesity statistics.
When it comes to weight loss, nutrition is pivotal, so you'll likely deal with many clients requiring nutritional support when it comes to personal trainer jobs in Warren.
A trip to Detroit will show you there are some potentially unique opportunities for fitness trainers.
Detroit is a major metropolitan city and has something of an athletic heritage as well.
This could lead to diversity in terms of clients and population groups you might deal with.
The opportunity for personal training in Michigan is very vast if you have a well-defined training program.
Personal Trainer Certifications in Michigan
Personal trainer certification in Warren and other cities is needed to get a job as a personal trainer in Michigan.
I have written an article on my best personal trainer certifications. Use this as a guide on how to become a certified personal fitness trainer in Michigan.
Overall here are my top 2 best personal trainer certificates in Michigan. Ensure you have all or any of them when you decide to become a personal trainer in Grand Rapids and other areas.
Possessing a personal trainer certification Michigan gives you access to the best personal training jobs in Michigan.
Personal training schools in Michigan
I'm someone that advocates for personal trainers to get certified by accredited certifying agencies.
But as a master's in kinesiology graduate, I'm also an advocate for higher learning in the fitness space.
A degree from a college or university can be considered as a personal trainer license in Michigan.
That's because it is official, permanent, and way more in-depth than a CPT cert.
Exclusive PTP CPT Offers



Gold Standard Cert

Most Popular Cert

Best Study Materials

A Good Option

A Good Option

Best CPT for you?

Fitness professionals with an associate or bachelor's degrees are known to find themselves in the upper percentile of income statistics.
That's because having a degree is the ultimate display of expertise in a field and can thus be leveraged for better positions or bigger business opportunities.
Michigan has a number of exercise science schools you can look into for better credentials. Let's take a look:
With such a wide selection of kinesiology schools in Michigan, you are spoiled for choice.
Having said that, make sure your decision to enroll in a degree program is well thought through.
Taking on a degree is a hefty time and financial investment, one you should only make if you have clarity on your future goals.
Personal Trainer Jobs in Michigan
Michigan has a low engagement when it comes to the local fitness industry; however, with at least 500 gyms, there is ample employment opportunity for a fitness or athletic trainer.
Employment at a local fitness facility would require you to have your personal training certification Michigan in check.
By now, an intending Michigan trainer should at least have or be in the process of getting a personal trainer certification in Grand Rapids, Warren, or Detroit.
Once you get the job, you'll have the opportunity not only to earn an income but to grow in skill and reputation, given the personal trainer career outlook.
Consider gym employment as a launchpad for a self-sustained venture as independent professional trainers.
Once you achieve this level, you will have the power and freedom to decide how to offer your services to the market as personal trainers in Michigan.
Make sure to consider implementing an online training component to your business. This is the fastest-growing sector in terms of the health and fitness service market.
An online personal trainer has the potential to interact with clients on one on one basis via different social media channels.
Best Cities to Be a Personal Trainer in Michigan
Detroit is by far the largest and most commercially active city in Michigan. With a population of 670, you can expect the majority of opportunities for personal training jobs in Michigan to lie there.
Next up, we have Grand rapids, with a much lower but still sizable population to work with.
Lastly, I'll mention Warren City. It is the only other city in Michigan with a population above 100 thousand residents.
These are the three cities you should be concerned with if you are given a choice of personal trainer jobs in Michigan.
Outside of that, it would be a hard grind, but not entirely impossible to find success.
| | |
| --- | --- |
| City In Michigan | Population |
| Detroit | 670,031 |
| Grand Rapids | 201,013 |
| Warren | 133,943 |
| Sterling Heights | 132,438 |
| Ann Arbor | 119,980 |
| Lansing | 118,210 |
| Clinton Charter | 100,471 |
A quick search on google for "personal trainer jobs grand rapids mi" or "personal trainer jobs Michigan" will give you insight into the personal training job outlook.
Personal Trainer Salary in Michigan
A personal trainer in Michigan can expect a mean annual salary of $62,527.
Personal trainer salary in Michigan is barely more than the national average of $61,802, according to salary.com.
That is a good figure to work with. However, what you earn is always subject to how much you will need to spend.
That's why we will look at the quality of life rating and discover the cost of living and other things.
Make sure to check out the full guide on personal trainer salary.
Quality of Life Rating
Right away, Michigan is one of the most affordable states in the US, so income considered, it's a good place to be as a PT.
Beyond that, however, the state ranks pretty low.
A lot of Michigan's woes are based on the downsizing of its industrial prowess. Once a global hub of manufacturing, especially in the Detroit auto industry, the state has seen a decline in many areas.
I'll give Michigan a 5.5/10 QoL rating.
Methodology
I used the following methodology when reviewing how to become a personal trainer in Michigan.
The population of the state and its major cities.
The obesity figures as compared with other states.
Personal trainer certifications that are available in Michigan
Availability of personal training schools & colleges.
Career prospects for personal trainers.
Earning potential for certified PTs.
Quality of Life (QoL).
Final Words on How to Become a Personal Trainer in Michigan
Michigan is a state with a generally low engagement when it comes to health and fitness.
It won't be my first choice if you're considering relocating.
However, if you are bound by fate to the state, there is enough opportunity and the potential to pull in a decent salary.
There are also numerous educational opportunities to upskill and optimize your odds.
FAQs on How to Become a Personal Trainer in Michigan
References
https://www.exercise.com/learn/ten-fittest-states-in-the-us/
https://www.americankinesiology.org/SubPages/Pages/Kinesiology%20Institution%20Database