Hello everyone, and welcome to PT Pioneer.
One of the critical factors to success as a personal trainer is your location.
This article is part of a state-by-state series where I look at how location plays a role in potential and success.
This time my focus will be on how to become a personal trainer in Massachusetts, where I'll give insight into making it big in this state.
I'll also dive into personal trainer certification in Springfield as well as personal trainer jobs in Boston and other cities.
I'll only really focus on the three biggest cities by population as these are the ones you should be concerned with.
With a mix of data, anecdotal evidence, and my expertise, I'll give you a clear roadmap on how to chart a successful CPT career in Massachusetts and other states.
And with that said, let's get right to it.
Make sure to check out the general guide on how to become a personal trainer.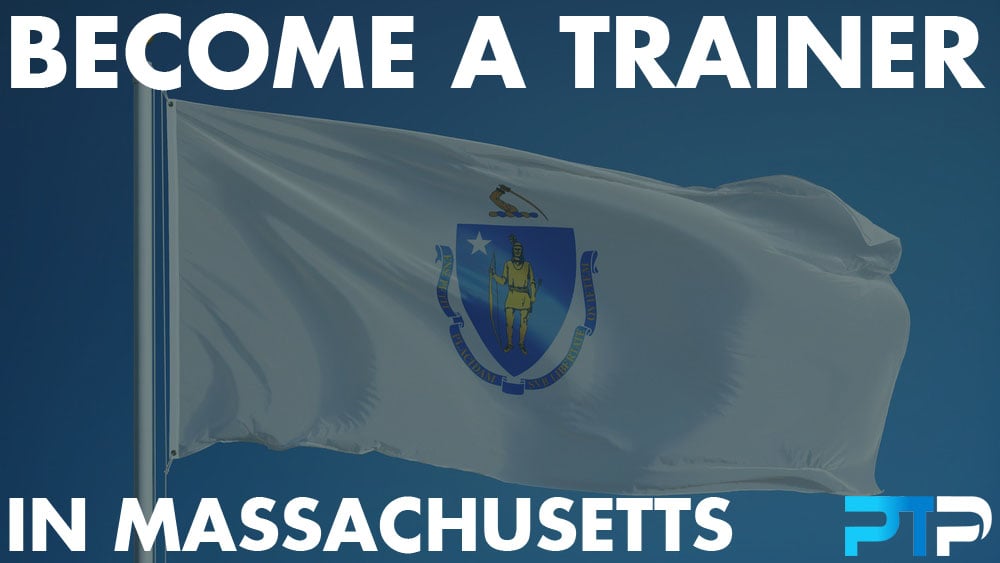 Post 21 of 50 in the PT By State Series
State Fitness Rating
Before you become a personal trainer in Springfield or any other city in Massachusetts, you need to understand how active the local fitness industry is.
For that, I'm going to take a look at some data, and two key pieces of data to be specific.
Those being the obesity statistics and the top gyms statistics.
The data I'll be using was sourced from the good folks over at exercise.com.
They have some amazing tools to help you further your fitness empire, so check them out when you have the chance.
Let's take a look at obesity stats in Massachusetts. With a prevalence rate of just 23.6%, Massachusetts finds itself in the top 3 healthiest populations coming in at 3rd place out of 651.
This is very promising as it indicates a high level of consumer engagement with health and maintenance of fitness levels.
A low obesity statistic means people invest in their wellness. Personal trainers are a significant part of providing health and fitness for a population.
Next up, I'll take a look at the top gyms ranking. Before we go any deeper, let's try and understand what is meant by top gyms.
These gyms or fitness centers are your run-of-the-mill, general fitness facility.
Commercial gyms with franchise chains dotted across the nation and a mainstream appeal that has made them household names.
These include the likes of:
LA Fitness
Crunch Fitness
Gold's Gym
Orange Theory Fitness
Planet Fitness
YMCA
Snap Fitness
Anytime Fitness
24 Hour Fitness
Top gyms are included as a valuable statistic because they indicate a market primed for consumer demand through fitness facilities that are affordable and accessible.
Top gyms also indicate the low-hanging fruit when it comes to employment opportunities for fitness instructors.
These are typically ground zero when it comes to starting your career as a fitness trainer or group fitness instructor.
I am happy to report that Massachusetts scores well in this department.
Exclusive PTP Offers



Gold Standard Cert

Most Popular Cert

A Good Option

Best Study Materials

Best online PT course

The Top PT Software

With a total of 412 gyms to a population of 6,811,779 residents, the state has gym access of 6.05 facilities per 100 thousand locals.
This gives Massachusetts a ranking of 19, leading to an overall state fitness ranking of 6 out of 51.
Fitness Market Makeup
Massachusetts is a considerably healthy, active state, so the market would include a mix of fitness profiles from sedentary to athletic.
Personal trainers in Boston are expected to deal with clients looking to improve more specific aspects such as aesthetics and athletic performance.
This is also due to the rich sporting heritage associated with Massachusetts.
Boston is one of America's sporting hubs, so expect a significant amount of opportunity training clients with athletic ambition at an amateur, collegiate, and perhaps even pro-level.
Another notable aspect of Massachusetts fitness is the love of outdoor activities and adventure sports.
This brings a similar theme as Colorado when it comes to the fitness culture.
Personal Trainer Certifications in Massachusetts
Personal trainer certification in Boston and other cities are needed to get a job as a personal trainer in Massachusetts.
Your personal trainer certification Massachusetts is also personal training licensure.
I have written an article on my best personal trainer certifications. Use this as a guide on how to become a certified personal trainer in Massachusetts.
Overall here are my top 2 best personal trainer certificates in Massachusetts. Ensure you have all or any of them when you decide to become a personal trainer in Springfield and other areas.
Possession of the highest personal training certification from training schools in MA will help you when searching for personal trainer jobs MA.
Personal training schools in Massachusetts
Obtaining your personal trainer certification in Worcester is an excellent place to start, but you might also consider upgrading your credentials.
A higher learning cert, such as a college or university degree, could set you apart from the crowd.
Gaining such prestigious qualifications can allow you to leverage your skills for better opportunities.
Fortunately, there are several exercise science schools in Massachusetts you can look up:
With a good selection of options in terms of kinesiology schools in Massachusetts, you can't really go wrong if you decide to get a degree with a personal training certification Boston.
It is, however, a decision you should only make with careful consideration.
Doing a university or college program is a massive financial investment, and student loan debt is a real obstacle many young professionals are faced with.
So just think it through and make 200% sure it's right for you.
Personal Trainer Jobs in Massachusetts
Personal trainer jobs in Worcester and other areas of Massachusetts are most prevalent within the gyms.
The high number of commercial gyms means the best personal trainers in Boston have great odds of finding job placement.
This is the best way to start as it allows you to hone your craft while building a reputation amongst clients.
Beyond this, working as an independent personal trainer in Boston, running your own business is the next step forward.
There is ample space to develop a unique and lucrative niche considering the diverse nature of Massachusetts fitness culture.
One thing to consider is having an online component to your PT business.
Evidence indicates this to be the fastest-growing segment of the industry in terms of service.
Best Cities to Be a Personal Trainer in Massachusetts
When it comes to Massachusetts, you should aim to become a personal trainer in Boston. It is the largest city by far, with a total population that eclipses the next six largest cities combined.
This would suggest that most of the viable commercial activity, which includes the fitness industry, is happening there.
If Boston is out of the question, you can still ply your trade in Worcester and Springfield as the next two options.
| | |
| --- | --- |
| City In Massachusetts | Population |
| Boston | 710,195 |
| Worcester | 186,433 |
| Springfield | 155,472 |
| Cambridge | 121,783 |
| Lowell | 112,626 |
| Brockton | 96,313 |
| Lynn | 96,032 |
A quick search on google will give you more insights on "personal trainer Boston MA", "personal trainer Worcester MA", "personal trainer Lowell MA",
"personal trainer Springfield MA", "personal trainer Cambridge MA".
Personal Trainer Salary in Massachusetts
Trainers in Massachusetts can expect an annual average income of $68,083 statewide and $69,743 in Boston.
Compared to the national average of $61,802, this is a fantastic proposition.
Exclusive PTP Offers



Gold Standard Cert

Most Popular Cert

A Good Option

Best Study Materials

Best online PT course

The Top PT Software

That income level is within touching distance of the unofficial "happiness threshold".
The happiness threshold is a theoretical annual salary figure identified as the limit at which more money leads to a happier life.
However, the dollar amount of a salary figure is only worth the cost of living and the quality of life you're subject to.
With that said, let's take a look at life in Massachusetts.
Quality of Life Rating
Personal trainer jobs in Springfield and other cities are reliant on the local quality of life.
According to USA Today, Massachusetts has the highest quality of life in America.
This is primarily due to excellent health care, education, and employment.
The state also records some of the country's lowest crime stats and has excellent service infrastructure and entertainment.
The cost of living is relatively high, but this is canceled out by the high employment rate and mean income.
With all this considered, I give Massachusetts a 9/10 quality of life rating.
Make sure to check out the full guide on personal trainer salary.
Methodology
The methodology I am using to critically evaluate this article on how to become a Personal Trainer in Massachusetts are clearly stated below:
The population of the state and its major cities.
The obesity figures as compared with other states.
Personal trainer certifications attainable in the state.
Availability of personal training schools & colleges.
Career prospects for personal trainers.
Earning potential for certified PTs.
Quality of Life (QoL).
Final Words on How to Become A Personal Trainer in Massachusetts
Massachusetts, and in particular, Boston, is one of the best places to live and work in the US.
Becoming a personal trainer in Springfield and other cities will put you in line for decent income potential.
The vibrant, active fitness market, along with the business freedom and low unemployment rate, means you will always have something to occupy your time while lining your pockets as fitness professionals.
FAQs on How to Become A Personal Trainer in Massachusetts
References
https://www.exercise.com/learn/ten-fittest-states-in-the-us/
https://www.americankinesiology.org/SubPages/Pages/Kinesiology%20Institution%20Database