Hey Everybody, and welcome to PT Pioneer.
Ever wondered where the best place to work as a Certified Personal Trainer is?
Well, that's what this article is about. It's part of a series where I go state by State, unraveling what it takes to cut it as a PT in each location.
Your location is a huge factor in having a successful career, so I felt it was essential to give you a full rundown of where the best places are.
This time around, I'll be looking at how to become a personal trainer in Maryland.
I'll be giving you insight into the local fitness industry using data, analytics, and some anecdotal evidence.
I'll also touch on what sort of qualifications you should be aiming for to optimize your success and income.
And with that said, let's get right into it.
Make sure to check out the general guide on how to become a personal trainer.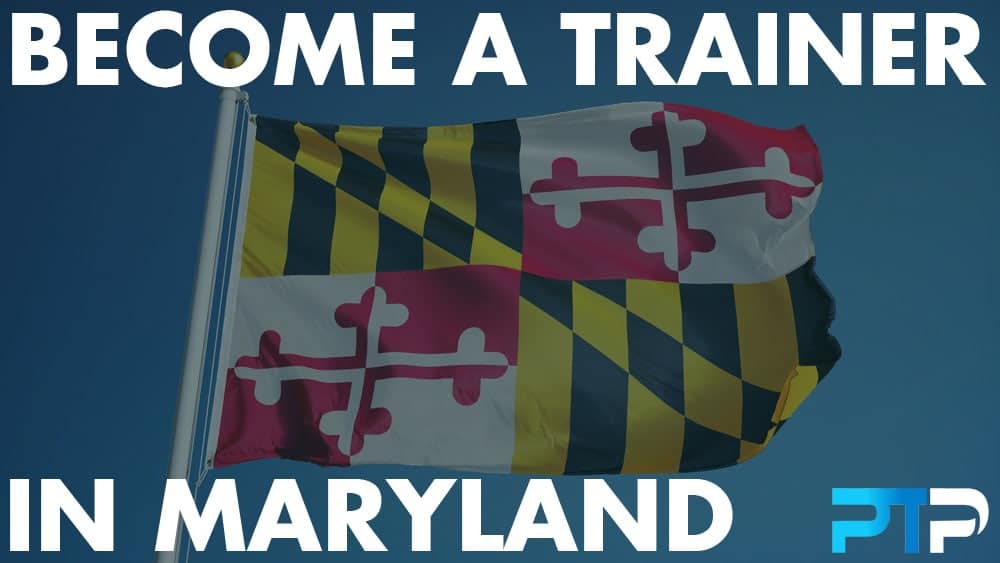 Post 20 of 50 in the PT By State Series
State Fitness Rating
The first order of business is the state fitness rating. In this case, it will be based on a ranking provided by exercise.com.
Understanding the fitness profile of a specific location paints a picture of what potential you can expect from the local market.
It will allow you to strategize on the best way forward as well as decide if this is the right spot for you.
For this, we'll be dealing with two pieces of data.
The first is the obesity prevalence rate as well as the overall national ranking against all other states.
This is important to look at because obesity indicates a population's predilection towards fitness, and this shows us how viable it is to become a personal trainer in Germantown and other cities.
Maryland has an obesity prevalence of 29.9%. This is relatively high and indicates a population with a limited engagement with the health and fitness industry.
As a personal trainer, low engagement with a local health and wellness industry posed a challenge and indicated a less than ideal opportunity for a fitness trainer.
At the same time, this can also be treated as an unsatisfied gap in the market. It all depends on your approach and entrepreneurial drive.
With this prevalence rate, Maryland is ranked 25th out of 51 states (including DC). This ties it up with Maine.
The middle spot obesity rating means moderate engagement and adequate opportunity for fitness professionals to engage with the general market.
The next stat we're going to deal with is top gyms per capita.
This indicates how primed the fitness industry is for engagement by the local market.
Top gyms are those popular fitness facilities or fitness centers with mainstream appeal and household names.
These commercial gyms also present great employment opportunities.
Top gyms include some of the following fitness chains:
Snap Fitness
Planet Fitness
Crunch Fitness
Orange Theory Fitness
YMCA
Gold's Gym
Anytime Fitness
24 Hour Fitness
LA Fitness
These gyms tend to be the most affordable, the most widespread, and the easiest to use, making them a useful metric in determining the fitness profile of a state.
Maryland has a total of 270 gyms to a population of 6,016,447 inhabitants.
This gives the state a figure of 4.49 gyms per 100 thousand locals.
Exclusive PTP Offers



Gold Standard Cert

Most Popular Cert

A Good Option

Best Study Materials

Best online PT course

The Top PT Software

Those stats are pretty low, landing Maryland in 48th place concerning gym access.
Overall, Maryland comes in at number 41 out of 51, indicating a less than ideal fitness industry
Fitness Market Makeup
Before you become a personal trainer in Columbia, Baltimore, or Germantown, you need to understand what sort of clients you'll be dealing with and their fitness levels.
The fitness market in Maryland will have a decent general population group but might also include a sizable amount of special populations in the form of elite athletes.
Maryland, especially Baltimore, does have something of sporting heritage, so you might find some opportunity to create exercise programs with this market segment, depending on your level of experience and credentials.
You might also find a gap in the market for nutrition coaching and group fitness with such a high obesity prevalence.
Personal Trainer Certifications in Maryland
Personal trainer certification in Baltimore and other cities is needed to get a job as a personal trainer in Maryland.
I have written an article on my best personal trainer certifications. Use this as a guide on how to become a certified personal trainer in Maryland.
Overall here are my top 2 best personal trainer certificates in Maryland. Ensure you have all or any of them when you decide to become a personal trainer in Baltimore and other areas.
Having the best personal trainer certification Maryland will help in your quest for personal trainer jobs in MD.
Personal training schools in Maryland
Aside from personal trainer certification in Germantown and other areas, you could also upskill and bolster your credentials with a higher learning qualification.
This would be in the form of a university or college degree.
Getting a degree as personal trainers in MD is widely known to boost your career potential.
Having such an official qualification to your name allows you to leverage for better pay and higher positions with Personal trainer jobs in Baltimore and other cities.
As an independent trainer, a degree can also allow you to boost your credibility, which can raise your status, allowing you to charge more for your experiences.
There are several exercise science schools in Maryland you can look at. Let's check them out:
These kinesiology schools in Maryland present a great opportunity to solidify your professional status when looking for Personal trainer jobs in Columbia or Baltimore.
But now that we understand the value of higher learning credentials, it's essential to recognize the massive time and financial investment you will need to make.
Be sure to think things through and have a clear projected roadmap of your personal training career before jumping into a degree program.
You should do a quick search for "fitness jobs Maryland" and "personal trainer jobs Baltimore" to know the qualifications of a personal trainer in Maryland.
Personal Trainer Jobs in Maryland
With 270 gyms situated in the state, you will have at least 270 opportunities for personal trainer jobs in Germanton, Columbia, or Baltimore.
Starting in a gym or health club as an employed personal trainer in MD is my best suggestion at the genesis of a fitness career.
That's because you will be able to gain expertise, get rid of the nerves and jitters, and build a reputation that will launch you into a lucrative solo career.
It's also a good safety net in terms of guaranteed income and benefits.
Once you go off on your own, the tradeoff for freedom is initial financial insecurity and the need to handle a hefty amount of administrative tasks.
An excellent area to focus on as an independent online fitness trainer.
Some clients prefer engaging with online personal training sessions.
As the fastest growing sector in the fitness services industry, it's not even a question at this point.
Best Cities to Be a Personal Trainer in Maryland
With a population of over 6 million, Maryland has an adequate pool of prospects to work with, but it's always best to target the major population hubs.
That's why in this article, I've only mentioned the top three cities in Maryland by population, those being Baltimore, Columbia, and Germantown in that order.
Baltimore is by far the best with opportunity. It is a major metropolitan area with a good level of commercial engagement.
It also has the lion's share of the previously mentioned top gyms, making it a perfect option for personal trainers in Maryland.
Columbia and Germantown are far behind in terms of population but still hold their own in terms of excellent business and employment opportunities for a Maryland personal trainer.
Beyond that, while not impossible to succeed, the rest of the major cities aren't ideal and will present a significantly lower number of opportunities.
Let's have a look at the population stats real quick:
| | |
| --- | --- |
| City In Maryland | Population |
| Baltimore | 593,490 |
| Columbia | 103,663 |
| Germantown | 90,844 |
| Silver Spring | 79,750 |
| Waldorf | 74,587 |
| Ellicott City | 72,247 |
| Frederick | 72,244 |
As you can see, Baltimore is leaps and bounds ahead of the rest, so it should be your first priority.
Exclusive PTP Offers



Gold Standard Cert

Most Popular Cert

A Good Option

Best Study Materials

Best online PT course

The Top PT Software

Personal trainers in Baltimore have better opportunities with their population.
Personal Trainer Salary in Maryland
The average annual income for a fitness instructor in Maryland is $64,519 per year.
That's pretty good, considering the national average sits at just over $61k.
But a promising income statistic is only as good as how far you can stretch your dollar. That's why we'll need to look at the quality of life, and specifically within that aspect, cost of living.
Quality of Life Rating
Maryland is one of the best states to live in, according to usanews.com.
It comes in as the 6th best state to live in.
Key contributors to this status are health care, education, and business opportunity.
The cost of living isn't fantastic, but it is reasonable, making the annual average income for PTs in the state quite livable.
Crime is, however, a problem, and taxation can also dampen the mood.
Overall, Maryland gets an 8/10 quality of life rating.
Make sure to check out the full guide on personal trainer salary.
Methodology
The methodology I adopted in analyzing this article on how to become a personal trainer in Maryland is based on the following:
The population of the state and its major cities.
The obesity figures as compared with other states.
Personal trainer certifications attainable in the state.
Availability of personal training schools & colleges.
Career prospects for personal trainers.
Earning potential for certified PTs.
Quality of Life (QoL).
Final Words on How to Become A Personal Trainer in Maryland
Maryland might seem like a lesser choice when looking at the fitness ranking, but it has such a diversity of opportunities that you might find a great deal of success with the right training programs.
Being a "personal trainer Baltimore", "personal trainer Silver Spring" or "personal trainer Frederick MD" is not a bad option.
There are definitely better places to be a personal trainer, but Maryland can support your career.
There's also enough opportunity to boost your resume and get your personal trainer license in Maryland or your personal trainer certification in Columbia and other areas.
Overall, personal training in Maryland is worth it if you have the fitness certifications needed to help clients achieve their fitness goals.
FAQs on How to Become A Personal Trainer in Maryland
References
https://www.exercise.com/learn/ten-fittest-states-in-the-us/
https://www.americankinesiology.org/SubPages/Pages/Kinesiology%20Institution%20Database