Hello everybody, and welcome to another PT Pioneer career review.
This article is part of a series where I travel to each state and provide insight into what is required to succeed as a trainer in each state.
I'll be using some data gathered from the talented folks over at exercise.com, as well as other sources.
I'll be filling in the blanks with my expert analysis so you can discover which state is the best place for you to work and live.
In this article, I'll be looking at how to become a personal trainer in Maine and will only be dealing with its three largest cities by population.
That's because these are the areas that provide the best odds for a successful and sustainable career in fitness and physical wellness.
That means I'll be looking at personal trainer jobs in Bangor, Portland, and Lewiston.
With that said, let's get right into it.
Make sure to check out the general guide on how to become a personal trainer.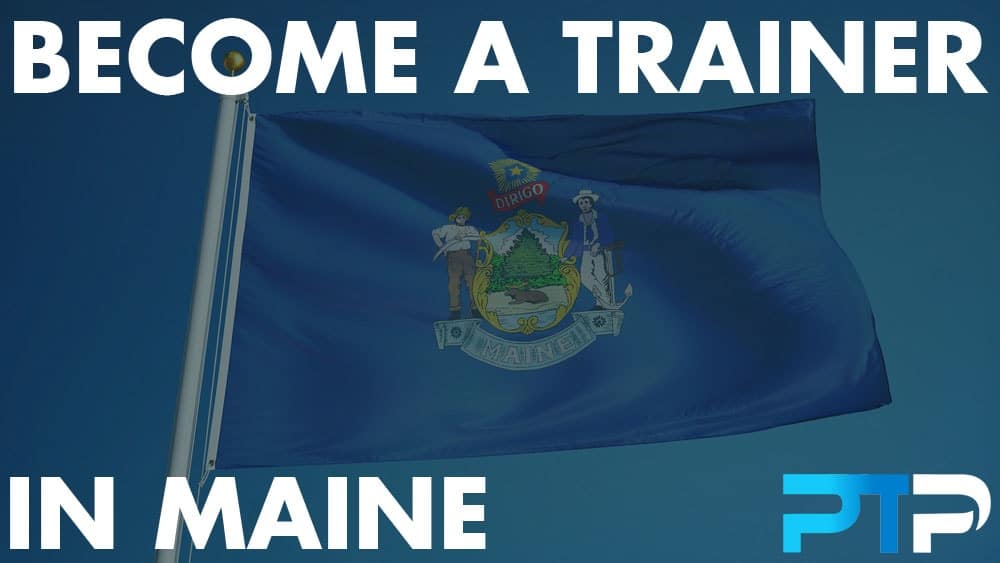 Post 19 of 50 in the PT By State Series
State Fitness Rating
From findings, I discovered that each state has a different attitude towards health and fitness and it is a consequence of several factors.
My first stop when looking at becoming a personal trainer in Bangor, Lewiston, and Portland is the state fitness rating.
This is a ranking of how conscious and engaged the general population is to staying healthy and their commitment level to personal fitness goals.
For this, we will be looking at two statistics: those being the obesity prevalence rate and the top gyms per capita.
Maine has an obesity prevalence of 29%. This isn't great, but not the worst either.
In fact, Maine's obesity rate is so moderate; it lands them in the 25th position out of all the states.
This could point to a decent market engagement, as well as a significant untapped opportunity in the fitness industry.
Obesity statistics show how willing and engaged a population is with their fitness journey, and engagement with fitness means business for personal trainers.
The second set of data I'll be addressing is the top gyms per capita. Before we go into those numbers, it's essential to define exactly what a "top gym" is.
In this case, a top gym is simply categorized as one of many popular commercial franchise gyms. The type that has become a household name synonymous with fitness.
Examples of such gyms include:
Crunch Fitness
Planet Fitness
Gold's Gym
Anytime Fitness
24 Hour Fitness
LA Fitness
Snap Fitness
Orange Theory Fitness
YMCA
The reason these popular, mainstream gyms are included as a metric is that they indicate a high level of accessibility to fitness for the general population.
They are easy to use, affordable, and available.
Maine only has 78 top gyms, but with a population of just over a million, there are approximately 5.86 gyms for every 100 thousand locals.
That's a good ratio for locals who need a gym, but it's a low number of opportunities for a CPT.
Exclusive PTP Offers



Gold Standard Cert

Most Popular Cert

A Good Option

Best Study Materials

Best online PT course

The Top PT Software

Overall, Maine has a state fitness rank of 20 out of 51, placing it in the top half.
Fitness Market Makeup
With such a small population, the Maine fitness crew would likely consist of a very general population type in terms of fitness consumers.
I wouldn't expect too many special population groups such as athletes and such.
For that reason, I'll advise you to focus on the fundamentals when you become a personal trainer in Portland, with an emphasis on weight loss and transformation.
You would also do well by engaging with the small group training class model, having basic knowledge of how a group fitness instructor operates will not be a bad idea.
Personal Trainer Certifications in Maine
Personal training certification in Portland and other cities is needed to get a job as a personal trainer in Maine.
I have written an article on my best personal trainer certifications. Use this as a guide on how to become a certified personal trainer in Maine.
Overall here are my top 2 best personal trainer certificates in Maine. Ensure you have all or any of them when you decide to become a personal trainer in Lewiston and other areas.
Having a national certification is helpful to the status of personal trainers in Maine.
Google "personal trainer certification near me" or "personal trainer certification Maine" to know the best one for your state.
Personal training schools in Maine
As important as it is to get a personal trainer certification in Bangor or any other city, this is simply one way to skin the cat, so to speak.
If you really want to boost your industry and market credibility, a higher learning cert such as a degree or diploma will shoot your value up.
It's well understood that fitness trainers with associate or bachelor's degrees often end up in the top income bracket.
It's much easier to leverage your credentials when you have something as official as a degree attached to your name.
Maine has a few options when it comes to exercise science schools. Let's take a look at some of them:
The selection of kinesiology schools in Maine isn't as broad as many other states, but it is a small state after all.
Remember to think carefully before embarking on a degree program. It's great, but not necessary for personal trainers Maine.
The financial and time investment is huge and could change the course of your future in a big way.
Personal Trainer Jobs in Maine
When it comes to personal trainer jobs in Lewiston, Bangor, or Portland, your first order of business is to try to secure employment in one of the top gyms.
These can be a great launchpad to bigger things since you'll have access to clients who want to maintain their fitness level and on-the-job training that will benefit you as an independent trainer.
Speaking of which, with the low availability of gyms and fitness centers, thus limiting employment potential, the quicker you establish your own self sustained operation, the better.
The best suggestion I can give to this is to also add an online training aspect to your services.
This will enable you to captivate a more diverse market and reduce many of the limitations and resource expenditures associated with traditional coaching or personal training sessions.
Best Cities to Be a Personal Trainer in Maine
I've already pointed out how tiny Maine is as a population center, and the number of top gyms also attests to this.
So your best shot at success is to target only the top cities and settlements in terms of population and not even consider any others.
Personal trainer jobs in Portland are your primary target, with just over 66 thousand inhabitants.
That's a pretty low population for a town or city by any standard, but that's the most you will get out of Maine.
Lewiston and Bangor have very similar population sizes, both in the 30k range, then it only gets lower from there.
| | |
| --- | --- |
| City In Maine | Population |
| Portland | 66,067 |
| Lewiston | 35,868 |
| Bangor | 32,167 |
| South Portland | 25,474 |
| Auburn | 23,256 |
| Biddeford | 21,574 |
| Sanford | 20,352 |
Ideally, Portland is your pot of gold, with Lewiston and Bangor being your secondary options.
"Personal trainers Portland Maine" definitely have the potential to get clients.
Personal Trainer Salary in Maine
When you become a personal trainer in Bangor, Lewiston of Portland, the average salary in Maine that you can expect is $60,227 per year.
The national average is $61,802 per year for trainers across America.
Exclusive PTP Offers



Gold Standard Cert

Most Popular Cert

A Good Option

Best Study Materials

Best online PT course

The Top PT Software

That means as a PT in Maine, you're earning less than you're generally capable of in the US.
But the value of salaries in Maine is actually determined by the cost of living you're subject to.
To understand that, we'll need to look at the quality of life rating in Maine.
Make sure to check out the full guide on personal trainer salary.
Quality of Life Rating
Making a living isn't just about what you earn. It's also about the standards of living and what you need to spend your hard-earned money on.
Maine is an idyllic coastal State. Its relaxed ambiance and maritime quaintness make for a great experience if you're not trying to be a city slicker.
This comes with a great outdoors and nature experience.
The catch with this is the economy drives much slower than some of the busier metropoles. Business freedom is, however, pretty high, along with safety and healthcare.
The cost of living actually makes the below-average PT income attractive enough to settle in.
For all this, I'll give Maine a 7.5/10 QoL rating.
Methodology
I analyzed this review based on meticulously chosen data and my final resolution was based on:
The population of the state and its major cities.
The obesity figures as compared with other states.
Personal trainer certifications that obtainable.
Availability of personal training schools & colleges.
Career prospects for personal trainers.
Earning potential for certified PTs.
Quality of Life (QoL).
Final Words on How to Become a Personal Trainer in Maine
The small seaside state of Maine doesn't have as much to offer a fitness professional as some of the more fast-paced places in America.
But where people live, there always exists the need for health and fitness.
You can optimize your chances by upskilling through personal trainer certification in Lewiston, Portland, or Bangor.
Although options are limited for personal trainer Maine, there are several ways to get your personal trainer license and get started.
FAQs on How to Become a Personal Trainer in Maine
References
https://www.exercise.com/learn/ten-fittest-states-in-the-us/
https://www.americankinesiology.org/SubPages/Pages/Kinesiology%20Institution%20Database