Hello everyone, and welcome to PT Pioneer.
My name is Tyler, and I'm here to help guide you through all the necessary steps towards becoming a successful fitness pro.
This article is part of a series where I look at what it takes to succeed as a CPT in all US states.
I'll provide insight in the form of statistical data, anecdotal evidence, and my expert opinion.
I'll be looking at how to become a personal trainer in Louisiana and its fitness industry outlook.
To keep things simple, I'll only be looking at personal jobs in New Orleans, Baton Rouge, and Shreveport.
That's because these are the biggest and most commercially active population centers in the state, offering the best opportunities for success.
I'll also delve into qualifications. Getting your personal trainer certification in Shreveport and other cities is essential.
And with that said, let's jump into it.
Make sure to check out the general guide on how to become a personal trainer.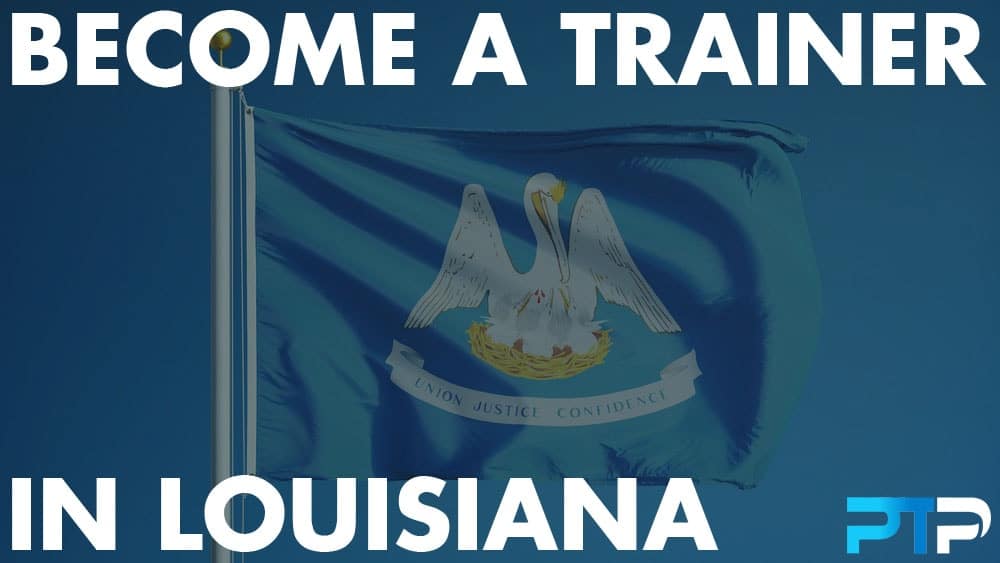 Post 18 of 50 in the PT By State Series
State Fitness Rating
Before discussing personal trainer certification in Baton Rouge, I want to look at the state fitness rating, measuring how healthy a state is based on its overall ranking.
This is the first important metric to consider as it paints a picture of what the personal fitness market looks like and how viable it is to tap into.
For this, I've gathered some data sourced from exercise.com who have done a great job at crunching the numbers.
Two key statistics I'll be addressing are the obesity prevalence and the number of top gyms, both of which have state rankings.
Obesity prevalence shows us how engaged with health and fitness the general population is. Obesity is one of the most reliable indicators of health and fitness.
In the case of Louisiana, the state has an obesity prevalence of 35.5%.
This is a very high rate of people considered dangerously overweight by medical standards.
This puts Louisiana in 47th place out of 51, making it one of the worst states for obesity.
What that means is you'll have your work cut out for you as a PT in that state in terms of creating training programs to help achieve their fitness goals..
That's because it indicates a population with a low engagement with health and wellness. That translates into less opportunity and viability for the personal trainers such as yourself.
On the other hand, it could also indicate a ripe market for the taking, with many people in need of the expert services of a fitness trainer.
All you need to do as a fitness instructor is create fitness programs that meets the needs of the populace.
The next category is the top gyms statistic.
Top gyms can be described as those popular commercial gyms, the ones which are household names as far as fitness facilities are concerned.
Top gyms include the likes of:
Crunch Fitness
Planet Fitness
Gold's Gym
Anytime Fitness
24 Hour Fitness
LA Fitness
Snap Fitness
Orange Theory Fitness
YMCA
If you are interested in how to become a personal trainer at La fitness and other major gyms, you should find out La fitness personal trainer requirements.
The reason these gyms are used as a valuable statistic is that they indicate the number of primary employment opportunities in fitness training, on a full time or part time basis.
That's because they are generally more affordable and more comfortable to use than a specialist facility like a CrossFit box or a martial arts gym, for example.
Louisiana has a total of 340 gyms with a population of 4,681,666.
Exclusive PTP Offers



Gold Standard Cert

Most Popular Cert

A Good Option

Best Study Materials

Best online PT course

The Top PT Software

This gives the state a gym availability of 7.4 gyms per 100 thousand residents.
That's the fourth-highest gyms per capita ratio in the country!
With all things considered, Louisiana comes out with a state fitness ranking of 17 out of 51. This is remarkably high, considering the obesity statistics or fitness levels.
Fitness Market Makeup
On analyzing the factors as you become a personal trainer in New Orleans, you'll find the market you will deal with in Louisiana will have a high proportion of overweight and obese people.
Added to this, your average fitness consumer will be a gym-goer since there are so many options of fitness centers available.
That means in order to successfully target this market; you will need to make yourself seen and heard on the gym floor.
A personal trainer in LA services would also need to include nutrition coaching and group fitness, as they are a major component of healthy weight loss protocols.
Louisiana is known for its "soul food" and cajun cuisine culinary culture, indulgence in which is probably a major cause behind the obesity stats.
You'll have your work cut out for you when it comes to eliminating such ingrained factors for your clients' health.
Personal Trainer Certifications in Louisiana
Personal training certification in New Orleans and other cities is needed to get a job as a personal trainer in Louisiana.
I have written an article on my best personal trainer certifications. Use this as a guide on how to become a certified personal trainer in Louisiana.
Overall here are my top 2 best personal trainer certifications in Louisiana. Ensure you have all or any of them when you decide to become a personal trainer in Baton Rouge and other areas.
Do ensure you attend a certified personal trainer school, get the right study materials, pass your certification exams to become a personal trainer in New Orleans.
Personal training schools in Louisiana
Getting an accredited cert is a step in the right direction, and maybe the only step you need to take as far as credentials are concerned.
But you can increase the value of your credentials, which can have tremendous career advantages.
I'm talking about getting a degree from a university or college.
Doing an undergrad or post-grad qualification is basically like getting your personal trainer license in Louisiana.
It's more official and carries more weight than a mere cert from a personal fitness trainer school.
Fortunately, there are several exercise science schools in Louisiana you can attend.
Let's look at some of them:
As you can see, there is a good number of kinesiology schools in Louisiana.
When considering personal trainer jobs in Louisville and other areas, getting qualified through a university could set you head and shoulders above the rest.
Evidence shows that trainers with degrees tend to net higher incomes and can leverage for more prestigious job titles.
With that said, it is essential to think about your decision to enroll in a degree program carefully.
It's quite a big chunk of money and time you're investing, so you need to be sure of your goals and projected ambition.
Personal Trainer Jobs in Louisiana
Personal trainer jobs in Baton Rouge or anywhere else will primarily be based in the top gyms.
That's because there is such high availability of them in relation to the size of the population.
You're also better off starting as a gym employee. Here you can hone your skills, build your reputation, and connect with clients while earning a secure and guaranteed income with benefits.
Of course, you will want to expand at some point and allow yourself the freedom of running your own business and becoming an independent personal trainer.
This means taking the reins to manage administrative tasks such as accounting, insurance, and legal.
It is necessary to build good routines and a sense of discipline when entering this phase of your career.
As I mentioned. Including nutrition coaching as part of your services would be a great asset in providing results-driven coaching.
Lastly, having an online component is essential today. Online coaching is one of the fastest-growing sectors in the fitness industry. It pays to jump on board.
You can do a google search for "fitness trainer jobs near me" or "personal trainer jobs New Orleans".
Best Cities to Be a Personal Trainer in Louisiana
Louisiana is a small state with just over 4 million residents. So in order to truly capitalize on the available opportunities for fitness professionals, your best approach would be to focus on the busiest population centers.
Let's take a look at the top 7 cities in Louisiana where the cost to become a certified personal trainer is worth it:
| | |
| --- | --- |
| City In Louisiana | Population |
| New Orleans | 390,144 |
| Baton Rouge | 220,236 |
| Shreveport | 187,112 |
| Metairie | 143,481 |
| Lafayette | 126,185 |
| Lake Charles | 78,396 |
| Bossier City | 68,159 |
Becoming a personal trainer in New Orleans is by far your best choice when it comes to cities in Louisiana.
It has the largest population and likely the largest number of employment opportunities in the way of gyms.
Exclusive PTP Offers



Gold Standard Cert

Most Popular Cert

A Good Option

Best Study Materials

Best online PT course

The Top PT Software

You won't regret being a New Orleans personal trainer.
Personal trainers in Baton Rouge, Shreveport, Metairie, and Lafayette will enjoy similar levels of opportunity in terms of population size, so these would be great places to look into as well.
If you decide to become a personal trainer in Shreveport, for example, you'll just have to grind a little harder than you would for Personal trainer jobs in New Orleans.
However, personal trainers in Lake Charles La have to go the extra mile to achieve success for themselves.
Personal Trainer Salary in Louisiana
Before you become a personal trainer in Baton Rouge or any other city in Louisiana, you'll need to consider the earning potential of your career.
A PT in Louisiana can expect to earn an annual average of $59,853. That's a bit lower than the national average of $61,802, according to salary.com statistics.
How much you could potentially earn also depends on how much you might need to spend.
That's where the cost of living comes in when determining whether a salary is viable or not.
Make sure to check out the full guide on personal trainer salary.
Quality of Life Rating
Louisiana doesn't have the best quality of life outside of top cities like Baton Rouge or New Orleans.
Personal trainer jobs in Shreveport and other areas may not be as sustainable as New Orleans, for example.
It does, however, have a low cost of living, which is great considering the average income potential.
It also has excellent business freedom and health care but is dragged down by crime and safety stats as well as hefty taxation policies.
Overall, Louisiana gets a 6.5/10 QoL rating from me.
Methodology
After in-depth research, I was able to come up with this detailed review based on the following points:
The population of the state and its major cities.
The obesity figures as compared with other states.
Personal trainer certifications available in Louisiana
Availability of personal training schools & colleges.
Career prospects for personal trainers.
Earning potential for certified PTs.
Quality of Life (QoL).
Final Words on How to Become A Personal Trainer in Louisiana
Louisiana is one of the most vibrant and culturally preserved states with a low cost of living.
It also has tremendous opportunities to work as a personal trainer due to a large number of top gyms.
It will be difficult to crack the code on getting the general population to adopt healthier lifestyles, a necessary endeavor in order to build the market for your services.
FAQs on How to Become a Personal Trainer in Louisiana
References
https://www.exercise.com/learn/ten-fittest-states-in-the-us/
https://www.americankinesiology.org/SubPages/Pages/Kinesiology%20Institution%20Database