Hello everyone, and welcome to PT Pioneer.
If you've ever wondered where the best place to work as a PT is, you're in the right place.
This article is part of a series where I look at PT careers in all 50 states and DC.
I'll use a blend of raw data and my expert analysis to give you insight and perspective.
My goal is to allow you to expand your outlook on optimizing your career objectives.
In this article, I'll look at how to become a personal trainer in Kentucky.
To get to the point, I'll only deal with the top 2 cities in the state.
That means personal training jobs in Louisville and Lexington, as they are the only cities with populations above 100k.
I'll also provide insight on personal trainer certification in Louisville and Lexington.
With that said, let's buckle up and take a ride to Kentucky.
Make sure to check out the general guide on how to become a personal trainer.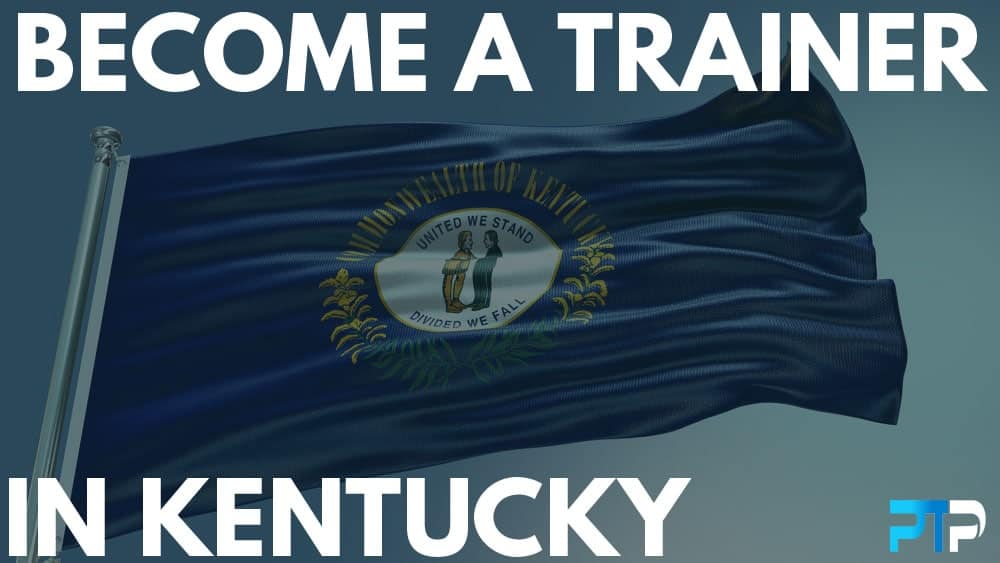 State Fitness Rating


Before becoming a personal trainer in Louisville, you must consider the circumstances that influence any local fitness industry.
In this case, we'll be looking at the state fitness ranking based on data provided by exercise.com.
This fitness ranking compares how a state stacks up against others over a few essential health and fitness metrics.
The ones we'll be dealing with are the obesity stats and the gym access stats.
Regarding obesity, we'll be taking a look at the prevalence rate and the national ranking.
For Kansas, the obesity prevalence is 34.2% making it one of the highest in the country.
This puts Kansas in 45th place when it comes to obesity.
Next, we have the top gyms ranking. I would describe top gyms as mainstream commercial gyms that are generally affordable and easy to use.
Such gyms include the likes of:
Crunch Fitness
Orange Theory Fitness
Gold's Gym
Anytime Fitness
24 Hour Fitness
LA Fitness
Snap Fitness
YMCA
Planet Fitness
These gyms are considered a significant factor in a state's fitness because they indicate good access and engagement with health and wellness for the general masses.
As far as Kentucky is concerned, there are 219 top gyms for a population of 4,436,974 inhabitants.
Exclusive PTP CPT Offers



Gold Standard Cert

Most Popular Cert

Best Study Materials

A Good Option

A Good Option

Best CPT for you?

That leaves a total top gym prevalence of 4.94 gyms per 100 thousand residents, putting Kentucky in 38th place.
Overall, Kentucky is the 46th fittest state in America.
This low ranking indicates a low engagement with the industry, even on one on one basis.
Before we completely understand the idea of personal trainer jobs in Lexington or Louisville, let's look at other factors that may improve the prospects for fitness trainers.
Fitness Market Makeup
The fitness market make-up will help us expand on the fitness ranking and determine what sort of work fitness instructors mostly engage with.
The high obesity prevalence means there is a smaller market than in most other areas.
This, combined with a small population, limits the odds even further.
With that said, you should expect most of your clients to be in the healthy weight loss category.
Therefore, I suggest you get clued up on nutrition coaching by attending a school for personal training and nutrition to save cost.
Personal Trainer Certifications in Kentucky
Personal trainer certification in Lexington and other cities is needed to get a job as a personal trainer in Kentucky.
I have written an article on my best personal trainer certifications. Use this as a guide on becoming a certified personal trainer in Kentucky.
Overall here are my top 2 best personal training certifications in Kentucky. Ensure you have all or any of them when you decide to become a personal trainer in Louisville and other areas.
Personal training schools in Kentucky
As important as it is to get an accredited certification before embarking on a career as a fitness trainer, adding value to your credentials through a personal trainer school of higher learning could be an ace up your sleeve.
Furthering your qualifications through a university or college degree is akin to getting your personal trainer license in Kentucky and other states, for that matter.
Fortunately, there are several options for exercise science schools in Kentucky. Let's take a look:
From this, you can see that there is a good selection of kinesiology schools in Kentucky.
You can have a combined degree in personal training and nutrition.
Just remember to think it through before deciding on a bachelor's degree program.
That's because getting a degree is a massive time and money investment, one which you must be sure will benefit you in the long run.
And just to be clear, you don't need a degree to succeed and have a lucrative career as a PT. It's a huge bonus you can leverage in the job market or for a higher overall income.
Personal Trainer Jobs in Kentucky
Your first port of call should be applying to work at a local gym. Personal trainer jobs in Louisville, Lexington, and Bowling Green gyms will allow you to grow in experience and reputation.
Working as an employee in a commercial gym also provides you with a secure, guaranteed income and many standard employment benefits.
From here, you can begin building your personal brand and strategizing a sound business model.
Exclusive PTP CPT Offers



Gold Standard Cert

Most Popular Cert

Best Study Materials

A Good Option

A Good Option

Best CPT for you?

Ideally, you'll want to include an online component in your PT business.
Online coaching is the fastest growing sector of the fitness services industry, so jumping on that training is essential to success.
Aside from this, you'll also want to create a niche that allows you to differentiate yourself from a saturated crowd.
Best Cities to Be a Personal Trainer in Kentucky
So you've got a general idea of how to engage a career in Kentucky, but the fact is, you can't expect the same level of opportunity and success statewide.
You need to lock down on the best areas within the state.
It is often the case that a state might generally have a low market interest across the board, but the situation is the total opposite within select locations.
Kentucky is a state that may stand as an example of this.
But first, let's take a look at the major cities in the state:
| City In Kentucky | Population |
| --- | --- |
| Louisville | 624,890 |
| Lexington | 328,690 |
| Bowling Green | 71,632 |
| Owensboro | 60,323 |
| Covington | 40,136 |
| Richmond | 37,652 |
| Georgetown | 36,081 |
As you can see, there are no massive population centers; by that, I mean populations exceeding 1 million residents.
You do, however, have Louisville, with 624,890 residents. This population figure totally eclipses all other metropoles in the state.
The combined populations of the next six most populous cities do not overtake Louisville.
Based on that, you should definitely focus your attention on working as a PT there.
Personal training in Louisville, KY, is quite lucrative if you have the right personal training program to help the populace.
Personal trainer jobs in Lexington could also prove successful ventures. While less than half the population of Louisville, it still has a sizable number of potential prospects you can pull from.
Both Louisville and Lexington have progressive communities that engage in fitness as a lifestyle priority.
This makes them ideal business and employment locations despite the low ranking Kentucky has in terms of fitness.
Personal Trainer Salary in Kentucky
Trainers in Kentucky can expect an average annual income of around $58,249 per year.
This is considerably lower than the national average, which is $61,802, according to salary.com.
This is expected based on the statistics we've looked at.
However, whether or not such a salary is viable requires a more in-depth look into life in Kentucky.
So next, let's look at the quality of life rating.
Make sure to check out the full guide on personal trainer salary.
Quality of Life Rating
Kentucky generally scores low when it comes to Quality of life.
The obesity stats are a fair indication of what to expect.
That's because a state's health usually correlates to a state's wealth.
However, as I mentioned, a state's general perspective might not apply to isolated areas within the state, and we see that with Louisville.
Louisville's quality of life as a city within Kentucky is considerably higher than the state's QoL.
Louisville is a progressive and rapidly expanding commercial and cultural hub.
It ranks pretty high in terms of housing options and the cost of living. This is great news considering the low average income trainers in Louisville KY earn.
Business freedom and health care are the top draw to the city, while taxation and safety rank low.
Overall, I'll give Kentucky a 7/10 QoL rating, mainly because of how great of an option Louisville is compared to the rest of the state.
Methodology
After in-depth research, I was able to come up with this detailed review based on the following parameters:
The population of the state and its major cities.
The obesity figures as compared with other states.
Personal trainer certifications available in Kentucky
Availability of personal training schools & colleges.
Career prospects for personal trainers.
Earning potential for certified PTs.
Quality of Life (QoL).
Final Words on How to Become a Personal Trainer in Kentucky
Kentucky is one of the lower-ranking states regarding health and fitness.
This determines the local fitness industry's size and, thus the viability of your engagement as a trainer.
Professional fitness organizations are meant to design and organize personal training sessions to help clients meet their individual fitness goals.
As a personal trainer in Louisville, personal trainer in Richmond, KY, personal trainer in Lexington KY, you should know your client fitness level and help them with the right exercise programs.
With that said, aim to become personal trainers in Louisville, KY or Louisville as they provide more ideal opportunities.
FAQs on How to Become a Personal Trainer in Kentucky
How to become a certified personal trainer in Kentucky?
You can become a certified personal trainer by getting a certification from a certified body or getting a degree in an exercise-related field from an accredited institution.
What is the best online school for personal trainers?
The best online schools for personal trainers are:
– ISSA (International Sports Sciences Association)
– NASM (National Academy Of Sports Medicine)
– FM (Fitness Mentors)
– NCSF (National Council on Strength and Fitness)
– ACE (American Council On Exercise)
– AFAA (Athletics and Fitness Association of America)
What organizations offer certification for personal fitness trainers?
Kindly find below organizations that are approved to offer certification for fitness programs:
– National Academy of Sports Medicine (NASM)
– American Council on Exercise (ACE)
– Action Personal Trainer Certification
– International Sports Sciences Association (ISSA)
– National Federation of Professional Trainers (NFPT)
– American College of Sports Medicine (ACSM)
How to become a personal trainer and nutritionist?
The National Academy of Sports Medicine (NASM) and the International Sports Sciences Association (ISSA) offer accreditation to become a nutrition coach alongside a personal trainer certification.
References
https://www.exercise.com/learn/ten-fittest-states-in-the-us/
https://www.americankinesiology.org/SubPages/Pages/Kinesiology%20Institution%20Database