Hey everyone, and welcome back to PT Pioneer.
Have you ever wondered what it takes to be a personal trainer in each state in the US?
If that sounds like you, you're in the right place.
That's because this and 50 other articles are part of a series where I analyze career prospects for personal training state by state.
I will be using a collection of raw data and anecdotal evidence to paint a clear picture of what it will be like to work as a PT in each state.
This time I'm going to explain how to become a personal trainer in Kansas, check out the local scene and find out what working as a fitness trainer is like there.
I'll only be dealing with personal trainer jobs in Wichita, Overland Park, and Kansas City, including how to obtain personal trainer certification in Overland Park and other metropoles.
That's because these are the biggest states by population, which means they present the best odds for a successful career.
Make sure to check out the general guide on how to become a personal trainer.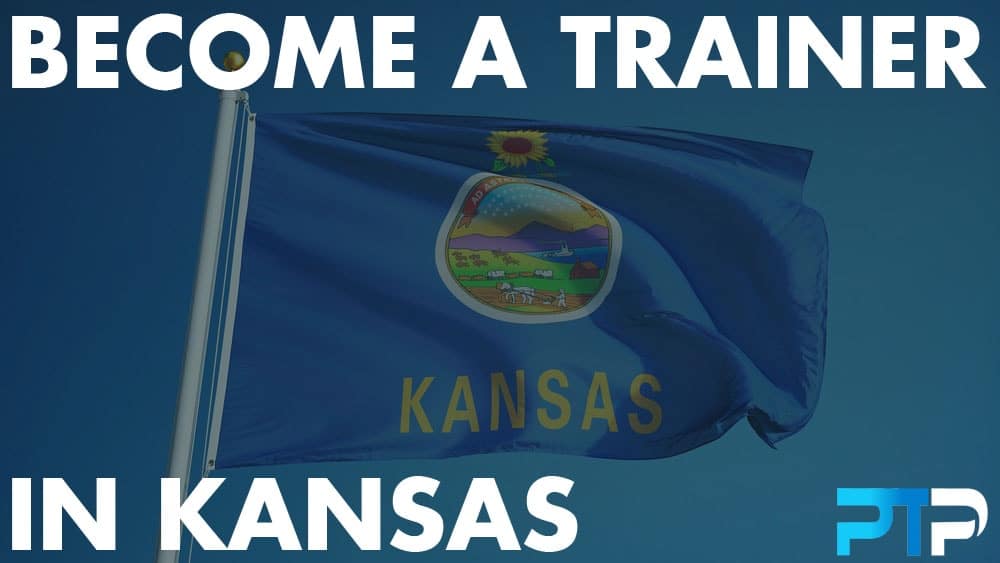 State Fitness Rating
Before we begin looking at personal trainer jobs in Overland Park, it's important to paint a picture.
A picture in the form of the state fitness rating.
This statistic shows how healthy a state is based on obesity stats and access to fitness facilities.
Understanding this will allow you to understand what the market looks like and strategize your approach as a fitness expert.
The first piece of data is the obesity prevalence rate.
In Kansas, 31% of the population is considered dangerously overweight or obese.
This places a burden on the healthcare system and indicates low engagement with general health, wellness, and fitness lifestyle protocols.
Because of this prevalence rate, Kansas is 30th out of 50 states regarding obesity ranking.
Next, we look at access to gyms, and in this case, the top gyms ranking.
But before we look at the numbers, I must point out what "top gyms" means.
Top gyms are categorized as popular, mainstream commercial gyms. These gym chains are strewn across the country, so they have a wider reach for people interested in maintaining their fitness level.
Fitness centers in this category include the likes of:
Crunch Fitness
Gold's Gym
LA Fitness
Snap Fitness
24 Hour Fitness
YMCA
Planet Fitness
Orange Theory Fitness
Anytime Fitness
These gyms are considered a metric in the fitness ranking because they indicate the best public access to achieving fitness goals.
These are the most affordable, widespread, and easy to use fitness facilities, so the more of them there are, the better.
Exclusive PTP CPT Offers



Gold Standard Cert

Most Popular Cert

Best Study Materials

A Good Option

A Good Option

Best CPT for you?

Kansas has a total of 164 top gyms to a population of 2,907,289 people. That means for every 100 thousand people; there are 5.64 gyms.
This gives Kansas a top gyms ranking of 24 out of 51, placing it in the top half when it comes to this metric.
Overall, Kansas is number 30 out of 51 when it comes to state fitness rankings.
It isn't the most healthy place in America, but that might just be an opportunity for fitness professionals rather than a hindrance.
Fitness Market Makeup
Kansas has an obesity problem, as you can see from the data.
That indicates a market that isn't incredibly invested in the personal fitness training industry.
That doesn't mean there is no market. Statistics show that personal training sessions are growing in Kansas, as with most other parts of the country.
The sort of clients you will deal with will likely be those looking to trim down to a healthy size through an active personal training program.
Don't expect too much of a specialist or niche crowd.
Personal Trainer Certifications in Kansas
Personal trainer certification in Wichita and other cities is needed to get a job as a personal trainer in Kansas.
I have written an article on my best personal trainer certifications. Use this as a guide on how to become a certified personal trainer in Kansas.
Overall here are my top 2 best personal training certifications in Kansas. Ensure you have all or any of them when you decide to become a personal trainer in Kansas City and other areas.
Attending the best schools for personal training ensures you have access to a top-rated personal trainer certification.
Personal trainers in Wichita KS and personal trainers in Overland Park KS should ensure they have one of the certs from the personal trainer certifications listed above.
Personal training schools in Kansas
I'm a firm advocate for getting certified through one of the numerous NCCA and DEAC accredited institutions.
But as someone with a master's in Kinesiology, I can tell you unequivocally that a degree is a massive bonus towards accelerating your career.
Personal trainers with higher learning certificates categorically earn more.
They can also leverage their credentials for more prestigious job titles and credibility in the industry.
That's because a degree is just the same as having a personal trainer license in Kansas and anywhere else in America.
There are several kinesiology schools in Kansas, as well as the best colleges for personal training you can attend.
Check these out to find out more:
As you can see, you'll have plenty of options when it comes to exercise science schools in Kansas.
Bear in mind that going to college or university is a massive financial and time investment.
Exclusive PTP CPT Offers



Gold Standard Cert

Most Popular Cert

Best Study Materials

A Good Option

A Good Option

Best CPT for you?

You need to make sure and map out your long term goals, especially when it comes to paying off student debt.
Personal Trainer Jobs in Kansas
Kansas has several gyms, which means several employment opportunities.
After obtaining your personal trainer certification in Kansas City or Wichita, you're ready to take on the job market.
The standard wage for trainers in commercial gyms isn't much to write home about, but it is liveable.
With all the necessary credentials in place, it's merely a matter of finding which gyms have openings and apply to those.
The more you apply to, the better your chances; it's as simple as that.
Beyond this, however, you should be aiming to start your own business.
In this way, you'll be able to gain more flexibility with the hours you work and the rates you charge.
Working your way up the ladder and you could find yourself running your own gym.
Wichita personal trainers can also lead Pilates classes in fitness clubs or health clubs.
Whatever the case, personal trainer jobs in Kansas City and other major metropoles will see you dealing with a generally sedentary client base if the obesity stats are anything to go by.
Best Cities to Be a Personal Trainer in Kansas
When it comes to finding an excellent place to work, bigger is always better.
And by bigger, I mean a more significant population. Become a personal trainer in Overland Park, Wichita, or Kansas City, and you'll have access to more potential clients.
Personal training client conversion is a numbers game, so the more people you have access to, the more you will convert as clients.
With quite a small overall population, Kansas has limited options outside of its biggest metropoles. Let's see how population figures stack up.
| | |
| --- | --- |
| City In Kansas | Population |
| Wichita | 385,577 |
| Overland Park | 178,919 |
| Kansas City | 147,268 |
| Olathe | 130,045 |
| Topeka | 127,939 |
| Lawrence | 89,512 |
| Shawnee | 63,622 |
Your best option would be to become a personal trainer in Wichita, with a population more than double that of the next biggest urban area, which is an Overland Park personal trainer.
Going down the list, we see a somewhat even distribution of population numbers from Overland Park all the way down to Topeka.
These top 5 cities are your ideal locations as they will probably have more gyms and a higher engagement with the fitness industry.
Personal Trainer Salary in Kansas
When entering any professional field, one of the most important things to consider is how much you will stand to earn.
This article's premise and others in this series is taking location as a determining factor towards income potential and giving you some insight around it.
The median income for fitness instructors in Kansas is $58,744 per year, according to salary.com.
This is significantly lower than the national average of $61,802 per year.
This could mean Kansas might not be your best option; then again, the value of what you earn depends on what you will need to spend.
Sometimes a low income coincides with a low cost of living.
To understand that, we'll need to look at Kansas' quality of life rating.
Make sure to check out the full guide on personal trainer salary.
Quality of Life Rating
Right off the bat, Kansas is known for having a great quality of life, and the leading factor in that is the low cost of living.
We just went over how the average income for a trainer is below the national average.
Fortunately, the low cost of living in the state more than makes up for it.
Kansas has a cost of living 8.7% lower than the national average based on the cost of living index.
Aside from this, Kansas is one of the leaders in education in America.
Kansas City has one of the highest quality of life rankings in the world.
With all that said, I'll give Kansas 8.5/10 for its QoL.
Methodology
After in-depth research, I was able to come up with this detailed review using the following points:
The population of the state and its major cities.
The obesity figures as compared with other states.
Personal trainer certifications available in Kansas
Availability of personal training schools & colleges.
Career prospects for personal trainers.
Earning potential for certified PTs.
Quality of Life (QoL).
Final Words on How to be A Personal Trainer in Kansas
While dealing with high levels of obesity, Kansas has many redeeming qualities, such as a decent amount of work opportunities in the way of the numerous gyms.
There are also many great schools for personal trainers to upskill through.
Being a "personal trainer Wichita KS" and "personal trainer Overland park" and other major cities is worth it.
Lastly, Kansas has an impeccable quality of life with a cost of living that will stretch your dollar further than most other places in America.
FAQs on How to Become a Personal Trainer in Kansas
References
https://www.exercise.com/learn/ten-fittest-states-in-the-us/
https://www.americankinesiology.org/SubPages/Pages/Kinesiology%20Institution%20Database