Hello everyone, and welcome back to PT Pioneer.
In this article, I'll continue my trek across the states to bring you some insight into career potential in each state.
Using a combination of raw data, anecdotal evidence, and my expert analysis, I aim to provide you with enough insight on which state is best for you.
I'll be focusing on how to become a personal trainer in Iowa this time, and in that state, I'll be looking at personal trainer jobs in Des Moines, Cedar Rapids, and Davenport.
These are the three largest cities in the state by population, making sense to focus attention on those.
With that said, let's jump right into it.
Make sure to check out the general guide on how to become a personal trainer.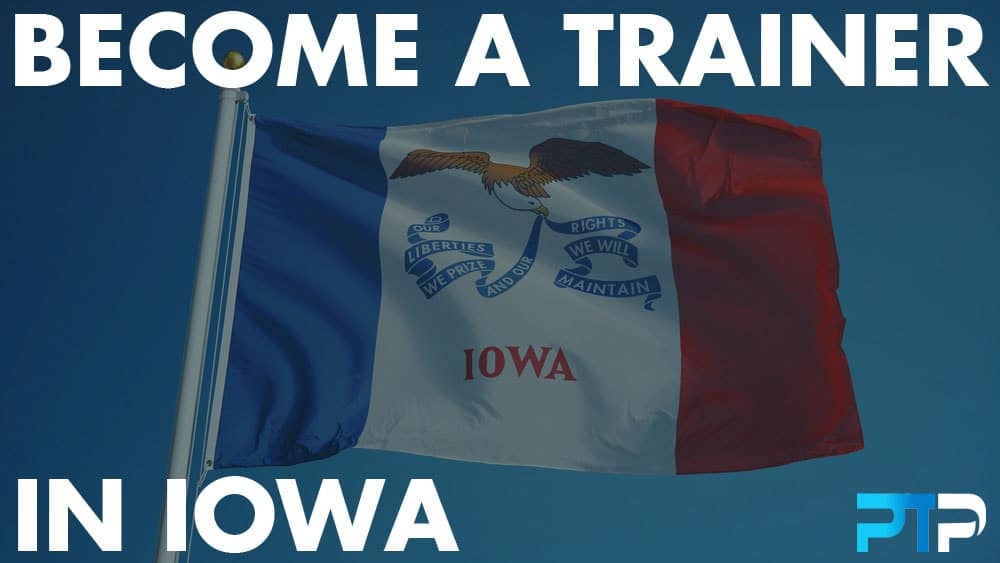 Post 15 of 50 in the PT By State Series
State Fitness Rating
Before getting your trainer certification in Cedar Rapids or anywhere else, let's look at the population's health and fitness stats.
Understanding the state's fitness rating will begin to paint a picture of the local fitness industry and market.
From there, you can gain some impression of your prospects and potential as a certified personal trainer in Iowa.
I've gathered some essential data from exercise.com, which helps us understand how healthy Iowa is in terms of achieving fitness goals.
Two critical aspects of the state fitness rating are obesity and top gyms access.
The obesity prevalence rate and ranking provide an idea of how engaged the population is when it comes to health and fitness.
Iowa's obesity prevalence is 32%. This is pretty high and shows a population with a less than ideal health status.
That gives Iowa a ranking of 38 out of 50 states, 51 since we're counting DC as somewhat of a state too.
With a ranking that low, we can surmise that there is a low engagement with Iowa's health and fitness industry.
That limits the potential for success but could also be an indication of potential growth and opportunity for fitness trainers as they help clients maintain their fitness level.
The next factor we'll look at is the top gyms statistic.
Top gyms are categorized as mainstream commercial gyms. These are the most accessible to the general public based on affordability and ease of use.
Top gyms include household names such as:
Orange Theory Fitness
Planet Fitness
Snap Fitness
YMCA
LA Fitness
Gold's Gym
Crunch Fitness
Anytime Fitness
24 Hour Fitness
Iowa has 232 top gyms to a population of 3,134,693.
That leaves about 7.4 gyms for every 100 thousand residents.
That is a remarkable ratio that puts Iowa in the top 5 rankings across all states at number 4 for gym access.
With such contrasting fitness data, Iowa ends up with a state fitness ranking of 21 out of 51, placing it in the top half of America's fittest states.
This indicates a great potential opportunity for you as a CPT in Iowa.
Fitness Market Makeup
The fitness market in Iowa will likely be the average joe looking to trim some body fat (weight loss) and get to a healthy weight.
Exclusive PTP Offers



Gold Standard Cert

Most Popular Cert

A Good Option

Best Study Materials

Best online PT course

The Top PT Software

My findings revealed that people in Iowa engage in moderate physical activity.
With such a high obesity prevalence contrasted by the high availability of fitness options, we can safely assume that most of your prospects will fit into the weight training category.
We can also assume that most of your potential client base will be situated in commercial gyms, fitness centers, and health clubs, which is where you should target your services.
A great way to capture such a market would be through small group training. It's a great dynamic for motivation and is a financial win-win since your clients pay less, and you earn more.
Personal Trainer Certifications in Iowa
Writing personal trainer certification exams in Des Moines and other cities is needed to get a job as a personal trainer in Iowa.
I have written an article on my best personal trainer certifications. Use this as a guide on how to become a certified personal trainer in Iowa.
Overall here are my top 2 best personal trainer certificates in Iowa. Ensure all of them when you decide to become a personal trainer in Cedar Rapids and other areas.
A personal trainer Iowa city can also access personal training certification online free for lack of resources.
All personal trainers should ensure their certifications are certified by either DEAC or NCCA.
Personal training schools in Iowa
As good as getting your personal trainer certification in Des Moines, Cedar Rapids, or Davenport is, you might be interested in upgrading your credentials.
What I mean by this is getting some form of higher learning certification in the form of a university or college degree.
This is akin to getting your personal trainer license in Iowa, as it allows you to take on more official roles in the exercise science field.
It will also allow you to leverage for more opportunities and a higher income due to the credibility a degree offers.
There are several exercise science schools in Iowa you can look at if you consider this option.
Check out some of these kinesiology schools in Iowa:
As you can see, there is a good number of options, inclusive of some community colleges across the state.
When looking at the personal trainer certification program in Davenport, Cedar Rapids, or Des Moines, having a degree along with it is great.
But you also need to remember that a degree is a heavy time and financial investment.
Think about your options and ambitions before heading into a serious academic program.
Personal Trainer Jobs in Iowa
Iowa has a great gym to population ratio.
That means working the floor as a fitness instructor in one of the numerous gyms across the state is a great start.
You'll have access to many clients during personal training sessions while also having the opportunity to grow your skills and experience level with a secure income, albeit a small one.
Another great thing about full-time employment for fitness professionals is the standard benefits that come with helping people achieve physical fitness.
However, if you're a serious and ambitious PT, your goal is to set your own fitness training business into motion.
That means working on building a personal brand and an array of services on a one-on-one basis.
I would suggest taking on nutrition and online coaching based on the fitness market in Iowa.
Getting the best exercise science jobs in Iowa or "fitness jobs des Moines" means you can help the populace achieve their health and fitness goals through standardized fitness programs or training programs.
Best Cities to Be a Personal Trainer in Iowa
When it comes to population size, cities in Iowa can be considered small.
The largest city, Des Moines, only has a population of just over 200 thousand residents.
After that, we have Cedar Rapids and Davenport, which only have population figures in the 100k region.
Outside these top three cities, no other area crosses the 100k threshold.
That means the top 3 cities, especially Des Moines, are your ideal locations for personal training.
| | |
| --- | --- |
| City In Iowa | Population |
| Des Moines | 214,237 |
| Cedar Rapids | 133,562 |
| Davenport | 101,590 |
| Sioux City | 82,651 |
| Iowa City | 75,130 |
| West Des Moines | 67,899 |
| Ankeny | 67,355 |
A quick search on "personal trainer des Moines Ia", "personal trainer Davenport Ia", and "personal trainer Cedar Rapids Iowa" on google will show you how highly sought after they are.
Exclusive PTP Offers



Gold Standard Cert

Most Popular Cert

A Good Option

Best Study Materials

Best online PT course

The Top PT Software

Personal Trainer Salary in Iowa
The median salary for PTs in Iowa is $59,790 per year.
This is below the national average despite Iowa having so many employment opportunities for personal trainers.
While a low salary figure, personal trainer jobs in Cedar Rapids and other cities might seem like an outright deterrent, but it might not be so bad.
We'd need to measure it up against the cost of living as well as the quality of life to determine if the income is good or not.
Make sure to check out the full guide on personal trainer salary.
Quality of Life Rating
As I just mentioned, the Quality of Life in a state is a factor for job prospects and income potential.
Once you get the job and the money starts rolling in, are you where you would like to be?
The whole point of making a living is to enjoy it, so let's look at Iowa from a livability perspective.
You'll be glad to learn that Iowa is consistently considered one of the best states to live in.
At one point, Iowa was voted as the best state in terms of quality of life.
Public infrastructure, education, and health care are the top highlights.
Iowa also has a low unemployment rate, which should provide you with some hope if this is where you're planning to practice as a personal trainer.
Methodology
This review was approached using well-researched facts and figures and the final verdict was based on:
The population of the state and its major cities.
The obesity figures as compared with other states.
Personal trainer certifications that are obtainable.
Availability of personal training schools & colleges.
Career prospects for personal trainers.
Earning potential for certified PTs.
Quality of Life (QoL).
Final Words on How to Become a Personal Trainer in Iowa
Iowa is a small but functional state with a lot to offer a budding personal trainer.
Despite having a high obesity prevalence, there are plenty of opportunities to tap into an ever-growing fitness market.
I can tell you'll enjoy practicing your profession and maintaining a quality standard of living in Iowa.
Your best bet is to become a personal trainer in Des Moines as it has the largest population.
You can also become a personal trainer in Davenport or Cedar Rapids since they also have relatively large populations by Iowa standards.
FAQs on How to Become a Personal Trainer in Iowa
References
https://www.exercise.com/learn/ten-fittest-states-in-the-us/
https://www.americankinesiology.org/SubPages/Pages/Kinesiology%20Institution%20Database