Hey everybody, and welcome to PT Pioneer. In this article, I'll be bringing you another career review article.
This one is part of my state-by-state series, and this time, I'll be taking a trip to Illinois.
I'll be looking at how to become a personal trainer in Illinois and other major cities and what other steps you need to take to become a certified personal trainer in Illinois.
I'll be using a combination of raw data, anecdotal evidence, and my professional opinion on what works and doesn't work on your journey to becoming a personal trainer in Chicago, for example.
With that said, let's strap ourselves in and take a trip to Illinois.
Make sure to check out the general guide on how to become a personal trainer.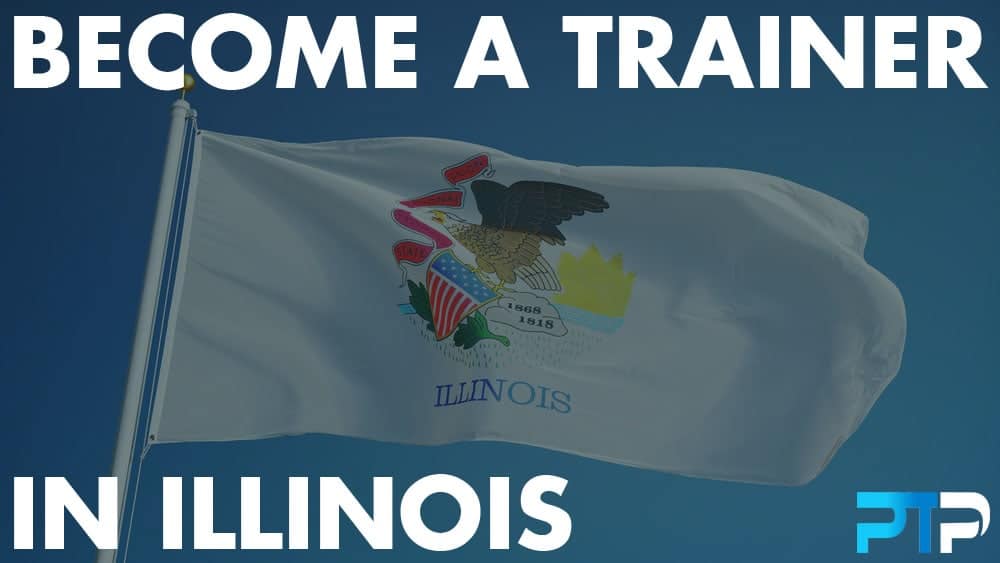 Post 13 of 50 in the PT By State Series
State Fitness Rating
The first thing I'm going to be digging into is the state fitness rating.
This valuable statistic is an amalgamation of various bits of data that give an impression of how healthy a state's population is.
This, in turn, will help you paint a picture of just how primed the fitness market is for someone looking at Personal trainer jobs in Aurora and other such areas in the state.
I'm going to be looking at just two categories of data to establish the market potential for fitness trainers.
These categories are obesity and gyms.
With obesity, we have the obesity prevalence, a percentage of the population considered dangerously overweight by medical standards, and the obesity ranking.
This is how the state, in this case, Illinois, compares to others in America.
So as far a prevalence is concerned, we see Illinois showing up with a rate of 30.6%.
This is pretty high, evidenced by the fact that Illinois is 34th out of 51 states and districts.
Now for the gyms, and in this case, the gym presence, which looks at two metrics.
The first is the total number of gyms. In the case of Illinois, we have 674 gyms.
The second is the top gyms per capita, which is how many gyms are available for every 100 thousand residents.
Top gyms are described as your mainstream commercial gyms, most of which have franchises running nationwide.
These are easy to access and use, affordable fitness facilities such as:
Anytime Fitness
Crunch Fitness
Snap Fitness
Planet Fitness
24 Hour Fitness
Gold's Gym
LA Fitness
Orange Theory Fitness
YMCA
With a population of 12,801,539, there are 5.26 gyms for every 100,000 people.
This gives Illinois a final gym ranking of 32 out of 51, which is relatively low.
Overall, these stats give Illinois a fitness rating of 38 out of 51.
To become a personal trainer in Naperville and other areas, these stats show the market isn't very responsive towards the wellness and fitness industry.
This poses a challenge in convincing people to adopt a mindset that sees health and fitness as a necessity and then positioning yourself as a solution.
From another perspective, this just looks like an untapped market, and with a generous amount of opportunities in the form of the numerous gyms and fitness clubs, this could be the base your career needs to launch from.
Fitness Market Makeup
Because it has a high obesity prevalence, the market composition you will likely deal with the most in Illinois is the average person trying to get a healthy weight through the right exercise program.
Exclusive PTP Offers



Gold Standard Cert

Most Popular Cert

A Good Option

Best Study Materials

Best online PT course

The Top PT Software

These are the most straightforward clients to engage with but often the hardest to successfully train.
That's because healthy weight loss is as much a shift in mindset as it is a shift in body composition.
For this reason, you will need to master the art of change psychology, especially when it comes to nutrition and diet.
Illinois also has something of an athletic heritage, with many top contender teams from all the major American sports leagues having a home in Illinois.
This might prove to be a lucrative avenue for your career, either training up aspiring athletes through youth development and college leagues or going all the way to deal with pro league athlete populations.
A knowledge of anatomy and physiology, biomechanics, cardiovascular, and pilates training will be helpful here.
To be exposed to such opportunities, it's best to become a personal trainer in Chicago.
Personal Trainer Certifications in Illinois
Personal training certification in Naperville and other cities is needed to get a job as a personal trainer in Illinois.
I have written an article on my best personal trainer certifications. Use this as a guide on how to become a certified personal trainer in Illinois.
Overall here are my top 2 best personal trainer certification programs in Illinois. Ensure you have any or all of them when you decide to become a personal trainer in Aurora and other areas.
Writing and passing your certification exam in your first attempt is very possible with the right personal training schools Chicago.
You can also check out the National Personal Training Institute Chicago (NPTI) Chicago.
Personal training schools in Illinois
While getting a personal trainer certification in Chicago and other areas is an essential first step, it's not the most vital credential you can aim for.
To go all the way to the top in terms of qualifications, you should consider a higher learning certificate like an associate or bachelor's degree or diploma from college.
Such credentials allow you to leverage for better jobs, better pay, and more immediate trust and credibility within the industry and the market.
Fortunately, there are tons of exercise science schools in Illinois. Let us take a look at these:
With all the kinesiology schools in Illinois, you're bound to find something that suits you.
Evidence shows that fitness instructors with degrees categorically earn more than those without for reasons I've already mentioned.
Investing time and money into a college or university program is a major, life-altering decision, so make sure you've given it enough thought before going all in.
Personal Trainer Jobs in Illinois
With over 600 gyms and a few major metropolitan areas such as Chicago, there are bound to be numerous opportunities for work for a Chicago personal trainer.
Despite the low fitness ranking, the size of the population should yield some good odds for a job in the fitness industry.
Your best starting point is to approach a gym with your credentials and, hopefully, some experience and the right attitude, of course.
This is a great way to build yourself up in terms of skills, status, and reputation.
Going forward from there, you should consider working as an independent trainer, perhaps with your own fitness brand. This will strip you of all the safety nets that come with employment, such as benefits and income security.
But noting is achieved from comfort zones.
From here on out, you'll be more flexible with your time and energy, able to set your own prices, but at the expense of managing every aspect of the business yourself.
Best Cities to Be a Personal Trainer in Illinois
Illinois has a moderately sized population. Not too big, but not tiny by any stretch.
However, when going city by city, the population spread isn't so even.
Chicago is the state's most popular city by a very large margin, coming in at 2,693,976 inhabitants.
Aurora is the second-largest urban area by population, but with only 197,757 inhabitants. That's not even 10% of Chicago's population.
After that, population figures spread out somewhat evenly.
This sharp contrast between Chicago and everywhere else means that, in reality, Chicago is the only decent shot you have at being a top-earning successful PT in the state.
An independent "personal trainer Chicago IL" has more potential for success than a "personal trainer aurora IL" or "personal trainer Illinois" with its population.
| | |
| --- | --- |
| City In Illinois | Population |
| Chicago | 2,693,976 |
| Aurora | 197,757 |
| Naperville | 148,449 |
| Joliet | 147,344 |
| Rockford | 145,609 |
| Springfield | 114,230 |
| Elgin | 110,849 |
As you can see, outside of Chicago, you're dealing with small population centers.
Personal trainer jobs in Naperville or Aurora pale in comparison to the potential that lies in Chicago.
If you want to work in a gym or fitness center, there are lots of personal training jobs in Chicago to apply for.
Exclusive PTP Offers



Gold Standard Cert

Most Popular Cert

A Good Option

Best Study Materials

Best online PT course

The Top PT Software

Personal Trainer Salary in Illinois
The average annual income for a certified personal trainer in Illinois is $63,471, which is a little more than the national average of $61,802 per year.
That means as a PT in Illinois; you can look forward to a decent income.
To earn the average personal trainer salary Chicago, many factors, besides just the location, contribute to your final earnings potential.
Make sure you have your credentials down and are staying ahead of trends.
Make sure to check out the full guide on personal trainer salary.
Quality of Life Rating
Overall as a state, Illinois is rated quite low in terms of quality of life, but when we look at Chicago as an isolated case, things almost flip upside down.
Chicago has a larger population than the next 20 largest urban settlements in the state.
It is also one of the most progressive and influential cities in America.
The freedom and resources for starting and running a business are great, which means it is a place of opportunity for personal trainers in Chicago IL.
The cost of living isn't amazing, but not terrible either, and finally, healthcare, leisure, and education are all excellent.
Chicago only suffers when it comes to crime in some areas, and taxation isn't the best there either.
Overall, I'll give Illinois a 7 out of 10, which would be lower were it not for Chicago being the tentpole of a city it is.
Methodology
After serious research, I was able to come up with this thorough review based on the following parameters:
The population of the state and its major cities.
The obesity figures as compared with other states.
Personal trainer certifications available in Illinois.
Availability of personal training schools & colleges.
Career prospects for personal trainers.
Earning potential for certified PTs.
Quality of Life (QoL).
Final Words
Chicago is the best city to be a personal trainer in Illinois because of its population, which exceeds all the other cities
You won't have issues searching for personal trainer jobs in Chicago if you possess the appropriate accreditation.
But, nothing stops you from having a good career as "personal trainers Peoria il", "personal trainers Springfield il", "personal trainers champaign il" or in other cities with less population.
You should just have the right timing, strategy, and training programs in place.
FAQs on How to Become a Personal Trainer in Illinois
References
https://www.exercise.com/learn/ten-fittest-states-in-the-us/
https://www.americankinesiology.org/SubPages/Pages/Kinesiology%20Institution%20Database