Hey everybody, and welcome to yet another PT Pioneer career review.
In this article, I'll be continuing my state-by-state review of the best places in America to work as a CPT.
This time around, I'll be looking at how to become a personal trainer in Idaho, and discovering what it takes to become a personal trainer in Boise and other major cities.
I aim to bring you enough insight and information to help you decide where the best location is for you as fitness professionals.
I'll be looking at stats and facts ranging from job opportunities to qualifications and even the quality of life you can expect.
So sit back and relax as we take a little trip to Idaho.
Make sure to check out the general guide on how to become a personal trainer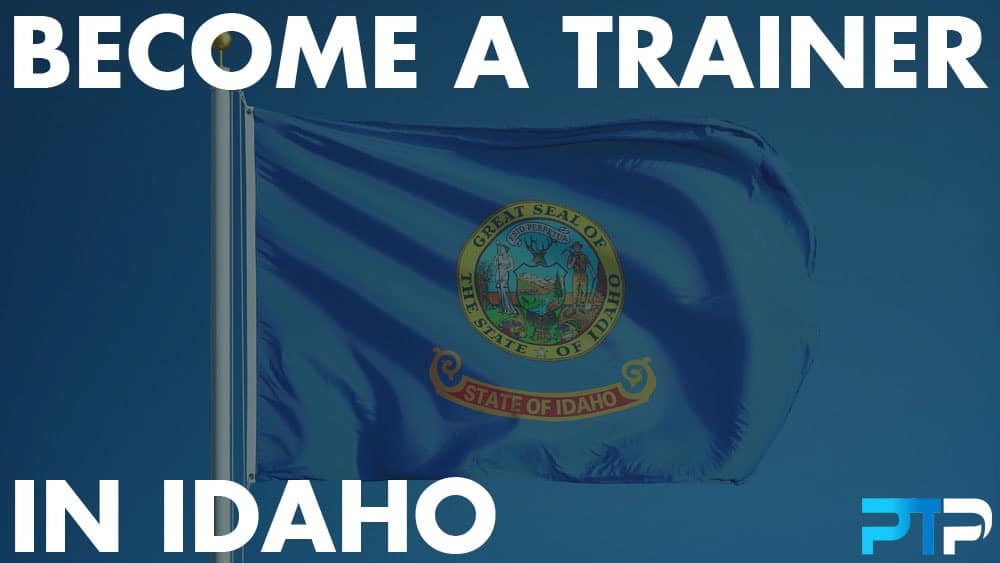 Post 12 of 50 in the PT By State Series
State Fitness Rating
The first thing I want us to look at before getting your personal trainer certification in Nampa is the state fitness rating.
This is a national ranking based on several health factors.
The data I'll be using was sourced from exercise.com and provides a very comprehensive insight into the health status and fitness levels across the country.
Knowing this allows you to target your services more effectively as a certified personal trainer in Idaho or any other state.
The two main factors we'll be looking at are obesity and gym presence.
The obesity statistics show a state's attitude and education level when it comes to healthy lifestyle habits and fulfilling fitness goals.
A low obesity prevalence means the population generally has a good grip on health and fitness.
This bodes well for you as a fitness trainer since it means there is a good market engagement with the fitness industry.
Idaho happens to be a state with a relatively low obesity prevalence by American standards.
At just 27.4% of the population registered as obese or dangerously overweight, Idaho is 14th out of 51, which is pretty good.
That means many of the state's residents are conscious of their health and fitness and make an effort to at least maintain it through the right fitness programs.
When you become a personal trainer in Nampa, you'll be in a position to tap into this fitness training program market.
The other factor, gym presence, is a measure of how many top commercial gyms are available to the population.
Top gyms in this case are characterised by their mainstream prominence, based on accessibility and affordability.
Gyms in this category include:
Anytime Fitness
Crunch Fitness
Gold's Gym
LA Fitness
Snap Fitness
Orange Theory Fitness
Planet Fitness
24 Hour Fitness
YMCA
Of these gyms, Idaho has 102 available to a population of 1,638,140. That means for every 100,000 people, there are 6.06 gyms to choose from.
These statistics also paint a promising picture as it indicates a generous amount of employment opportunities in the form of Personal trainer jobs in Boise, Meridian and Nampa.
Fitness Market Makeup
Idaho may have comparatively low obesity stats, but the current figure is actually a sharp spike if we consider two decades' worth of stats.
The obesity prevalence from the year 2000 was just around 18%.
So despite having a generally healthy population, the state of health is in something of a decline.
Exclusive PTP Offers



Gold Standard Cert

Most Popular Cert

A Good Option

Best Study Materials

Best online PT course

The Top PT Software

What this says about the market is that you will be dealing with mainly a general, sedentary population. One that seeks a weight loss program to get to a normal state of health.
Another silver lining in terms of Idaho's fitness market is the fact that there are many policy driven and legislative initiatives behind getting the population healthier.
This means that business freedom and employment potential in the health and fitness industry are high and promising.
Personal Trainer Certifications in Idaho
Personal trainer certification in Boise and other cities is needed to get a job as a personal trainer in Idaho.
I have written an article on my best personal trainer certifications. Use this as a guide on how to become a certified personal trainer in Idaho.
Overall here are my top 2 best personal trainer certificates in Idaho. Ensure you have all or any of them when you decide to become a personal trainer in Meridian and other areas.
They are among the top personal trainer certifications ranked highly among nationally certified certifications around the world.
These certs help boost your chances of getting "personal trainer jobs Boise" and other major cities.
Personal training schools in Idaho
If you're looking to boost your chances and truly immerse yourself in the health and fitness industry, a great path to take is to get a higher learning qualification.
Getting a personal trainer certification in Meridian, or any other city in Idaho is great, but it can be seen as a limited approach.
A diploma or bachelor's degree from a college or university will not only provide you with a deeper knowledge base and practical skills, it will also boost your credibility.
"Personal trainers Idaho" with degrees often rank as the highest-earning in the industry. This is due to the credibility factor I just mentioned.
It allows trainers to leverage their credentials for a higher income and higher positions of employment.
However, getting a degree is a huge time and financial investment, so should be considered after careful thought and analysis of your options.
If going all the way is for you, there are several decent exercise science schools to train as a personal trainer Idaho falls you can look into:
As far as kinesiology schools in Idaho go, your best bet is Boise State University Kinesiology department, since it's located in the most populated city.
Personal Trainer Jobs in Idaho
With 102 gyms to a population of over 1 million, there is a good degree of opportunity when considering Personal trainer jobs in Meridian.
Personal trainer jobs in Boise and other metropolitan areas will boil down to your employment prospects in one of these gyms.
And that all boils down to your credentials.
That's because most, if not all, gyms will only look at trainers with an accredited personal training certification as a minimum requirement.
The employment route isn't the best-paying but comes with some great standard benefits.
If you do decide to work as an independent, self-employed trainer, you will be more flexible with your time and pricing, at the cost of handling all of your admin and marketing.
All in all, with a good gym to population ratio, and a health conscious society, backed by local government, Idaho is an ideal location for work as a PT.
Do all you need to do to be the best "personal trainer Boise", "personal trainer Nampa Idaho", "personal trainer Meridian Idaho".
Best Cities to Be a Personal Trainer in Idaho
Understanding the population stats city by city will help you target your services by location.
Ideally, you would want to work in the most populated city.
Being a personal trainer is a numbers game, so the more prospects you have access to, the better your chances.
Let's look at the city population stats:
| | |
| --- | --- |
| City In Idaho | Population |
| Boise | 234,576 |
| Meridian | 115,550 |
| Nampa | 101,410 |
| Idaho Falls | 63,543 |
| Caldwell | 59,809 |
| Pocatello | 57,166 |
| Coeur d'Alene | 52,917 |
Your top 3 cities are Boise, Meridian and Nampa. All of these are the only areas with a population exceeding 100k residents.
This is where you should focus your career prospects.
A Boise personal trainer enjoys good opportunities, but with opportunity comes competition.
Expect the market in the larger cities to be more competitive and saturated.
You can take up personal training internships in an Idaho fitness club or do a quick search for Idaho athletic club jobs, health clubs, or fitness centers on google.
Personal Trainer Salary in Idaho
Understanding what you could potentially earn is vital in the initial phases of any career, including being a PT.
When it comes to working as a personal trainer, the national average income in the US is $61,802.00.
Exclusive PTP Offers



Gold Standard Cert

Most Popular Cert

A Good Option

Best Study Materials

Best online PT course

The Top PT Software

This figure changes based on location, which is one of the reasons I started this series.
In Idaho, the average income for personal trainers is $58,967 per year.
It is lower than the national average, which makes it important to consider if Idaho is worth it after all.
Make sure to check out the full guide on personal trainer salary.
Quality of Life Rating
Aside from making money, you also want to be in a place where you can enjoy the benefits of your hard work.
That's why, even though it has no direct impact on your career as a PT, I consider quality of life a valuable metric.
As far as Idaho goes, the quality of life is pretty good.
I mentioned the relatively low income average, well, as it turns out, Idaho has a relatively low cost of living.
That means your dollar will stretch further than in most other places.
Idaho also has a great housing status, business freedom, healthcare and natural environment.
A few drawbacks are when it comes to safety and taxation.
Overall, I give Idaho an 8/10 QoL rating.
Methodology
The approach adopted in conducting this review involves using well-researched and tested facts and figures and the final verdict was based on:
The population of the state and its major cities.
The obesity figures as compared with other states.
Personal trainer certifications that are obtainable.
Availability of personal training schools & colleges.
Career prospects for personal trainers.
Earning potential for certified PTs.
Quality of Life (QoL).
Final Words on How to Become a Personal Trainer in Idaho
Idaho is a small state in terms of population. Because of this, PT jobs are fewer than one would like.
The average annual salary for PTs is also low as compared to the national average.
But with a health conscious population and a great quality of life.
There are also great options if you're looking to get your personal trainer certification in Boise or your personal trainer license in Idaho.
Idaho might just be the place for you. Personal trainer jobs in Nampa and other cities might prove to be an idyllic option for a trainer with a penchant for the great outdoors.
FAQs on How to Become a Personal Trainer in Idaho
References
https://www.exercise.com/learn/ten-fittest-states-in-the-us/
https://www.americankinesiology.org/SubPages/Pages/Kinesiology%20Institution%20Database