Hey Everyone, and welcome to PT Pioneer for yet another career review article.
This forms part of a series where I go to each state in the country and give you the lowdown on what it would take to win as a CPT there.
This time we will be looking at how to become a personal trainer in Hawaii and have a look at Personal trainer Jobs in Honolulu and other major cities.
I'll also provide insight on personal trainer certification in Honolulu as well as exercise science schools in Hawaii to help you get the right start.
I aim to help you decide if this is the right fitness market for you, whether you're a resident or looking to relocate.
So with that out of the way, let's get started.
Make sure to check out the general guide on how to become a personal trainer.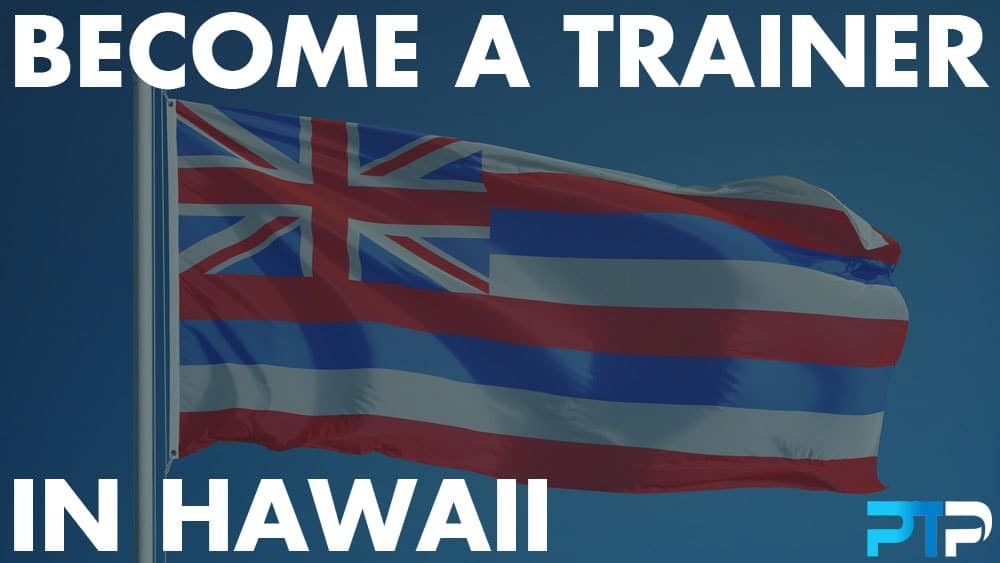 Post 11 of 50 in the PT By State Series
State Fitness Rating
To begin proceedings, I want to look at how Hawaii fares compared to other states in America in terms of practices and attitudes towards health and fitness goals.
The fantastic folks over at exercise.com have compiled a list of all the country's states and ranked them based on fitness levels.
This will indicate how viable and opportune the market is for fitness trainers like you seeking business or employment.
I will be using two factors based on the statistics highlighted by exercise.com: obesity and the number of top gyms.
Obesity is an important metric because it indicates how healthy a population is based on their exercise habits and dietary habits.
These two aspects also paint a picture of what the fitness industry looks like in the state.
The healthier the population, the more likely they are to buy into fitness products and services such as the ones you will be offering when you become a personal trainer in Hilo or any other city in Hawaii.
As far as obesity is concerned, Hawaii has a pretty healthy population.
With an obesity prevalence rate of only 23.8%, Hawaii is well below the national average obesity rate giving it an overall obesity rank of 4.
That means Hawaii is the fourth healthiest state in the US in terms of obesity.
When it comes to gyms, the numbers are based on the total amount of top, mainstream commercial gyms and how many of these are available per 100 thousand members of the local population.
In Hawaii, there are only 81 top gyms, but with a population of only 1,428,557, the ratio of gyms to people is somewhat adequate.
That gives Hawaii a top gym ranking of 22, placing it in the top half nationally.
Personal trainer jobs in Hilo and other major cities are thus few and far between.
Top gyms are defined as mainstream commercial gym chains. While there may be tons of other different fitness facilities, these gyms are statistically more relevant due to their affordability and ease of use.
Top gyms under this category include the likes of:
24 Hour Fitness
Anytime Fitness
Crunch Fitness
Gold's Gym
LA Fitness
Orange Theory Fitness
Planet Fitness
Snap Fitness
YMCA
If you are interested in working in one of the top gyms, let me show you how to become a personal trainer at 24-hour fitness gym.
You need to have a 24-hour fitness personal trainer certification to be employed in this top gym.
Fitness Market Makeup
Hawaii is popular for its pacific coastlines and lazy beach culture.
Exclusive PTP Offers



Gold Standard Cert

Most Popular Cert

A Good Option

Best Study Materials

Best online PT course

The Top PT Software

Because of this ambiance, you will find many of the residents, especially the active ones, are invested in watersports as well as holistic activities such as yoga.
As a personal trainer, it's always best to adapt your services to suit the market preference while also finding a good niche to help you stand out from the crowd.
Offering fitness classes that aim to improve performance in sports, such as surfing, might land you a robust client base.
Whatever the case, you'll still be able to ply your trade with a general fitness market with services such as weight loss and body transformations.
That's because the prominent beach culture creates a predilection for the ultimate "beach bod," so to speak.
In terms of gyms, you can go the traditional route with the previously mentioned "top Gyms", or aim for work in one of the following specialist or private gyms, health clubs, and fitness centers:
UFC Gym Honolulu
Iron Hawaiian Fitness
Island Club and Spa Kakaako
Personal Trainer Certifications in Hawaii
Personal trainer certification in East Honolulu and other cities is needed to get a job as a personal trainer in Hawaii.
I have written an article on my best personal trainer certifications. Use this as a guide on how to become a certified personal trainer in Hawaii.
Overall here are my top 2 best personal trainer certificates in Hawaii.
Personal trainer cert in Atlanta is pretty much the same as anywhere else in the country.
However, there are gyms that accept ISSA certifications only.
Personal training schools in Hawaii
If you really want to take the market by storm, upgrading your credentials is a good way of doing just that.
Aside from having a personal trainer certification Hawaii, which is necessary, you might also consider a tertiary qualification such as a degree or diploma from college.
This is equivalent to having a personal trainer license in Hawaii.
Trainers with bachelor's degrees typically earn more because it allows access to higher positions of employment as well as providing trust and credibility, which can be leveraged for higher pay.
There are a few kinesiology schools in Hawaii. Let's look at some of them, shall we?
Options are limited when looking at exercise science schools in Hawaii but bear in mind that it is a small state.
Personal Trainer Jobs in Hawaii
Personal trainer jobs in East Honolulu and other cities are quite sparse regardless of the great gyms to population ratio.
No matter how good the odds are for people in terms of training opportunities, job opportunities are always a numbers game.
I suggest you apply to all 81 gyms across the state to maximize your odds.
Personal trainers Honolulu can help clients who love to hike around Manoa Falls in Oahu with strength training to cardiovascular training.
There is, of course, the option to do your own thing as a private trainer, renting gym space and time so you can run your fitness programs.
Another great option is the implementation of an online fitness platform.
Online fitness is proving to be one of the most lucrative sectors of the wellness economy, so having it as your focus or supplementing your real-world duties is a massive bonus.
You will find out more from doing an online search of "trainer jobs Hawaii".
Best Cities to Be a Personal Trainer in Hawaii
Hawaii is a small state, as I've already pointed out.
With just over a million residents, most cities have small populations to work with.
This will affect your rate of success if you want to become a personal trainer in East Honolulu, for example.
Let's look at the population stats by the city so that you can form a clearer idea of "personal training Hawaii".
| | |
| --- | --- |
| City In Hawaii | Population |
| Honolulu | 345,064 |
| East Honolulu | 47,770 |
| Hilo | 46,286 |
| Pearl City | 46,129 |
| Waipahu | 40,427 |
| Kailua CDP | 36,662 |
| Kaneohe | 33,739 |
Honolulu is the only city that breaks the 100k mark, and it does so by quite a significant margin.
I would therefore hedge all my bets to become a personal trainer in Honolulu.
If you were to become a personal trainer in East Honolulu, you're basically looking at roughly 10% of the population and odds to match.
You can find "personal trainer jobs Hawaii" or "fitness jobs Hawaii" with ease.
Personal Trainer Salary in Hawaii
It's important to have a salary figure in mind when pursuing any career and having an idea of what you could expect to earn on average.
When it comes to being a personal trainer in the US, the national average income is $61,802.00 per year, according to salary.com.
When looking at Hawaii's statistics, we see an annual average of $65,550 per year.
Exclusive PTP Offers



Gold Standard Cert

Most Popular Cert

A Good Option

Best Study Materials

Best online PT course

The Top PT Software

This is a great figure to look forward to especially considering how small the market for the fitness industry is there.
Bear in mind that becoming a top earner as a fitness instructor is reliant on many other factors such as upskilling your credentials and years of experience. Location is just one of many.
Make sure to check out the full guide on personal trainer salary.
Quality of Life Rating
Hawaii is known for its natural beauty and is a massive tourist destination because of this.
The sprawling, sandy Pacific ocean beaches, and the amazing weather make it a great place to live in terms of scenery and environment.
On a more technical side, business freedom, healthcare, and safety are pretty good.
Leisure and culture are what you would expect with the beauty of this location, and the economy isn't doing too bad.
Hawaii does, however, fall short when it comes to housing and the cost of living.
It is a typical trade-off for expensive places to live in.
I give Hawaii an 8/10 QoL rating.
Methodology
After in-depth research, I was able to come up with this detailed review based on the following points:
The population of the state and its major cities.
The obesity figures as compared with other states.
Personal trainer certifications available in Hawaii
Availability of personal training schools & colleges.
Career prospects for personal trainers.
Earning potential for certified PTs.
Quality of Life (QoL).
Final Words on How to Become A Personal Trainer in Hawaii
Hawaii is a beautiful place to live and work, but with such a small population comes a limited number of basic employment opportunities in the fitness industry.
It might not be the best option for first-time fitness professionals.
Having said that, how successful your career depends on your approach. With the right work ethic, you can make it in Hawaii, especially considering the income prospects.
Whether you are "personal trainers Hawaii" or a gym owner, the potential to earn more is always very high because the clients are interested in physical therapy.
Start by getting your personal trainer certification in Hilo or any other city. From there, Hawaii is your oyster.
FAQs on How to Become a Personal Trainer in Hawaii
References
https://www.exercise.com/learn/ten-fittest-states-in-the-us/
https://www.americankinesiology.org/SubPages/Pages/Kinesiology%20Institution%20Database