Hey Everybody, and welcome to another PT Pioneer career review.
This is an article in a series that covers all the 50 states in America.
I aim to provide insight into what it takes to make it big as a fitness trainer in the different states.
One of the main keys to success as a PT is location, location, location.
This time around, we're going to be looking at how to become a personal trainer in Georgia and checking out what it takes to make it as a fitness pro, and if at all it's worth it.
This article will be a product of the knowledge gained from having different certifications and the experiences I gathered practicing as a personal trainer.
I'll only be dealing with major cities to keep things direct and simple. I'll be looking at jobs as well as personal trainer certification in Augusta-Richmond County and two other cities.
So with that said, let's jump right into it.
Make sure to check out the general guide on how to become a personal trainer.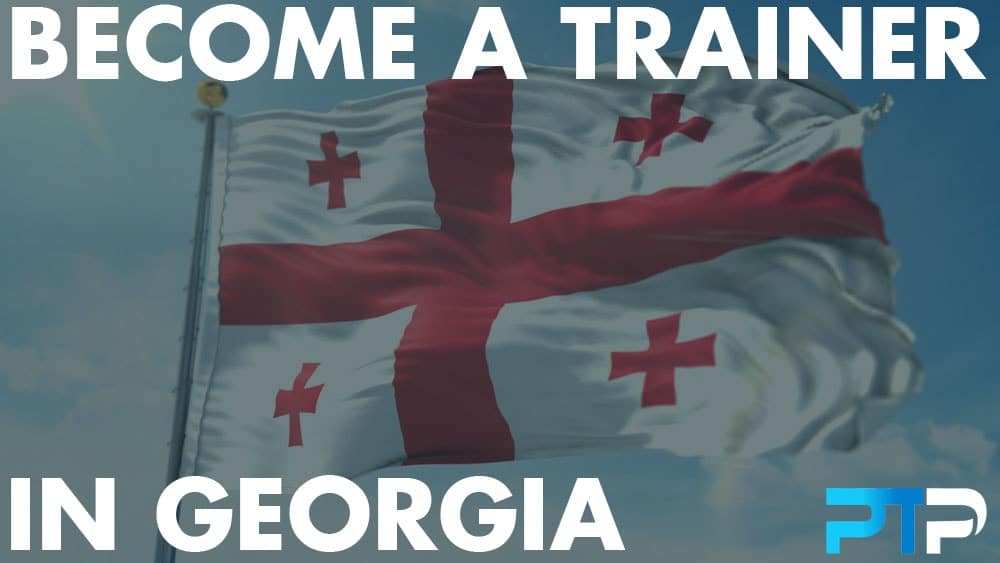 Post 10 of 50 in the PT By State Series
State Fitness Rating
Understanding the fitness culture of a state will help understand the career prospects for fitness professionals.
Before we discuss personal trainer certification programs in Columbus, we must look at the state fitness rating.
This rating will be based on the ranking system set forth by the kind folks over at exercise.com.
The fitness ranking has many factors plugged in to make it a comprehensives statistic, but the two I'll be looking at relates to obesity and the presence of gyms and fitness facilities.
When it comes to obesity, Georgia finds itself on the unhealthy end of the spectrum.
With an obesity prevalence rate of 31.4% of the population, Georgia does have a bit of a problem.
A high obesity rate means a population with generally low interest or awareness in health and fitness as part of their lifestyle.
This could be a challenge or an opportunity, depending on how you approach personal trainer jobs in Augusta-Richmond County, Columbus, and Atlanta.
Georgia's obesity stats can be attributed to its traditional diet culture. The "soul food" cuisine consisting of rich fatty, high GI foods is a part of Georgian culture as it is its nemesis.
The 31.4% obesity statistics puts Georgia in 31st place out of 51.
As for gym presence, this factor is based on top gyms per 100,000 residents.
The reason the data is focused on top gyms is that these are the type of gyms that the average joe can both afford and find easy to use.
There are bound to be numerous other gyms and fitness facilities dotted across the state.
These are either on the pricier end of the spectrum, such as boutique or private gyms, or they are too specialized for anyone just to drop in.
For that reason, we are only looking at how many of the famous, mainstream commercial gyms are available in the state, such as the ones listed below:
24 Hour Fitness
Crunch Fitness
Orange Theory Fitness
Planet Fitness
LA Fitness
Gold's Gym
YMCA
Snap Fitness
Anytime Fitness
As far as Georgia is concerned, there are 587 top gyms.
With a population of 10,310,371, the access to that amount of gyms isn't too bad and ranks Georgia in the top half when it comes to gym access.
Overall, Georgia has a state fitness ranking of 26, placing it right in the middle as the best of the bottom half.
Exclusive PTP Offers



Gold Standard Cert

Most Popular Cert

A Good Option

Best Study Materials

Best online PT course

The Top PT Software

In my opinion, this means a great opportunity for a CPT. When it comes to fitness, the middle ground means the industry is at a turning point where a boom in fitness could occur.
Especially when looking at Georgia and its major cities like Atlanta, we see a progressive shift in terms of the culture and the economy.
This growth and change of perspective are what will influence new attitudes towards fitness and the fitness industry that will sustain them.
Fitness Market Makeup
Georgia's population is small by comparison to other states of similar significance.
It is a small, mostly conservative state, still very much stooped in Southern tradition.
That means your client prospects will typically have very humble health and fitness goals, such as weight loss or corrective exercises.
There's no muscle beach to flex their guns, and there isn't a massive outdoor adventure community as you would find in parts of Colorado.
That means your best odds lie in working in or collaborating with the mainstream commercial gym industry with a decent presence in the state.
Because of the high obesity prevalence, and it's linked to diet, the makeup of many of your prospects will consist of overweight to obese individuals.
That means being skilled as a diet coach or having some form of nutrition certification Atlanta will come in handy.
You could also look into some of the more upmarket gyms if you want to deal with a more specialist clientele.
Some of these include:
Urban Body Fitness
Equilibrium Fitness
LIV Fitness
The Forum Athletic Club
Powerlady Fitness
Personal Trainer Certifications in Georgia
Personal trainer certification in Atlanta and other cities is needed to get a job as a personal trainer in Georgia.
I have written an article on my best personal trainer certifications. Use this as a guide on how to become a certified personal trainer in Georgia.
Overall here are my top 2 best personal trainer certificates in Georgia.
Personal trainer certification Atlanta is pretty much the same as anywhere else in the country.
You can also attend a Train the trainer GA or personal trainer school Atlanta to obtain a certification.
Your best bet of winning over clients apart from your communication skills is to go through Atlanta personal trainer program.
Personal training schools in Georgia
Aside from a personal training certification, you may consider going for a credential that carries more weight.
This would include a college or university degree, which is akin to a personal trainer license in Georgia.
Fortunately, there are a plethora of great options when looking at kinesiology schools to get a bachelor's degree in Georgia.
Check these out:
Personal Trainer Jobs in Georgia
With a decent prevalence of commercial gyms, fitness clubs, or fitness centers, your best bet is to start there.
You should aim for personal training jobs in Atlanta, Augusta-Richmond, or Columbus since these are the most populated cities.
Starting as a gym employee will also allow you to accumulate the necessary experience and build a reputation as you become a personal trainer in Atlanta Georgia.
From experience, you can create specialized exercise programs and personal training sessions to help push up their fitness level more.
That's where you take matters into your own hands and set off to build your own PT business.
I strongly advise that you build a robust online fitness platform.
With the world progressively shifting towards a more digital economy, online fitness has become the industry's fastest-growing sector.
You might as well jump onto this trend when looking at personal trainer jobs in Columbus, for example.
When there is a search for "hire a personal trainer near me", you should be found with ease.
Best Cities to Be a Personal Trainer in Georgia
Georgia is a smallish state, and with that, its largest cities don't even reach the 1 million population mark.
Nevertheless, you want to know which cities are the most populated as this is where your odds are best as a trainer.
Let's take a look:
| | |
| --- | --- |
| City In Georgia | Population |
| Atlanta | 506,811 |
| Augusta-Richmond County | 202,518 |
| Columbus | 195,769 |
| Macon-Bibb County | 153,159 |
| Savannah | 144,464 |
| Athens-Clarke County | 128,331 |
| Sandy Springs | 109,452 |
Atlanta has the largest population by a significant margin, making it the only city in Georgia to tip over 500k inhabitants.
Exclusive PTP Offers



Gold Standard Cert

Most Popular Cert

A Good Option

Best Study Materials

Best online PT course

The Top PT Software

Atlanta has a very cosmopolitan vibe as it stands and is quite the outlier when looking at the state's general atmosphere.
If you can, try your utmost to operate as an Atlanta personal trainer.
Becoming a personal trainer in Augusta-Richmond County or Columbia could also be lucrative, but the odds are definitely less favorable than landing a gig in a health club as a personal trainer in Atlanta GA.
But before anything else, ensure you have a personal trainer certification Georgia.
Personal Trainer Salary in Georgia
Before you become a personal trainer in Columbus or any other city, it would be wise to learn what you could potentially earn.
In Atlanta, the average PT salary is $61,801 per year. That puts it more or less in line with the national average of $61,802, give or take a few dollars.
Personal training in Atlanta GA is quite lucrative, especially if you have a personal trainer certification Georgia.
Make sure to check out the full guide on personal trainer salary.
Quality of Life Rating
According to atlantamagazine.com, Georgia has the tenth worst quality of life in America!
This is due to the low levels of employment and income as well as the high crime rate, especially concerning homicide.
This all changes when focusing on Atlanta, which is steadily becoming one of the nation's cultural and economic hubs with great healthcare and business freedom.
Two things that will benefit you as personal trainers Atlanta.
Overall, I give Georgia a 6/10 QoL rating.
Methodology
After a thorough review using this methodology, I was able to come up with this complete review based on the following criteria:
The population of the state and its major cities.
The obesity figures as compared with other states.
Personal trainer certifications available in Georgia
Availability of personal training schools & colleges.
Career prospects for personal trainers.
Earning potential for certified PTs.
Quality of Life (QoL).
Final Words on How to Become A Personal Trainer in Georgia
Georgia is a diverse state with many opportunities and challenges.
Its ranking as the 26th fittest state means it's a middle ground in terms of what's possible for your career in fitness training.
Becoming a Georgia personal trainer in Augusta-Richmond County and other areas will be a challenge, but not impossible.
Personal trainer certification Atlanta and other major areas are necessary to get you a head start, but also consider one of the exercise science schools in Georgia to upskill.
FAQs on How to Become a Personal Trainer in Georgia
References
https://www.exercise.com/learn/ten-fittest-states-in-the-us/
https://www.americankinesiology.org/SubPages/Pages/Kinesiology%20Institution%20Database