Hey everybody, and welcome to another PT Pioneer article.
This time we're going to be focusing on one of the key factors towards success as a PT in the fitness industry.
I'm talking about location, location, location.
From our extensive research, we discovered that where you are geographically situated will have as much of an impact on your income potential and career satisfaction as your experience and qualifications.
We aim to go state by state, revealing what makes or breaks your chances for a successful career in each location.
We'll be looking at several aspects that influence a specific state's health and fitness market, providing insight along the way.
For this article, I shall employ our combined experience with over a dozen PT certifications to critically evaluate a personal trainer's career prospects in the state of Florida.
At the end of my analysis, we'll be able to determine the overall fitness rating of Florida.
And with that said, let's get right into it.
Make sure to check out the general guide on how to become a personal trainer.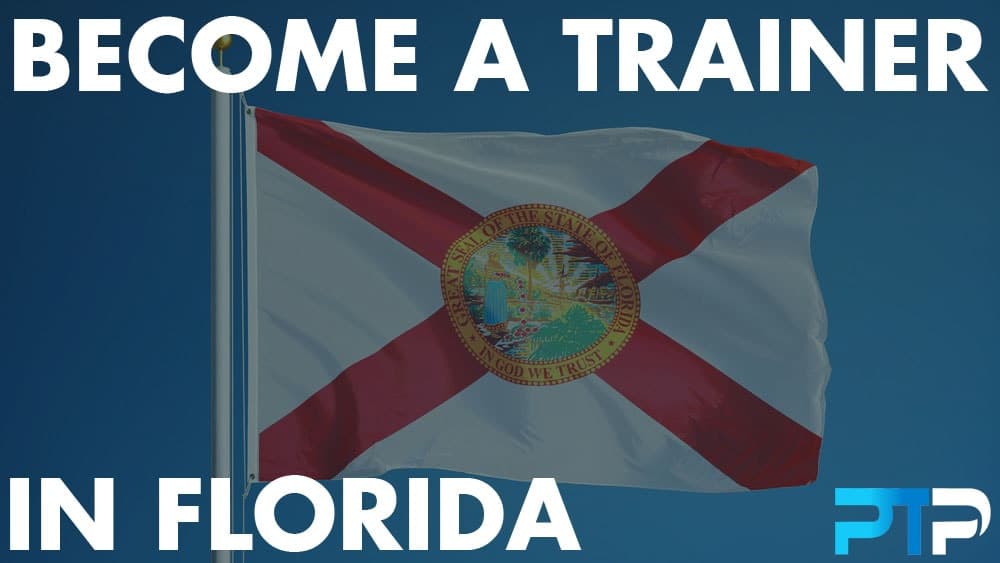 Post 9 of 50 in the PT By State Series
State Fitness Rating
Firstly, I considered the general fitness culture of each state to evaluate which state has the best career prospects for you as a PT.
In my findings, I observed that state by state, there's a different attitude towards health and fitness brought on by several factors.
Firstly, cultural heritage, which has a more long-standing impact, can definitely influence the fitness culture.
For example, a State with a deep-rooted culture of sports and athletics will generally have a fitter population.
What that means is there is a higher probability of business success or employment opportunities in the fitness market of a state where fitness is highly regarded.
Another factor that influences the fitness rating of a state and its major cities is its metropolitan status.
Florida happens to be a State with a varied mix of rural sensibilities and progressive metropolitan culture.
Because of this, Florida's fitness ranking across all 50 United States is 28, according to exercise.com.
We are using data including the number of gyms, rating of the gyms themselves, population stats, and obesity figures.
Some of the top gyms include:
Snap Fitness
Crunch Fitness
Anytime Fitness
Planet Fitness
Orange Theory Fitness
LA Fitness
Gold's Gym
24 Hour Fitness
YMCA
A high rating indicates a market that's primed and ready, while a low rating indicates a gap that you can take advantage of.
Fitness Market Makeup
To fully understand the prospects of personal trainer jobs in Miami, Jacksonville, Orlando, and Tampa, let's dig deep into the stats that influence the market.
Firstly, let's look at the total population.
With Florida, you're dealing with a population size of roughly 21 million.
For the major metropoles, the population breaks down as follows:
Jacksonville 926,371
Miami 486,388
Tampa 413,704
Orlando 291,739
That means 10% of the state population is concentrated in just these four cities.
In my perspective, if you were to become a personal trainer in Jacksonville, you'd have access to the highest populated city in the state.
Also, if you were to become a personal trainer in Tampa, you'd have similar prospects to Miami.
Of these 21 million Floridians, approximately 27% are obese.
According to "worldpopulationreview.com", Florida is the 7th least obese state in the U.S, with Colorado (23.80%) as the least obese, and Mississippi at 40.80% as the most obese state.
Now obesity statistics can go two ways.
They can either serve as an indication of opportunity, or they can serve as an indication of an adoptive market if low.
Exclusive PTP Offers



Gold Standard Cert

Most Popular Cert

A Good Option

Best Study Materials

Best online PT course

The Top PT Software

How you capitalize all depends on your approach towards sales and marketing.
In my professional capacity, I suggest you investigate some of the highly-rated gyms in the state such as:
Iron Religion Gym
Optimum Gym
RYPT Gym
With Florida's obesity stats significantly below the national average of 40%, your aim as a personal trainer in Miami or any other city in this region is to tap into the aspirations of the already fit.
That's because a below-average obesity stat indicates a higher adoption of health and fitness habits within the general population.
Another important consideration is your access to employment through gyms.
Florida has a total of 1009 fitness centers/health clubs from the top commercial gym franchises in America.
But what does this mean for personal trainer jobs in Florida?
According to statistics, this gives each member of Florida's population access to at least four gym options per person.
Sadly, from a job seeker's point of view, the obesity stats in Florida and the population distribution suggest that there will be stiffer competition for personal fitness trainer jobs in cities like Miami, Orlando, and Tampa.
With all this considered, I believe your best prospects lie in personal trainer jobs in Jacksonville.
Personal Trainer Certifications in Florida
In my experience, this is how to become a fitness trainer in FL: obtain a personal trainer certification and you're well on your way to get a job as a personal trainer in Florida.
I have written an article on my best personal trainer certifications.
Most certification programs are inclusive of an online course, some study materials, practice exams, and finally, the certification exam.
Overall here are my top 2 best personal trainer certificates in Florida.
Make sure to check all three out.
Based on so many positive reviews, I can ascertain that having any of the above professional trainer certifications will most likely secure a job for you as a PT in Florida.
Person trainer schools and diplomas in Florida
I strongly suggest those seeking to become certified personal trainers in Florida should obtain an undergrad or postgrad degree in exercise science as this can boost their chances and options.
There are a few kinesiology schools in Florida to choose from.
From my findings, to gain your personal trainer license in Florida, the top exercise science schools you should consider in Florida are:
University of Florida
University of Miami
Lynn University
Florida State University
Here is a complete list of personal trainer schools in Florida as well as links to each.
These are the top kinesiology schools in Florida, or at least institutes that offer kinesiology and other related exercise science programs.
In my search for affordable personal training schools in Florida, I discovered that apart from these top schools, you can also get a diploma from the national personal training institute (NPTI), Florida.
The drawbacks with NPTI are that it only has campuses in Orlando and Tampa, and it is not accredited by the national commission for certifying agencies (NCCA).
Best Career Opportunities
As a personal trainer, especially one starting, your best option would be to start as a gym trainer in one of the large commercial fitness centers.
These would include the likes of:
Anytime Fitness
Crunch fitness
Orange Theory
24 Hr Fitness
LA Fitness
Planet Fitness
Gold's Gym
I suggest getting your personal trainer certification in Tampa or any of the other major cities.
This is essential if you're considering a gym position.
If your credentials check out, most gyms will at least consider your application.
Florida is well known as a vacation hub.
Miami, Tampa, and Orlando are famous for their holiday resorts and vacation culture.
What this means is you have an opportunity to tap into the hospitality sector through fitness.
Many resorts and hotels feature fully functional fitness centers; as a trainer in Florida, this could be one of your most lucrative career options.
This is especially true if you want to become a personal trainer in Orlando.
The hospitality industry runs a year in year out due to the subtropical climate, which means there's basically no such thing as winter.
I know for sure that if you were to become a personal trainer in Miami, for example, you'd have annual access to a slew of local, interstate, and international tourists.
Best Cities to Be a Personal Trainer in Florida
As mentioned, your big four cities in Florida are Miami, Tampa, Jacksonville, and Orlando.
From my extensive research, the urban, cosmopolitan make-up of cities like these means a higher income potential as well as the standard of living, which we'll get into later.
Income Potential
Going into any profession warrants a very important initial question, how much can you expect to earn.
Besides obtaining your personal trainer certification in Orlando, Tampa, Miami, or Jacksonville, learning the income potential is just as pivotal to success.
In terms of the national average, a personal trainer in the US can expect an annual income of $61k, according to salary.com.
The personal trainer salary in Florida is a state average of $58,712 per year.
What you will find, however, is that city by city, the average income stats tend to change.
Exclusive PTP Offers



Gold Standard Cert

Most Popular Cert

A Good Option

Best Study Materials

Best online PT course

The Top PT Software

Miami, for example, sees an average income of $60,165.00 each year for personal trainers, while Orlando sees an average of $43,835.00 per year.
Also, recent stats show that the part-time personal trainer salary in the U.S is usually ranging from $25,000 to $35,000.
Make sure to check out the full guide on personal trainer salary.
Quality of Life Rating
Along with how much you can earn, the quality of life, or QoL is also important to consider.
There is no use earning a bunch of money and not being able to use it effectively towards a comfortable lifestyle.
Quality of life is a statistic that quantifies the happiness and comfort of a population based on a few factors.
These include access to services, quality of the physical environment, cost of living, safety, employment, and entertainment.
A major highlight for the state of Florida is that it sits quite high on the state-by-state QoL rankings.
It is in 13th place out of 50, making it one of the best places to live and work in America, according to U.S.News.
With the combination of vast, protected tracts of natural reserve and one of the most attractive coastlines in the states, Florida is a beautiful place to be situated.
Being one of the wealthier states in America also allows Florida to provide an adequate assortment of amenities and state-of-the-art public services.
A high QoL shows a high general income and buying power amongst members of the population, giving you access to higher premiums on your service as a PT.
A high QoL shows a high general income and buying power amongst members of the population.
This, in my opinion, gives you access to higher premiums on your service as a PT.
This makes Personal trainer jobs in Orlando or any other major city in Florida, lucrative and enjoyable prospects.
Methodology
I approached this review based on carefully curated facts and figures and my final verdict was based on:
The population of the state and its major cities.
The obesity figures as compared with other states.
Personal trainer certifications that are obtainable.
Availability of personal training schools & colleges.
Career prospects for personal trainers.
Earning potential for certified PTs.
Quality of Life (QoL).
Final Words on How to Become A Personal Trainer in Florida
As one of the major states, Florida generally has a decent market for fitness.
From my comprehensive analysis, Florida may not be anywhere close to the fittest state, but this fact can easily be turned into a lucrative opportunity.
As with any career recommendation, your credentials are key.
I recommend you check out personal training schools in Florida.
Personal training programs in Miami seem to favor the National Academy of Sports Medicine (NASM) certs, while personal trainer certification in Jacksonville has a leaning towards the American Council on Exercise (ACE) certified trainers.
Overall, I think Florida is a great place to work as a PT.
Although the income average may fall below the national median, I strongly believe that with the quality of life and uniqueness of opportunity, personal trainer jobs in Tampa, Miami, Orlando, and Jacksonville seem worth it.
After due considerations and proper analysis of the various factors considered in this review, I'll give Florida a 3.5/5.
FAQs on How to Become A Personal Trainer in Florida
References
https://www.exercise.com/learn/ten-fittest-states-in-the-us/
https://www.americankinesiology.org/SubPages/Pages/Kinesiology%20Institution%20Database