Hey everybody, and welcome to another PT Pioneer career review article.
This is another state by state series providing insight into what it takes to be a PT in different parts of the country.
This time I'm going to looking at how to become a personal trainer in Delaware.
For the sake of brevity, I'll only be discussing personal trainer jobs in Wilmington and other major cities.
I'll also get the necessary credentials and look at personal trainer certification in Newark and others.
This article will be a product of my years of experience holding over a dozen PT certifications to evaluate a personal trainer's career prospects in the state of Delaware.
I aim to help you figure out whether or not to stay put or relocate to jumpstart or progress your PT career.
And with that said, let's get right to it.
Make sure to check out the general guide on how to become a personal trainer.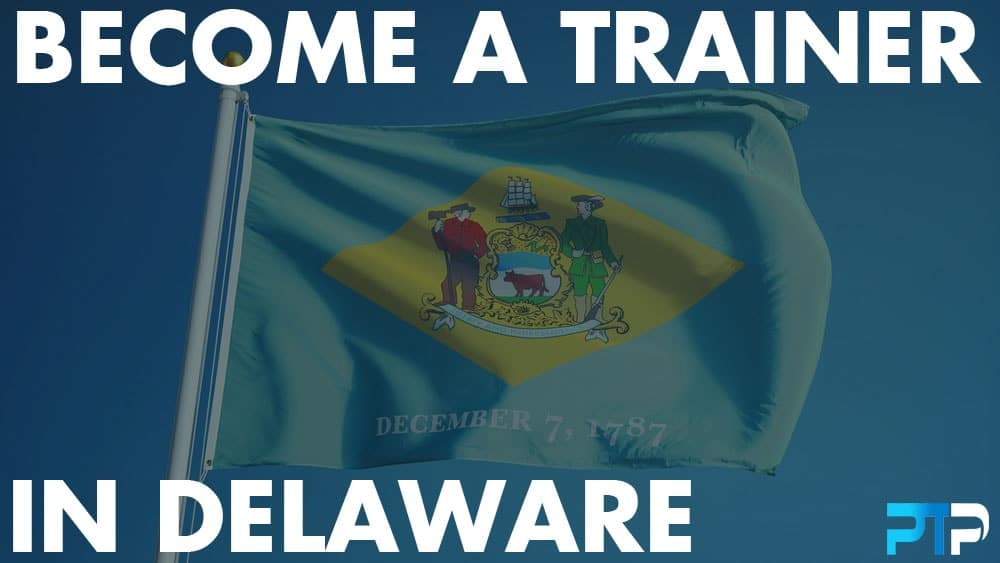 Post 8 of 50 in the PT By State Series
State Fitness Rating
But before I get right into it, I'll first take a critical look at the fitness culture of each state to find out which state is the best for your career as a personal trainer.
In my findings, I observed that the fitness level in each state is different.
The first statistic I'll be looking at is the state fitness rating. This ranking identifies where a state sits in terms of fitness to all other states.
The data I'm using for this was gathered and carefully put together by the talented team at exercise.com.
In order to arrive at a sensible ranking, a few factors are considered, but I'll be looking at the two main ones.
Those being the number of top gyms and the obesity statistics.
The number of top gyms means the number of mainstream, commercial gyms available to the state population.
These gyms are essential to the fitness rating because they indicate the most accessible fitness options to achieve your wellness and fitness goals.
Commercial gyms in this category include:
Crunch Fitness
24 Hour Fitness
Orange Theory Fitness
YMCA
Snap Fitness
Planet Fitness
Anytime Fitness
Gold's Gym
LA Fitness
These fitness facilities are user-friendly and affordable, allowing more people to exercise than the more specialist or up-market facilities.
Aside from these, here are some of Delaware's top-rated fitness facilities that personal trainers in Delaware can also check out:
CoreTen Fitness
BlkOps Fitness
RISE Fitness + Adventure
Art Fitness
In Delaware's case, the ratio of top gyms to population is pretty good. The state only has 60 top gyms, but when considering the minute population they cater to, it makes for a good ratio.
With a population of just 952,065, there are 6.3 gyms for every 100,000 inhabitants, putting Delaware in 14th place when it comes to gym presence ranking.
When looking at the obesity stats, however, the picture isn't quite as pretty.
With an obesity prevalence of 30,7%, Delaware is 28th out of 51, placing it in the lower half of obesity rankings.
Exclusive PTP Offers



Gold Standard Cert

Most Popular Cert

A Good Option

Best Study Materials

Best online PT course

The Top PT Software

Overall, Delaware has a state fitness rating of 17, held up by the good access to gyms and training facilities.
Fitness Market Makeup
Delaware has a small, reasonably healthy population in terms of fitness stats.
The fitness industry is primarily based on fundamental aspects of health and fitness.
Personal trainer jobs in Dover and other urban metros would comprise of mainly just getting people through the paces.
Basic exercise programs and nutrition coaching and small group fitness classes, and boot camps, will likely be the mainstay.
Personal trainer jobs in Newark and other cities might include being a physical educator in the school system, a certified strength coach, or an exercise physiology specialist.
Personal Trainer Certifications in Delaware
Personal trainer certification in New Haven and other cities is needed to get a job as a personal trainer in Delaware.
I have written an article on my best personal trainer certifications. Use this as a guide on how to become a certified personal trainer in Delaware.
Overall here are my top 2 best personal trainer certificates in Delaware. Make sure to check all of them when you decide to become a personal trainer in Wilmington and other areas.
Personal trainer certification in Dover or any other city is pretty much the same as anywhere else in the country.
I also discovered that some fitness centers prefer fitness specialists with Pilates certification.
In addition, if you are interested in how to get certified to teach water aerobics, I'll advise you to obtain a water safety certification or lifeguarding.
Personal training schools in Delaware
While getting a personal trainer certification in Newark, Dover, or Wilmington will allow you to get in the door for job interviews, having a higher learning qualification will solidify your chances.
It is well understood that personal trainers with bachelor's degrees earn higher on average and experience accelerated career growth than fitness trainers without degrees or diplomas.
There are a few options you can look at when it comes to exercise science schools in Delaware, so let's take a look:
These are the only four colleges and universities that offer programs in exercise, health, and fitness.
With such limited options, you don't have to confine yourself to kinesiology schools in Delaware. Look at what neighboring states have to offer too.
Personal Trainer Jobs in Delaware
From a consumer perspective, Delaware is great for fitness professionals. For such a tiny population, there is an abundance of gym options available.
From a personal trainer's perspective, it's not quite as rosy. With only 60 gyms in the whole state, your opportunities to become a personal trainer in Dover and other towns are limited.
Typically, you would send out applications to at least this many gyms just to have decent odds.
Despite this, there are opportunities nonetheless. You'll just have to have credentials and a track record that speaks louder than most and hope for new job openings.
A personal trainer in Delaware must know how to design and display exercise programs used in personal fitness training sessions.
Besides working in a gym under full-time employment, you also can run your show as a private trainer with your own business.
Of course, this leaves a lot of the legwork up to you since marketing and admin are no longer handled by a big corporate machine.
Best Cities to Be a Personal Trainer in Delaware
Cities in Delaware are more akin to small towns when looking at population figures.
Wilmington, which is the most populated city in the state, only has 70,139 residents.
With less than 100k inhabitants in any major city, there are no fantastic places to work as a CPT, but the best ones would have to be Wilmington, Dover, and Newark.
Have a look at the table below for an idea of what other cities/towns look like:
| | |
| --- | --- |
| City In Delaware | Population |
| Wilmington | 70,139 |
| Dover | 38,499 |
| Newark | 34,493 |
| Middleton | 23,744 |
| Bear | 21,362 |
| Glasgow | 14,342 |
| Hockessin | 13,472 |
Personal Trainer Salary in Delaware
With such slim pickings when it comes to opportunity for PTs, you'd expect Delaware salaries to be below average.
Well, think again, because a personal trainer Delaware earns an average of $64,892 per year. That's above the national average of approximately $61k per year.
So, despite having a low number of potential job openings, the payout could be significant once you're in.
I would attribute this to the fact that Delaware residents are eager to invest in their health and fitness as indicated by the stats I'm sharing.
This means a sizable investment and conscious consideration is being made towards healthy habits, making it profitable for those enforcing them.
Exclusive PTP Offers



Gold Standard Cert

Most Popular Cert

A Good Option

Best Study Materials

Best online PT course

The Top PT Software

Make sure to check out the full guide on personal trainer salary.
Quality of Life Rating
According to WalletHub, Delaware is the 23rd best state to live in based on several factors.
I've noticed that the health and fitness ranking of a state closely resembles the quality of life rating in a state.
This can be seen with Delaware having a fitness rank of 17 and a QoL rank of 23.
Where Delaware shines is its pristine beaches, as well as a thriving property market.
It also ranks high in healthcare and finds itself barely in the top half with education.
Delaware does have a bit of a crime problem and lacks natural environments to enjoy outside of the beaches.
Being one of the smallest states in the country also means there is less opportunity to be a major culture and entertainment hub, so life in Delaware can be rather quaint.
I'll give it a 7/10 QoL rating.
Methodology  
After comprehensive and intensive research, I came up with this detailed review that is based on the following parameters:  
The population of the state and its major cities.  
The obesity figures as compared with other states.  
Personal trainer certifications available in Delaware 
Availability of personal training schools & colleges.  
Career prospects for personal trainers.  
Earning potential for a certified fitness instructor.  
Quality of Life (QoL).  
Final Words on How to Become a Personal Trainer in Delaware
Delaware has a lot to offer its residents in terms of fitness, with a high ratio of commercial gyms to residents. 
Personal training Wilmington DE should have the end goal of helping the populace achieve their weight loss goals through an intensive training program.
Regardless, the opportunities available for personal trainers are quite limited.
With only 60 gyms, less than some cities, you'll have to consider other options when it comes to PT work.
Getting your personal trainer certification in Wilmington is great to start if you are a native of Delaware, but to really boost your odds, getting your personal trainer license in Delaware at one of the universities or colleges is essential.
FAQs on How to Become a Personal Trainer in Delaware
References
https://www.delawarebusinessnow.com
https://www.exercise.com/learn/ten-fittest-states-in-the-us/
https://www.americankinesiology.org/SubPages/Pages/Kinesiology%20Institution%20Database