Hello everyone, and welcome to PT Pioneer.
In this article, I will discuss what it takes to become a certified personal trainer in Connecticut.
I have written an entire series dealing with PT careers state by state, which you can look through for more insight.
I aim to help you establish a sense of where the best place to work would be.
This time we will look at Personal trainer jobs in Stamford and other cities and personal training schools in Connecticut.
I will only provide insight on becoming a personal trainer in Bridgeport and other major cities.
This will allow you to focus on the locations with the best odds of success.
With that said, let's jump into it.
Make sure to check out the general guide on how to become a personal trainer.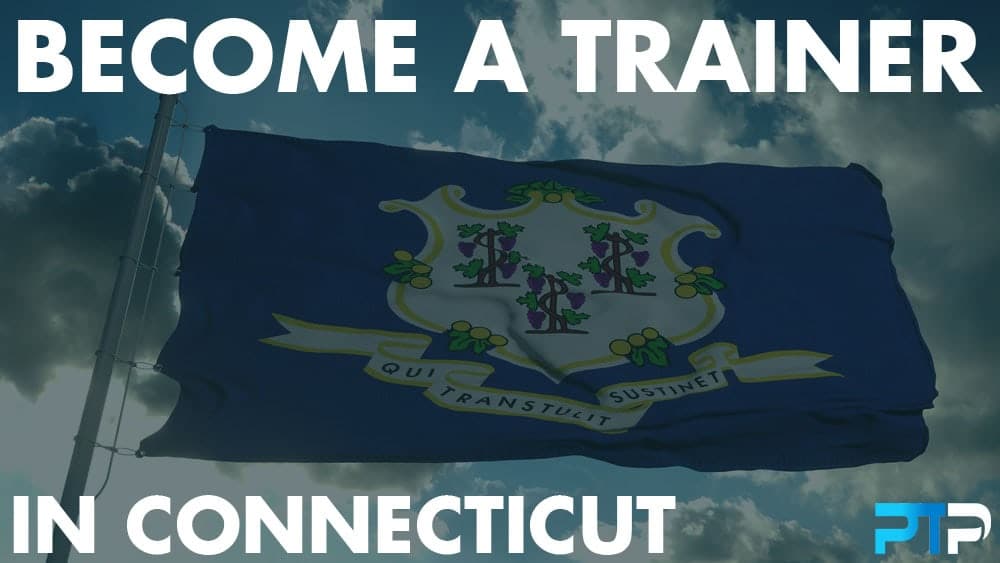 State Fitness Rating


The first statistic I'll address for you is the state fitness rating.
It's become apparent that different locations in America have different cultures and attitudes towards health and fitness as part of daily life.
For example, Colorado is the fittest state in America and has been so for roughly a decade.
This means a thriving fitness industry has plenty of opportunities for you as a fitness trainer.
When it comes to Connecticut, things aren't too different, fortunately, because the fitness levels are quite high.
Connecticut finds itself in America's top 10 fittest states, but let's discuss how it's determined before we get into that ranking.
The statistics I gathered were sourced from the amazing people over at exercise.com.
The foremost vital metrics used were obesity statistics and the top gym presence in the state.
Connecticut has an obesity prevalence of 26% below the national average.
This prevalence rate gives the state 10th place out of 51 in the whole country, which is quite impressive if you ask me.
This means that weight loss/weight management may not be a top priority in this state; instead, it may be slightly inclined towards nutritional guidance.
Next, we look at the top gyms presence in the state.
Top gyms mean any of the top, mainstream, commercial gyms, which include the likes of:
24 Hour Fitness
Crunch Fitness
YMCA
Snap Fitness
Planet Fitness
Orange Theory Fitness
Anytime Fitness
Gold's Gym
LA Fitness
These fitness centers are a determining factor because they are the most affordable to the general population and provide the most generic access to fitness and wellness training.
Exclusive PTP CPT Offers



Gold Standard Cert

Most Popular Cert

Best Study Materials

A Good Option

A Good Option

Best CPT for you?

That means most people with little experience in sports and exercise can train safely and effectively in such facilities.
Outside of these, the top gyms by rating include:
WIP Fitness
Club Fitness Enfield
BODYROC FITLAB
Big Sky
Connecticut has a generous amount of gyms in its population.
With 272 top gyms for 3,576,452 inhabitants to use, there are 7,61 gyms per 100 thousand people.
This gives Connecticut a top gym ranking of number 2!
With all these factors in place, Connecticut's fitness ranking is 2/51, making it second to uber-fit Colorado.
These remarkable stats indicate significant potential for personal trainer jobs in Bridgeport or any of the other major cities.
Fitness Market Makeup
Connecticut's small population and many accessible fitness facilities make for a busy, albeit small, fitness market.
You won't find a city of more than 100,000 inhabitants in the state, so the pool of prospects won't be huge wherever you decide to work.
With the high ratio of generic commercial gyms, the market mainly comprises people whose fitness goal is to maintain a healthy lifestyle.
So getting an exercise physiology or nutrition certification for personal trainers may be all you need to access personal training jobs in CT.
As with some locations, there's no pressing concern with vanity or athletic prowess.
That means Personal trainer jobs in New Haven or any other big city will see you dealing with the average gym-goer just trying to look good and feel amazing.
Personal Trainer Certifications in Connecticut
Personal trainer certification in New Haven and other cities is needed to get a job as a personal trainer in Connecticut.
I have written an article on my best personal trainer certifications.
Use this as a guide on becoming a certified personal trainer in Connecticut.
Overall here are my top 2 best personal trainer certificates in Connecticut.
Make sure to check all of them when you decide to become a personal trainer in Stamford and other areas.
Personal training programs in Stamford or any other city are pretty much the same as anywhere else in the country.
Personal training schools in Connecticut
Getting a personal trainer certification in Bridgeport or any other city in Connecticut is a necessary start to your career.
Still, a higher learning certification might be a good idea if you really want to upskill and have leverage in the job market.
Evidence indicates that trainers with degrees and high school diplomas, instead of just an accredited certification, have better chances at employment and higher positions.
A degree also makes setting up and running your own business easier due to prospective clients' trust and credibility.
Fortunately, there are a few options for you regarding exercise science schools in Connecticut that can help you become an exercise specialist.
Exclusive PTP CPT Offers



Gold Standard Cert

Most Popular Cert

Best Study Materials

A Good Option

A Good Option

Best CPT for you?

These are my top picks, but be sure to check listings for any other vocational institutions or kinesiology schools in Connecticut.
Personal Trainer Jobs in Connecticut
As far as sources of employment are concerned, Connecticut has many commercial gyms to work in.
The reality with gym employment is that staff cycle through quite quickly, so there will always be a position open in at least a handful of gyms.
Just make sure you have your credentials and professionalism on point because although the state has a good gym to member ratio, the overall population is pretty small.
This means landing a gym gig will still be a hustle.
Outside of that, it would help to consider setting up your own business as a personal trainer or, better still, an online personal trainer.
With the growth of the online fitness industry and Connecticut locals' eagerness for health and fitness, a well-marketed online service could get you far.
Best Cities to Be a Personal Trainer in Connecticut
Connecticut is a small state in comparison to many others.
As I've already pointed out, no city registered a population above the 100k range.
So your best bet is to locate and work from the most populated cities as these will have the most engaged fitness industries.
| City In Connecticut | Population |
| --- | --- |
| Bridgeport | 144,399 |
| New Haven | 130,250 |
| Stamford | 129,638 |
| Hartford | 122,105 |
| Waterbury | 107,568 |
| Norwalk | 88,816 |
| Danbury | 84,694 |
As you can see, your best bet in terms of numbers would be to become a personal trainer in Bridgeport.
Since they have similar population figures, you can also become a personal trainer in New Haven or Stamford.
Personal Trainer Salary in Connecticut
The average personal trainer salary in Connecticut is $66,879 per year.
That's pretty good, considering the national average is around 61k annually.
The base hourly salary is around $33 per hour, which is also good.
Unlike Colorado, the fittest state in America, Connecticut's market has a more traditional demand.
Residents in the state prefer the guided fitness approach and personal training sessions as opposed to Colorado's self-sufficient, outdoorsy population.
That means PT services are in high demand, and with demand comes a higher premium.
Make sure to check out the full guide on personal trainer salary.
Quality of Life Rating
Connecticut is consistently regarded as one of America's friendliest states, meaning personal trainer certification in Stamford is a fast track to a lucrative career.
It has one of the lowest crime rates in the country, comparable to European figures, and also has a commendable public school system.
That makes it a great place to venture out independently and eventually start a family.
It also has a relatively low cost of living, making personal training in CT much more lucrative.
This and its high fitness ranking mean a generally more agreeable society.
The only downside with the state is the level of air pollution, which is considered pretty bad.
Leisure and basic service infrastructure is great and will satisfy most people's needs.
I give Connecticut an 8.5/10 QoL rating, held back by air pollution.
Methodology
I approached this review based on carefully curated facts and figures and my final verdict was based on the following:
The population of the state and its major cities.
The obesity figures as compared with other states.
Connecticut certification programs.
Availability of personal training schools & colleges.
Career prospects for personal trainers.
Earning potential for certified PTs.
Quality of Life (QoL).
FAQs on How to Become a Personal Trainer in Connecticut
What is the best personal trainer certification to get?
When enrolling for a fitness training certification program, you must seek one that will place you on par with other fitness professionals.
To achieve this, ensure that the certifying institution is nationally recognized and accredited by the NCCA or DEAC.
How to get a personal training certification online?
To become a personal fitness trainer online, you must ensure that the national commission accredits the personal trainer program you're enrolled in for certifying agencies.
Connecticut personal trainers are no different from those in other states – a certification exam is also required to get certified.
What is the best online personal training certification?
I would say the best online personal training certification is ISSA.  
ISSA offers everything online, including the curriculum and taking the exam online. 
How much do personal trainers make in CT?
The average salary in CT for personal trainers is $66,879 per year.
Having a job at one of the top fitness clubs as a fitness instructor can see you earning above the state average.
Final Words on How to Become a Personal Trainer in Connecticut
Connecticut's healthy status translates to good employment or business opportunity within the fitness market.
You can upskill and get your personal trainer license in Connecticut.
According to salary.com, the athletic trainer's salary in CT is $51,266 annually.
You can set up your fitness program as a boot camp and administer group training rather than seeking PT jobs in health clubs.
With that said, all you need is a personal trainer certification in Bridgeport or any other major city to get yourself considered by one of the gyms.
References
https://www.exercise.com/learn/ten-fittest-states-in-the-us/
https://www.americankinesiology.org/SubPages/Pages/Kinesiology%20Institution%20Database