Hi everybody, and welcome to yet another PT Pioneer exclusive.
I'm continuing with my state-by-state series, this time going to one of the most exciting places in terms of fitness culture, and that is Colorado.
Colorado has built a decades-long reputation as an established hub of health and fitness in America.
I aim to reveal to you how to become a personal trainer in Colorado and what this could mean for a potential career in fitness.
I'll be looking at some stats and figures to help you decide if this is the best place for you to work and play.
I'll also reveal how to get your personal trainer certification in Colorado Springs and other major cities.
With that said, let's get straight into it.
Make sure to check out the general guide on how to become a personal trainer.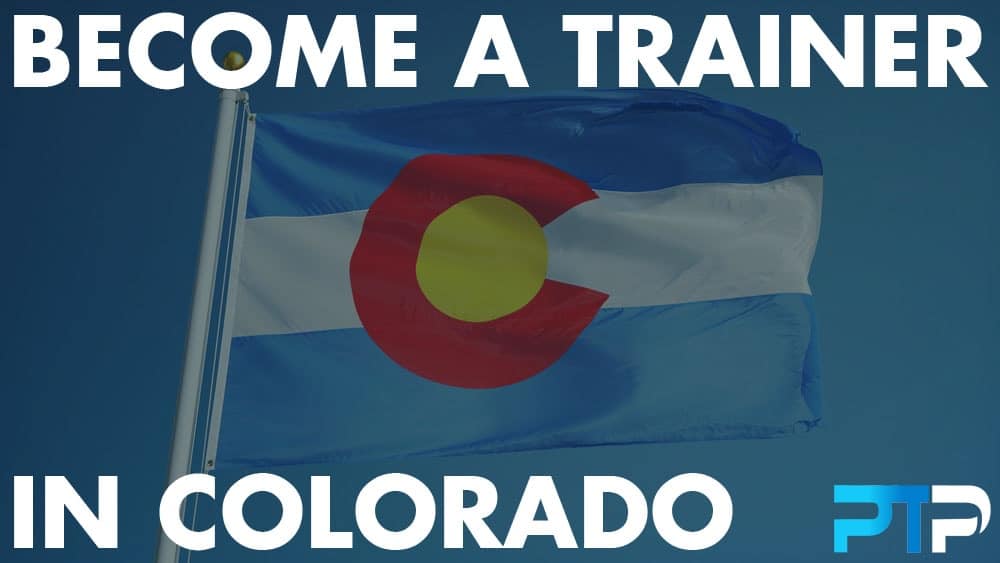 Post 6 of 50 in the PT By State Series
State Fitness Rating
The first thing I want to delve into is the state fitness rating, which comes in the form of a ranking against all other states.
Two key metrics determine the ranking: the obesity ranking and the top gyms ranking.
The obesity ranking is how well a state places concerning the prevalence of obesity amongst its population.
Colorado has the healthiest population based on obesity stats, with a prevalence of only 22%, well below the national average.
The top gym is a measure of how many of the mainstream commercial gyms the general public in a state has access to.
Top gyms are used, and not all gyms are because many private or specialist gyms are either beyond the normal price point or cater to a specialist market.
Commercial gyms tend to be the most accessible in terms of price and fitness level for the general population.
These gyms include:
Gold's Gym
24 Hour Fitness
Anytime Fitness
YMCA
Crunch Fitness
LA Fitness
Orange Theory Fitness
Planet Fitness
Snap Fitness
Other more specialist, trendy options include:
Denver Gym & Fitness
LoHi Athletic Club
Pearl Street Fitness
FIT36-LODO
Here we see Colorado take the top spot once again, making it unequivocally the fittest state in America!
Fitness Market Makeup
Being the fittest state in the country, undeniably means a well-established and well-engaged fitness industry exists.
This is both good news and challenging reality for you as a prospective CPT looking at Personal trainer jobs in Colorado Springs and other urban areas.
The good news is that there is a prominent demand and agreeability to business in the fitness sector.
Challenging in that with such a healthy population and an established industry, your rise to prominence will require serious dedication and hard work to stand out.
A discerning customer is hard to please, and in the case of Colorado residence, you'll have to be good at what you do to persuade the sale.
The numbers would also suggest that many people have a generally good idea of keeping themselves fit and healthy without extensive external assistance.
They generally do not need a weight loss program.
Personal trainers Colorado must prepare tailored group fitness and personal training sessions for the populace.
With this in mind, a good long-term plan would be to eventually establish a gym with specialized training programs or even a line of fitness commodities and target the market from that angle.
Colorado is well known for its outdoor fitness culture. The natural environment provides ample opportunity for high altitude, rigorous exercise due to the mountainous profile.
Exclusive PTP Offers



Gold Standard Cert

Most Popular Cert

A Good Option

Best Study Materials

Best online PT course

The Top PT Software

Personal Trainer Certifications in Colorado
Personal trainer certification in Denver and other cities is all that is needed to get a job as a personal trainer in Colorado.
Having a personal training certification that has the right accreditation is also the personal trainers' license you need in Colorado.
I have written an article on my best personal trainer certifications. Use this as a guide on how to become a certified personal trainer in Colorado.
Overall here are my top 2 best personal training certifications in Colorado. Make sure to check all or any of them when you decide to become a personal trainer in Denver.
Personal trainer certification in Aurora, personal trainer certification Denver, and personal trainer certification colorado springs or any other city is the same as anywhere else in the country.
Another notable one is the National Personal Training Institute (NPTI) of Colorado.
Personal training schools in Colorado
To really optimize your chances as a personal trainer, one thing you could do is upgrade your credentials with accredited certification programs.
Gaining a degree is equivalent to getting a personal trainer license in Colorado.
This has been the case in my experience since obtaining a master's in kinesiology.
If you don't have the time to search for "personal training schools near me" or "personal training near me", note that Colorado has no shortage of opportunities to further your education.
Let's take a look at some of the options of the personal trainer schools:
At these exercise science schools in Colorado, you will have access to many undergrad and post-grad programs.
Personal Trainer Jobs in Colorado
Colorado, for its population size, has a ton of fitness centers, and they are put to good use.
This means there is always something for a fitness-minded professional to do.
If you are qualified and experienced, you will have access to many opportunities.
As I already indicated, Colorado's fitness culture is very much driven by outdoors and adventure-esque activities.
As a fitness trainer in the state, it would help you familiarise yourself with some of the typical activities.
You can apply these activities as concepts to your services as a personal trainer CO.
You can provide training that specifically caters to the performance enhancement of said outdoor and adventure activities.
These include:
Mountain climbing
Hiking
Trail running
Kayaking
Cycling
Triathlon
Calisthenics
Parkour
Being experienced or knowledgeable in any or several of these adventure activities is a big bonus towards earning your place as a Colorado fitness pro.
Check for "personal trainer jobs Denver", "personal trainer jobs Colorado Springs", and "personal trainer jobs Colorado" on google for more information.
Personal training jobs in Colorado are worth it for you if you possess the right personal trainer certification programs.
Best Cities to Be a Personal Trainer in Colorado
Although we consider the whole state, your best odds are focusing on just the top few cities in the state and aiming for work there.
Colorado is on the moderate end of the scale regarding population size, with only 5, 540,545 residents in total.
Let's take a look at Colorado's urban population hot spots.
| | |
| --- | --- |
| City In Colorado | Population |
| Denver | 727,211 |
| Colorado Springs | 478,221 |
| Aurora | 379,289 |
| Fort Collins | 170,243 |
| Lakewood | 157,935 |
| Thornton | 141,464 |
| Arvada | 121,272 |
As you can see, Colorado's urban settlements are relatively sparsely populated, with Denver being the only city to clock over 500k inhabitants.
That means your best odds are if you become a personal trainer in Denver.
One important city to consider is Boulder. While it's only the 12th largest city in terms of population size, it is also one of the country's most iconic fitness hubs.
According to a Gallup survey, almost 70% of the residents of Boulder, Colorado, work out at least three times a week.
Those are awe-inspiring statistics.
A highly engaged attitude towards fitness could be a good thing or a bad thing for you as a trainer.
Right in that, there is a thriving market, bad in that most of your potential clients may be entirely self-sufficient when it comes to health, wellness, and fitness, with no need for a qualified expert.
This is a toss-up and will ultimately boil down to your experience, reputation, and ability to market yourself.
If you become a personal trainer in Aurora or practice personal training in Colorado Springs, you'll still have an excellent opportunity to make a decent living.
Personal Trainer Salary in Colorado
As a fitness professional in Colorado, you can expect to earn an average annual salary of $61,816 per year.
Exclusive PTP Offers



Gold Standard Cert

Most Popular Cert

A Good Option

Best Study Materials

Best online PT course

The Top PT Software

This is pretty much the national average when it comes to personal training.
You may have expected it to be higher since Colorado has such a big fitness culture to take advantage of.
But that may be what's stopping other trainers from cashing in on the salary of a personal trainer as high as places like Colorado.
As I pointed out, a healthy population means well-educated on matters concerning health and fitness.
Colorado residents may be so clued up and discerning that they have become more self-reliant.
This would lead to a less urgent need for extensive involvement by a fitness expert, limiting the potential for you to become a personal trainer in Colorado Springs, Denver, or Aurora.
Thus limiting the personal trainer salary colorado from becoming higher than the national average.
Make sure to check out the full guide on personal trainer salary.
Quality of Life Rating
According to teleport.org, Colorado has one of the best living standards out of all the United States.
In particular, Denver has a good business environment and is an excellent place to live based on the natural geography and climate and the urban infrastructure, and access to essential services.
This makes personal trainer jobs in Denver the more attractive option.
The cost of living isn't the best; however, it's easy to rank up your income once you've established yourself.
Colorado has some of the best access to natural environments and outdoor immersion of any modern, advanced state.
It is also reasonably safe from natural hazards such as freak weather and earthquakes.
Methodology
The methodology adopted in reviewing how to become a Personal Trainer in Colorado is as follows:
The population of the state and its major cities.
The obesity figures as compared with other states.
Personal trainer certifications attainable in the state.
Availability of personal training schools & colleges.
Career prospects for personal trainers.
Earning potential for certified PTs.
Quality of Life (QoL).
Final Words on How to Become A Personal Trainer in Colorado
Colorado is the fittest state in America, a title it has held for over a decade, according to exercise.com.
Personal trainer jobs in Aurora, Denver, and Springs cater to one of the world's fittest markets.
With a population with such a predilection towards healthy lifestyle habits, you may find yourself stumped as a trainer unless you upscale your value.
Good marketing and upgrading of your credentials at one of the many kinesiology schools in colorado might boost your odds.
FAQs on How to Become A Personal Trainer in Colorado
References
https://www.Colorado-demographics.com
https://www.exercise.com/learn/ten-fittest-states-in-the-us/
https://www.americankinesiology.org/SubPages/Pages/Kinesiology%20Institution%20Database