Hey everybody, welcome to another exciting PT Pioneer article.
These articles aim to introduce each state and its potential as a platform for a viable fitness career.
In this feature, we're going to delve into how to become a personal trainer in California.
This is an exciting one since California is one of the biggest and wealthiest states, so there's sure to be exciting data and insight.
I'll be revealing the current state of the industry and the population's affinity towards fitness services.
By reading this series, you'll gain a good idea of which location is best for you as a PT.
You'll also gain an understanding of personal trainer certification in San Francisco and the other big cities.
So with that out of the way, let's dive straight into it.
Make sure to check out the general guide on how to become a personal trainer.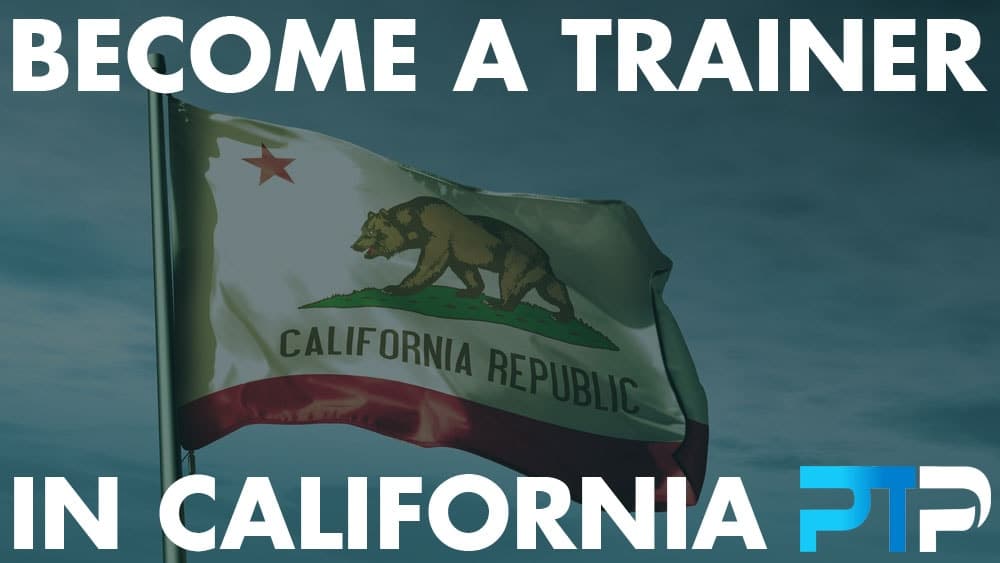 Post 5 of 50 in the PT By State Series
How To Become A Personal Trainer In California (YouTube)
How To Become A Personal Trainer In California (Podcast)
State Fitness Rating
The first bit of vital information to consider as a fitness trainer is the state fitness rating.
The smart folks over at exercise.com did a fantastic job of evaluating each state based on the level of fitness it represents.
This will allow you to begin understanding your market and your employment options.
The fitness rating is based on two main factors.
The first factor is obesity.
The obesity prevalence, which is the percentage of the overweight population to a point where it is deemed unhealthy.
The second factor is the top gyms ranking.
This statistic indicates how many of America's top mainstream gym chains provide access to affordable wellness/fitness services to the general population.
Gyms in this category include:
Snap Fitness
LA Fitness
Gold's Gym
24 Hour Fitness
Anytime Fitness
YMCA
Planet Fitness
Crunch Fitness
Orange Theory Fitness
As far as California is concerned, the state has a commendable obesity prevalence of 29%.
That's a rate just below the national average.
This also means that the fitness goals of many people may be weight management or weight loss which is a plus if you run your own personal training business.
This gives California an obesity ranking of 5.
This is quite impressive and promising, not just from an industry perspective, but from a public health perspective too.
The top gyms ranking, however, leaves a bit to be desired.
The state only has 1775 top gyms in total as of writing.
That may seem like a lot, and for most states, it may well be, but California has the largest population by state, capping off at around 39 million inhabitants.
With those numbers, the gyms per capita, which is how many gyms are available for every 100 thousand residents, sits at just 4.52.
With all that considered, California's final state fitness ranking is 17, pretty high, but could have easily been a top 10 ranking had it not been for the low gym stats.
Fitness Market Makeup
California is a massive state with the most significant population, so you can expect the fitness market or most other markets to be all over the place.
However, in the spirit of tradition, these articles only hone in on the top cities.
Exclusive PTP Offers



Gold Standard Cert

Most Popular Cert

A Good Option

Best Study Materials

Best online PT course

The Top PT Software

In California's case, LA, San Diego, San Jose, and San Francisco are our focal points.
These metropolitan, cosmopolitan hubs have modern, progressive cultures that drive a booming fitness industry.
In fact, many of the latest health and fitness trends of our time have either originated or become popularised in these California cities.
The concentration of top gyms is also much higher in these cities than in any of the other settlements in the state.
That leaves you a huge opportunity to become a personal trainer in San Diego or any other top city.
Los Angeles is especially recognized for its physical fitness culture and is one of the global meccas of the bodybuilding and aesthetic physique community.
It also has some iconic private gyms such as:
Burn Fitness
The Gym LA
Logic Fitness studios
Training Loft
LIT Method
When you become a personal trainer in San Francisco, a great deal of opportunity lies in this segment of fitness.
The fitness culture here is very much about looks and appeal.
Unlike other fit states like Colorado, where athletic prowess is the flavor, California leans more towards the aesthetics of either being "toned" or "jacked."
Personal Trainer Certifications in California
Personal trainer certification in San Jose and other cities is all that is needed to get a job as a personal trainer in California.
I have written an article on my best personal trainer certifications.
Overall here are my top 2 best personal trainer certificates in California.
Personal trainer certification in Los Angeles or any other city is pretty much the same as anywhere else in the country.
The best personal trainers in Los Angeles would need at least personal trainer college courses or some other personal training programs to get a job at one of the top gyms.
Personal training schools in California
When considering how to become a certified personal trainer in California, you might also think of getting a higher learning certificate or a high school diploma at least.
You do not necessarily need to have a bachelor's degree (though some fitness centers might require it) to become a fitness specialist.
But since California's fitness industry is hyper-competitive and very saturated, anything to separate you from the pack will help.
This may be in the form of a certification program via one of the NCCA-approved certification exams or an online personal trainer course.
A personal trainer license in California in the form of a university qualification might just be your golden ticket.
Still, the requirements to become a personal trainer or to get personal trainer licensure does not explicitly entail a university qualification.
As my experience and industry evidence suggest, a college degree or diploma can put you in a good place in the fitness world.
There are fortunately numerous Kinesiology schools in California.
Check out these links for more:
There are tons more Exercise science schools in California that cater to fitness training, but these are just a few of my top recommendations for brevity's sake.
Personal Trainer Jobs in California
When you become a personal trainer in Los Angeles or any other major city, there are various options.
There are so many different ways in which fitness is acceptably implemented even as an entry-level fitness instructor.
From large commercial gyms to all the numerous specialist and boutique gyms dotted across the state, there's no shortage of personal trainer jobs in San Diego and other cities.
Being a private, self-employed PT is also very lucrative, especially when you start to break into really high-income populations such as Santa Monica, Calabasas, and Hollywood, to name a few.
This is where becoming a celebrity personal fitness trainer is a real possibility.
You can become a personal trainer in San Jose and other cities outside of LA with equivalent success, despite these not being celebrity hotspots themselves.
Best Cities to Be a Personal Trainer in California
The best Cities to be a personal trainer in California are also some of the best cities to be a personal trainer in general.
As I've mentioned, California, especially in large cities, is super competitive.
Life is fast, so you'll need to be on your toes, continuously innovating and staying in the loop to get ahead.
The best plan of action is to locate yourself in either LA, San Francisco, San Diego, or San Jose.
Also, you can make yourself more marketable by enrolling in exercise programs or personal trainer degrees online.
These are the most populous cities in the state, and if there's one thing I know, it's that fitness is a number's game.
Let's check out the best cities in terms of population.
| | |
| --- | --- |
| City In California | Population |
| Los Angeles | 3, 979,576 |
| San Diego | 1, 423,851 |
| San Jose | 1,021,795 |
| San Francisco | 881,549 |
| Fresno | 531,576 |
| Sacramento | 513,624 |
| Long Beach | 462,628 |
As you can see, even the less populated cities tend to clock in just above or close to the 500k mark.
In my opinion, a population center of around 500,000 inhabitants or more is good for business as a PT.
Personal Trainer Salary in California
The average annual salary for any career path is vital to gain knowledge of even before you start getting your qualifications.
Exclusive PTP Offers



Gold Standard Cert

Most Popular Cert

A Good Option

Best Study Materials

Best online PT course

The Top PT Software

As far as being a PT in California, the average personal trainer salary is $69,033 per year.
This is significantly higher than the national average of around $61k per year.
As expected, Personal trainer jobs in San Jose are potentially lucrative as in any other major city.
Of course, it will depend on the amount of work you put in, considering how competitive it likely is.
Make sure to check out the full guide on personal trainer salary.
Quality of Life Rating
Quality of life in California is quite a mixed bag.
On the one hand, you have one of the country's wealthiest states, a mecca for progressive American values and modern advancements, a global commercial and cultural hub, and some of the best natural surroundings in the US.
On the other hand, you have some really bad crime stats, a housing and property price nightmare in the larger cities, and urban decay in many of the large metropoles.
California also sits on the infamous San Andreas fault, making it an earthquake hotspot, which generally dampens the mood.
It really depends on which city in the state you live in and which part of the said city you call home.
Overall, California is a decent standard of living, so I'll give it a QoL rating of 7.5/10.
Methodology
In reviewing personal training in California, I invoked my many years of experience in the industry and conducted detailed research while considering the following criteria:
The population of the state and its major cities.
The obesity figures as compared with other states.
The number of top gyms in the state
Personal trainer certifications that are obtainable.
Availability of personal training schools & colleges.
Career prospects for personal trainers.
Earning potential for certified PTs.
Quality of Life (QoL).
FAQs on How to Become A Personal Trainer in California
Final Words on How to Become A Personal Trainer in California
Becoming a personal trainer in San Francisco or any other city is as lucrative as it is competitive.
As you can imagine, personal trainer jobs in Los Angeles have thousands vying for them, so credentials and experience are essential.
Of course, having a personal trainer certification in California is definitely more profitable than being a personal trainer without certification.
Once you hit your stride, however, you're looking at one of the best places in America to work as a fitness professional.
Personal trainer certification in San Diego, San Francisco, or LA is a synch with all the options available.
References
https://www.California-demographics.com
https://www.exercise.com/learn/ten-fittest-states-in-the-us/
https://www.americankinesiology.org/SubPages/Pages/Kinesiology%20Institution%20Database