Hello everyone, and welcome to yet another PT Pioneer career insight article.
This time in this state-by-state series, I will look at becoming a personal trainer in Arkansas.
My aim with these articles is to provide you with enough information and insight to make an informed decision when deciding where to ply your trade as a fitness pro.
You may already be living in Arkansas and want to explore your options as a CPT, or you're situated elsewhere in America and want to look at your relocation options.
This article will help you in both cases and the others in this series.
For brevity and efficiency's sake, I'll only look at the top cities regarding economy and population.
I will also help you understand how to obtain personal trainer certification in Little Rock and other areas.
And with that said, let's jump into it.
Make sure to check out the general guide on how to become a personal trainer.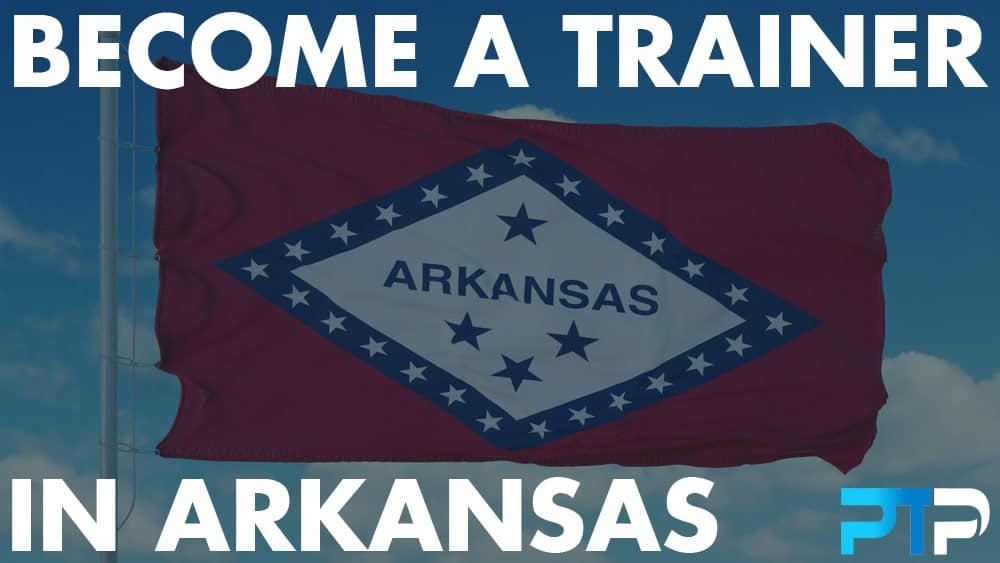 State Fitness Rating


The first thing I will look at is the state fitness rating.
The general fitness of a population can help you paint a picture of where the wellness and fitness industry is headed, if anywhere at all.
In most cases, a fit population equates to a thriving fitness industry, and an unfit community indicates slow market trends in the sector.
In some cases, a low fitness rating shows potential for a market that hasn't been engaged with fitness training programs to achieve its fitness goals.
The fitness ranking data I'm using was gathered from exercise.com and is a state ranking based on two prominent variables.
These variables are obesity prevalence and the number of top commercial fitness facilities.
Obesity is used because it is a great indicator of a population's health and fitness habits. It's fair to distinguish between being overweight and being obese.
An overweight person can be healthy and fit, especially if we use BMI as a metric. An obese person is categorically unhealthy.
The other value used to determine fitness ranking is the number of top gyms per 100,000 residents.
The reason top gyms, which refer to mainstream franchise gyms, are used is that these are the most accessible fitness facilities.
These gyms include:
YMCA
Snap Fitness
24 Hour Fitness
Anytime Fitness
Planet Fitness
Orange Theory Fitness
LA Fitness
Gold's Gym
Crunch Fitness
For the general population, a commercial gym is less complicated and less costly than many private boutiques, fitness centers, or specialist fitness clubs.
However, if you do feel like tapping into a more specialist market, there are a few trendier options, such as:
Exclusive PTP CPT Offers



Gold Standard Cert

Most Popular Cert

Best Study Materials

A Good Option

A Good Option

Best CPT for you?

Ozark Iron Gym
10 Fitness University
Fit Factory Little Rock
The obesity prevalence in Arkansas is 35.7%, tied in 3rd place with Alabama, giving Arkansas an overall obesity ranking of 48!
The top gyms ranking is 49 out of 51, putting it close to the bottom.
With all that considered, Arkansas comes last out of all 50 states (as well as DC), ranking 51.
Fitness Market Makeup
From the ranking stats above, it would seem Arkansas is the least viable state in the country to work as a PT.
Your best bet is to look for personal trainer jobs in Little Rock, as it is the most populous city in the state.
Other options would be Personal trainer jobs in Fayetteville and personal trainer jobs in Fort Smith.
From what I've seen, the most sought after fitness services in Arkansas gyms are those of group fitness instructors.
That may be because group fitness classes are more of a social gathering than a dedicated approach to improving fitness for many people.
Since Arkansas residents aren't known for being big on health and fitness, it makes sense that such is the case.
Personal Trainer Certifications in Arkansas
Personal trainer certification is all that is needed to get a job as a personal trainer in Arkansas.
I have written an article on my best personal trainer certifications.
Overall here are my top 2 best personal trainer certificates in Arkansas.
Make sure to check all of them when you decide to become a personal trainer in Little Rock, Fayetteville, or Fort Smith.
Personal trainer certification in Fayetteville or any other city is pretty much the same as anywhere else in the country.
As a health fitness specialist, having the appropriate personal training certification and skill set is important to help you perform your job effectively.
If you are interested in water aerobics in Little Rock, AR, it is best to be certified by the relevant certifying agencies.
Personal training schools in Arkansas
As far as getting your personal trainer license in Arkansas, there are numerous options to choose from.
Several Arkansas sports science and kinesiology schools can boost your odds of landing your dream fitness job.
An associate's or bachelor's degree can be leveraged for higher positions such as management or working within sporting leagues.
Your range of options when it comes to exercise science schools in Arkansas includes:
Going for a degree is a big investment in time and finances, so make sure you are fully prepared and committed to becoming a personal trainer in Little Rock, AR, a personal trainer in Bentonville, AR, or a personal trainer in Fayetteville, AR.
Personal Trainer Jobs in Arkansas
After dealing with personal trainer certifications in Arkansas, the next step is to figure out what sort of work you'll be getting into as a personal trainer in Little Rock, AR.
Exclusive PTP CPT Offers



Gold Standard Cert

Most Popular Cert

Best Study Materials

A Good Option

A Good Option

Best CPT for you?

As mentioned earlier, being a group fitness instructor is a popular job description since group classes are among the state's most popular fitness training session services.
Another option is being a physical education teacher. This is both a popular route as well as a necessary one.
That's because Arkansas' fitness culture begins with educating the youth, so by contributing to the growth of health and fitness in the youth, you are contributing to the growth of the fitness industry.
Best Cities to Be a Personal Trainer in Arkansas
The best cities are typically the most populated cities. A fitness career is a numbers game. The more client prospects you have, the higher the odds of conversion.
So the more people in your location, the more clients you will have access to.
The most populated cities in Arkansas are, of course, Little Rock, Fayetteville, and Fort Smith.
It's important to note that even the most populous cities have considerably low populations, as Arkansas is known for having a large rural population.
Let's look at some of the top cities by numbers:
| City In Arkansas | Population |
| --- | --- |
| Little Rock | 197,312 |
| Fort Smith | 87,891 |
| Fayetteville | 87,590 |
| Springdale | 81,125 |
| Jonesboro | 78,394 |
| Rogers | 68,669 |
| Conway | 67,638 |
As you can see, very few of Arkansas break past the 200k population mark.
This means you'll generally have slim pickings as compared to other major cities in the US.
You can still make a career out of it, especially personal training in Little Rock.
You'll have to bring your A-game to the table.
Personal Trainer Salary in Arkansas
What you can expect to earn is a big part of the decision-making process when it comes to picking a location to work as a PT or any career, for that matter.
Regarding income statistics, working as a certified personal trainer in Arkansas means earning an average salary of $56,998 per year.
This sits notably lower than the national average of roughly $61k per year, as you'd expect based on all the data so far.
According to salary.com, in the upper ranger, trainers in Arkansas could bring home up to $70,029 per year, according to salary.com.
This income margin is great but would require you to be at the top of the local industry.
Only through experience and a solid industry reputation cultivated over time can you realistically aim for this upper margin, especially in the fitness industry with such low engagement.
Make sure to check out the full guide on personal trainer salary.
Quality of Life Rating
Arkansas is considered one of the worst states to live in, according to a survey conducted by cnbc.com.
High crime stats and a relative lack of social tolerance between groups and classes make some believe it isn't the best place to be.
The fitness ranking also mentions as an unhealthy society is often unpleasant.
On the flip side, Life in Arkansas is quite affordable, and the weather is great.
It is one of the best cities in the United States, making it privy to some of the best trappings of modern civilization.
I give Arkansas a QoL rating of 5.5/10.
Methodology
The methodology adopted in analyzing this article was based on the following parameters:
The population of the state and its major cities.
The obesity figures as compared with other states.
Personal trainer certifications that are available in Arkansas
Availability of personal training schools & colleges.
Career prospects for personal trainers.
Earning potential for certified PTs.
Quality of Life (QoL).
Final Words on How to Become A Personal Trainer in Arkansas
There are better places to live and work than in Arkansas.
In fact, almost anywhere else is better to live and work than Arkansas, so if you're looking for greener pastures, I wouldn't suggest this as an option.
However, if you are an Arkansas native and need a place to start your career in fitness, you may as well take advantage of what opportunity there is.
You should aim to become a personal trainer in Little Rock, Fort Smith, or Fayetteville for better chances.
Education options are great, so even if relocation is your goal, personal trainer certification in Little Rock or any of the other major cities is not a bad idea.
FAQs on How to Become a Personal Trainer in Arkansas
How to become a personal trainer in Arkansas?
To practice as a personal trainer in Arkansas, you should get certified with any of these agencies:
– The American Council on Exercise (ACE)
– The American College of Sports Medicine (ACSM)
– National Strength and Conditioning Association's Certified Personal Trainer (NSCA-CPT)
– American Fitness Professionals and Associates (AFPA)
– International Fitness Professionals Association (IFPA)
How to get a personal trainer certification for free?
The following are ways to access a personal trainer certification for free; you should take advantage of any of these opportunities:
– Employer-sponsored training
– Deferred payment( student loans)
– Third-party funding from the government for young people, the unemployed, or military veteran
– Online promotions and taster courses
How to get a personal trainer certification?
If you want to get a personal trainer certification, you are required to obtain the following:
A high school diploma, an AED cert plus CPR certification Fayetteville, AR,
CPR certification in Little Rock, AR, before you can take any nationally recognized fitness certification exams.
References
https://www.arkansas-demographics.com
https://www.exercise.com/learn/ten-fittest-states-in-the-us/
https://www.americankinesiology.org/SubPages/Pages/Kinesiology%20Institution%20Database