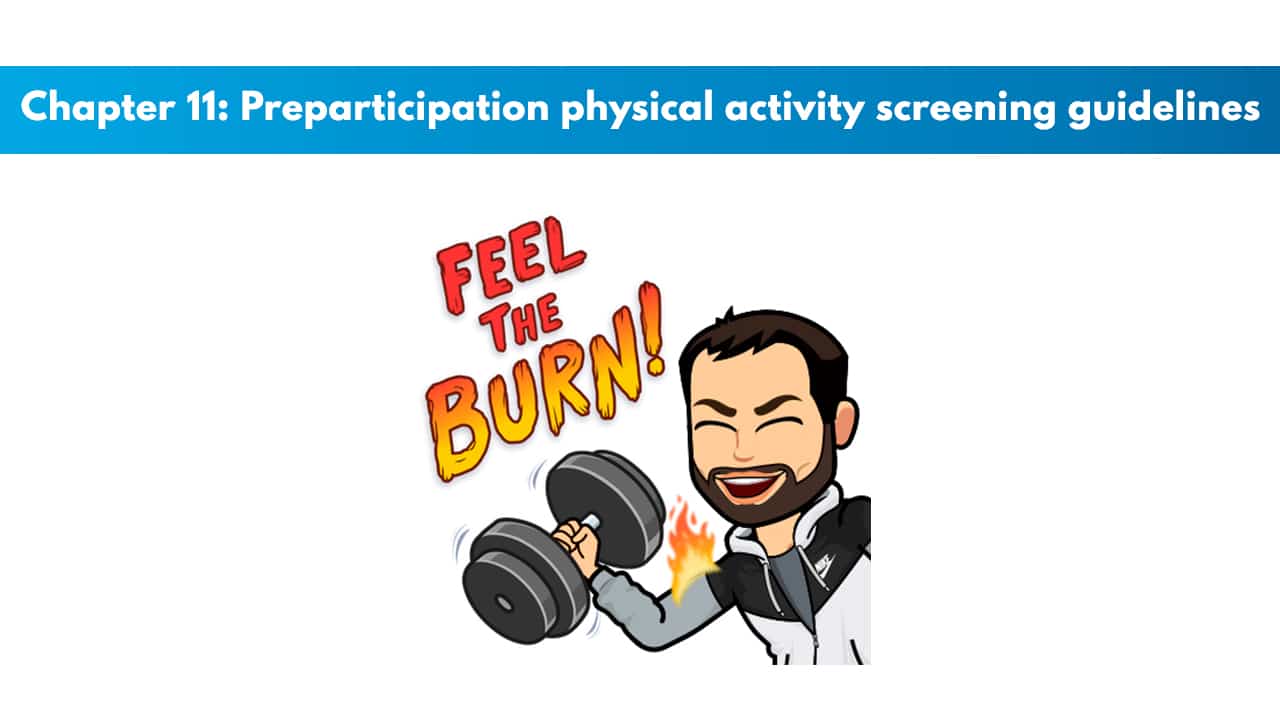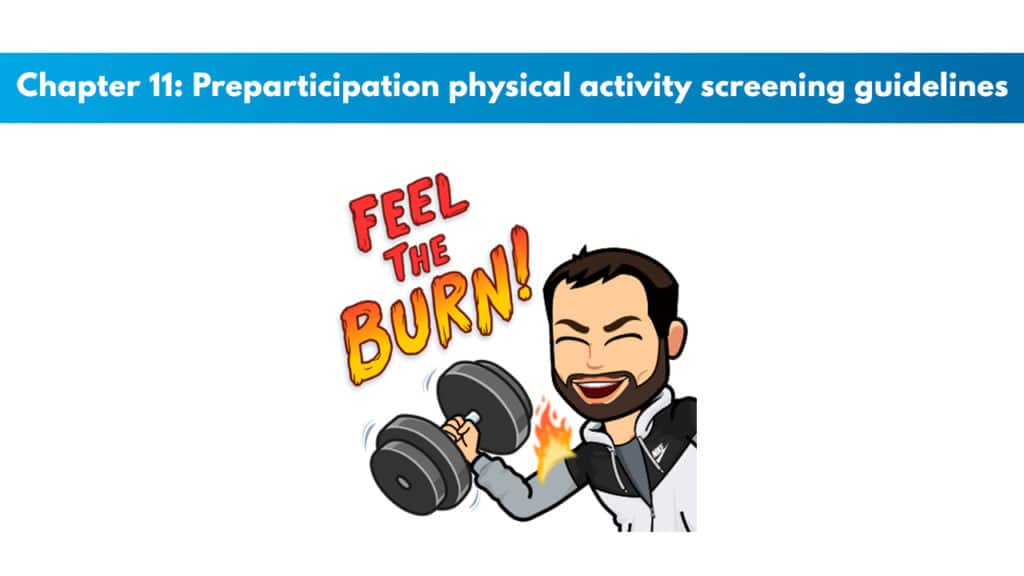 Get your copy of the ACSM CPT exam cheat sheet. It helps immensely for studying for the exam.
Make sure to check out Trainer Academy for premium ACSM CPT study materials. They will reduce study time by 50% and have an exam pass guarantee. Read my full review on them here. You can save $100 on their MVP study system with the code: PTPSUB
Chapter Objectives:
Know the outcomes and the overall process of the ACSM Preparticipation physical activity screening.
Discover the importance of his screening and its issues and investigate the tools used like the PAR-Q and health history questionnaire. 
Find the course of action for a client when the risk is established.
Understand absolute and relative contraindications for exercise testing.
Importance of Preparticipation Physical Activity Screening
This involves gathering and analyzing the demographic and health related info on clients. This also includes medical and health assessments like the presence of symptoms and signs that will be used for making decisions on future physical activity.
This is why it is important to screen people before physical activity programs:
Finding people with some medical contraindication for physical activity.
Finding people that need evaluation or examination and clearance for activity before starting.
Finding people that should only be in medically supervised programs.
Finding people with medical concerns.
Levels of Screening
There are two main approaches to screening for physical activity. One way is done by someone on their own when they wish to increase their physical activity level, and the other is done by some professional.
Self-Guided Screening
This is considered a minimum or a starting point for someone wanting to start or increase their physical activity.
Physical Activity Readiness Questionnaire
The health history questionnaire comprehensively assesses someone's medical and health history. Since this is seen as having too much information, oftentimes, we use a PAR-Q. 
Exclusive PTP CPT Offers



Gold Standard Cert

Most Popular Cert

Best Study Materials

A Good Option

A Good Option

Best CPT for you?

The original PAR-Q was seven yes and no questions that are readable and understandable for someone to answer. It essentially screens out clients from participating in exercises that might be too hard for them. 
The PAR-Q has since evolved o have seven questions that have changed slightly over the years and are called the PAR-Q+.
ePARmed-X + Physician Clearance Follow-Up Questionnaire
This was a tool made in Canada for a physician to refer people to professionally done physical activity programs and make some recommendations for that program.
This is designed to be used to elaborate on the 7 yes and no questions that are on the PAR-Q. It can also be used for medical clearance for professional screenings.
Professionally Supervised Screening
Health History Questionnaire
This establishes medical and health risks for participating in physical activity programs.
The minimum categories assessed by the health history questionnaire are:
Family history of CMR disease.
History of illnesses and diseases like CMR.
Surgical histories.
Present and past health behaviors and habits.
Current use of drugs and medications.
Certain histories of signs and symptoms like CMR or others.
Medical Examination or Clearance
This is led by a physician and may be needed for health and medical status before an activity program.
This will include some routine lab assessments.
Preparticipation Physical Activity Screening Process
Physical Activity (or Exercise) History
Exclusive PTP CPT Offers



Gold Standard Cert

Most Popular Cert

Best Study Materials

A Good Option

A Good Option

Best CPT for you?

Someone that is currently in a physical activity program is considered at a lower risk for some cardiovascular events when exercising than when someone has been sedentary.
Someone is considered a current exerciser when they have been regularly active for 3 months. The threshold is lower than normal. This is 3 days per week of 30 minutes of activity.
Known Cardiovascular, Metabolic, and/or Renal Disease
The diseases or conditions covered in this are:
Heart Attack
Hear surgeries
Coronary Angioplasties.
Catheterization.
Heart Valve disease.
Heart failure.
Pacemaker or cardiac defibrillators.
Heart Transplant.
Congenital Heart Disease.
Type 1 or 2 diabetes.
Renal diseases like renal failure.
ACSM Major Signs or Symptoms Suggestive of Cardiovascular Disease
Discussion of ACSM Signs or Symptoms
Pain in the chest, arms, neck, jaw, or other areas due to ischemia or lacking oxygenated blood flow to tissues like the heart. 
Dyspnea is a term used to define the shortness of breath someone might have. 
Fainting, syncope, and dizziness occur during exercise due to causes like bad blood flow to the brain or insufficient cardiac output from cardiac disorders.
Orthopnea is breathing that is troubled when someone is lying down. This often occurs when sleeping.
Ankle edema is swelling occurring in the ankle and is not due to injury in this category.
Palpitations and tachycardia are when there is rapid beating or even fluttering of the heart.
Intermittent claudication is when you have severe calf pain when you are walking.
Heart murmurs are when weird sounds are caused by the blood flowing incorrectly through the heart.
Fatigue that is unusual and hard to explain and shortness of breath from a light activity are causes for concern.
What To Do Once Risk Is Established?
When someone has been assessed for their risk with all of these conditions, we must determine how hard that person can exercise and where they should not go. Some people will be unable to perform vigorous exercise.
American Association of Cardiovascular and Pulmonary Rehabilitation Risk Stratification
This uses the low, medium, and high risk categories to identify the level of risk someone is at.
It serves as a bridge for offering services and programming for the more risky and diseased clients like those in clinical exercise programs.
Pitfalls of ACSM Preparticipation Physical Activity Screening
One of the major pitfalls is overlooking any signs or symptoms of ongoing CVD and then having the client have a cardiac event with you there, training them. These are very rare scenarios, but there should be a lot of caution to minimize these times.
When possible, a moderate risk client should be potentially treated like a high risk client, as it is always better to be safe than sorry.
To be safe, clients with risks need to be started at low to moderate levels first.
Recommendations versus Requirements
Caution and using your best judgment are dire when handling individual clients. Refer a client when you have any doubts about them. 
Contraindications to Exercise Testing
What Does Contraindication Really Mean?
Contraindications are clinical characteristics that people may have that will make physical activity and testing of exercising more of a risk than when they didn't have these clinical characteristics.
Absolute versus Relative
When contraindications are absolute, the person with this biomarker shouldn't be allowed in any physical activity program. And relative refers to when the contraindications are accepted or allowed in activity.
Repurposing Risk Factor Assessment and Management
It is no longer mandatory to have this risk assessment to determine medical clearance for people wanting to start an activity.
Review of ACSM Atherosclerotic Cardiovascular Disease (CVD) Risk Factors and Defining Criteria
The positive risk factors are:
Client age for males is over 45 and over 55 for females.
Family history of cardiovascular events like a heart attack, sudden death, or coronary revascularization.
The smoking of cigarettes or quit within 6 months. Also, secondhand smoke regularly is a risk factor.
Sedentary lifestyle: This means not participating in regular exercise 30 minutes a day, 3 days a week, for the past 3 months.
Obesity is defined as having a BMI greater than 30, a man's waist circumference of 102cm, or a women's waist circumference of 88cm. 
Hypertension: This is having a blood pressure equal to or greater than 140 / 90 mmHg. 
Dyslipidemia has an LDL cholesterol level greater than or equal to 130 or an HDL less than 40. Also, total blood cholesterol of 200 or more.
Diabetes is when you have a fasting blood glucose of greater than or equal to 126.
The only negative risk factor:
This is an HDL cholesterol level that is equal to or greater than 60 mmHg.