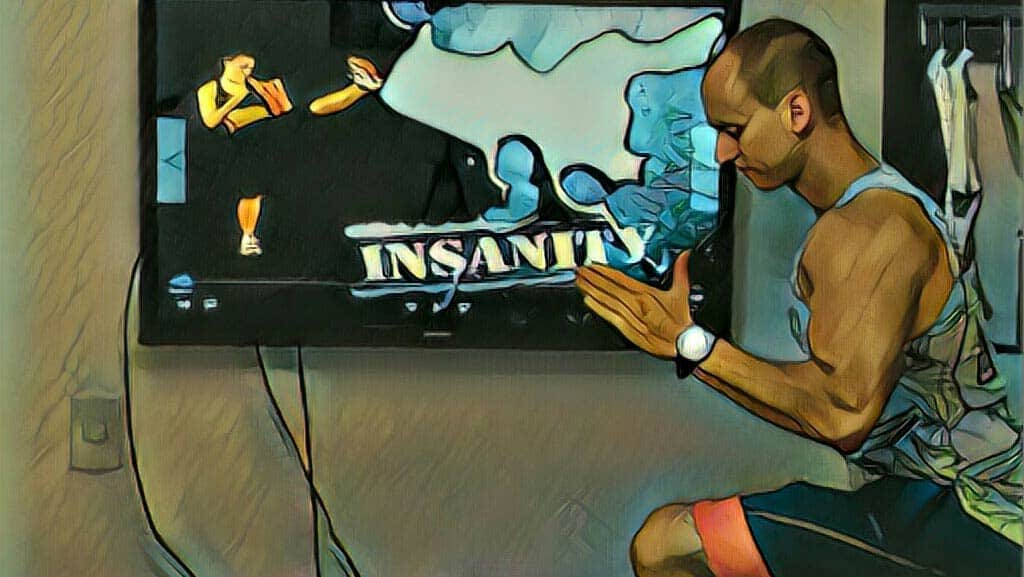 Hey guys and gals and welcome to my Insanity Review. My guess is that you have seen commercials for this workout program on the television, because it seems like they come on every 15 minutes or so. This is one of the most popular at-home exercise programs to ever exist. It is in the ranks up there with its brother P90X. Both programs are made by the popular company beach body. These programs have become so popular because of the results that people achieve, and the ability to get fit at home without needing an expensive gym membership. I promise that by the end of this review you'll have all the information you need to make a smart decision on whether or not the insanity workout program is right for you.
A little bit about myself: I am a certified personal trainer through NASM, hold a bachelors degree in exercise science and am an active beach body coach! My biggest passion is fitness and helping those around me achieve their health and fitness goals as well.
So what is Insanity? Does Insanity work? Is Insanity worth it? I will try to answer all of these questions in my Insanity review. I will go over all of the basic information on the program as well as the Insanity results that you can expect. I have so much to talk about in this article so was not waste any time and get right into my Insanity review!
What is the INSANITY workout?
As I mentioned above, the insanity program is a at-home DVD workout program that lasts approximately 2 months. It is one of the harder programs that is available for you to purchase, so if you are not quite in shape you might want to start with an easier program such as Focus T25, PiYo or the 21 Day fix.
Just like a lot of at-home workout programs, the insanity program utilizes circuit training and high-intensity interval training to help you break through plateaus with weight loss. For those of you who do not know what HIIT is, let me explain. HIIT basically means exercising with 100% intensity for short duration time, pausing (or slowing down significantly) and then doing another bout of intense exercise. This form of exercise has been shown to keep your body burning calories even after you have finished working out (here is a nerdy explanation of it). The insanity program is designed to get your heart rate going to shred as many calories as possible. You can get a preview of the Insanity program by checking out the workout calendar here on my site!
The insanity program is meant for people trying to reach peak physical condition, improve athletic performance or to break through plateaus. There is a video that you should do to test your level of fitness. That video alone is extremely difficult and leaves you panting for breath. You should do this video every two weeks to assess how you have improved throughout the program.
There are three general options for the Insanity program. Let's talk about them:
You can get the Insanity program from Amazon.com here, but remember that I will not become your personal coach compared to if you bought it from the beachbody site using my coach ID! Amazon is a great place to read ton of reviews though.
The base package includes all 10 workouts  (and one bonus workout), the elites nutrition plan, a fitness guide, the insanity calendar, free online support tools as well as insane results or your money back.
The deluxe package includes everything that the base package did with the addition of an upper body weighted workout, Max interval sports training workout and insane abs workout.
The Insanity challenge pack combines shakeology nutrition with the workouts of insanity. This is the best way to get results from my experience.
As of 2016 my overall recommendation is to get beachbody on demand challenge pack and get the equipment for the program you would like separately. If you decide that Insanity is right for you, use one of the links above to make me (a personal trainer) your personal beach body coach. Or if you decide to wait until later, you can still make me Tyler Read your coach by using my Coach ID number:1339221 when you sign up for a free account. Otherwise you will be assigned a random coach that is probably less qualified and might not even contact you. I will make sure that you are successful!

Who is the instructor of the insanity workout?
The instructors name is Shaun T. He is the most popular workout instructor that is employed by the company beach body. He also is the instructor for the advanced insanity program called insanity asylum, Focus T25, Cize, hip hop abs and more.
Overall he is my favorite fitness instructor from all of the at-home workout programs that I have tried. He is the best motivating coach and that is the most important factor for me. He is also highly qualified for the job because he has a degree in Kinesiology (just like me) and a minor in theater and dance. This makes him perfect for the job and being on camera. He also has over 10 years of experience in the fitness industry, besides making all of these popular workout videos.
What is included in the Insanity workout package?
There are nine primary workouts that are included with the insanity routine. Five workouts are to be cycled through in the first month and the other four are to be cycled through during month two of the program. Let's talk about the five workouts that will be done in month one.
Plyometrics
This workout focuses strongly on your lower body. Primarily on your glutes and quadriceps. Just like the name implies there are a lot of plyometrics involved and is meant to improve your athletic performance overall.
Upper body resistance training
This is the upper body workout and focuses a lot on your arms, chest, back and shoulders. If you have not been working on your upper body frequently, get ready for your arms to hurt from simply trying to lift your hands up to the keyboard tomorrow.
Pure cardio
This is one of the more difficult cardio workouts. This is basically a big circuit that will boost your metabolism, increase your heart rate and leave you soaking wet.
Cardio abs
This core and cardio combination is a big circuit that involves a lot of abdominal movements. Your obliques, front and back of your core will feel it the next day.
Recovery
The recovery DVD it is a lot slower paced which will you will be extremely grateful for. There is a lot of stretching and it almost seems like you are doing a yoga class. Take this time to relax and let your body rest before you pound it the next day.
Let's talk about the four workouts that will be cycled through in the second month. These workouts get longer compared to the first month and are significantly more challenging.
Max interval circuit
Overall I think that the videos in the second month to are kind of similar to the first month, just with a lot less rest, more time overall and slightly more challenging exercises. The Max interval circuit gives you very little rest and you will be begging for the video to end. At least the first time that you do it.
Max Interval plyometrics
Max interval plyometrics is very similar with very little rest, a ton of squats and a ton of lunches overall. You'll feel your legs the next day I guarantee that. You'll feel like you have little bit more spring in your step due to the strength you are building in your legs from this routine.
Max cardio conditioning
This is just another massive circuit training cardio blast similar to the next interval circuit. Make sure you have a glass of water next to and don't feel too bad if you need to take a rest here and there.
Max recovery
This recovery video doesn't give you as much recovery like the first months recovery video did. Expect some intermittent strength exercises mixed in. They should have come up with another name besides "recovery" for this one.
On top of the nine workouts you receive with insanity, you also receive four bonus gifts that I will be talking about in more detail down below.
Gift number 1: 60 day workout calendar
This is a 60 day (actually 63 to be exact) workout calendar to make sure you stay on track. I suggest hanging this up somewhere in plain sight so that you will see it every day to keep you motivated. Like I mentioned above, it consists of two months with one week rest in between. It follows a six days a week schedule, with Sunday's as a rest day. Your expected to take the fitness assessment test at the beginning and every two weeks throughout the program for total of five times. The first month has an average workout time of 45 min. per day. The second month increases the time significantly to around 60 min, to as long as 80 minutes for one workout. Some days are double days (those are excruciating).
Gift number 2: A quick start guide
This is a simple guide that will take you at most 10 minutes to read. It is a mini motivational speech where Shaun T explains the transformations you will be going through and how to mentally prepare yourself for the program.
Gift number 3: A 60 day nutrition plan
Just like any of the other beach body products such as P90X, the insanity program comes with the diet plan for you to follow along with as you go through the two month routine. What I thought was pretty cool is that it breaks down macronutrients for you, such as how many calories from protein, carbohydrates and fat you should be getting on a daily basis. The insanity program puts you through a 40% protein, 40% carbohydrates and 20% fat macronutrient ratio. This is a great ratio that I always see great results with.
Compared to some of the other programs, I thought that they were pretty generous with the amount of calories you consume throughout the program. This probably because you burn many more calories through the exercise routines compared to other routines. The nutrition guide includes delicious recipes for you to try out as well. I enjoyed the recipes overall and I suggest that you try them out.
The insanity program is meant to work extremely well with shakeology nutrition. My clients that combined both see significantly better results than those but just to the program itself. Combining shakeology with the insanity program is called "taking a challenge pack", and is what I recommend in order to see the quickest results possible. If you are not quite sure what shakeology is, check out my review on it here or my article on how it works here.
Gift number 4: Access to on line support
If you have any questions on how to do any of the workouts or on how to achieve your goals, you have access to online chats as well as a online community that is dedicated towards the insanity cause. It's cool because you could leave messages and get good responses from community members as well as professionals.
Does INSANITY work? INSANITY results!
As I have mentioned, insanity is one of the hardest at home workout programs that I have tried up until this point. P90X was challenging as well, but I think this one out does it when talking about difficulty. So when people ask me: does insanity work, all I say is as long as you can handle it. Obviously there are a lot of factors for any program to work well. You need to be consistent and dedicated for the whole entire two months. Your diet also has to be on point as well. Here are some of the insanity results that you can expect by completing the program and cheating as little as possible:
Increased athletic performance in your desired sport
A decrease of weight and body fat percentage overall
Better posture. You will notice that you are standing taller.
More toned muscles in your arms, legs and pretty much everywhere.
You will be able to break through weight loss plateaus
INSANITY Calories burned
Calculating the insanity calories burned is difficult because it depends on multiple factors. It depends on your age, weight, sex and whether or not you are following the diet plan. Just from the exercises alone you can expect to burn between 450-800 calories depending on which session you are doing and how closely you follow the routine. Obviously if you do every single repetition, and every single set and don't rest, you will burn more calories. Also if you are putting 110% effort into it as opposed to just 70%, you will burn more calories. It is not so much about how many calories you burn from the exercise, but also what your total deficit of calories is for the day. This mostly comes from the nutrition portion. If you burn 500 cal from exercise but then end up consuming enough calories from food to put you in a surplus, you won't be losing any weight. Remember this when you are thinking about the insanity calories burned. In my experience, shakeology helps you keep your calories in check more than anything because it is very filling.
Is INSANITY worth it?
Overall I think this is a fantastic program for anyone that is trying to step up their fitness level at home. This is not for beginners. Let me restate, THIS is not for beginners! This is for people that have been exercising for a minimum of six months in my opinion. This is not for people with heart conditions, extremely overweight or for people that I get lightheaded easily from exercise. If you are not one of those people, I suggest you get this 110%. Insanity will give you crazy results in two months as long as you are motivated and put the effort in. One of the biggest reasons I recommend it is because of the instructor Shaun. He is such a motivating individual and although the program is super hard, he keeps you going by giving you will power.
INSANITY review conclusion, and the INSANITY price
Well this is almost the end of my Insanity review everyone. Overall this is a fantastic program that utilizes very little equipment and just uses body weight exercises. I like how you don't need 1 million pieces of equipment to get a fantastic workout. That is what home workouts should be all about. If you are looking to put on a little bit more muscle mass I recommend checking out the body beast programs by beach body. Also if you have gone through this program and want to up your game even more, the insanity asylum program is just for you. If you thought the insanity program was hard, just wait until you try the insanity asylum. If you think that the Insanity program is right for you, make sure to sign up with me (Tyler Read) as your coach. My coach ID number is: 1339221. Let's take a look at the insanity asylum price options.
The Insanity base kit costs $119.85 (Check out the current information and price here)

The Insanity deluxe kit costs $164.70 (Check out the current information and price here)
The Insanity challenge package costs $205 (Check out the current information and price here)
Like I tell all of my other clients of personal training, the hardest thing about exercise is is simply getting started! Once you get going it is a lot easier build momentum and reach your goals! Your results will keep you motivated! The worst thing to do is freeze up and not choose a routine. Get Started today so that you can start seeing the results that you desire tomorrow!
The biggest four tips in order to be successful with Insanity program!
Purchase either program with a challenge pack. The clients of mine that go through either program on shakeology see significantly better results than those who don't.
Get beach body on demand instead of DVD packages. If I had this when I first started using P90x it would've saved me so much money overall over the last 12 years. No more worrying about scratched DVDs or bringing DVDs with you. Also, most people don't know which program to start out with (and frequently choose the wrong one),  You have access to all of them with beachbody on demand! You have to purchase the equipment for the program separately.
If you want to wait before you purchase Insanity, at least sign up for a free team beach body membership so that you can get community support, schedule and a lot your workouts as well as track your progress. You will still get all of the benefits of having your own personal coach for free! Make sure to sign up with me Tyler Read as your coach (and certified personal trainer) otherwise you will get assigned a random coach that is probably not as qualified, and might not even contact you. My coach ID is 1339221. I will help you on your reach your goals and provide great motivation! Here is a link to the free account.
I hope you guys enjoyed my insanity review. Have you guys tried this program? Would you guys think? Please like this review on social media if it was helpful to you and leave a comment down below if you have any additional questions. Now get out there and start shaping the body of your dreams!
If you thought my insanity review was helpful, you might also like some other comparison articles I have such as: P90X vs Insanity, Insanity vs max 30, P90X3 vs INSANITY,  FOCUS T25 vs INSANITY and INSANITY vs INSANITY ASYLUM! Enjoy 🙂
Tyler Read has a Masters of Science in Kinesiology. Tyler is also a certified personal trainer with NASM, ACE, NSCA and NSCA CSCS. Tyler's main goal is to help people get started in the personal training industry and to become successful personal trainers.