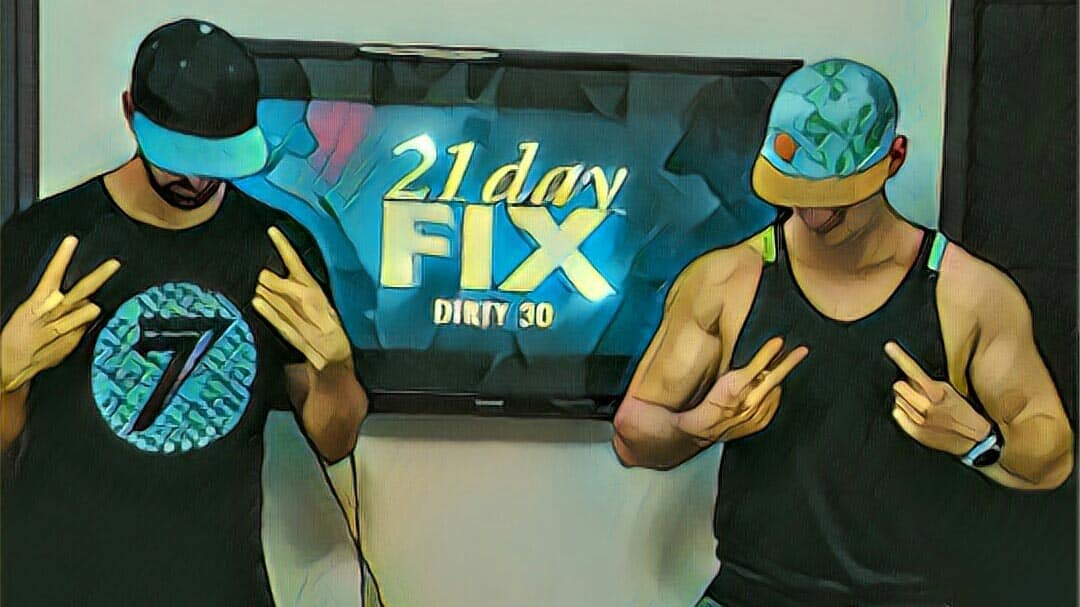 Hey guys and gals and welcome to my 21 Day Fix review. Today I will be talking about the 21 day fix exercise routine that promises to get your body in beach shape in as little as three weeks. Overall the program is targeted towards women. Especially with the extreme calorie deficit that they put you through. For me, that would make me lose too much muscle mass. I adjusted my diet routine to fit me appropriately. Similar routines that are more directed towards both sexes are the Focus T25 routine, P90x and Insanity.
A little bit about myself: I am a certified personal trainer through NASM, hold a bachelors degree in exercise science and am an active beach body coach! My biggest passion is fitness and helping those around me achieve their health and fitness goals as well.
So what is the 21 Day Fix? Does 21 Day Fix work? Is the 21 Day Fix worth it? I will try to answer all of these questions in my 21 Day Fix review. I will go over all of the basic information on the program as well as the 21 Day Fix results that you can expect. I have so much to talk about in this article so was not waste any time and get right into my 21 Day Fix review!
What is the 21 Day Fix?
The 21 day fix is a three-week exercise and diet program to shock your body into losing fat and getting toned as quickly as possible. This program is brought to you by Autumn Calabrese and beach body who make other well-known program such as insanity and P90X, PiYo, Cize and others. You can get a preview of the 21 day fix program by checking out the workout calendar here on my site!
Overall the program consists of two separate DVDs that contain six complete workouts in total. Each workout session lasts 30 min. You will be expected to do one 30 min. session every day for three weeks in order to really push your body to be bikini ready. It is also recommended to do double days, that is doing two 30 min. sessions per day to finish off the program in the last week. Just like the majority of the most successful workout programs, the workouts are broken down into different parts that target different muscle groups for the best results. I'll describe the six different workouts in more detail down below.
Lower body fix: Has a strong emphasis on training your glutes, hamstrings and quadriceps.
Upper body fix: Mostly targets your chest, back, shoulders and arms with some additional abdominal exercises thrown in the mix.
Total body cardio fix: This is definitely the hardest routine in my opinion because there are no slow points and when you hit every body part, your heart rate is elevated significantly.
Yoga fix: This is designed to tone your muscles and improve your flexibility throughout your body.
Pilates fix: Mostly focuses on core exercises but also touches upon your hips, glutes and thighs as well.
Cardio fix: Like the name implies, the goal is to elevate your heart rate and improve your cardio fitness in this workout.
Besides the six workout plans, the 21 day fix also includes a complete diet plan to make sure you are in a calorie deficit throughout these three weeks in order to shed the most fat that you can. Without a good diet to supplement your extremely tough workouts, you will not see the results that you are looking for (if any). Overall I thought all of the exercise routines were fun and challenging at the same time. Obviously any exercise routine will get old overtime, but for the three weeks I always look forward to my 30 min. workout for the day.
I thought it was cool how the diet plan is arranged. They give you color-coded Tupperware containers to make sure you are within your calorie goals for each day. You have a list of foods that you are able to eat and as long as they fit in the appropriate containers, that is as much food as you can have. No more weighing your food for calculating how many calories something has. The Tupperware containers work extremely well and it turns dieting into a fun little game. Here is how the Tupperware containers are broken down.
The green container and is for vegetables (1 cup)
The purple container and is for fruits (1 cup)
The container and it is for proteins (3/4 cup)
The red container and is for carbohydrates (1/2 cup)
The blue container is for healthy fats and cheese (1/3 cup)
there are two orange containers for oils/dressings and for seeds (2 tbsp)
The bonus seventh container is Shakeology cup (in case you are following that routine as well)
Obviously you cannot just fill up these containers as many times as you want. There are specific instructions on how many times you could fill up each one for each day. They will also show you how to calculate your daily intake needs for calories. And based on these needs they will then let you know how many of each containers you can have. I found this extremely easy to follow compared to most exercise diet plans that I have looked at in the past. What makes it magical is the fact that you don't need to count calories, the Tupperware will do everything for you.
The 21 day fix program is meant to work extremely well with shakeology nutrition (that's why it comes with a shaker cup). Combining both of these together is what is called "taking a challenge pack" and is what I recommend for the quickest results. My clients that use both together see significantly better results than the ones that just do the program itself. You can check out my review on shakeology here or my article on how it works.
Obviously there are exceptions and I will not go into all of them here in this 21 day fix review. One example is that when it comes to drinks, you can substitute one of your small containers for dressings for either coconut milk/water, almond milk, soy milk or a fruit juice. You can only do this three times a week. These exceptions make dieting a lot more flexible and easier to complete the three weeks.
There are three general options for the 21 day fix. Let's go over these options now to see what they include.
As of 2016 my overall recommendation is to get beachbody on demand challenge pack and get the equipment for the program you would like separately. If you decide that the 21 day fix is right for you, use one of the links above to make me (a personal trainer) your personal beach body coach. Or if you decide to wait until later, you can still make me Tyler Read your coach by using my Coach ID number:1339221 when you sign up for a free account. Otherwise you will be assigned a random coach that is probably less qualified and might not even contact you. I will make sure that you are successful!

Does the 21 Day Fix work? 21 Day Fix results!
A short simple answer is, yes it absolutely works. The reason I think it works the best is because of the very easy-to-follow diet plan that comes with it. Obviously the workouts are challenging just like the majority of at-home workout DVDs out there. Most people falter because their diet is not consistent and strict. If you follow the diet plan (which puts you in a pretty big deficit) you will absolutely see results in three weeks. This is especially true if you are slightly overweight and use shakeology.
The 21 day fix results for me were what I expected. Before even starting the program I was already at a relatively low body fat percentage, so the results for me will not be nearly as significant as they would for somebody that needs to lose a lot more weight. I have talked to plenty of people that have lost between 10 and 14 pounds in the three weeks. These people followed the diet to a T, never missed a workout and did double days for the last week of the program. As you can see, those 21 day fix results are pretty amazing.
21 Day Fix Calories burned
The number of calories burned is always dependent on multiple factors. For my calculation I will be talking about the average number of calories burned for a woman that weighs between 130 and 150 pounds. All of the workouts are relatively challenging so if you are able to keep up with the pace of the workout video and perform every single repetition, you should be burning between 350 to 500 cal for every 30 min. video. Since it takes 3500 cal to lose 1 pound, you should be able to lose 1 pound a week just from the exercise routine alone if you are eating the amount of calories to maintain your body weight. But, if you are also in a calorie deficit you can expect to lose 2 pounds per week if you are in a deficit of 1000 cal each day. Obviously if you weigh more, the workouts will burn more calories and you can lose more than 6 pounds over the course of three weeks.
Is the 21 Day Fix worth it?
Obviously asking the question is anything worth it, raises another question of "what are your goals?". If you are looking for a program to really push your body to the limit in order to get that beach body that you are looking for, I think this program is great. If you are looking to build muscle, this program is not so great because it puts you in a strong calorie deficit.
The workout program itself is not as hard as some other program such as P90X or insanity. The diet portion of it is pretty difficult because of how low the overall calories are. If you are someone who has trouble counting calories and keeping track of your food, this program will be perfect for you. Just because of that aspect alone I think this program is worth it. It is a little more targeted towards women than it is towards men and personally I like the other workout programs that focus on muscular development more than fat loss. And especially for me because I do not need to lose too much body fat, I'm not going to continue on this program after the three weeks. Obviously people have different goals than I do, and for the majority of people this program is fantastic for those reasons.
21 Day Fix review conclusion, and the 21 Day Fix price
There was a point where I never thought I could get a good workout without going to the gym. Whenever I used to hear people talking about home workouts, I never believed that they could be motivated enough in their own home to actually work out. Being a beach body coach and part of this awesome community has changed my opinion big time. If you want to get that beach body that you are looking for, and don't have too much time, I highly recommend checking out the 21 day fix. If you think that 21 day fix is right for you, make sure to sign up with me (Tyler Read) as your coach. My coach ID number is: 1339221. Let's take a look at the insanity asylum price options.
The 21 day fix base kit costs $59.85 (Check out the current information and price here)

The 21 day fix deluxe kit costs $119.70 (Check out the current information and price here)
The 21 day fix challenge package costs $160 (Check out the current information and price here)
Like I tell all of my other clients of personal training, the hardest thing about exercise is is simply getting started! Once you get going it is a lot easier build momentum and reach your goals! Your results will keep you motivated! The worst thing to do is freeze up and not choose a routine. Get Started today so that you can start seeing the results that you desire tomorrow!
The biggest four tips in order to be successful with 21 day fix program!
Purchase either program with a challenge pack. The clients of mine that go through either program on shakeology see significantly better results than those who don't.
Get beach body on demand instead of DVD packages. If I had this when I first started using P90x it would've saved me so much money overall over the last 12 years. No more worrying about scratched DVDs or bringing DVDs with you. Also, most people don't know which program to start out with (and frequently choose the wrong one),  You have access to all of them with beachbody on demand! You have to purchase the equipment for the program separately.
If you want to wait before you purchase 21 day fix, at least sign up for a free team beach body membership so that you can get community support, schedule and a lot your workouts as well as track your progress. You will still get all of the benefits of having your own personal coach for free! Make sure to sign up with me Tyler Read as your coach (and certified personal trainer) otherwise you will get assigned a random coach that is probably not as qualified, and might not even contact you. My coach ID is 1339221. I will help you on your reach your goals and provide great motivation! Here is a link to the free account.
It could be just what you are looking for! Leave me a comment and let me know what you thought of my 21 day fix review! Now get out there and start working for the body you deserve!
If you enjoyed my 21 day fix review you might also like some of my other comparison articles such as: 21 day fix vs extreme, 21 day fix vs p90x3, 21 day fix vs piyo, or P90X vs insanity! Enjoy 🙂