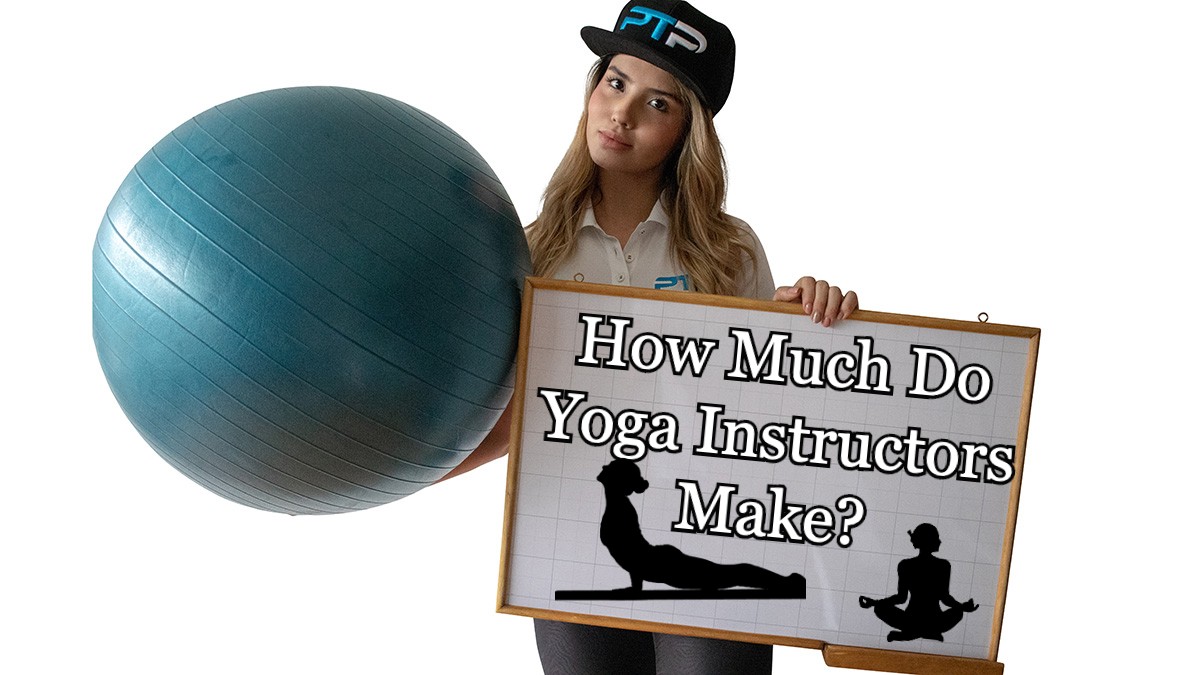 Hey everyone, Coach Tyler here.
So you love yoga and you seriously thinking of quitting your job and becoming an instructor…
But the big question is, just how much does a yoga instructor make? Because while it may be something you'd love to do as your job, you still have to pay the bills, right?
I have been getting a lot of interest from people who comment on PT Pioneer about yoga. Without a doubt, its popularity is on the rise, not only in the United States but around the world as well.
I have written two other articles for those of you who have a particular interest in becoming yoga instructors, one of the various types of yoga certifications and courses available and the other on how to go about becoming a yoga instructor.
And in my third blog post on yoga, I want to look at an important question that many people first ask when they want to make the decision whether to become a yoga instructor or not.
And that's "how much does a yoga teacher make?"
But we are going to go a bit more in-depth than that as well. While it's all good and well wanting to know a yoga instructor salary, there are many factors that can influence this figure.
So let's get straight into it.
How Much Money Do Yoga Teachers Make?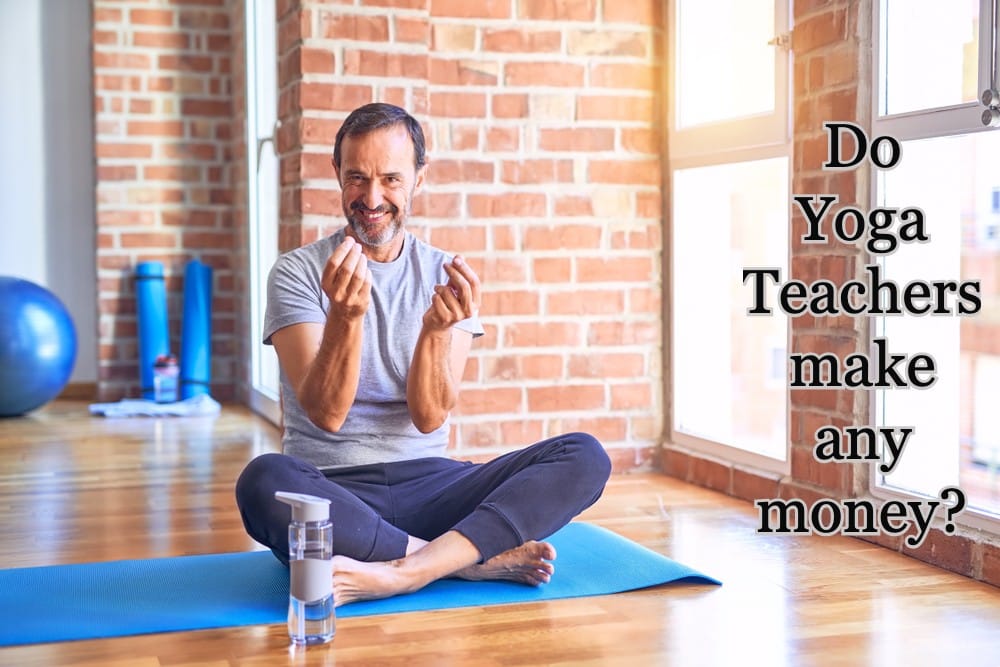 Ok, so do you have an easier question?
Just kidding. The truth is, this isn't the easiest thing to pinpoint. It's not just one figure that I can tell you, "look, here is the amount of money you can expect to earn as a yoga teacher per hour, day, month or each year".
But luckily, there are plenty of websites that have some of the information that might help us answer questions like "how much does a yoga instructor make per class?" I will also look at figures that are state-specific for the United States because depending on where you live and the demand for yoga teachers, earnings will vary.
Let's start with the average salary first.
Yoga teacher average salary (per hour)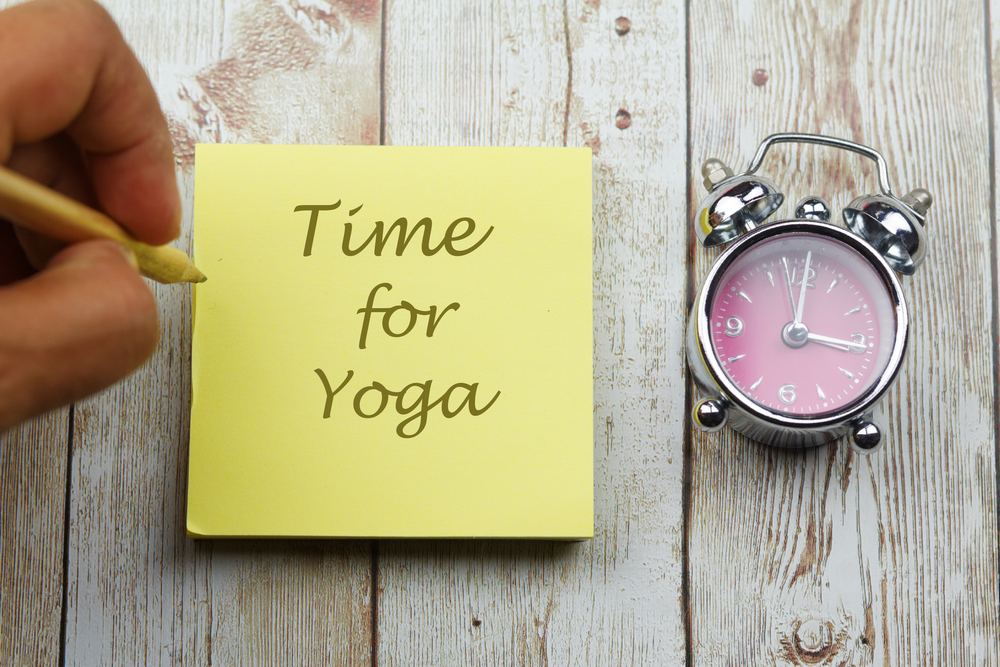 According to Indeed.com, in the United States, the average salary of a yoga teacher per hour is $31.43. That's based on 1,634 salary reports that form part of the Indeed database. Please note, these figures are taken as of January 2020.
But how does that compare with other careers in the fitness industry? Let's look at a few other popular fitness jobs which are also ranked on Indeed.
Pilates instructor – $35.58 (based on 727 records)
Fitness instructor – $22.88 (based on 6,571 records)
Personal Trainer – $21.50 (based on 14,159 records)
So that's not a bad rate for a yoga teacher, right?
Exclusive PTP CPT Offers



Gold Standard Cert

Most Popular Cert

Best Study Materials

A Good Option

A Good Option

Best CPT for you?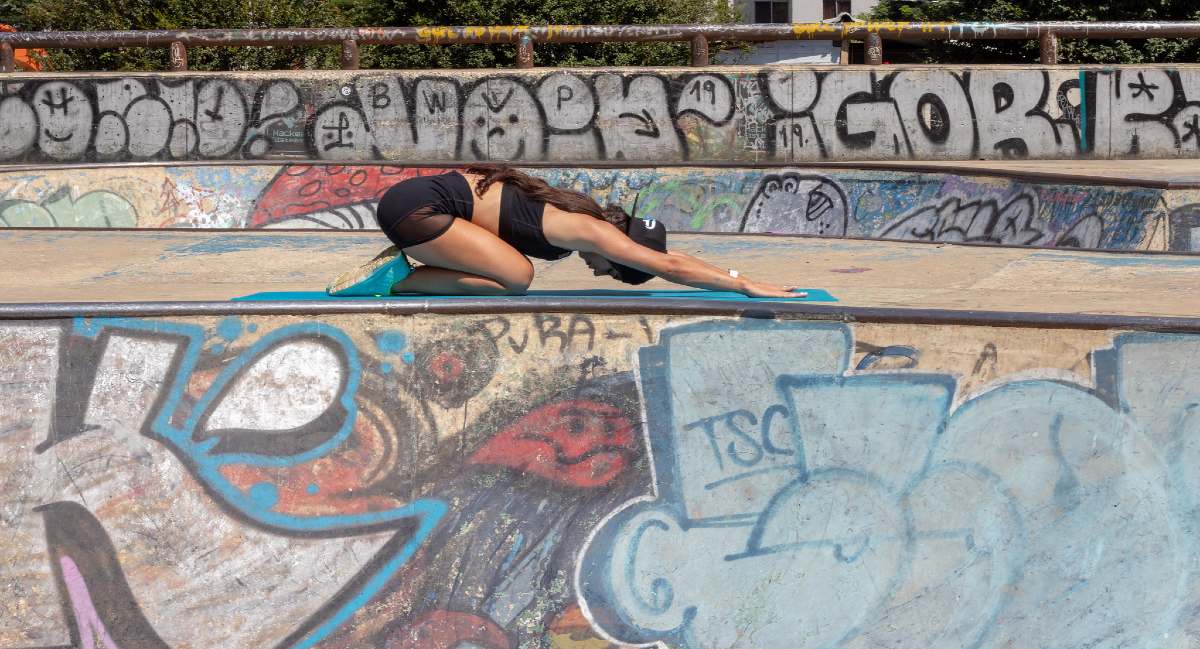 Indeed also have a breakdown of the eight cities in which yoga instructors earn the most. That breakdown is as follows:
Boston – $49.78 (based on 15 salary reports)
New York – $44.38 (based on 45 salary reports)
San Diego – $43.48 (based on 16 salary reports)
Los Angeles – $39.82 (based on 31 salary reports)
San Francisco – $38.76 (based on 19 salary reports)
Chicago – $32.84 (based on 32 salary reports)
Baltimore – $28.47 (based on 11 salary reports)
It's easy to see the variance in the pay meridian here. And I am sure you will agree that Indeed have a wide scope of reported salaries, so the figures are extremely accurate.
Let's take a look at some more figures when it comes to yoga instructor salaries.
Yoga teacher average salary (per year)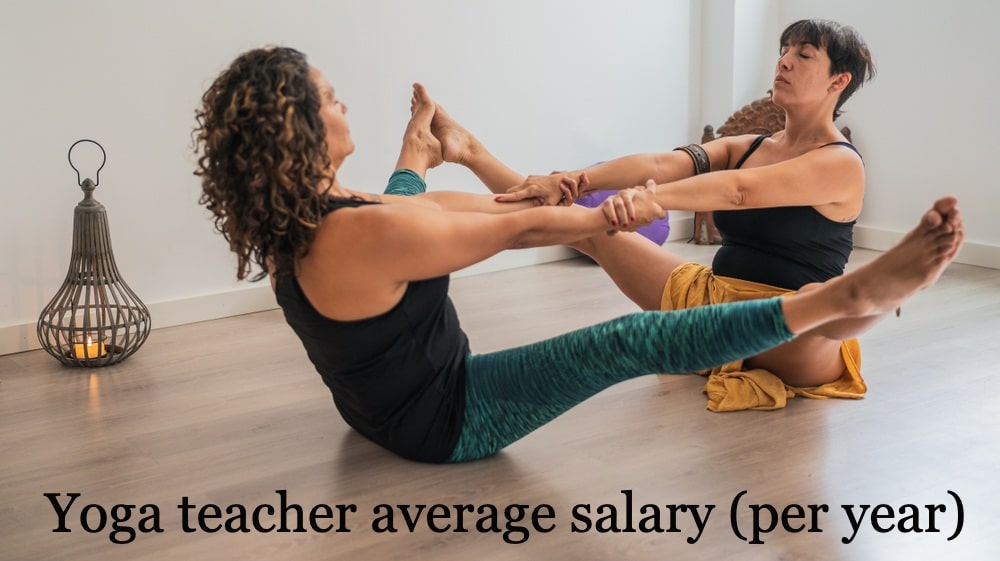 Other than knowing a per hour rate as a yoga teacher, I think the next best figure you can learn is the average earnings per year that you can expect to be paid.
Back in 2015, CNN Money ranked the job of a yoga teacher at number 10 in their Top 100 jobs in the United States. They also said that the average wage earned by a yoga teacher per annum was $62,400!
Is that realistic?
Well, if we compare it with the average wage we saw from Indeed above – just over $31 – it means you would need to work 5 days a week for 8 hours a day x 52 weeks. That would give you a yearly salary of just over $64,000.
And it is CNN, so you can pretty much trust their research, right? But I like to get more sources when it comes to important information such as this so I did a little more digging.
Looking at Zip Recruiter, the numbers mentioned by CNN are certainly backed up, especially in states where it's obvious that yoga would be popular, for example, New York.
In fact, in New York state, according to Zip Recruiter, the average salary is just under $31 per hour for an annual salary of $64,254.
Now speaking of salaries per state, I think that's an important aspect to look at to give you an idea of just how much it can differ.
Yoga teacher average salary (per state)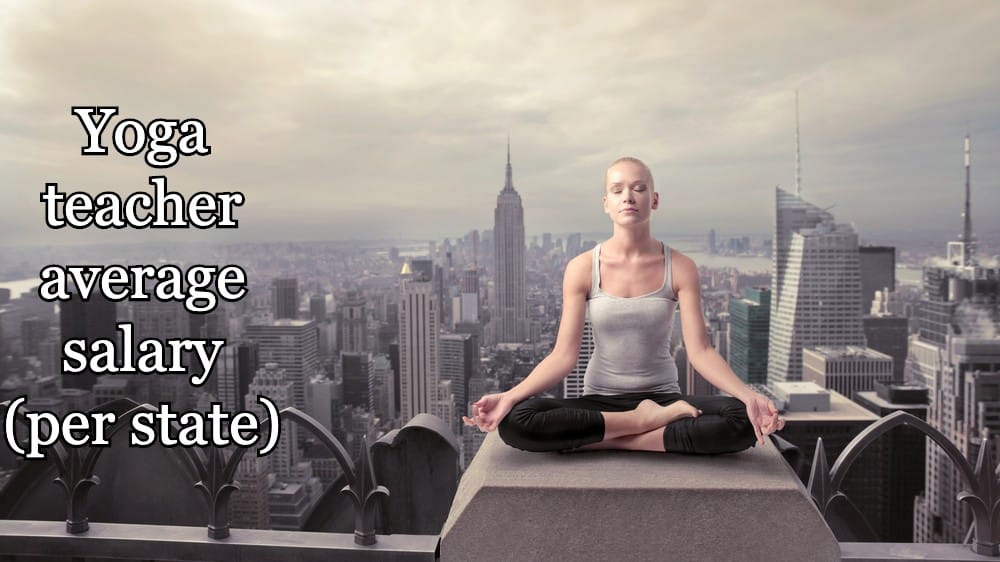 While it's obvious that salaries are different across all professions in different states within the United States, I was surprised just how big the variation actually is!
And I think its something important that aspiring yoga teachers should be informed about. Again, I found these interesting figures thanks to Zip Recruiter. I know it's quite a lot to look through but I am sure that like me, you will find these figures fascinating.
New York – $64,254 annual salary ($30.89 per hour)
Massachusetts – $63,759 annual salary ($30.65 per hour)
New Hampshire – $62,549 annual salary ($30.09 per hour)
Maryland – $59,609 annual salary ($28.66 per hour)
Nebraska – $58,900 annual salary ($28.32 per hour)
Nevada – $58,743 annual salary ($28.24 per hour)
Alaska – $58,743 annual salary ($28.24 per hour)
Montana – $58,743 annual salary ($28.24 per hour)
Wyoming – $58,743 annual salary ($28.24 per hour)
Idaho – $58,743 annual salary ($28.24 per hour)
North Dakota – $58,743 annual salary ($28.24 per hour)
Vermont – $58,735 annual salary ($28.24 per hour)
Hawaii – $58,734 annual salary ($28.24 per hour)
Connecticut – $58,555 annual salary ($28.15 per hour
Washington – $58,426 annual salary ($28.09 per hour)
California – $57,891 annual salary ($27.83 per hour)
Virginia – $57,524 annual salary ($27.66 per hour)
Rhode Island – $57,293 annual salary ($27.54 per hour)
West Virginia – $56,814 annual salary ($27.31 per hour)
New Jersey – $56.146 annual salary ($26.99 per hour)
Colorado – $55,818 annual salary ($26.84 per hour)
Pennsylvania – $55,619 annual salary ($26.74 per hour)
South Carolina – $55,449 annual salary ($26.66 per hour)
Arizona – $55,401 annual salary ($26.64 per hour)
Oregon – $55,392 annual salary ($26.63 per hour)
Minnesota – $55,290 annual salary ($26.58 per hour)
South Dakota – $55,287 annual salary ($26.58 per hour)
Tennessee – $55,284 annual salary ($26.58 per hour)
Utah – $55,026 annual salary ($26.45 per hour)
Delaware – $54,976 annual salary ($26.43 per hour)
Kansas – $54,708 annual salary ($26.30 per hour)
Kentucky – $54,606 annual salary ($26.25 per hour)
Ohio – $54,457 annual salary ($26.22 per hour)
Indiana – $54,373 annual salary ($26.14 per hour)
Oklahoma – $54,225 annual salary ($26.07 per hour)
Wisconsin – $54,079 annual salary ($26.07 per hour)
Iowa – $53,957 annual salary ($25.94 per hour)
Louisiana – $53,870 annual salary ($25.90 per hour)
Maine – $53,472 annual salary ($25.71 per hour)
Texas – $53,047 annual salary ($25.50 per hour)
Arkansas – $52,606 annual salary ($25.29 per hour)
Georgia – $52,571 annual salary ($25.27 per hour)
Alabama – $52,412 annual salary ($25.20 per hour)
Mississippi – $52.052 annual salary ($25.02 per hour)
New Mexico – $52,045 annual salary ($25.02 per hour)
Michigan – $51,531 annual salary ($24.77 per hour)
Illinois – $51,452 annual salary ($24.74 per hour)
Missouri – $60,618 annual salary ($24.34 per hour)
Florida – $49,692 annual salary ($23.89 per hour)
North Carolina – $45,437 ($21.84 per hour)
The difference between the top state – New York – and the bottom state – North Carolina – is almost $20,000 dollars per year and around $9 per hour. That's a pretty big variation, right?
The interesting thing that I found from these figures is one would expect states like Florida and California to be higher up the list. Well, I would think they would be. Yoga seems to be something that would be pretty popular in California I would have thought!
Exclusive PTP CPT Offers



Gold Standard Cert

Most Popular Cert

Best Study Materials

A Good Option

A Good Option

Best CPT for you?

Yoga Teacher Pay – How You Can Influence What you Earn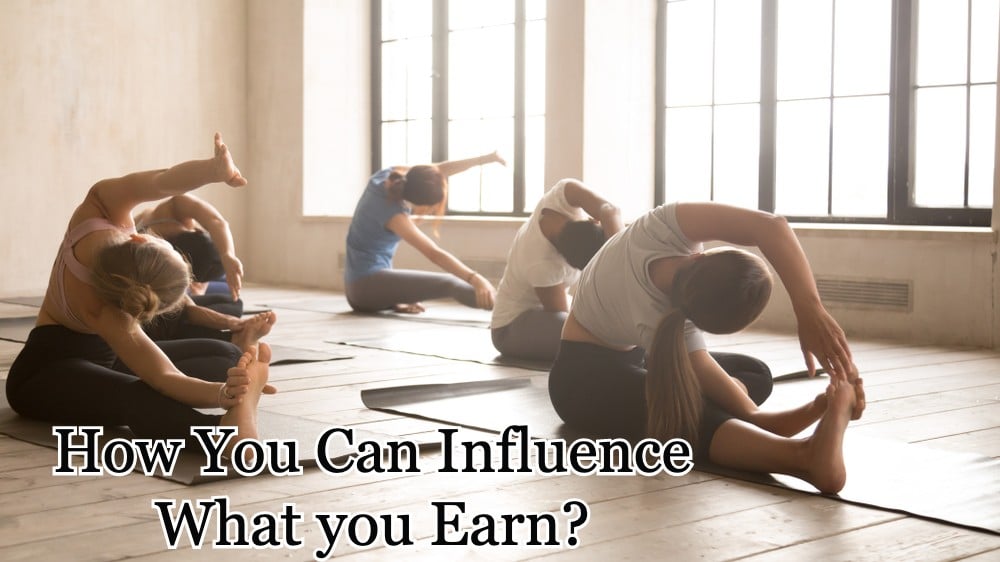 While a range of factors are beyond your control when it comes to a certified yoga teacher salary, there are some things that you can certainly consider as a way to adjust a yoga teacher salary upwards.
Get qualified… and then get more qualified!
Yoga instructor pay scales and even the yoga instructor salary part-time for those who hold other careers can be increased in one simple way. And that's by learning as much as you can.
As in all things in life, the more qualified you are, the higher the yoga instructor salary per hour you can ask from your clients. But there is another factor why you should learn as much as you possibly can.
That's because the more you know, the better the yoga teacher you will be, right?
And good teachers/instructors in the world of fitness certainly get more clients, mostly through other clients telling friends and family members about their services. Without a doubt, word of mouth advertising is something that will benefit excellent instructors.
A yoga teacher that knows what they are talking about is more likely to have clients that remain with them for the long-run. And that's what you want. Long-term clients are the lifeblood for any person in the fitness world that wants to go it alone.
Get experience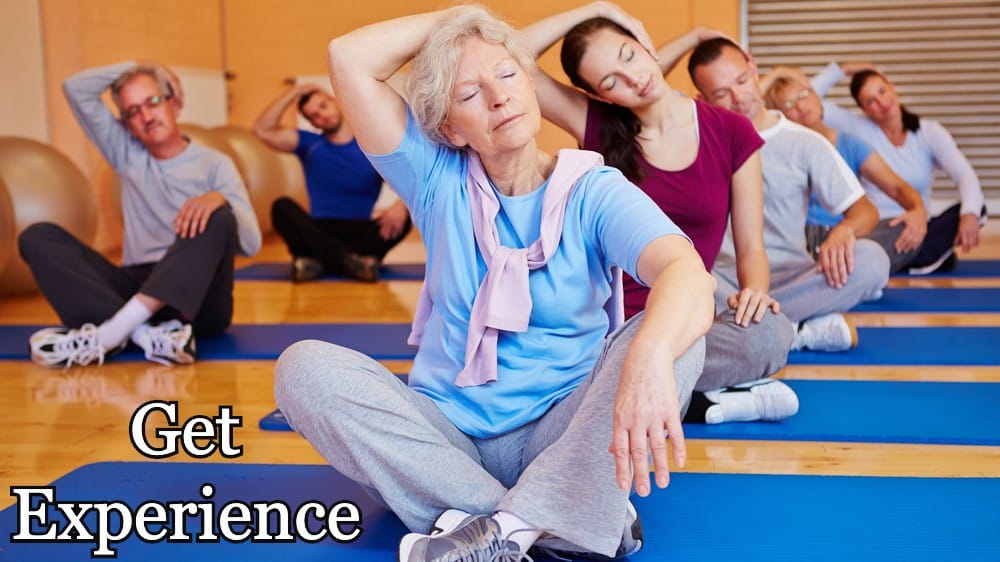 It kind of goes without saying that as a yoga instructor, the more experience you have, the more you should be paid.
You can be the most qualified yoga instructor in the world, having completed courses all over the globe but if you don't actually teach yoga, how can you expect to demand a massive salary from your clients, or from a studio when you land your first job?
Knowledge and experience can go a long way to helping ensure that you are in the top bracket when it comes to the average yoga instructor salary.
Consider private clients
If you already work for a studio, you might consider taking on a few private clients as a way to help supplement your monthly income. Of course, these should never be part of the yoga studio's clientele but others are fair game.
For example, members of your local sports club, your family and friends or organizations you belong to. Hold one-on-one sessions on your days off or any other spare time that you have.
Go corporate
If you live in a big city, one area to explore for gaining more clients is the corporate route. That's because many top companies in the United States have realized the benefits that yoga can offer their employees, especially as a form of exercise that incorporates mindfulness.
Yoga is also a great stress reliever which is a huge benefit in the corporate world. Many companies will welcome yoga training at their premises or even hold yoga retreats for employees from time to time.
This is a perfect way to expand your stream of income.
Approach resorts and hotels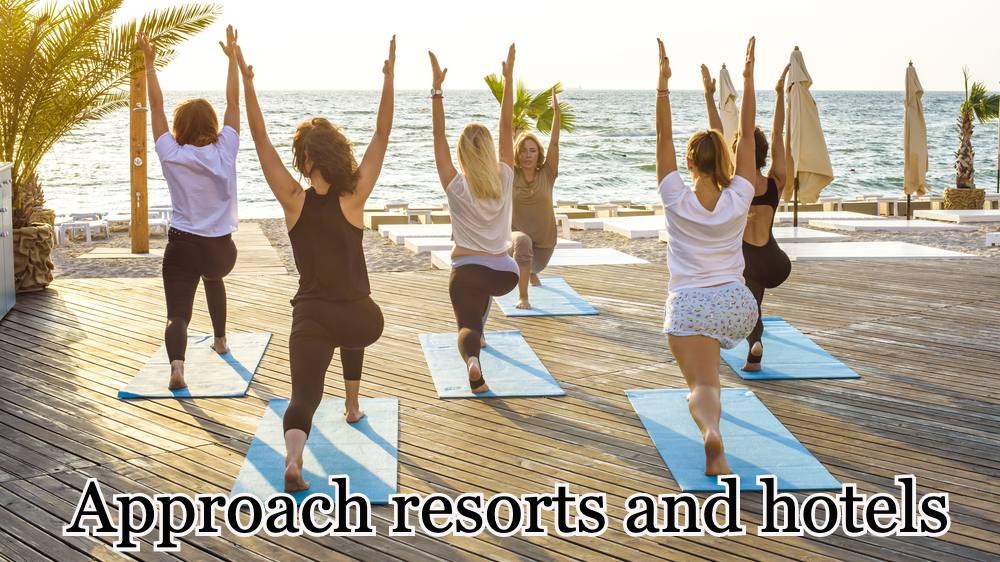 Other than the corporate route, don't rule the chance of landing a yoga contract through your local hotel or resort. As a service to guests, many hotels actually offer free yoga sessions and this is another brilliant option to explore to help increase your income.
If your local resort or hotel does not have a program like this, offer a few free classes to show them the benefits that yoga can have for their guests. You may land a contract down the line or even gain a few clients in the meantime.
Consider children's yoga
There is a definite increase in the demand for children's yoga teachers around the United States. Many parents who practice the discipline want their children to do so as well.
And this might be another income stream for you. Offer your services at the local daycare or at after-school programs. It may lead to new clients, both young and old.
Just remember, you need to be a trained children's yoga practitioner to be able to offer the service. There are a few online courses that you could consider to get the relevant experience.
Hold yoga workshops
Why not consider holding yoga workshops at your local community center. Offer these for free as a way to advertise your service. Many people want to "try before they buy" so to speak and this is an excellent way to generate possible leads.
Workshops can be split as well, for example, you could hold a special workshop just covering meditation.
Hold yoga retreats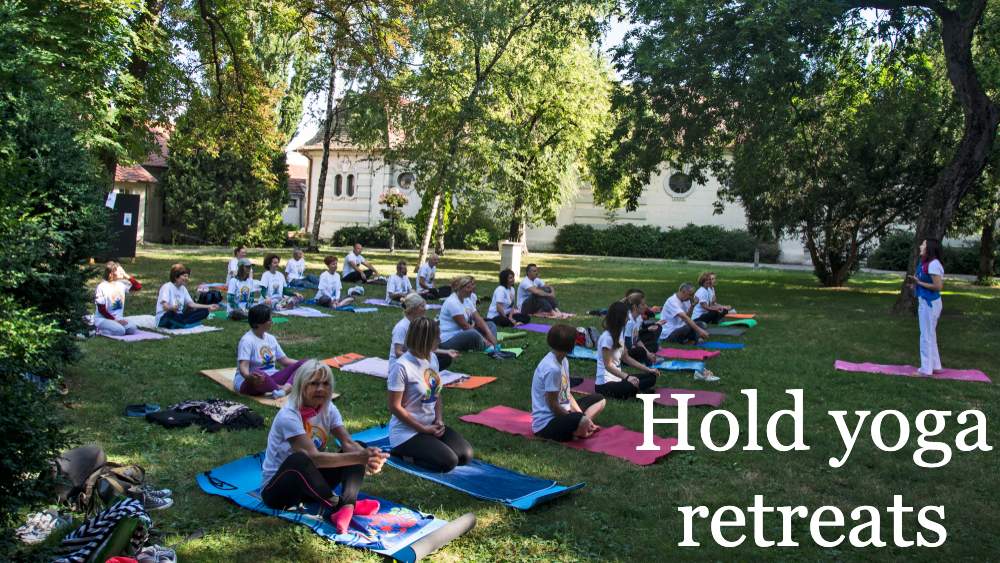 For yoga teachers with years of experience, holding a yoga retreat is an excellent idea. These are extremely popular around the United States and no doubt, you would probably have attended a few yourself.
Design your own, advertise it on a site like BookRetreats and use your connections to sign up interested parties.
Don't only think traditional
While traditional yoga in a studio environment or on a one-on-one basis is going to be your bread and butter, the average salary of a yoga teacher can certainly be pushed upwards by thinking outside the box.
But what do I mean by that?
Well, as a yoga teacher you can easily find other ways to help increase your income overall. And while it's probably not something you would do starting out, as you get more experienced, you can look into any of these options.
So what am I talking about? Well, we have already mentioned teaching private lessons above, but that's pretty traditional, right? The kind of ideas to supplement your salary that I am talking about are things like:
Hosting online yoga classes
Working at yoga retreats (they often need extra yoga teachers for large student intakes)
If you have writing skills, why not write for various yoga publications who often pay a fee for articles published
Publish a book (perhaps a daunting task but not outside the realms of possibility)
Use social media to generate funds (sponsored posts on platforms like Instagram can generate lots of funds but aren't easy to land)
Consider a Youtube channel. It's hard work but once if you can generate enough views, advertisers will begin to take notice of your channel and pay to advertise on it.
Last Words…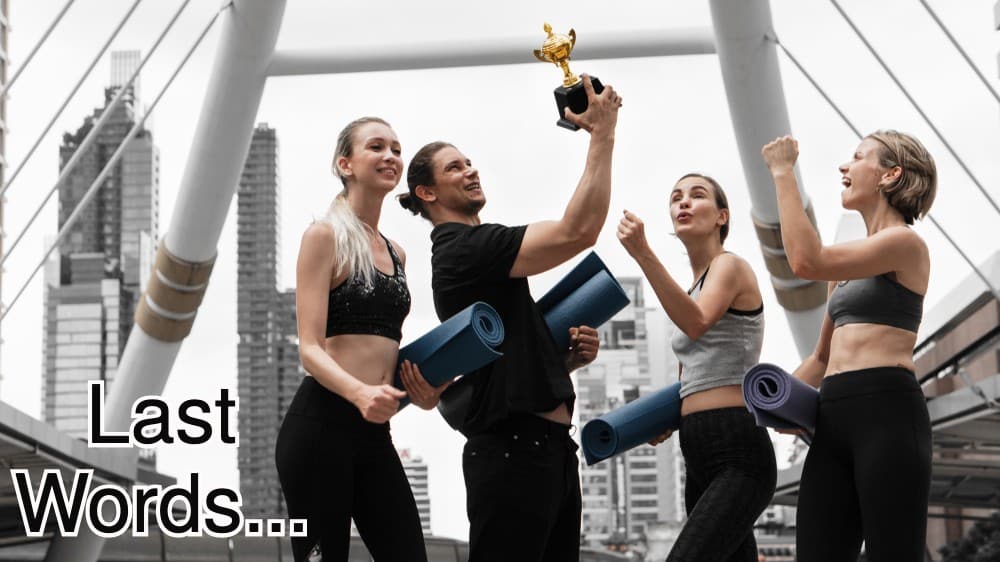 Thanks for taking the time to read through this blog post and I hope we have answered the question of "How much do yoga teachers make?" I had so much fun researching this topic, that's for sure and I think you will agree, the average hourly salary for a yoga instructor taken across the United States is pretty impressive.
I also think that its important to realize that it's not always good to go on what the average salary is and that's why I searched long and hard for figures based on state numbers because after finding them, I was amazed at the difference between the top state salary and the worst.
It's also critical to remember that like other fitness professions there are many ways that you as a yoga teacher can supplement your income and I am hoping that so of the ideas we worked through might prove to be useful to you down the line once you start your yoga career.
As always, should you have any questions or queries, don't forget to leave me a comment and I will get back to you as soon as I can. Browse PT Pioneer for a range of articles that cover a range of different careers in the world of fitness or remember to check out two other blog posts regarding yoga – yoga certifications and how to go about becoming a yoga instructor.
References