This review will give you a detailed insight into Train Heroic Online Strength and Conditioning Software.
Having garnered 10+ years of experience in the fitness industry, I can tell you immediately that this is one app you want to know about. We'll consider the following:
Its workings
Costs
Likes and dislikes
Let's get started right away.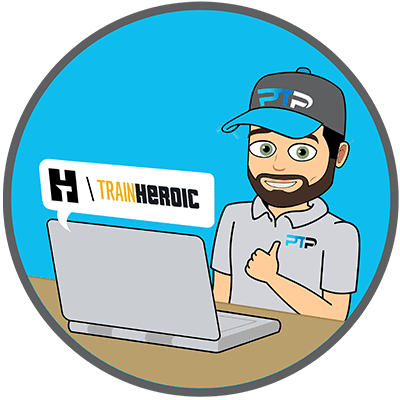 Introduction
This detailed review will tell you everything about Train Heroic online strength and conditioning software.
Discover if Train Heroic is right for your business.
Train Heroic differentiates itself with its focus on 'coaches' and 'athletes' vs. 'trainers' and 'clients'.
Welcome to our complete Train Heroic review!
Once you've read this article, you'll know the #1 feature that draws fitness professionals to Train Heroic, the software's biggest drawback, and whether you should implement it for your business.
Let's jump into the specs.
What is Train Heroic?
Train Heroic's 'Master Calendar' feature makes it easy to manage programming blocks for multiple categories of athletes – this is the first PT software I've seen with this unique option. 
Created for coaches by coaches, Train Heroic occupies an interesting niche in the online personal training software industry – it positions itself as a 'strength and conditioning software', targeting fitness professionals who coach athletic teams and Crossfit, powerlifting, and Olympic lifting coaches.
While other software programs use the standard language of 'client,' 'trainer,' and 'business,' Train Heroic swaps in 'athlete,' 'coach,' and 'organization' instead. 
This program would work well for basketball, football, lacrosse, and other sports teams, but the marketing indicates that it's also designed for people who want to train like athletes, regardless of whether they play on an actual team.
Once you sign up as a coach through the software, you can invite athletes and assistant coaches to join, build programs for individuals or teams and apply them to calendars, enter stats and create leaderboards, and more. 
This software is relatively simple but functions through a targeted lens that I think will appeal to many trainers and their clients. 
This is working on standing out from its competition. 
As it turns out, using their software could also help you stand out from your competition! 
How Much Does Train Heroic Cost?
Train Heroic's nine different pricing tiers (before any additional add-ons). 
Compared to other options on the market, Train Heroic is moderately priced.
It begins to get expensive when you add assistant coaches (another $9.99 per month per coach) and opt into their subscription programming or team memberships through their Marketplace feature. 
If one other coach and I were managing a CrossFit gym with 50 members, and we added one monthly team membership from Marketplace, our monthly fee would total $105. 
Not too bad, but pushing past the mid-range in terms of price.
If you work as a coach for an organization, I don't think it would be hard to make a compelling case for including a TH membership in your team budget.
Most organizations seek ways to streamline their functioning and update their approaches in the digital age. 
What I Liked
By now, you're probably curious about the specific features Train Heroic offers.
Let's break down my favorite things about this software and what makes them so special:
Intuitive Software Design
A glimpse inside an athlete's assigned workout from within the iOS app.
Good news – I could navigate and utilize this software quickly and easily. 
It can be hard to define what makes software design feel intuitive, and the definition varies from person to person. 
But overall, I found that Train Heroic makes sense in terms of organization and layout. 
The software is designed in a straightforward, logical manner that makes usage – whether as a coach or an athlete, from the website or the app – a breeze.
TH is great since getting your whole team on board with a new tracking and programming approach can be daunting. 
The website and apps also seem fairly reliable, avoiding the glitches and crashes that make some otherwise excellent software essentially unusable. 
Intuitive Software Design
Super easy to add your new exercises with links to related YouTube or Vimeo videos – a feature that seems like it should be standard for PT software but isn't always. 
While Train Heroic includes seven free copy-and-paste programs with a variety of focuses (including at-home and bodyweight options), the program guides users toward two main programming options:
Exclusive PTP CPT Offers



Gold Standard Cert

Most Popular Cert

Best Study Materials

A Good Option

A Good Option

Best CPT for you?

Building your programs from within their dense library tab;
Purchasing specialized programs from the HUGE selection for sale through their Marketplace.
Let's talk about these two options and who they're best for.
Custom Programs
If you work primarily one-on-one with clients or coach a team of beginner-level athletes or weekend warriors, it makes the most sense for you to craft simple custom workouts for your crew.
As it turns out, Train Heroic makes this easy and fun.
They have a great exercise library with a lot of modifications included.
Plug the exercises you like into a workout, and your athletes can access how-to videos, customized coaching cues, and more. 
If you want to include an exercise not part of TH's library, you can link to how-to videos from YouTube or Vimeo. 
This feature saves a lot of headaches and hassle, as I've learned from personal experience. 
I love how you can easily build your library of programs to draw from and revisit over time. 
Marketplace Programs
A couple of examples of the variety of programs for sale are through TH's Marketplace tab.
Focuses include back pain, mass-building for athletes, and everything in between.
TH started as an online programming marketplace and morphed into training software.
This explains its unique selection programs for every application. 
Purchasing a Marketplace program might make sense for you if you're…
In need of inspiration in your training
Working with advanced athletes who need increased structure and specificity
Trying to help a client with an issue like knee pain
A new trainer who doesn't feel confident creating programs from scratch yet
Of all the personal training software I've reviewed, Train Heroic has the best selection of professional-grade prewritten programs.
This is large because they allow guest trainers and professionals to write and sell their programs through TH's Marketplace.
This is a stroke of genius that other companies ought to emulate. 
Fun, Badass Branding
The software's gritty, modern color scheme and font choices balance simple and memorable. 
I will keep it real with you – the branding with personal training software is typically either completely nonexistent or trendy and pandering.
I like the athletic look that Train Heroic has put much effort into creating.
It's memorable without being distracting and will appeal to their target market. 
This is a small 'feature' in the big scheme of things, but I think the way the software looks plays a bigger role than many of us realize in our and our clients' likelihood of using it. 
The 'Train Heroic' title is also appealing, inspiring, and memorable. 
Unique Market Niche Done Well
Train Heroic is targeting the CrossFit market, evident throughout its Marketplace page, where coaches and athletes can join virtual teams offered by popular CrossFit boxes. 
I've noticed that many personal training software programs struggle to identify who they're serving. 
They end up trying to do it all – and failing egregiously.
The resulting software is bloated, difficult to navigate, and unsuitable for anyone. 
Train Heroic has done an excellent job of identifying a specific market niche and filling it well.
This software isn't for everyone, but the people it's designed to serve are sure to love it.
Features like block programming, customizable digital whiteboards, and a team app for use within a gym setting will make the work coaches need to do easier to organize and execute. 
As personal training software expands, I would love to see more companies working to occupy market niches effectively by emulating TH's approach. 
This leads me to…
Train Heroic's #1 Feature!
You can join a few teams remotely for a monthly subscription fee. 
The feature that stood out the most to me – and many of the other users who have commented online on the software – is how much this software emphasizes community, teams, and inclusivity.
Their "Community, collaboration, competition!" tagline says it all. 
People join and stay with gyms and programs due to the relationships they build and the sense of belonging they find.
This is also a big reason that team sports are as impactful as they are.
When athletes start a workout in TH, they're asked questions regarding their mindset and readiness, which creates reports that allow you, as a coach, to monitor attitudes and training approaches – an important part of effective training and team spirit. 
Exclusive PTP CPT Offers



Gold Standard Cert

Most Popular Cert

Best Study Materials

A Good Option

A Good Option

Best CPT for you?

The gym tools page helps you easily manage a CrossFit-style gym or team training session. 
Train Heroic gives you the tools you need to connect your team – with you, each other, and their goals – and help them excel.
Most personal training software focuses (and rightly so) on one-on-one relationships. 
On the other hand, this program allows you to orient your business around a group of people who train, compete, and connect. 
This property is hard to identify species within the software, but it's an important tenet of what Train Heroic is striving to do. 

Access codes make it easy to share programs, even with people who aren't your clients.
The apps are simple to implement and continue emphasizing team building with coach and team messaging options. 
Through program access codes, you can share programs with clients or athletes who don't use the app or website, making it easy to get technologically-challenged individuals moving toward their goals. 
This is the first software I've seen to offer this option, probably because selling programming is a big part of their business model. 
Imagine This
Your athletes show up for practice.
You're confident and calm, thanks to the clear picture you have in your Train Heroic app of how their workouts have been going.
Thanks to the specialized program you purchased through TH, you clearly know how to train them progressively toward your team goals.
Your athletes feel proud of their progress in every area – 1 rep maxes, sprint speeds, body fat percentage, and more.
They can track and visualize this data over time and share the resulting sense of accomplishment with their teammates and you, their coach! 
Or…
Your gym members show up for a group workout.
Throughout the week, they've been executing custom workouts independently, tracking their mindset, weight selection, warm-ups, and more through apps they can access on phones and laptops. 
The whiteboard workout you display on a TV screen from your app is accessible on their devices as well, and as the workout begins, Train Heroic starts a leaderboard illustrating who's outperforming who. 
Your gym members are confident in their weight selection based on their logs from previous sessions.
They can track their workout consistency and progress over time and monitor the performance of the people they work with. 
What I Disliked
I don't have much criticism for Train Heroic.
They have worked on streamlining their software and keeping it simple. 
Often when developers mess up, it's in this area of organization and simplicity.
However, here are a few things that may serve as deterrents to people interested in this program…
Confusing Terminology
Sessions, prescriptions, athletes – oh my!
The first – and only – the thing I struggled with when navigating this software was the different terminology. 
This may be because I lack a strength and conditioning background. 
If your clients don't consider themselves athletes, or part of a team, they may be confused as to why they're being referred to as such.
Calling workouts 'sessions', and assessments 'prescriptions' may also require a mental adjustment.
This is a small challenge that will probably only be faced by users adjacent to TH's target market rather than right in the middle of it. 
May Exclude People Who Do Not Self-Identify As Athletes
The analytics page reveals some limitations of the narrow "athlete" focus. 
This piggybacks on the previous point:
I like the simplicity of this software and would like to use it with my personal training clients, but most don't self-identify as athletes. 
It may even be an unappealing or intimidating term to them.
While I wouldn't want TH to change its focus (part of what makes the software so clean and effective), I am aware that they limit their reach. 
If you are a personal trainer with a strength and conditioning certification and young/athletic clients, this shouldn't present an issue, even if your clients aren't on sports teams. 
But if you work primarily with deconditioned or older clientele, TH might not work for you.
There are other programs out there designed to suit your demographic better.
Exercise Library = Limited
A glimpse inside TH's native exercise library.
When I went into TH to write my workout, I was surprised that a single-leg hip thrust wasn't included in their exercise library. 
TH's exercise library is a bit limited compared to some of the other personal training software programs I've reviewed. 
This isn't a big deal if you're truly working in a strength and conditioning setting (where the exercises are less creative than other training styles ) or purchasing program upgrades.
But it's worth considering if you're someone who builds their training around cutting-edge exercises and unique approaches – you might end up spending a lot of time creating your exercise entries. 
Potentially Too Expensive for Smaller Teams
If you coach a team with an extremely limited budget or are just starting a CrossFit gym, Train Heroic may be an additional monthly expense you can't justify yet. 
It's not crazy expensive, but it costs more than notebooks and spreadsheets, and it only does one thing (as opposed to offering business management and nutrition functionality). 
As it turns out, though, I think a program like this can help smaller and newer organizations and businesses gain the credibility they need to grow, so this may be an investment that makes sense for you, even if it's a stretch. 
Train Heroic's pricing tiers are month-to-month, so it's easy to try out even if you're not ready to commit to an entire year. 
This Program's Biggest Drawback
The biggest complaint regarding this software is that it doesn't offer any nutrition component. 
Most other PT software programs provide at least a cursory nutrition tracking option, but Train Heroic offers zilch for athlete diet tracking.
On the one hand, I appreciate this focused approach. 
PT software that tries to cover nutritional tracking needs often does so poorly, leading to frustration and confusion for clients and coaches alike.
If Train Heroic figures out a way to integrate their software with another app like MyFitnessPal (or if you, as a coach, make nutrition recommendations utilizing specialized nutrition apps with your clients), this isn't too huge of a problem.
But it is worth noting that this is the biggest gap in Train Heroic's program – especially for athletes whose performance hugely depends on good nutrition. 
If your athletes are technologically savvy and you can organize your own approach to their nutrition goals, you'll hugely maximize the results they get from their Train Heroic usage. 
Pros/Cons Short List
| Pros | Cons |
| --- | --- |
| Appealing, modern branding and easy-to-use, intuitive software | Could get expensive if you go crazy with the add-ons |
| Fills a specific market niche well – athletic programs, CrossFit gyms, etc. | Not designed for businesses without a team-based model |
| Great for team cohesion | Jargon may be confusing for some people |
| Huge library of professional programs for sale | Focuses exclusively on training – no nutrition options to speak of |
Is Train Heroic Right For You?
I'm sure I have been able to broaden your knowledge and also pique your interest in Train Heroic Online Strength and Conditioning Software.
If you are:
A strength and conditioning coach
An athletic coach of any kind
A CrossFit coach or gym owner
A powerlifting or Olympic lifting competitor/coach
The answer is a resounding YES!
This program will make your job easier, simpler, and more effective.
The support team at Train Heroic appears to be very open to suggestions and feedback, and they've adapted their software to suit the input of professionals from the list above.
Tracking and managing a handful of personal training clients is challenging enough.
Extrapolate that same challenge across multiple teams – or just a bigger group of individuals – and you better be prepared to manage a staggering amount of data, programming, and questions.
Train Heroic is here to help you succeed.
Features – 5/5
Train Heroic has the right balance of the features you need and want – but no extra.
You can build your software as needed by purchasing programs and joining teams, a unique and welcome option. 
Ease of Use – 5/5
After some initial adapting to potentially unusual terminology, TH is easy to navigate and implement with athletes, clients, and assistant coaches.
Support – 5/5
While I didn't interact with the TH support team directly, the feedback I've read is overwhelmingly positive – especially when making changes based on user experience. 
Price – 4/5
Train Heroic isn't cheap, but it isn't expensive, either.
The price may present a challenge to smaller teams and gyms, but the level of professionalism and the increased potential for improvement is, I think, worth it.
Overall – 5/5
Train Heroic serves its niche very well, which is the role of software in the digital age.
I'm excited to see how they continue to market and branch out in the coming years!