If you have a coaching site or are planning to start one, this article is exactly for you.
This article is going to focus on promoting your coaching site online
We will look at the following:
Social media
Google Business
Podcasting
Paid Advertising
SEO
This article will take you through the best ways to use every tool to increase your brand to your ideal customer base.
Let's do this!
At the end of this article, you should be more knowledgeable about how and where to promote your coaching services.
Let's begin!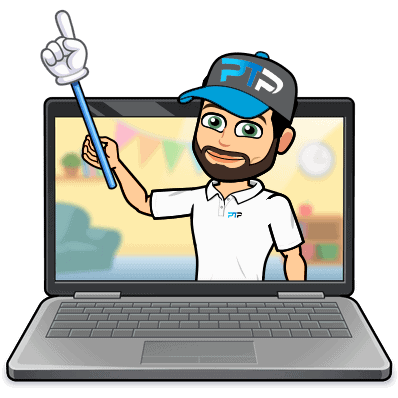 But what are the best ways to do that?
This article will discuss how you can drive traffic to your website and promote your services.
Make sure to take the quiz to get a good idea of which certification is right for you.


I've done it for over a decade; trust me, I know my stuff!
Be Prepared
The Boy Scouts' motto is "Be Prepared," It is an excellent motto for personal trainers with new coaching sites.
Before you start promoting your website, you need to ensure that your website is 100% ready.
By ready, we do not mean perfect; it needs to work.
Test this out with your friends and family first.
Your email capture needs to work, your payment system needs to be fully operational, and you must double-check the spelling and grammar.
Another consideration is ensuring that your services are meticulously planned out.
Are you charging a one-time payment?
Or are you making a rolling contract with monthly payments?
What does your program involve?
What is the breakdown of the cost per hour of your time?
Once you have worked this out, you are finally ready to start promoting your website.
The rest of this article will be dedicated to the different methods that are out there.
Facebook, Twitter, Instagram
The holy trinity of social media, having a strong presence across these platforms will massively increase your audience.
There are three main social media platforms: Facebook, Twitter, and Instagram.
Sure, TikTok seems to be gaining in popularity, and by the time this article is published, 12 more social media sites will have popped up.
These three are the most important (YouTube and Pinterest will be covered separately).
While all three social media platforms can be successfully used to promote your site, if you try to run all three simultaneously, you are likely to become overwhelmed.
Of the three, Facebook is the most useful.
You can create a Facebook page or a group, you can use it for Facebook advertising (more on that later), and Facebook still has by far the largest audience.
It also allows you to express yourself more, with no word caps and easy video integration, and it can also be synced to your Instagram account in the future.
As a bare minimum, you should have a Facebook page with recent content.
This is because most people will first check your social media when checking out your services.
Facebook is still the most popular choice, and it will rank high on Google when people search for your business.
Exclusive PTP CPT Offers



Gold Standard Cert

Most Popular Cert

Best Study Materials

A Good Option

A Good Option

Best CPT for you?

While a Facebook page should be your first port of call, a Facebook Group is more beneficial.
The reason?
Facebook groups are where you can interact with current and future clients/customers.
You can build a relationship here, and your posts/content will appear higher in their feeds.
More so than even the best pages.
After a while, you may even get other group members to contribute, which increases engagement without you even having to do anything.
Once your Facebook page is established and getting decent engagement, you can incorporate Instagram into the fold.
You can link your Facebook page and Instagram, allowing you to post your Instagram posts straight into your Facebook page feed.
Twice the viewers with no added effort on your part!
Again, please ensure you are not dedicating too much time to Instagram or Facebook.
Your main priority should be creating content for your blog, building your business, and training clients.
You only need to spend a few hours on social media a week.
If you use a service such as Hootsuite, you can schedule all your posts for the week in one go.
But what about Twitter?
We know many personal trainers and online coaches are cleaning up on Twitter.
But of the three social media companies, we feel that Twitter is the weakest.
It does not emphasize images well, it is not great for advertising on (though by no means terrible), and while its video service is decent, you can do better on Facebook or with Insta stories.
If you love Twitter, then, by all means, go for it.
Any social media profile can work, provided you put in the time and effort.
But, if you do not mind which form of social media you use, we would place Twitter last.
YouTube
YouTube is the second most popular website on the planet, and its search engine is in the top five biggest. Why wouldn't you want a slice of that?
YouTube can be an amazing tool for your business, but as we mentioned with Facebook, Twitter, and Instagram, you do not want to be doing too much too fast.
If you plan on building your business through YouTube videos, you need to go all out.
There is a lot of competition out there.
Luckily, you can upload videos to all forms of social media.
So, there is no reason why you can't also do YouTube if you are posting to Facebook anyway.
As with most things on this list, spending some money will help.
A decent camera, a camera stand, and some photographers' lighting will greatly affect your video quality.
Pinterest
Often overlooked, Pinterest is one of the best ways to increase visitors to your website.
For too long, Pinterest has been underestimated as a social media platform.
But to bring an audience to your website, Pinterest is perhaps the best option.
One of the biggest issues with social media is the immediacy of everything.
If you post some content on a Monday, by Friday, that content is useless.
People don't scroll down. Your article, photo, or status is part of history now.
Pinterest works differently and is a great way to promote your articles and images again and again.
Exclusive PTP CPT Offers



Gold Standard Cert

Most Popular Cert

Best Study Materials

A Good Option

A Good Option

Best CPT for you?

While Pinterest is unsuitable for any topic, fitness is extremely popular.
Take great photos, be active in the community, and post excellent content. You can bring people onto your website better than any other form of social media.
Google Business
If you do ANYTHING on this article, ensure it is this, particularly if you have a brick-and-mortar business or are a personal trainer at a local gym.
99% of people looking for a personal trainer or coach will type "personal trainer" and their location into Google.
The person with their website at number one on that results page will get the most business.
There are many ways to get your business there: SEO, social media, and well-written articles.
But all of that is trumped by having a registered Google Business.
Here is how you can get your business on Google Maps
Search for "Get on Google" and navigate to the website
Click on the button "Get on Google."
Type your business name and address into the search bar
Click "Verify Your Business"
Wait for a postcard in the mail from Google and type in the code
Confirm
Next, you want to add your website, some photos, and testimonials and get your current/former clients to rate you on Google.
Soon you will be on top of the pile in your area.
Podcasting
Podcasting has exploded in recent years, and as a form of media, it only goes up! You would be crazy to ignore this.
You only need to download a podcasting plugin for your WordPress site. Check out Blubrry.com for this.
You probably wonder why we keep saying, "Don't overextend yourself," and then say, "Start a podcast."
But there is a good reason.
Whatever happens, you NEED to write blog articles for your website, about 30-50 in the first year.
Once published, why not read them out loud?
Then record it.
Boom!
You now have 30-50 podcast episodes without even trying.
That could be an extra 5,000 people consuming your content; all it takes is you reading your work aloud.
Promote your podcast across all platforms, and after 10 episodes, you should have a loyal following.
Paid Advertising
Paid advertising is a great tool for bringing potential customers to your website, but this tool should be used strategically.
There are several ways to go; you can pay for Google or Facebook adverts or even look at Bing adverts!
Both Google and Bing often make an offer where you spend $100 on adverts, and they will match you with a further $100. So, see if you can find it.
Facebook advertising is expensive, but when done correctly, nothing is better. The trick is to target the ideal client for your business specifically.
To do this, you need to identify your perfect client avatar. Looking for the following characteristics:
Age
Gender
Location
Interests
The more specific you are, the more targeted your ads will be.
This means that they will be shown to fewer people but that each person is more likely to click on that ad.
This will not only save you money, but it will increase your conversion rate.
Instead of attracting everyone to your site, many of whom will not be interested.
You are only sending people who suit your offer.
Now that we have looked at paid advertising let us look at how to drive traffic to your website without spending a thing.
Search Engine Optimization (SEO)
SEO is very important, particularly for local businesses. But don't get carried away!
Most websites completely ignore SEO, and that is a problem
Many websites over-value SEO, and that can also be a problem!
You are not looking to rank #1 on Google for fat loss or strength building. That is NOT going to happen.
You have built this website to get you leads in your personal training business.
So you only need to rank for local personal training services.
That means you want to write articles with keywords for local personal training in your area.
If you live in Ithaca, New York, you should have an article with the keyword: Ithaca Personal Trainer.
It would be best to have the term "Ithaca Personal Trainer" in your title, in the first paragraph of your article, as the alt-text in all your images, and at least one H2 tag (sub-headings).
Then you want to write an article on "Personal training in Ithaca" and do the same thing.
You can also include variations of this keyword in the images you use on your website.
This is in addition to having it as a keyword on your About page.
There are many other routes you can go down, particularly if you want to become a blogger.
But for now, focus on getting to #1 on Google for your area.
That is what is going to make you money.
Once you have found your local SEO, you can look at fitness SEO, but you want to be looking for specific phrases.
Answer questions that people might be typing into Google about your services.
This is a great way to increase website traffic for free!
If your training uses a lot of resistance bands, then you could fight for a keyword such as:
"What size resistance band should I buy?"
Type it into Google yourself, and see what the competition is like.
Can you write a better article than the one that is number one on Google?
If so, then give it your all.
It may feel like you are fighting over scraps, but being number one on Google for a search term looked at by 10 million people a year can get you a lot of traffic, which will help you promote your website.
You can also use the search bar to find other popular subjects.
Check out the image above; there are hundreds of questions about resistance bands that you could be competing for.
Trying to compete with "resistance bands" is crazy. Competing for "plus size resistance bands" is smart.
Final Thoughts
Podcasting, SEO, social media, and YouTube are all exciting and fun ways to promote your website. But many people end up losing focus on their original goal.
You are trying to find out how to promote your website so that you can make more sales.
Sure, Facebook posts and podcasts are more fun than your website work, but they don't make the same money.
We are not telling you to avoid these forms of promotion.
We are just saying that everything is being created to boost traffic to your website so you can pay rent next month.
There is no point in having a successful podcast if your website doesn't work.
There is no point in creating an amazing Twitter following if you are not converting those followers into website customers.
We are looking at ways to teach you how to market your website, not to be an internet celebrity.
That is just a bonus!