The typical Pilates instructor salary ranges from $38,000 per year to $75,000 depending on a variety of factors such as location, hours worked, experience, and the clientele you serve.
For those of you who see yourself working as a Pilates instructor at some point down the line, one of the first questions that will pop into your mind is, "How much do Pilates instructors make?"
Because it's all good and well-finding, something you see as a dream job, but if it pays peanuts, is it really worth it?
The good news is that, like many other specialized employment positions in the fitness world, a Pilates instructor's salary is pretty decent.
So in this blog, I want to look at the facts and figures behind that salary and give you a decent insight into what you can expect should this be your chosen line of work.
I also highly recommend that you take the quiz and find out which Pilates instructor certification is best for your career goals.
I have written two other articles for those of you who are interested in becoming Pilates instructors, one of the various types of Pilates certifications and courses available and the other on how to become a Pilates instructor.
They certainly are worth a look!
Now let's jump straight in!
Top Earning Pilates Instructor Certifications
The following is a list of the top Pilates instructor certifications, ranging from the highest paid and going down from there. Be sure to check them out if you want to maximize the salary you'll make after getting certified.
Pilates Certification Program
Pilates Certification Program
Features
Price

Comprehensive anatomy and physiology
Core and advanced Pilates movements
Modification skills based on client needs

Check ISSA Pricing

PMA accredited
Excellent exam preparation
Offers four separate training certifications
Written and practical exam
Great for those entering the field

Check Balanced Body Pricing

Two reputable certifications
Provides cutting-edge content coverage
Comprehensive, in-depth modules
No prerequisites
Fairly reasonable price for what's offered
Three exams
Great exam preparation

Check Basi Pricing

Covers classical pilates in all three levels
More emphasis on special populations than other certification programs
Highlights use of multiple apparatuses
Longer time to complete program
More expensive

Check Power Pilates Pricing

Both hands-on and in-person
Heavy focus on classical pilates
More expensive

Check Core Pilates Pricing

Covers core Pilates principles
Heavy emphasis on Joseph Pilates's integrated movement system
Varying program lengths and prices

Check Peak Pilates Pricing

High-quality study materials, books, and exam prep
Three extensive modules
Bridge program option
Very expensive program
Program length much longer
Intensive coursework

Check Fletcher Pilates Pricing

Most popular
Highly reputable
Mat work and equipment
Less expensive
Program length about average
Exam pricing varies

Check Stott Pilates Pricing
Ok, So How Much Do Pilates Instructors Really Earn?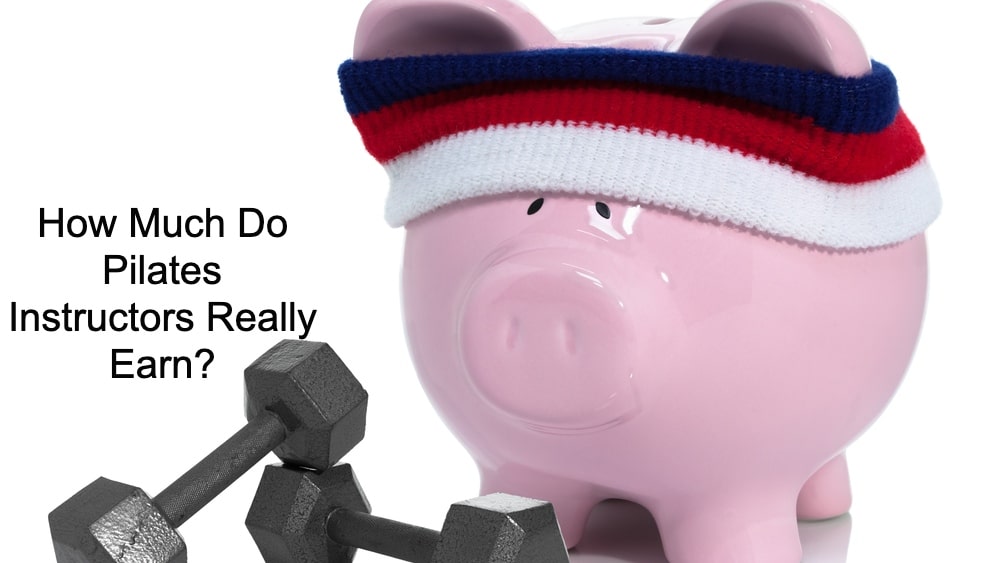 There is a range of websites to check the salary for a Pilates instructor in the United States. One of the best of these, however, is Indeed.com. That's because it's packed with information based on thousands of employment records for any number of jobs within the fitness industry.
Exclusive PTP CPT Offers



Gold Standard Cert

Most Popular Cert

Best Study Materials

A Good Option

A Good Option

Best CPT for you?

So not only can we get an average salary for a Pilates instructor, but we can also compare it against other similar positions in the fitness world. But what do Indeed's figures reveal about Pilates instructor salaries?
Well, I thought it best to give you all the information that I could find on Pilates salaries, so we are going to break it down into:
Per hour
Per year
Per state
But now you probably thinking, why would it be necessary to look at the salary of a Pilates teacher per state? Surely a per-hour or year figure is sufficient?
Well, they will give you a good idea as to what you can expect to earn but the thing is, there is a significant difference from state to state when it comes to salary figures in the employment industry, and that's true of most industries for that matter.
The reason for this is mostly due to supply and demand factors.
But enough about that, let's first see what you can expect to earn as a Pilates instructor.
Breakdown: Pilates instructor salary (per hour)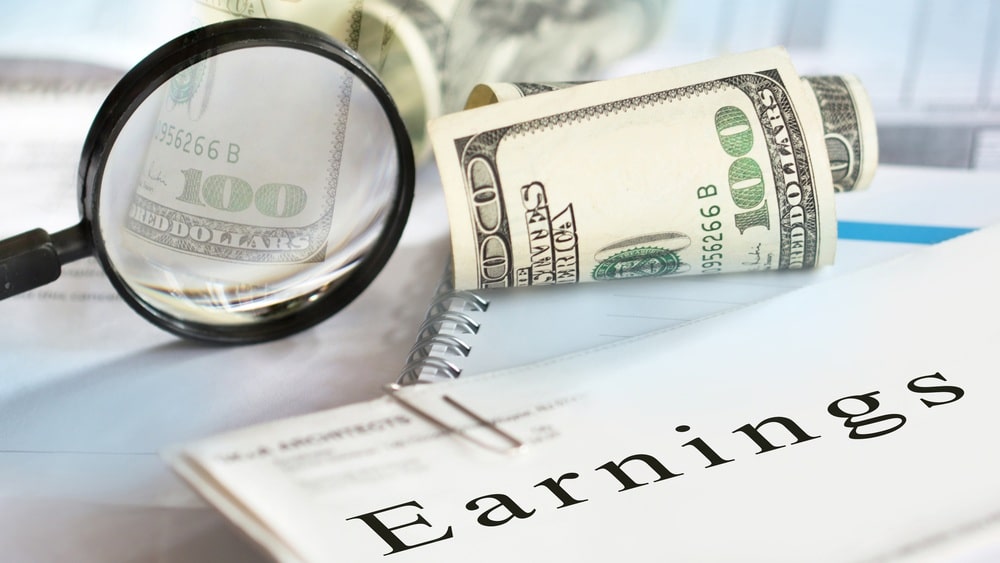 Note these figures from Indeed.com are up to date. In fact, they are taken from January 2020. So just how much a Pilates instructor will earn on average per hour?
And that figure is $35.58. That's not bad, right?
This figure is based on an average of 733 salary reports in the Indeed database over the past three years. And when we compare it to similar jobs in the fitness industry, you will see that the average per-hour salary a Pilates instructor earns is the highest.
Let's quickly compare:
Yoga instructor – $31.43 (based on 1,634 records)
Fitness instructor – $22.88 (based on 6,571 records)
Personal Trainer – $21.50 (based on 14,159 records)
I have already mentioned how a Pilates instructor's salary can differ from this average above when looking from state to state. And the same is true when we look at different cities in America.
As an example, a Pilates instructor earns the following monthly average in each of the American cities below:
New York – $43,33 per hour (based on 30 salary reports)
Los Angeles – $36,42 per hour (based on 21 salary reports)
Denver, – $33,41 per hour (based on 16 salary reports)
Austin – $37,41 per hour (based on 11 salary reports)
Chicago – $33.53 per hour (based on 15 salary reports)
That's quite a difference in the hourly pay from city to city.
And to make sure that the Indeed numbers were correct regarding the average salary of a Pilates trainer, I looked for a second source to confirm the figure. And that was Glassdoor which has 39 salary reports for Pilates instructors in the United States with an average salary of $36.
But now, let's take a look at the annual salary average that a Pilates instructor can expect in the United States.
Breakdown: Pilates instructor salary (per year)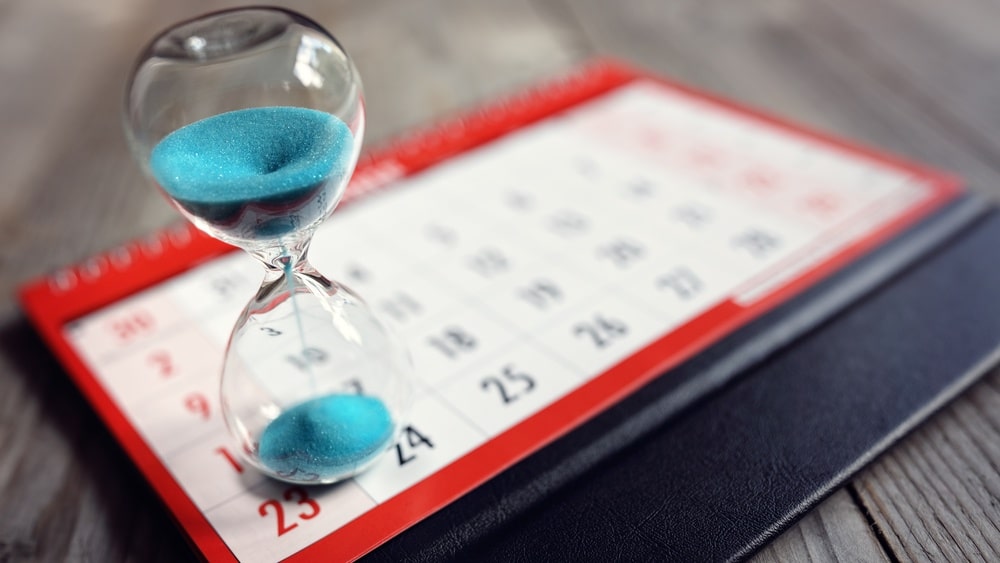 So we now know the average salary of a Pilates instructor per hour, but I think it's important to expand on that. And to do so, we will have to incorporate some math.
So now need to take that average hourly salary of $35.58 and multiply it by 8 hours to see what a Pilates instructor would earn per day. That, in turn, is then multiplied by 5 (the number of days in a working week, on average) and then by 52 weeks to get an annual salary.
And when you do that, the average salary a Pilates instructor is paid per year is around $74,000. But let's get a second opinion on that as well, and to do so, we turn to Zip Recruiter, which gives us a brilliant breakdown of a Pilates instructor's salary per hour, weekly, monthly, and per year.
Zip Recruiter's annual salary is around $66,000 based on their salary reports collected over time. While that's not as much as our little calculation based on Indeed.com's per-hour figure, it is still in the same ballpark and certainly gives an idea of what you can expect to earn on average per annum.
Of course, there are plenty of other factors at play. Already we have mentioned where you live is a big part of your expected salary, but I'd like to go a bit more into that to show you exactly what I mean.
Exclusive PTP CPT Offers



Gold Standard Cert

Most Popular Cert

Best Study Materials

A Good Option

A Good Option

Best CPT for you?

Breakdown: Pilates instructor salary (per state)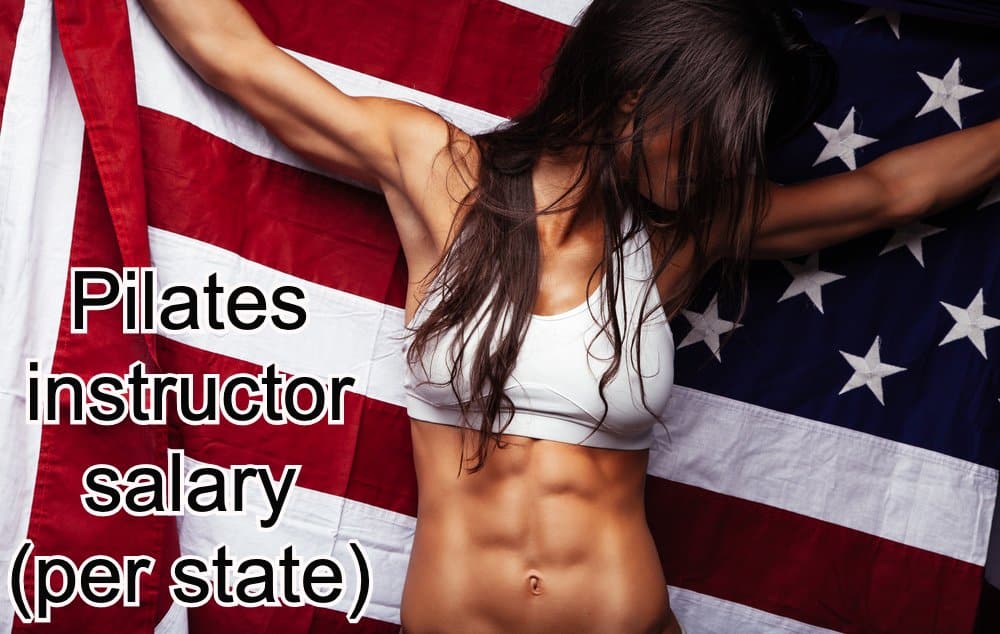 A fluctuation in pay is not something that's just related to the fitness industry. In all jobs, the pay can be higher or lower than the national average, depending on what state you stay in.
And Zip Recruiter has all the numbers for us regarding states and the amount that Pilates instructors are paid. Let's take a look.
New York – $73,283 annual salary ($35.23 per hour)
Massachusetts – $72,719 annual salary ($34.96 per hour)
New Hampshire – $71,395 annual salary ($34.32 per hour)
Maryland – $67,718 annual salary ($32.56 per hour)
Connecticut – $67,338 annual salary ($32.37 per hour)
Hawaii – $67,126 annual salary ($32.37 per hour)
Alaska – $66,993 annual salary ($32.27 per hour)
Montana – $66,993 annual salary ($32.21 per hour)
North Dakota – $66,993 annual salary ($32.21 per hour)
Wyoming – $66,993 annual salary ($32.21 per hour)
Idaho – $66,993 annual salary ($32.21 per hour)
Nebraska – $66,988 annual salary ($32.21 per hour)
Vermont – $66,973 annual salary ($32.20 per hour)
Washington – $66,646 annual salary ($32.04 per hour)
California – $66,153 annual salary ($31.80 per hour)
Rhode Island – $65,993 annual salary ($31.73 per hour)
Virginia – $65,554 annual salary ($31.52 per hour)
West Virginia – $64,782 annual salary ($31.15 per hour)
New Jersey – $64,257 annual salary ($30.89 per hour)
Colorado – $63, 656 annual salary ($30.60 per hour)
Arizona – $63,614 annual salary ($30.58 per hour)
Pennsylvania – $63,443 annual salary ($30.50 per hour)
South Dakota – $63,315 annual salary ($30.44 per hour)
South Carolina – $63,192 annual salary ($30.38 per hour)
Minnesota – $63,084 annual salary ($30.33 per hour)
Oregon – $63,043 annual salary ($30.31 per hour)
Tennessee – $63,021 annual salary ($30.30 per hour)
Delaware – $62,935 annual salary ($30.26 per hour)
Utah – $62,772 annual salary ($30.15 per hour)
Kansas – $62.375 annual salary ($29.99 per hour)
Kentucky – $62,349 annual salary ($29.98 per hour)
Ohio – $62,295 annual salary ($29.95 per hour)
Indiana – $61,987 annual salary ($29.80 per hour)
Oklahoma – $61,807 annual salary ($29.71 per hour)
Wisconsin – $61,554 annual salary ($29.59 per hour)
Iowa – $61,338 annual salary ($29.51 per hour)
Louisiana – $61,314 annual salary ($ 29.48 per hour)
Maine – $61,185annual salary ($29.42 per hour)
Texas – $60,361 annual salary ($29.02 per hour)
Georgia – $59,895 annual salary ($28.80 per hour)
Alabama – $59.887 annual salary ($28.79 per hour)
Arkansas – $59,837 annual salary ($28.77 per hour)
New Mexico -$59,385 annual salary ($28.77 per hour)
Mississippi – $59,197 annual salary ($28.46 per hour)
Michigan – $58,768 annual salary ($28.25 per hour)
Illinois – $58,692 annual salary ($28.22 per hour)
Missouri -$57,426 annual salary ($27.61 per hour)
Florida – $56,458 annual salary ($27.14 per hour)
North Carolina – $51,570 annual salary ($24.79 per hour)
While that's quite a lot of figures to get through, they sure are interesting and I bet you immediately went and looked for your state to see the annual salary and the amount on average, right?
The difference between the state with the highest pay (New York) and the state with the lowest pay (North Carolina) is $21,713. That equates to a change of almost $11 dollars per hour.
Something interesting to note in all these figures was the salary per hour and annum for Alsaka. It's pretty high, right? In fact, it's number seven on the list.
But think about it; there can't be that many Pilates instructors in that state; they have a captured market and can charge slightly more for their services.
How Can I Increase My Earnings As A Pilates Teacher?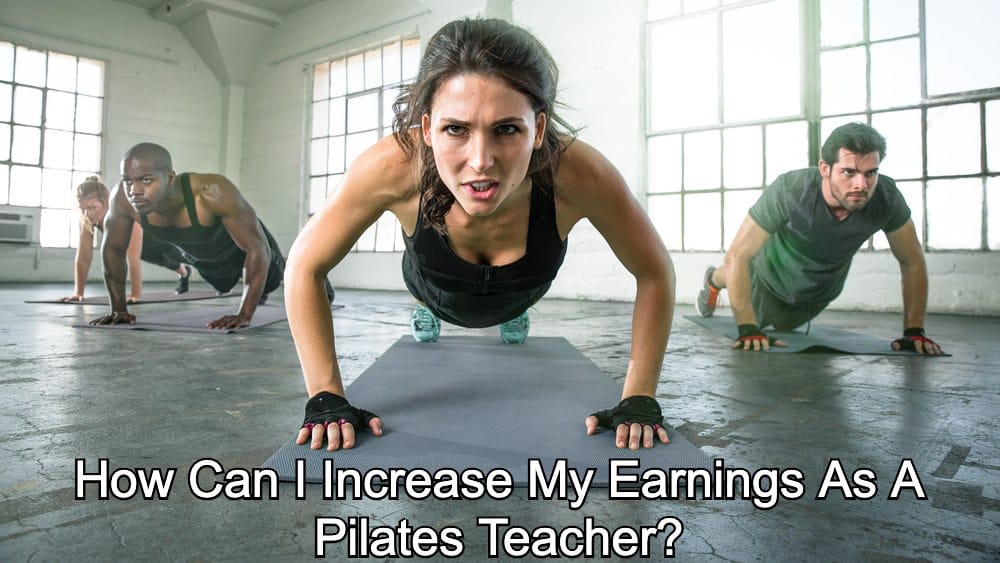 The great thing about working in the fitness industry is that there are often multiple ways to increase your income.
When you are starting out, it's more about gaining experience, learning the ropes, and becoming as good at your job as you possibly can. But after you have paid your dues and spent a few years as a Pilates teacher, there are certainly ways for you to look at improving your income streams.
And that's what I want to look at in the last section of this blog post. First, let's begin with the most obvious place, learning more.
Increase your knowledge base.
Ok, let's look at a scenario here. Your entry into the Pilates industry started with a certification allowing you to teach only mat-based exercises. And while there is plenty of scope for that, it just makes sense to increase your knowledge in the Pilates field as a way to generate extra income.
And in the case above, that means becoming equipment-certified over and above your mat certification. That allows you to move on to the next stage of Pilates teaching using specialized Pilates equipment such as the Reformer, Ladder Barrel, and Pedi-pole.
And consider this. In a 2016 survey by the Pilates Method Alliance, it was found that:
58% of Pilates instructors are not certified to teach lessons involving the Pedi-pole use
29% of Pilates instructors are not certified to teach lessons involving the Spine corrector
26% of Pilates instructors are not certified to teach lessons involving the Ladder Barrel
Those are some startling figures and certainly suggest that becoming certified to teach Pilates using those specialized pieces of equipment will give you a massive chance of improving your income stream.
Look at specializing
Along with learning all you can about Pilates and getting certified in all areas of this low-impact exercise, the next way of improving your income stream could be by specializing.
With specialization, you could still teach a regular Pilates class but it also opens a whole new world of possibilities. And a Pilates specialization can be used in any number of ways. Specialists also charge more for their services.
Here are some of the areas that Pilates teachers could consider for specialization.
Pre and postnatal Pilates
Post-rehabilitation conditioning
Interdisciplinary Pilates
Pilates for the aged
Athletic conditioning Pilates
Pilates for Osteoporosis sufferers
Spine care
Pilates for cancer survivors
Pilates for athletes
As you can see, there is plenty of chance for a Pilates instructor to specialize. And it's certainly one of the best ways to improve overall income.
Referrals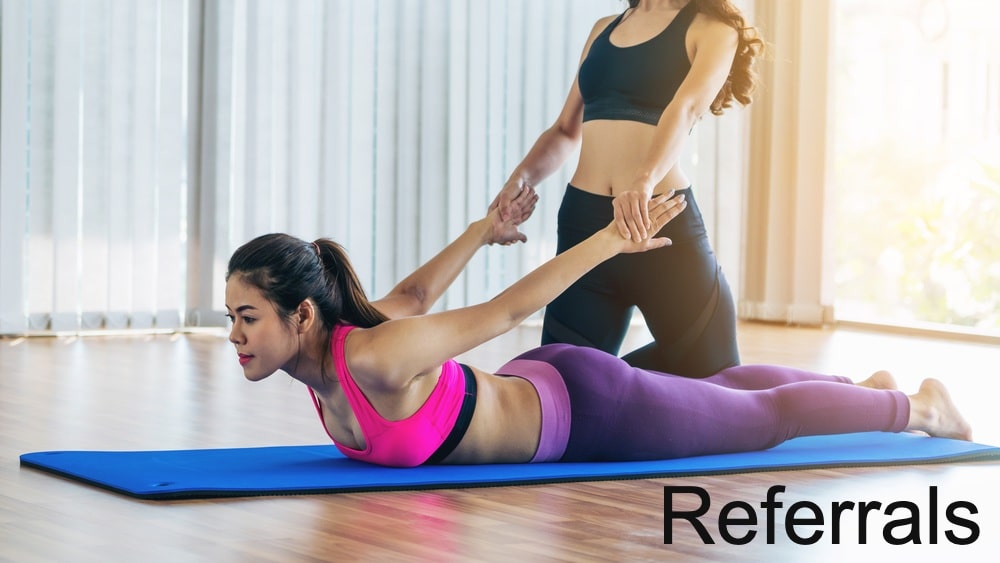 For many professions in the fitness world, referrals can go a long way to ensuring a steady income stream. And Pilates is no different, that's for sure.
The great thing about referrals is that it doesn't take any extra effort on your part. You need to excel at what it is you do! Help a client; without a doubt, they will mention your name to their friends and family.
For a freelance Pilates trainer that works with others one-on-one, referrals can be your bread and butter, that's for sure.
But there is another form of referral that we need to touch on. And that's linking up with other businesses in the fitness and health industry. For example, you could partner with personal trainers, nutritionists, health coaches, massage therapists, and physical therapists.
And it's a two-way partnership.
They refer clients to you who think you can help, and you do the same in turn. Having a referral system like this setup is sure to be an excellent boost to your overall income.
Host a Pilates workshop.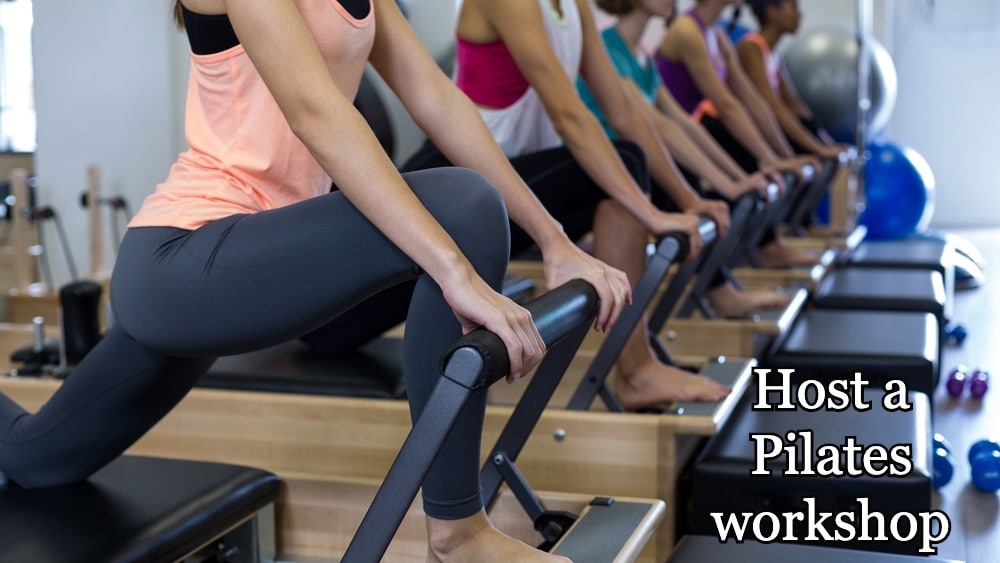 While Pilates is popular in the United States, with around 10 million people practicing it regularly, you always want to introduce new people to it.
There are many ways to do this but by hosting a workshop, you can show those who attend exactly how they can benefit from Pilates. For example, these can be held a few times a year in a local community center.
Charge a nominal fee or even host it for free to generate interest. It's about getting people through the door and showing them how to benefit from a Pilates workout.
Don't forget the corporate world.
Companies increasingly realize that keeping employees fit and healthy means less absenteeism. And for that reason, they hold all sorts of health and fitness workshops, some of which become a regular weekly occurrence.
Why not approach corporates and offer to hold a free Pilates course to generate some potential new clients? If all goes well, the company may ask you to return regularly to host Pilates classes for their staff.
Think outside the box!
While teaching Pilates is always going to be your main source of income, you can put your overall knowledge to good use in other ways.
One of the first is writing. If you have some writing ability, you can consider submitting pieces to a specialized Pilates magazine. Often, if these are published, you will get paid for them.
Who knows, if that's a success, you may even write an e-book one day!
Last Words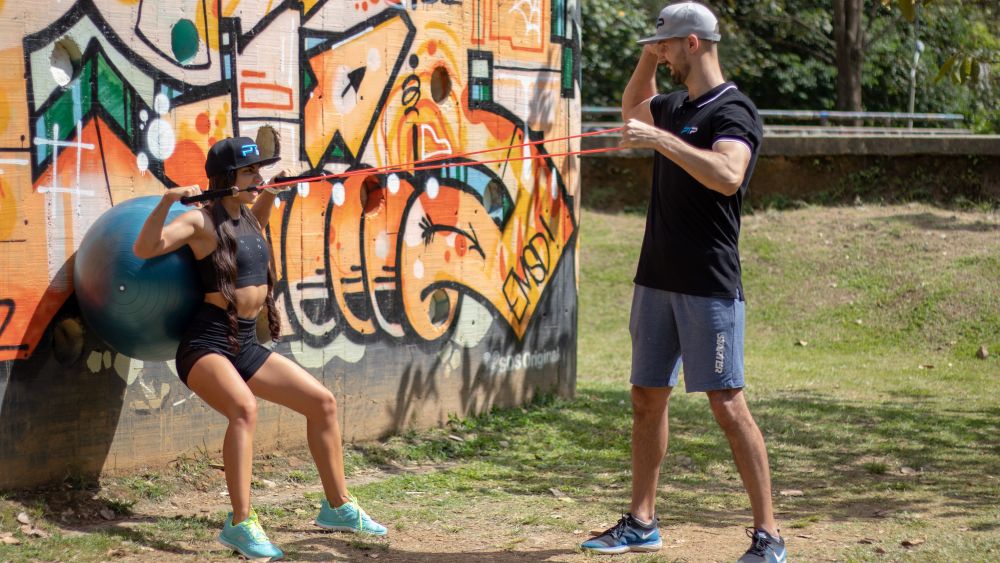 So I hope this blog post has helped you with everything you need to know about a pilates instructor's salary, and now you have a better idea of what it is you can earn once you are certified.
So many factors influence this, and it's a forever-changing market. But having said that, the demand for Pilates instructors continues to grow as more and more Americans turn to this form of exercise.
The other point that I want to reinforce is that you have a scope for more income streams. Never be static; always look for more opportunities. And as a Pilates instructor, there are many of them, as I have highlighted.
Thanks for taking the team to read through my blog post. As always, please make sure that if you have any queries, leave a comment below, and I will ensure that I get back to you as soon as possible with an answer.
Go well!
Reference