Online personal training is the next step in the evolution of the fitness industry.
Although every personal training certifying body out there is promising to give you the tools and know-how to train online, no one stands up against the OG of online training certification.
The Online Training Academy, created by Jonathan Goodman of the PTDC, is the go-to online training certification for those looking to take their business from busy burned-out floor trainer to full-time online fitness professional.
The Online Training Certification isn't a personal training certification, so if you plan to do some in person training you'll still need one of these.
You can check out options like the NASM CPT or ISSA CPT.
With years of online coaching experience, Jonathan Goodman brings you a streamlined course on how to build an online fitness business.
In the Online Trainer Academy review, we will go over the following.
By the end of this review, you'll know everything you need to know to make an educated decision on whether or not the Online Trainer Academy is right for you!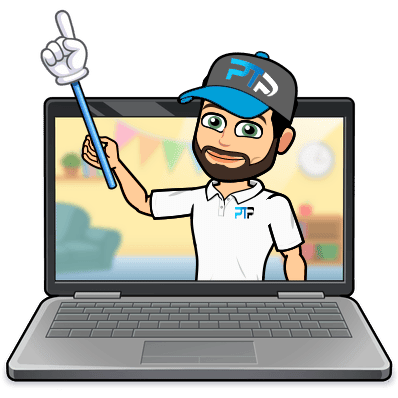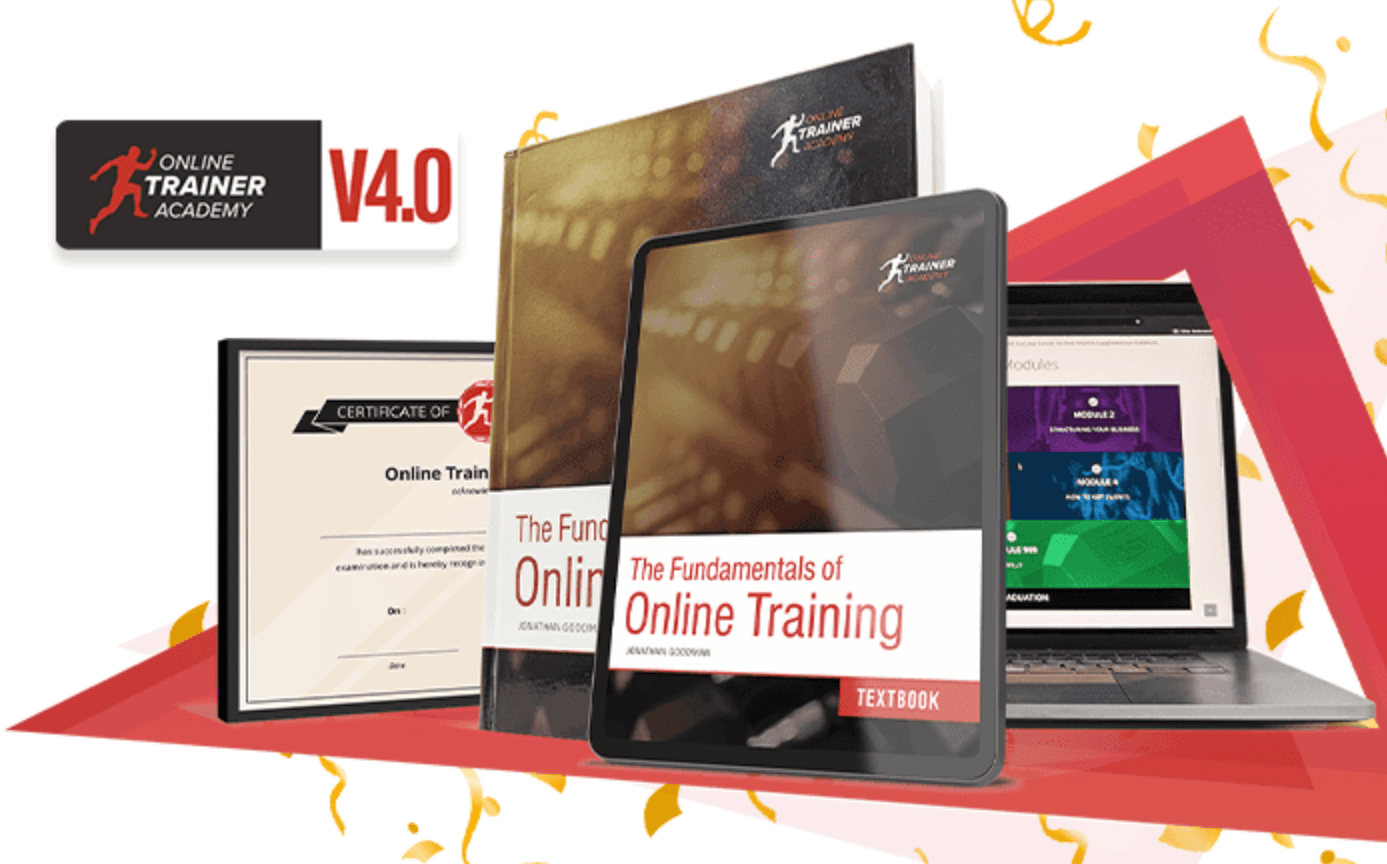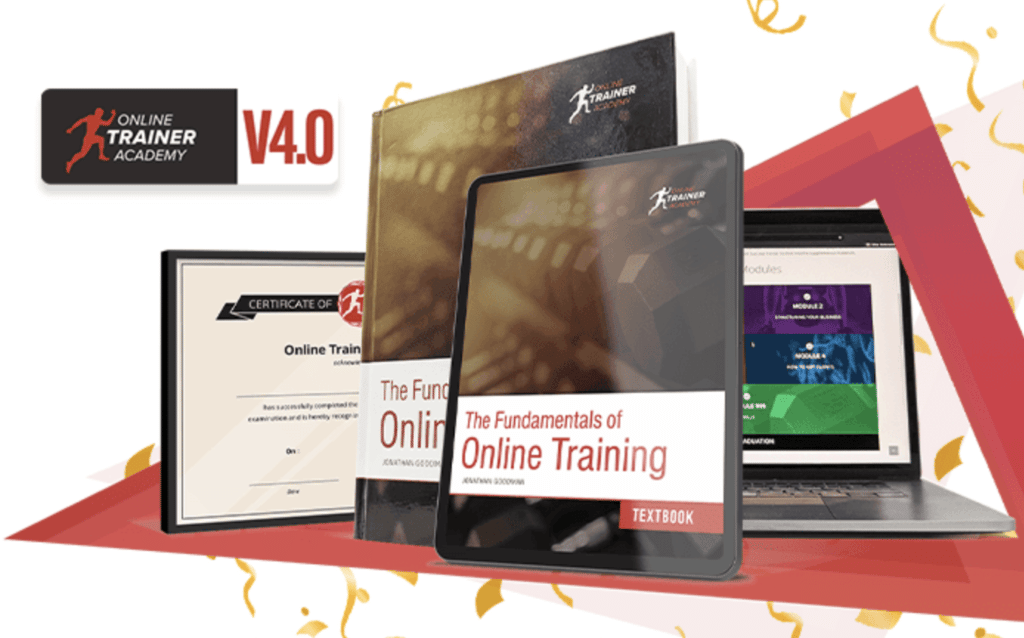 What is The Online Trainer Academy?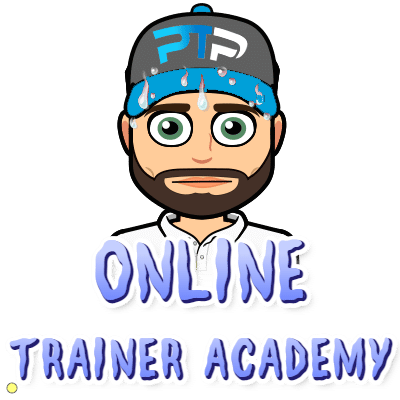 You want to know what the Online Trainer Academy is all about, let me show you below.
OTA stands for the Online Trainer Academy. Now in version 4, the Online Trainer Academy is one of the top online training certifications on the market.
Created by Jonathan Goodman from the PTDC, the Online Trainer Academy is more than just a certification.
The Online Trainer Academy actually started as the $1K Extra Approach, which promised to deliver its members at least an extra $1,000 per month.
Fast forward a few years, and the Online Trainer Academy has exploded into a full-on mentorship for its members.
Unlike the new craze of online fitness mentorships, the Online Trainer Academy has coaches with years of online training experience.
No longer will you pay well over $5K for a "fitness guru"; instead, you'll get sound and actionable advice from someone who was in your shoes.
The Online Trainer Academy provides you with a portal, your Hub of information, and where you'll spend most of your time.
Depending on how much you invest, you will get a textbook that follows along with the membership portal, and then you'll complete the exercises in the portal.
The older versions had a workbook, but the newest version has transitioned everything online.
This helps decrease the overall cost of the course!
The certification is broken into four modules, with an additional fifth bonus module that will build off the foundation you created throughout the first four.
1. Module 1: Getting Started
2. Module 2: Structuring Your Business
3. Module 3: Taking Care of Clients
4. Module 4: How to Get Clients
5. Bonus Module 999: Skills
Each of these modules follows the textbook as well as video lessons throughout.
You can begin to craft your business plan and structure in the student exercises section, taking your plans from bar napkin to structured business.
In the newest version of the Online Trainer Academy, they'll provide you with a study plan developed after you take an entry quiz to see where they think the best start for you is.
This way, if you've had some success as an online trainer before, you won't need to start at the beginning.
Jonathan Goodman is a personal trainer, author, and entrepreneur who runs the Personal Trainer Development Center website.
As a personal trainer himself, Jonathan Goodman decided to use his writing skills and impact for personal training development creating better personal trainers in the industry.
He's the author of the best-selling book Ignite the Fire: The Secrets to Building a Successful Personal Training Career and many others.
After years of writing online about becoming a personal trainer and being an online trainer himself, Jonathan developed a team that has put together the Online Trainer Academy.
As a leader in the fitness industry and specifically the online personal training space, Jonathan Goodman knows his stuff!
He and his team have put together one of the most comprehensive online training certifications, guaranteed to get you $1,000 in your first 90 days.
Benefits of Choosing the Online Trainer Academy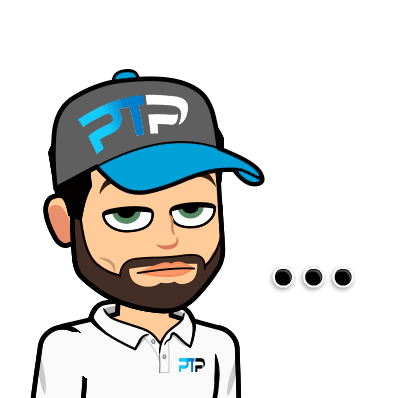 Here, I'm going to show you the benefits of choosing Online Trainer Academy.
Numerous benefits come with the Online Trainer Academy. This isn't just some fancy online course.
The Online Trainer Academy has created successful online trainers and isn't full of any quick fixes for your business.
With the Online Trainer Academy, you're getting more than just sales scripts and funnels. You're learning how to create a sustainable business and create a name for yourself in your market.
Unlike "high-ticket coaching," the Online Trainer Academy, you'll build a business that suits your specific needs rather than someone else's framework.
You'll also receive a coach or mentor who is always available to talk and help you along your journey, even after you passed!
Exclusive PTP Offers



Gold Standard Cert

Most Popular Cert

A Good Option

Best Study Materials

Best online PT course

The Top PT Software

The Online Trainer Academy understands how valuable a mentor can be, so they provide you with access to all of their coaches for life!
That's more than any "high-ticket" coach can give.
Among other things, the Online Trainer Academy provides over 45 different legal forms that you can use for your business, sales and talking point scripts that are designed to get clients, and various templates you can use for the smaller but important areas of your business.
Once enrolled, you'll have access to 30 days' worth of social media content to help you get the word out and top answers to common questions about online training.
Not only that, but there are close to 100 video lessons that Jonathan Goodman filmed, where he takes you through various situations you may come across as an online trainer.
As you can see, there are more benefits than just having the greatest online training certification.
The OTA really delivers on their overall value and provides a community for you to learn and thrive in.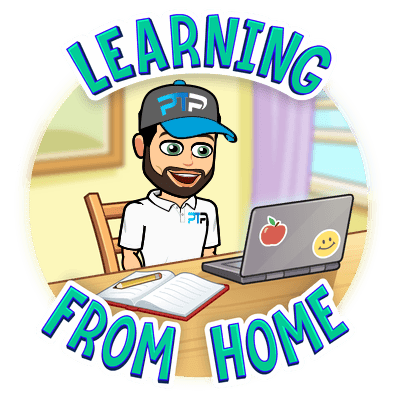 In this segment, I'll show you what you will learn from the Online Trainer Academy.
As I said above, there are four main modules with a bonus fifth module that provides lessons on different skills you'll need to thrive as an online trainer.
Your foundation as an online trainer is set in module one.
Jonathan Goodman walks you through the online trainer portal, textbook, and workbook, to ensure you get the most out of this certification.
You'll learn where you stand as an online trainer, the message you present to your audience and potential customers, and how much money you can expect or intend to earn as an online trainer.

Module 1 – Getting Started
Module one is really the backbone of the entire certification.
Without this module, the rest of the certification wouldn't be as efficient.
So, if you're brand new to online training, make sure you don't skip this!
Module one will set you up for success for the rest of the certification and your start as an online trainer.
You'll learn the principles OTA sets to guide you through the process, your freedom number, how to name your online training business, and the new daily habit that will get you new clients!
If you're already somewhat established as an online coach, you may not need this module, but some of the lessons are still important and can change your business for the better!
Module 2 – Structuring Your Business

Module two includes all of the nitty-gritty information you need to set your business up.
Without this, you may not even have a business.
Please don't skip this module! It will reduce the headaches later down the road.
It won't be the most fun module, but it will reduce the likelihood of anything negative happening on the business side of everything.
In this module, you'll learn all of the legalities of owning a business, you'll create a welcome package and application form, and most importantly, how you should price your online training options!
Module 3 – Taking Care of Clients

Module three dives into client care.
Obviously, as an online trainer, you'll need to take care of your clients, so the OTA lays out their best practices!
Lessons include motivational interviewing, assessments, keeping clients accountable, and using your current clients to get referrals.
Learn how to create systems of success for not only you and your business but for clients as well!
Module 4 – How to Get Clients

If you're a new online trainer, module four (along with module one) will be essential for you and your business.
Module four is where you'll learn how actually to get clients!
Follow along as Jonathan Goodman takes you through a few of his methods and philosophies on getting and keeping clients.
Learn the fundamentals of email marketing, attracting the right clients for you, and how to put together contests for easy client attraction.
Module four is one you'll want to go through a few times to get every bit of knowledge out of it.
Module 999 – Skills


Modules one through four will give you everything you need to get started and sign up your first few clients.
This will be what 99% of you truly need.
Once you're established, the bonus module will build off the foundation.
The bonus module allows you to pick through different skills that will build your businessand improve your online marketing.
Lessons include the sales calls, how to write effective sales copy, and how to get client testimonials.
These aren't always necessary in the beginning.
The first four modules will get you the clients needed to establish systems and routines.
But once you're comfortable, this bonus module will take your business to the next level.
Bonus Mini-Courses
Along with the bonus skills module, the OTA gives you access to four extra mini-courses.
These include:
· Finish what you start
· Instagram mastery
· Create or improve your website
· An introduction to Facebook ads
There's valuable information in all of these courses, but make sure you go through the actual content first.
There's no need to get ahead of yourself!
These modules are all self-paced, so take your time and soak in the information.
Work through these modules with your workbook, and by the end, you'll have yourself a fully functioning online business!
What You Get Once You Sign Up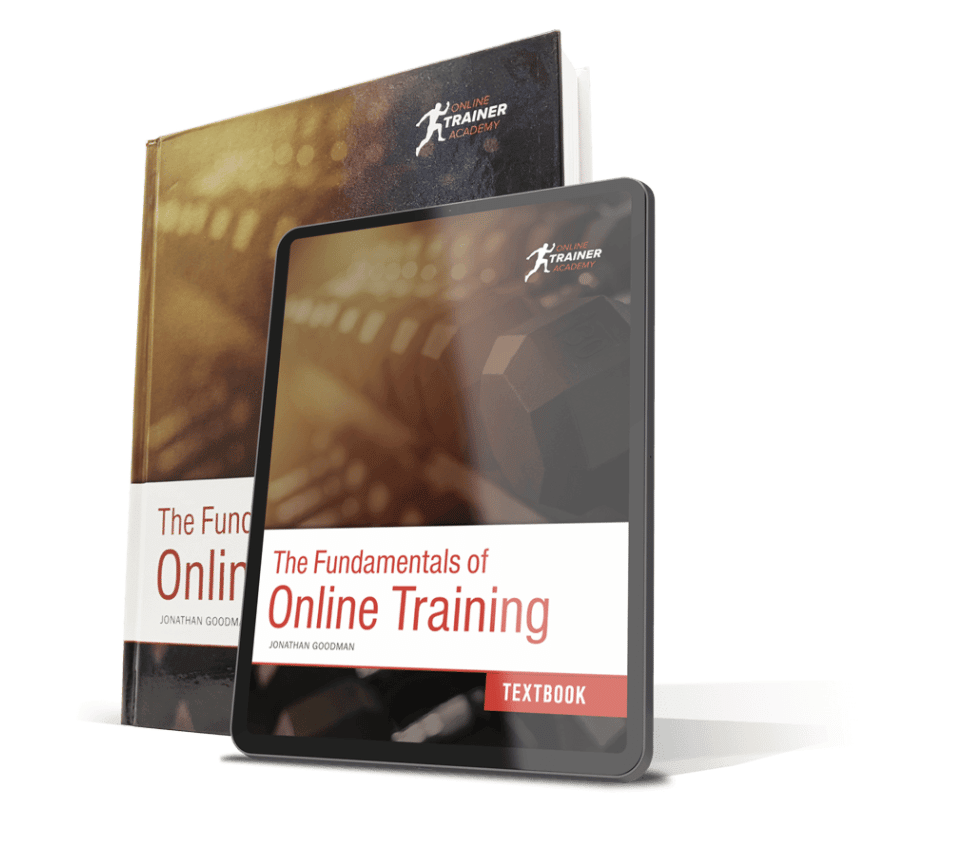 Unlike most certifications, the Online Trainer Academy doesn't just stop with education.
Along with the online portal, students enrolled in the Online Trainer Academy receive a mentor.
These mentors have been online coaches and have gone through the level one certification.
These mentors are there to get you set up with an initial phone call to go over your goals, questions and hold you accountable for going through the course.
Even more, than that, once you graduate, you still have access to not only your mentor but the rest of the OTA coaches!
While writing this review, students have access to 10 different mentors they can speak with.
Exclusive PTP Offers



Gold Standard Cert

Most Popular Cert

A Good Option

Best Study Materials

Best online PT course

The Top PT Software

Each one of these mentors presents different strengths and experiences, giving you access to so much wisdom.
Along with an intro call, you'll have access to your student portal, which provides you with everything you need from your digital textbook and course modules.
Once you sign up, you can start learning that same day!
In the newest 4.0 version, the OTA will also provide a custom study plan to ensure you get the most out of this certification, and they're now providing 30 days' worth of social media content free!
Although the freebies are nice, one of the best things about the OTA is the community you get.
You'll be able to join the Facebook group for current students and grads, where you'll be able to get actionable advice from your peers, trade information, and develop friendships and accountability.
Online training is a difficult space to navigate, so having the support of people currently working through the process with you is always nice.
Cost, Study Materials, and the Exam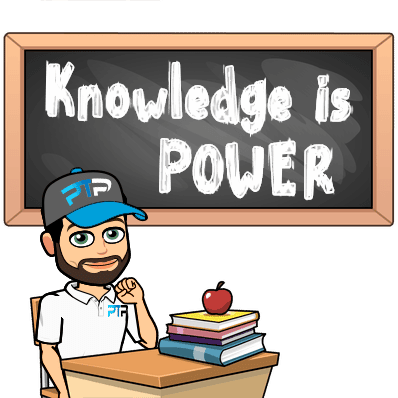 Join me below as I explain the cost, the quality of study materials, the exam requirements, and the pass rate.
The OTA isn't like college courses that will charge you an arm and a leg for course materials and information.
The cost of the Online Trainer Academy has never been better!
What used to be over $2k can now be bought for under $1k.
One of the best parts is that enrolment is always open.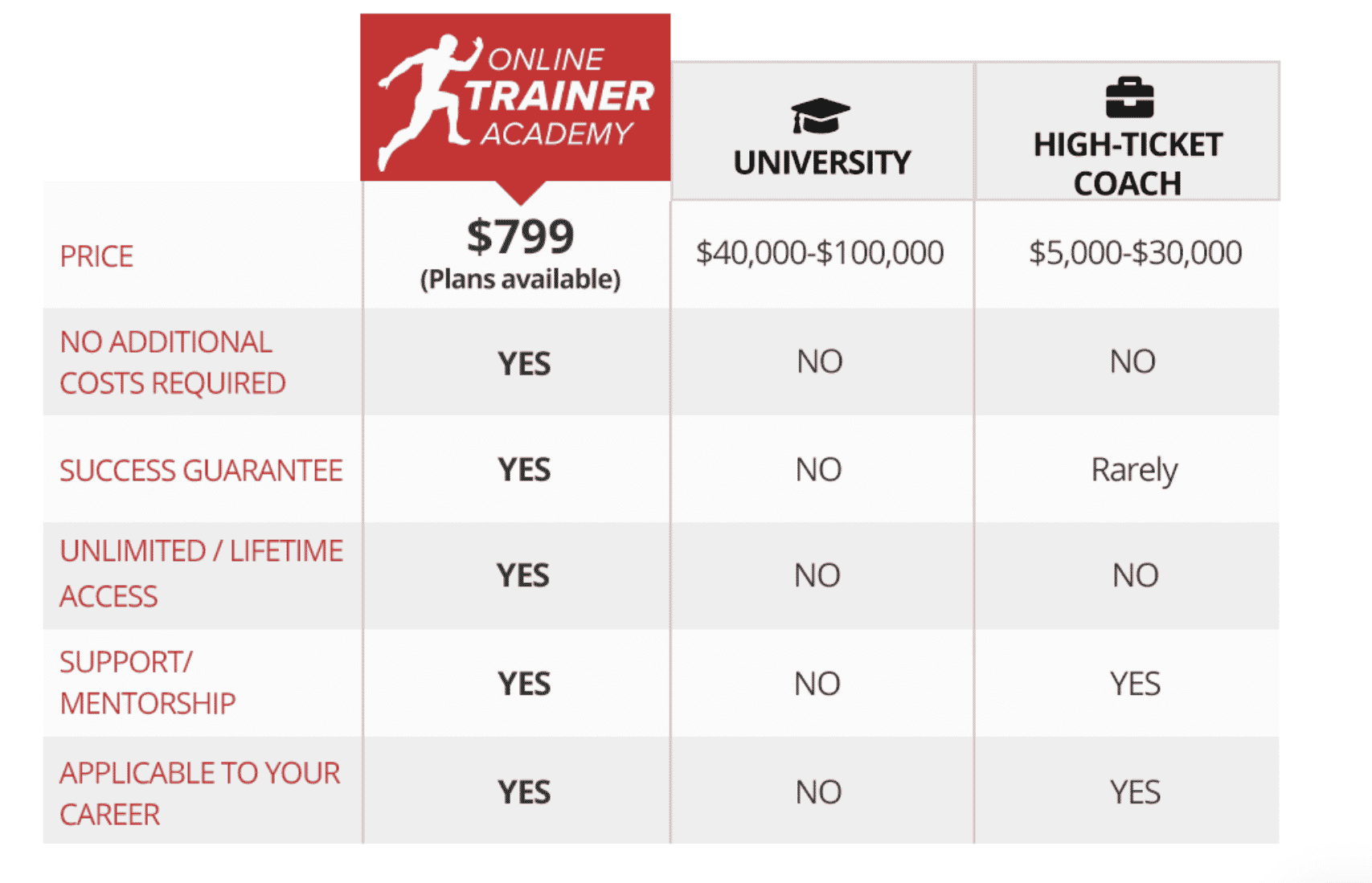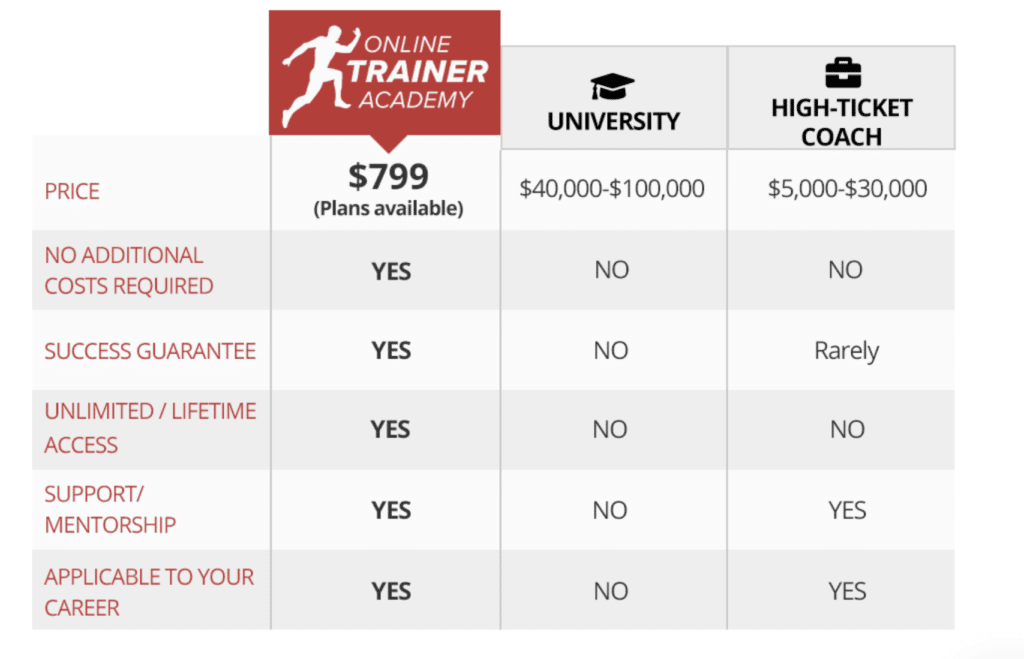 There are two pricing options.
If you have the funds and can pay all at once, your rice will be $799.
If, however, you're on a tighter budget, you can opt for the monthly price of $87/month for 12 months.
This will bring your overall cost to $1,044, but it can be manageable for those on a stricter budget.
Whichever option you choose, nothing changes. You still receive all of the benefits, support, and information!
In this, you get access to your digital portal, which can access all of the videos, lessons, and downloadable information to make your business successful.
You also have the ability to download your textbook to get started right away.
However, if you are interested, you can still order a physical copy of the textbook.
When writing this, there is no price for the textbook, but it is always nice to have a physical copy to take your education on the go!
Now, to call yourself a Certified Online Trainer, you will need to pass their exam.
At the end of every module, you will be given a short quiz to ensure you understand the information.
Once you finish module four, you'll be prompted to take the certification exam.
The exam consists of 60 questions, and you'll need a 75% score to pass. You'll also be given an hour to complete the exam.
If you do not get the needed 75%, you can pay an additional $50 to retake the exam.
Once you pass the test, the OTA provides you with banners to use on your social media and website to promote that you're a current certified online trainer!
The Online Trainer Academy also provides a guarantee, where if you put in the time, effort, and work to get clients and don't make $1k in your first 90 days, they'll provide you with a full refund.
Unlike most certifications, the Online Trainer Academy believes in the value they provide you.
Pros and Cons of the Online Trainer Academy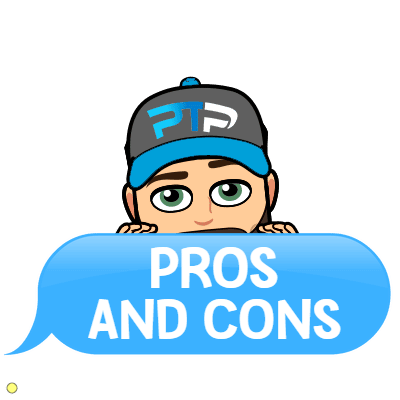 This section outlines the Pros and Cons of the Online Trainer Academy.
Backed by experienced professionals
It Will help you develop systems and structures for your business
Free content to help you get started today!
Lifetime access to mentors and coaches
Access to community Facebook group
Decreased enrollment price from past years
Guaranteed success
Buyback your time!
Plenty of faqs to keep you moving forward
No more physical workbook included
Self-paced and no deadlines
$50 fee to retake the certification exam
It's recommended you have experience training clients in person
No information on SEO
From Personal Trainer to Online Trainer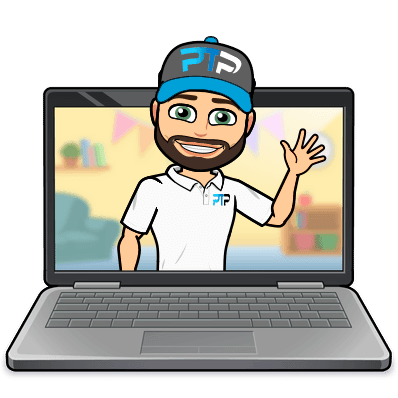 Join me as I show you how to transition from a personal trainer to an online personal trainer.
If you're looking to become an online personal trainer, the Online Trainer Academy will be your best resource to do so.
Online fitness "gurus" who will look to enroll you in their high-ticket multi-thousand dollar 90-day programs and will only help you develop funnels.
While the Online trainer Academy provides the resources, experience, and background to help you develop a sustainable online training business.
Going through this course really opened my eyes to how important systems and structures are in developing your business.
The OTA provided me everything I needed to do so.