A challenge for trainers today is to set themselves apart and find ways to provide added value, and eFitnessTracker gives easy ways to do this in a fast and efficient way. eFitnessTracker keeps the trainer's schedule organized with an easy way to set clients up with workouts and food plans. And for branding, trainers will get a personalized site set up for them with easy ways to update on their own and represent themselves online.
The menu at the top of this page will answer any question related to personal training that you have. If you have any questions, don't hesitate to leave me a comment here (I'll respond within 24 hours). Also, visit the home page for the most recent and popular articles.
That's how Robert D. Krzyspiak of eFitnessTracker would present their product in a nutshell.
As a certified personal trainer, I know first-hand that keeping up with all your clients can be a daunting task, especially when the business starts to grow.
You always want to know what routine they are on, what their meal plan looks like, how they are progressing, stay on top of your schedule once the business grows."
Efitnesstracker.com is a web-based app which allows you to keep track of all your clients in one place. Everything's online, so you can access it from any laptop or desktop by using your credentials. I have been looking at the application for the past couple of weeks now, and I decided to do a little review on it.
So in case you guys are looking into investing in a tool to help you manage your clients effortlessly in a organized manner, you may want to check this out.
Layout & Design
Getting started with eFitnessTracker is easy and straightforward. There's a left sidebar which lets you navigate quickly through the slightly thick and complex application.
There are numerous subsections for each of the five different sections (6 if you count the "Help" section), every one of them with a lot of options, menus, and sub-menus.
There wasn't one thing I couldn't find that I would've wanted. So that's a huge plus right off the bat. They have thought of everything you could need and put it all within this program.
The downside is that it can be a little overwhelming and intimidating at first. Even though you can quickly navigate through all the different options, it still took me a while to get used to it and learn where everything is. That can be expected with any new expansive program such as eFitnessTracker
As far as the design goes, it feels a bit old school to me, but I like that. Nothing fancy, just practical and concise.
Exclusive PTP CPT Offers



Gold Standard Cert

Most Popular Cert

Best Study Materials

A Good Option

A Good Option

Best CPT for you?

Looking at different sections, here's what you'll find.
Locker Room
This is where you can complete your profile and set your preferences, such as if you want to share your workout plans or diet plans with your friends or what information you would like to get by email each morning. It could be your schedule or maybe the list of clients that don't have any workouts on their schedule.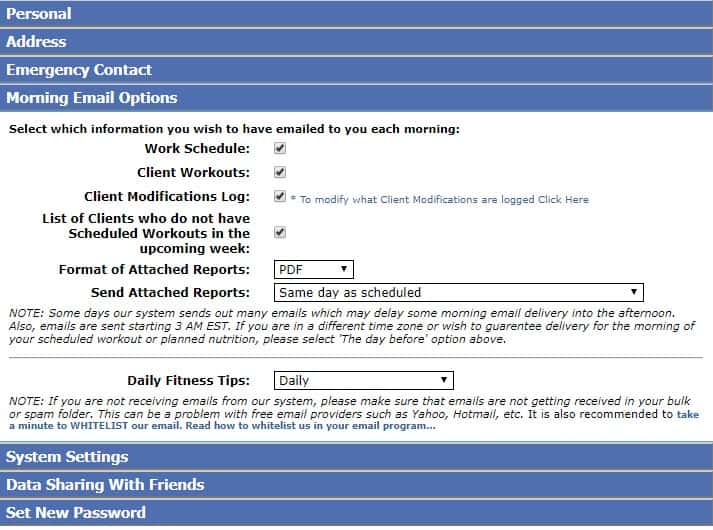 Here's how the Locker Room sub-menu looks like.

But most importantly, this is where you can add clients and notes to your calendar and look at exercise and nutrition progress reports.
I liked how powerful and in-depth the reporting tool is. There are tons of different types of reports you can run just by clicking a button, and you can select from different workout plans or even have it broken down by muscle group and exercise.
With eFitnessTracker, you get access to a pretty powerful reporting tool that will save you a lot of time managing clients and allow you to analyze and make decisions to adjust the workouts or nutrition promptly.
Admin
I didn't look that much at this section since I didn't build a website from scratch by using eFitnessTracker, so don't have any hands-on experience with using the Admin back end.
But this is where you integrate the application with your trainer website. From the looks of it, you can choose between a few different templates and layouts, add your social media buttons and even advertisements if you're interested in doing that.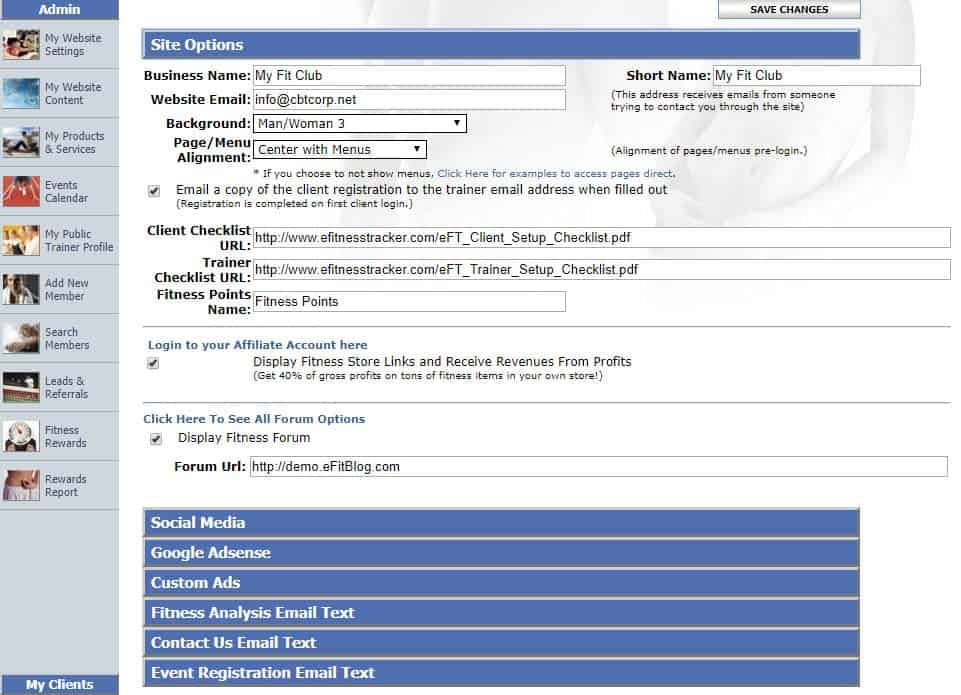 My Clients
This is where you get to view and manage your clients. You can activate or deactivate them, or you can set a client's membership level. A membership level determines what features the client has access to.
There are two default membership levels called Power User and Basic User, but you can create your custom membership level links. Power User shows all features. Primary User shows less advanced features and concentrates the client to enter their information into the Calendar.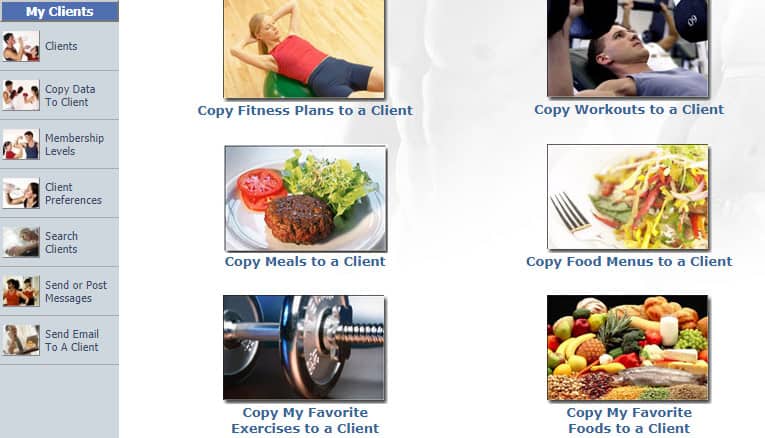 When you create different membership levels, you can select what features your client can access. For example, you can turn off the client's ability to edit scheduled workouts, remove the Food Menus or even make the entire Nutrition section invisible.
This is an excellent feature as the depth of services I provide on a client to client basis vary, and this allows me to make those adjustments within the system so the client sees the appropriate information and nothing more.
Exclusive PTP CPT Offers



Gold Standard Cert

Most Popular Cert

Best Study Materials

A Good Option

A Good Option

Best CPT for you?

Next, you can quickly set up your client's profile by adding workouts, fitness plans, meals and menus that you have already created in the back end of eFitnessTracker. You do that by just copying the specific info to their profile and then switch to their profile to make the tweaks you need to make the pattern more customized to their needs.
I found the "Copy Data to Client" sub-section to be very easy to use, very intuitive and fast. Love this feature!
Another sub-section that I like is the one called "Client Preferences." Here you can view the people you are training and what kind of schedule and hourly rate you have for them.
Next, you have many different options to communicate with your clients via notifications or emails that you can send manually or automatically through eFitnessTracker.
Exercise
I was blown away by how thorough this section is. I mean, there are exercises in there that I didn't even know about. This exercise database is huge. Every exercise comes with detailed instructions, as well as photos and video clips that show how to perform the movement.
You can create customized exercise workouts that are designed for specific goals and needs. Workouts are divided into two categories: weight or cardio programs.
Once you have selected the category, you can add the specific exercises to your workout. You can also choose an activity at the bottom, enter in the information about Sets, Reps, Weight, etc. (or Time, Calories, Distance, etc. for Cardio) and click 'Add.'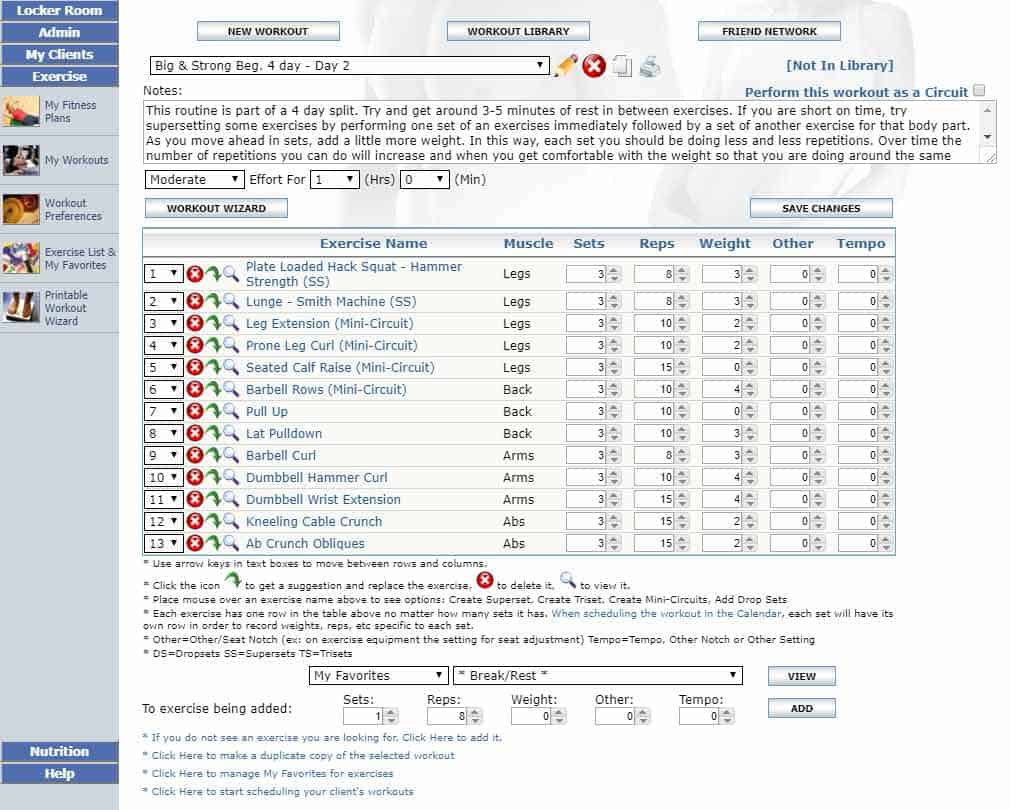 Now the cool thing about this section is that once you have set up your fitness goals (from the Locker Room menu), your metabolic rate is set automatically. This is then used to calculate the calories burned when performing an exercise automatically.
You can set a "weight" workout to be 'Performed as a Circuit,' When you select this option and add this workout to the Calendar, the first exercise set will be followed by the next exercise set.
The next exercise set then follows this, and so on, until the last exercise in the workout and then the next available exercise set from the top will be started.
So, for example, if you have a workout that has two sets each of chest press, incline press and then decline press, then the circuit workout will be set up as chest press set 1, incline press set 1, decline press set 1, chest press set 2, incline press set 2, decline press set 2.
Typically such circuits have at most 30 seconds rest between exercises to keep the intensity level higher.
So basically, you can get really in depth with designing new workout plans without too much tinkering.
Lastly but not least, you can print or email the workouts you have developed under the "Printable Workout Wizard" sub-section in case you or your client prefer paper over digital.
Nutrition
Next, there's a section where you can manage your foods.
You have the option of creating a variety of different types of meals made up of various foods. By entering typical meals that you eat, this will help you to add your daily nutrition to your food diary quickly.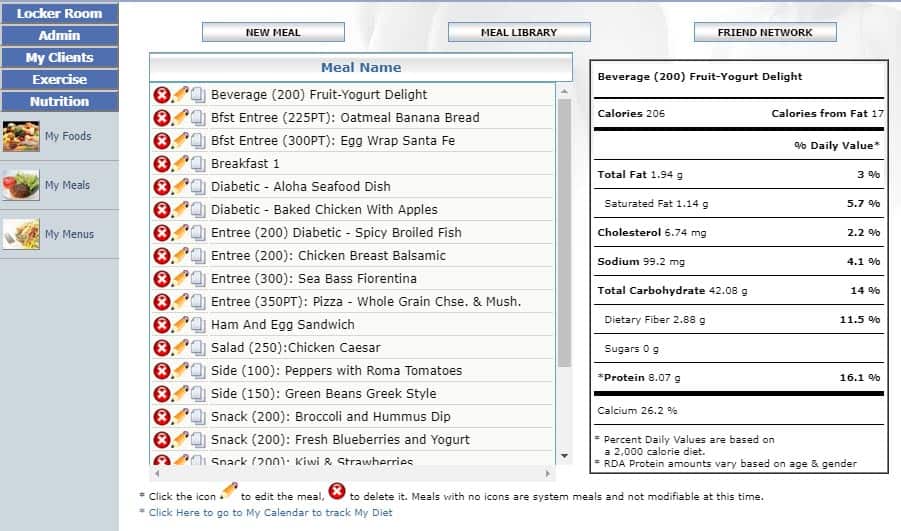 Under My Menus sub-section, you will find a quick way to add a typical food day for your client's Food Diary. You can set up a menu for 2 or 3 days, and your client can rotate those days by applying them to their Food Diary under their account.
Or you can create a lunch menu that they can eat every weekday. Lists are used to add many food items quickly by applying an already created menu to the Food Diary.
It took me a while to figure this whole process out, but if you want to keep track of your diet, you will need to go the Calendar, under the Locker Room sections and click on the 'add' icon to see the menu options for adding data to the Food Diary.
Once I figured out how everything works, it's a pretty useful feature.
Conclusion
So that's pretty much what eFitnessTracker does, in a nutshell. I know I've probably just scratched the surface of the full capabilities of this tool, but that should serve the purpose of this review to get you a better idea of whether this tool could be helpful to you.
I think it's a quick and economical way of adding value to your clients. I love the reporting capabilities and the Exercise section in particular. The user interface is primary but practical, and the options provided to integrate the program within an existing website seem sufficient.
Overall, this program provides excellent value at a reasonable cost. As a personal trainer, this program will save you a lot of time and headaches, especially if you don't have a perfect client management system already in place.
Having this program can be a differentiator that can set you apart from other personal trainers who will ultimately grow your business both in the number of clients and the ability to charge a higher rate.
Be sure to check them out at eFitnessTracker.com!