Hello everyone, and welcome to PT Pioneer.
My name is Tyler, and I'll be your guide as we delve into the world of professional health and fitness.
My main aim is to help people like you gain entry into the fitness industry or progress successfully if you're already part of it.
One way I can help you achieve that is through this nifty quiz. It will help you discover the right certification to take to qualify as a health and fitness pro, your first important step.
In this article, I'll be tackling the Corrective Exercise Specialist Salary. I'll break it down using the following key points:
With that said, let's get right into it.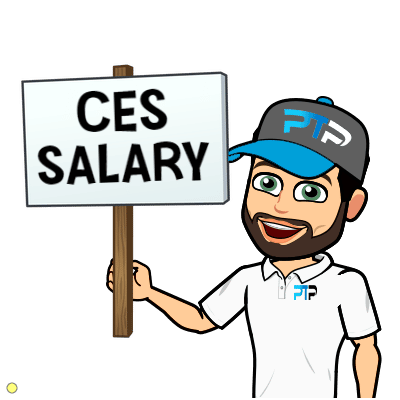 What is a Corrective Exercise Specialist?
Before we go all in, I'd like us to take a quick glance at what corrective exercise is.
I've gone over the definition in a full, in-depth article, but as a refresher, let's take a quick look.
Corrective exercise, as the name suggests, is aimed at assisting individuals with improving physical function through analysis of exercise physiology and kinesiology.
As a fitness specialist, you achieve this by identifying imbalances, deviations, and deficiencies in the biomechanical function of the human body, then addressing them with the right exercise program.
Corrective exercise is useful for many, from top-level athletes all the way to general, sedentary members of the population.
Many of the principles and practices under the job description of corrective exercise overlap and coincide with physiotherapy and strength and conditioning practices.
What Factors Influences a Corrective Exercise Specialist Salary
When it comes to income and salary, many variables influence how much you can earn as a corrective exercise specialist.
Let's look at these factors and unpack how they influence your income odds.
1. Location
Location is probably the most influential factor when considering how much you can earn in a profession.
It's common to have people relocate from one area to another to score a better-paying job in their chosen line of work.
Migrant workers are amongst the most common international travelers, and it's usually people following the money.
The location has a few sub-factors to consider when it comes to location, especially within the health and fitness industry.
Population Health
Population health is an important metric when trying to determine income prospects in healthcare or a fitness-related field.
A healthy population means one that invests in the health and fitness sector, which in turn means your prospects and opportunities are good when it comes to income.
Health, in this regard, is observed in two ways, disease prevalence and access to healthcare and wellness infrastructure.
When it comes to disease prevalence, the best measure is related to metabolic disease.
That's because the metabolic disease is usually influenced by lifestyle.
Obesity prevalence is an example of a disease statistic that paints a picture of the lifestyle choices a community makes in a general sense.
A high obesity rate indicates a population with poor nutritional habits and a limited affinity towards physical activity.
This also means a population with a relatively low investment towards health and fitness services like the ones you offer as a corrective exercise specialist.
On the other hand, a healthy population means one whose general habits lean towards more consciousness and investment in healthy habits and activities.
That means your services as a corrective exercise coach are more exposed to an enthusiastic market.
In this regard, your best shot at success and a lucrative outcome is to work in a location with a considerably healthy population.
A good example would be Denver, Colorado, known for being one of the fittest cities in America.
When looking at access to healthcare and wellness infrastructure, you can already imagine how this would affect your salary prospects.
The more access people have to health and fitness facilities, the more you'll have access to potential clients and customers.
This is especially true with regards to gyms and fitness centers.
These facilities also present job opportunities since they employ qualified professionals such as corrective exercise instructors.
Population Size
Population size is a determining factor in how many client prospects you will have access to.
The more people in the location you operate from, the better your odds of having a lucrative career.
Exclusive PTP CPT Offers



Gold Standard Cert

Most Popular Cert

Best Study Materials

A Good Option

A Good Option

Best CPT for you?

Fitness coaching is a numbers game, so having access to large numbers of people is an optimal scenario.
When it comes to population size, you're looking at the total number of people in a given area, such as a city or country.
However, population density is also important to consider.
Population density is the number of people per unit of physical area, usually measured as people per square mile.
Population density can be seen as more important than the total population.
That's because being in a small area with a relatively large population (high density) gives you more opportunities than being in a large area with a relatively low population (low density).
On the flip side, densely populated areas are often inhabited by lower-income members of society, while the inverse is commonly observed with sparsely populated areas.
It's all about striking a balance and figuring out what the economic makeup of an area is, which brings me to the next point.
Local Economy
The local economy plays an obvious role when it comes to factors that influence salary.
A weak economy won't support high wages and vice versa, it's simple enough to point out. Still, it helps to understand which aspects of the economy contribute to better earning prospects.
Firstly, does the local economy support businesses and opportunities in the health and fitness industry.
It's not uncommon to have a brimming economy that still has certain industries and sectors underrepresented.
This can be determined by the state of the population's health, with special attention to things like health and wellness infrastructure.
Another economic factor is the cost of living.
Earning a decent amount of money is one thing, but how much of that money will you ultimately need to surrender to living expenses and taxes?
2. Credentials
Credentials are the main area of focus here at PT Pioneer, so best believe I strongly encourage optimizing your resume when it comes to qualifications.
When it comes to corrective exercise, credentials are key. Other areas of health and fitness practice don't have such a stringent requirement for certification, although I highly recommend you get qualified.
However, when it comes to corrective exercise, you have to be considered knowledgeable before even thinking about instructing.
That's because you are engaging with a potential safety risk.
Your clients aren't simply trying to add muscle or lose weight; they want to fix their body mechanics.
Think of it this way, it's easy enough to give a car a new paint job, but if you want t increase its performance, you'll need a deep understanding of automotive mechanics.
In this sense, your credentials are as much an indication to your clients as they are to yourself.
Credentials also offer different values based on their level.
A college degree certainly holds more weight than a certification or diploma.
And within the realm of higher learning, college or university degrees have a hierarchy of value.
A bachelor's degree holds less value than a master's degree, which in turn holds less value than a Ph.D.
Obtaining a degree in a sports medicine or exercise science-related field can boost your credibility both with peers and with clients.
Just make sure to carefully weigh out your options before making the jump into a degree program.
The time and financial investment required are hefty, so make sure it's the best choice for you.
3. Level of Experience
Your years of experience play a huge role in how much you can fairly charge your clients.
This is purely based on the value of your expertise and the weight of your reputation.
As with anything, you will gain experience, knowledge, and competence over time while practicing as a corrective exercise specialist.
Your ability to conduct assessments and implement effective corrective protocols will be honed as you progress through your career.
This is something you can place a premium on, but that, of course, depends on the quality of your experience.
What I mean by that is you will need to have a decent track record. No use having stacks of time in the game when poor reviews and controversies mire your career.
Reaping the benefits of your years of experience requires you to manage your reputation and keep a consistent account through a good service track record.
Exclusive PTP CPT Offers



Gold Standard Cert

Most Popular Cert

Best Study Materials

A Good Option

A Good Option

Best CPT for you?

But how much experience does it take to become a top earner?
Well, there's no standard to how long, but a good rule of thumb is once you pass the 5-year mark, you should be looking at boosting your value, and after a decade, you can easily leverage that amount of time for top tier premiums.
4. Job Style
Job style plays an important role in determining income prospects.
But what do I mean by "job style".
I mean the method or status in which you function as a professional.
There are three types of job styles I will address, so you know what you're dealing with.
These are:
Employment
Freelancing
Self-employment/business ownership
Employment is the most common, tried and tested job style.
As an employee, you fill out a specific role within a company's structure.
In the context of fitness or corrective exercise, your job title range from an entry-level trainer in a gym all the way to having a managerial or executive role in the fitness business.
Where you land determines how much you make, which will often hinge on your credentials and experience.
Employment is stable and ensures a steady income with benefits in most cases.
Employment also limits the amount of administrative responsibility you will have on the job whether full-time or part-time.
All you need to worry about is showing up and doing a good job.
However, the drawback with employment is that starting salaries often sit relatively low in comparison to other forms of professional engagement.
There are potentials for lucrative income opportunities through promotion, raises, and bonuses, but this will never be your call to make.
Freelancing is another method of operating as a professional.
In this case, you are simply renting out your time and labor on a first-come, first-serve, highest bidder basis.
As a freelancer, you are technically unemployed since you have no defined job status or position.
Freelancing offers immense freedom of choice and the ability to implement your services and pricing as you see fit.
This allows for the opportunity of a lucrative income along with great job satisfaction.
One con when it comes to freelancing is the fact that you will shoulder all administrative burdens, especially when you're just starting out.
That means all legal, financial, and operational responsibilities will require your strict management.
At the same time, being a freelancer means such responsibilities won't be as hefty as they would be within a company structure.
You also don't have a stable and reliable income, especially in the beginning.
Lastly, let's look at being self-employed.
Many people mischaracterize freelancing with self-employment, but the two are quite different.
Self-employment is just the same as regular employment, with the difference being you are the job creator, the company owner, and essentially your own boss.
Self-employment works on the premise that you have established a brand or business, which you then work towards growing and shaping while also earning a living from it.
This can be considered the best of both worlds when looking at employment and freelancing, but it can also be the worst of both worlds.
It can be the best in the sense that you are earning a steady income, with possible benefits as you would as an employee, while also being in control of all professional decisions such as pricing and base salary as you would in freelance land.
It can be the worst since the drawbacks of both employment and freelancing become just as amplified.
How Much Does A Certified Corrective Exercise Specialist Make in America?
Many of you reading this are from the United States, which means your fitness career will likely be based in America.
So when it comes to salary, US-based corrective exercise specialists take home an average of $53,841 per year.
That isn't a pot of gold by any means and is considerably lower than the average earnings for personal trainers,. which are around $62k a year according to salary.com.
With that in mind, I felt it necessary to break down salary averages state by state to give you a better feel of what the industry is like.
| State | Abbr | State Capital | Average Salary |
| --- | --- | --- | --- |
| Alabama | AL | Montgomery | $45,707 |
| Alaska | AK | Juneau | $53,691 |
| Arizona | AZ | Phoenix | $47,688 |
| Arkansas | AR | Little Rock | $43,670 |
| California | CA | Sacramento | $54,598 |
| Colorado | CO | Denver | $49,453 |
| Connecticut | CT | Hartford | $54,840 |
| Delaware | DE | Dover | $51,422 |
| DC | DC | Washington DC | $53,739 |
| Florida | FL | Tallahassee | $46,996 |
| Georgia | GA | Atlanta | $47,753 |
| Hawaii | HI | Honolulu | $55,707 |
| Idaho | ID | Boise | $50,047 |
| Illinois | IL | Springfield | $57,012 |
| Indiana | IN | Indianapolis | $52,289 |
| Iowa | IA | Des Moines | $46,620 |
| Kansas | KS | Topeka | $50,242 |
| Kentucky | KY | Frankfort | $52,552 |
| Louisiana | LA | Baton Rouge | $47,614 |
| Maine | ME | Augusta | $52,520 |
| Maryland | MD | Annapolis | $55,245 |
| Massachusetts | MA | Boston | $60,549 |
| Michigan | MI | Lansing | $54,659 |
| Minnesota | MN | St. Paul | $57,255 |
| Mississippi | MS | Jackson | $47,775 |
| Missouri | MO | Jefferson City | $51,413 |
| Montana | MT | Helena | $45,222 |
| Nebraska | NE | Lincoln | $50,563 |
| Nevada | NV | Carson City | $54,896 |
| New Hampshire | NH | Concord | $57,394 |
| New Jersey | NJ | Trenton | $64,649 |
| New Mexico | NM | Santa Fe | $50,784 |
| New York | NY | Albany | $64,649 |
| North Carolina | NC | Raleigh | $49,016 |
| North Dakota | ND | Bismarck | $51,386 |
| Ohio | OH | Columbus | $53,192 |
| Oklahoma | OK | Oklahoma City | $49,092 |
| Oregon | OR | Salem | $52,917 |
| Pennsylvania | PA | Harrisburg | $57,566 |
| Rhode Island | RI | Providence | $56,426 |
| South Carolina | SC | Columbia | $51,034 |
| South Dakota | SD | Pierre | $48,243 |
| Tennessee | TN | Nashville | $49,307 |
| Texas | TX | Austin | $52,853 |
| Utah | UT | Salt Lake City | $51,070 |
| Vermont | VT | Montpelier | $52,434 |
| Virginia | VA | Richmond | $50,602 |
| Washington | WA | Olympia | $54,301 |
| West Virginia | WV | Charleston | $48,952 |
| Wisconsin | WI | Madison | $52,657 |
| Wyoming | WY | Cheyenne | $43,875 |
Having looked at this table, we can see that the salary range averages vary quite widely.
The top 3 states are New York, New Jersey, and Massachusetts.
Going back to the national average of $53k, you might be wondering why it's so low.
After all, corrective exercise is a specialist field, yet a generalist practice such as being a certified personal trainer garners a higher average salary.
I boil it down to simple economics.
The thing is, the demand for personal trainers is much higher than the demand for corrective exercise specialists.
With considerably lower demand, the earning prospect will naturally show a correlation.
So is there even a point to specializing as a corrective exercise coach?
Sure there is, but the best way to approach working in corrective exercise is as an additional or supplementary service to existing generalist practice.
For instance. If you are a certified fitness instructor or PT, having corrective exercise under your belt might be an asset to your standing business model.
Being a PT who specializes in corrective exercise might allow you to tap into a higher income than just being exclusive to either field
Online Corrective Exercise Coaching
As with most industries, the digital marketplace is rapidly taking over fitness.
Online personal training has steadily become a hot sector in the health and wellness industry, and for very good reason.
Financial transactions, the quality and frequency of media content, and the access, availability, and affordability of reliable internet have all improved in leaps and bounds.
This has opened up many innovations that make implementing fitness online viable and, dare I say, essential.
But corrective exercise is a bit different.
The whole point is to provide hands-on, real-time guidance in a way that addresses issues that may appear subtle and understated without proper scrutiny and monitoring.
Scrutiny and monitoring that isn't quite possible through the remote interface of online coaching.
But you can make it work to a certain extent.
One way is to create information products that educate clients and customers on potential biomechanical deficiencies with solutions and protocols to help remedy them.
This, of course, isn't the ultimate ideal, but the beauty of online fitness is that you can use it as a supplement to your in-person activities.
Corrective exercise is not the most lucrative field in the world of professional fitness, however, being that it is a specialization, it can be leveraged as an added value service to a general business model.
It's one of the best ways to enjoy a sense of reward and purpose since you're helping people improve their lives intrinsically.
I hope you enjoyed this article.
If you have any questions, be sure to hit me up in the comment section below.
Frequently Asked Questions
References
https://www.salary.com/tools/salary-calculator/exercise-physiologist
https://www.ziprecruiter.com/Salaries/Corrective-Exercise-Specialist-Salary
https://www.payscale.com/research/US/Job=Exercise_Specialist/Hourly_Rate
https://www.acefitness.org/fitness-certifications/specialty-certifications/corrective-exercise.aspx
https://lensa.com/corrective-exercise-specialist-jobs/minneapolis/jd/885baea39d687f9bcabe49f4dfb778cc
https://www.salary.com/articles/how-to-become/how-to-become-an-exercise-specialist