Hey everyone, and welcome to another PT Pioneer career review article.
This time I'm going to be looking at personal trainer jobs in Arizona.
For this, I'll supply data and statistics concerning personal trainer jobs in Phoenix, Mesa, and Tucson since these are the major cities with populations above 500k.
I'll also provide insight on how to become a personal trainer in Arizona by looking at personal trainer certification/training programs in Phoenix and other cities.
This article will help you decide on whether a fitness career in Arizona is the one for you or if you should be looking elsewhere.
And with that said, let's dive straight into it.
Make sure to check out the general guide on how to become a personal trainer.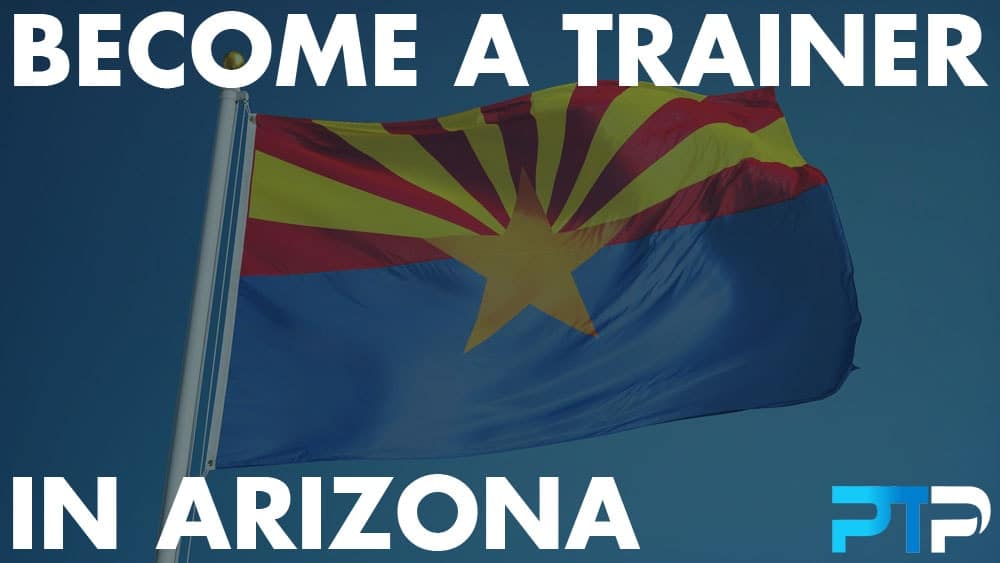 State Fitness Rating
One of the first things you should look at when deciding if a fitness career is viable in a particular state is its fitness rating.
This will help give you a look and feel of what the market trends are and what gaps you could take advantage of.
If the state fitness levels are low, this may mean there's a good market for weight loss & weight management professionals.
It also shows how potentially receptive the general population could be to your fitness services and what their fitness goals might be.
Based on data from exercise.com, Arizona ranks low compared to other states in terms of fitness ranking.
It sits at 37 out of 50, placing it in the bottom half of state rankings.
These rankings are determined by two main factors.
One of these is the state obesity prevalence rank, which in Arizona's case is relatively low.
With an obesity prevalence of 29%, Arizona sits below the national average and thus has a rank of 21 out of the 50 states.
Where Arizona falls short is when it comes to top gyms.
With a population size of almost 7million, Arizona only provides access to 330 top gym facilities.
These are the mainstream commercial gyms whose value lies in accessibility for all fitness profiles and affordability.
Because of this gym to population ratio, Arizona only has 4.48 top gyms per 100k inhabitants.
These gyms include the likes of:
Planet Fitness
Crunch Fitness
24 Hour Fitness
Snap Fitness
YMCA
Anytime Fitness
Gold's Gym
LA Fitness
Orange Theory Fitness
Besides these options, some high rated gyms might provide attractive job opportunities such as:
Exclusive PTP CPT Offers



Gold Standard Cert

Most Popular Cert

Best Study Materials

A Good Option

A Good Option

Best CPT for you?

Tangible Fitness
Independence Gym
Physiques Gym
Statistics like this are actually favorable in terms of personal trainer jobs in Mesa, Phoenix, and Tucson.
That's because a generally fit populace, as indicated by the obesity stats, and a lack of services, as shown by the gym ranking, means there is potential unsatisfied demand.
Fitness Market Makeup
Arizona is a mountainous state, which could indicate a high predilection towards outdoor activity.
As a trainer, you could develop a niche that incorporates this outdoor culture by offering group training sessions and services that attract this type of market.
With a relatively low obesity rating, you will probably have access to clients who are generally healthy, meaning you can offer more specialized, high-intensity services.
Personal trainer jobs in Tucson and the other major cities would probably revolve around the more youthful members of society since these are major cosmopolitan centers with a progressive culture.
Most fitness professionals almost always start as part-time or full-time group fitness instructors at wellness/fitness centers like gyms or health clubs.
Creative implementation of HIIT and group class services or fitness boot camps could be the mainstay of your business in Arizona.
Personal Trainer Certifications in Arizona
Personal trainer certification is all that is needed to get a job as a personal trainer in Arizona.
I have written an article on my best personal training certifications.
Overall here are my top 2 best personal trainer certificates in Arizona.
Make sure to check all of them when you decide to become a personal trainer in Tucson, Mesa, or Phoenix.
Personal training schools in Arizona
Certification is one thing, but it is well understood that to boost your career prospects, a higher learning qualification such as a degree or high school diploma would help.
Fortunately, there are plenty of exercise science schools in Arizona you can pick from.
Getting a degree equates to getting a personal trainer license in Arizona.
That's because, unlike a certification course, a degree or diploma can allow you to enter official, high authority positions such as sports medicine or sports management.
Your options for kinesiology schools in Arizona include:
While not the largest selection of institutions, it's an adequate selection of options as you discover how to become a certified personal trainer in Arizona.
Personal Trainer Jobs in Arizona
A fitness career in Arizona would see you applying for one of the top gyms in the state.
As we've now learned, there aren't that many of these, so the pickings are slim.
Nonetheless, a commercial gym environment is the easiest way to launch your career as a fitness trainer.
That's because you will have access to facilities, infrastructure, and knowledge necessary to build your experience towards an independent business or even running a gym of your own.
This is the ultimate endgame for most ambitious personal fitness trainers.
Exclusive PTP CPT Offers



Gold Standard Cert

Most Popular Cert

Best Study Materials

A Good Option

A Good Option

Best CPT for you?

Gyms would typically only require certification from an NCCA or DEAC accredited agency.
Some of these accredited agencies are; the American college of sports medicine (ACSM), the American Council on Exercise (ACE), National Association of Sports Medicine (NSCA) among others.
However, a degree would place you ahead of the pack in terms of being hireable and the level of the position, as I already indicated.
Also, as indicated, you are better off settling for a job in one of the major metropolitan cities,
Aim to become a personal trainer in Mesa, Phoenix, or Tucson since these are the most populated areas.
Best Cities to Be a Personal Trainer in Arizona
Arizona has a population of 6,931,071, which is quite sizable but nowhere near the levels of, say, California or Texas.
Still, you have a handful of busy, high-income metropolitan cities to choose from, and this is how they look in terms of numbers.
| | |
| --- | --- |
| City In Arizona | Population |
| Phoenix | 1,680,992 |
| Tucson | 548,073 |
| Mesa | 518,012 |
| Chandler | 261,165 |
| Scottsdale | 258,069 |
| Gilbert | 254,114 |
| Tempe | 195,805 |
In this article, I'm only dealing with the top 3, those being Phoenix, Tucson, and Mesa.
In my opinion, your best odds are in dealing with a population above 500 000 residents.
That's not to say anything less is useless, but sales and marketing in fitness is a numbers game.
The more prospects, the more success.
As long as you obtain your personal trainer certification in Mesa or any of the other major cities, you should be good to go.
Personal Trainer Salary in Arizona
Knowing what you stand to earn is valuable information, especially if you're considering relocation as an option for your career.
As far as working as a personal trainer in Arizona is concerned, you're looking at an average income of $61,051, according to salary.com.
This is pretty much bang on the national average, which means a PT career in the Copper State is as good as anywhere in America.
Aside from being located in Arizona, other factors include education, years of experience, and industry reputation, which is a combination of experience and reviews.
Having a degree and working as a private trainer will also increase your odds since you can leverage your credentials and set your own prices.
Make sure to check out the full guide on personal trainer salary.
Quality of Life Rating
As a state, Arizona finds itself in the middle of the pecking order when it comes to the quality of life.
Overall, it has stats that fall close to the national average in most cases.
One sticking point is the crime statistics, which indicate a less than preferable level of criminal activity.
On the flip side, you have some of the best health care stats for any city in America.
Education and environmental quality sit somewhere in the middle, while business freedom is pretty high.
Business freedom is the one that will most directly impact your activity as a PT, so it's good to know that this statistic isn't lacking.
Phoenix has been shown to have a higher Quality of Life as compared to the state average, but with a cost of living that many won't find ideal.
I'll give Arizona a 7/10 QoL rating.
Methodology
I studied the fitness industry of the state of Arizona and analyzed my findings via a carefully outlined process that was guided by the following criteria:
The population of the state and its major cities.
The obesity figures as compared with other states.
Personal trainer certifications attainable in the state.
Availability of personal training schools & colleges.
Career prospects for personal trainers.
Earning potential for certified PTs.
Quality of Life (QoL).
FAQs on How to Become A Personal Trainer in Arizona
Final Words on How to Become A Personal Trainer in Arizona
Arizona has a sizable population and a good attitude towards business, meaning you can forge a career in fitness for sure.
This becomes more apparent when considering the fitness rating.
Although it sits below the national average, it paints a picture of opportunity if you're ready to do the work when looking at the variables.
That's because it indicates a market demand that's being underserviced, leaving a gap in the market you could potentially exploit.
As far as education is concerned, there are many personal trainer certifications in Arizona.
For general, accredited certifications, all the way to masters and doctoral degrees in a sports science program.
Getting a personal trainer certification in Tucson or any other major city shouldn't be a problem.
Lastly, the quality of life you can expect to enjoy is satisfactory, Arizona is not a utopia by any stretch, but it's a nice enough place to live, work, and play.
References
https://www.exercise.com/learn/ten-fittest-states-in-the-us/
https://www.americankinesiology.org/SubPages/Pages/Kinesiology%20Institution%20Database