Hey Everyone, welcome to yet another coast to coast deep dive into personal training in America.
In this series of articles, my aim is to bring valuable insight that will help you decide on the best place to ply your trade as a fitness pro.
This time I'm looking at how to become a personal trainer in Alaska and checking out the industry as it stands.
To keep things simple and to the point, I'll only talk about personal trainer jobs in Anchorage and other key areas.
I'll also be introducing you to the various options when it comes to gaining the necessary credentials, such as personal trainer certification in Anchorage.
I'll go through some facts and figures concerning three of Alaska's main commercial hubs.
Make sure to check out the general guide on how to become a personal trainer.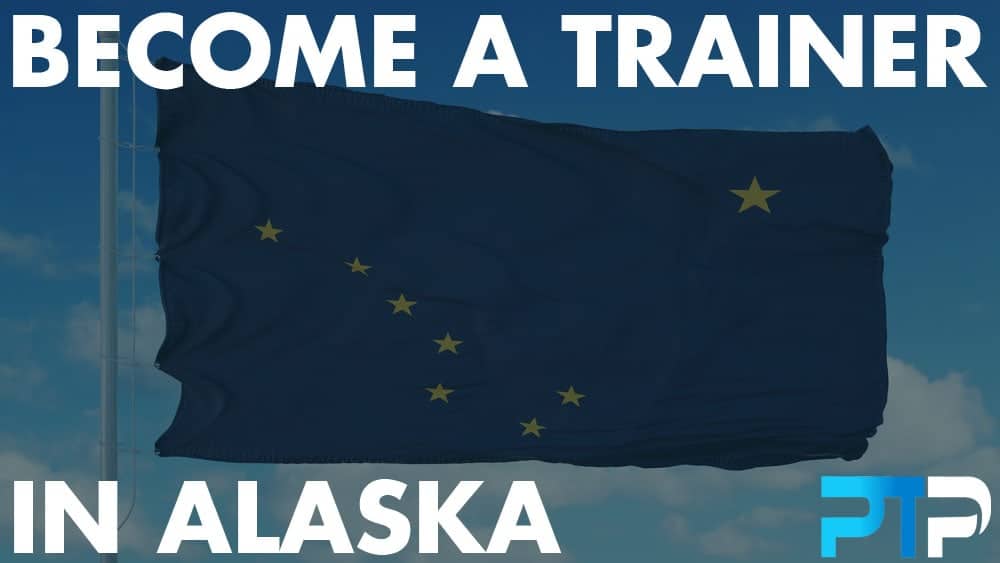 Post 2 of 50 in the PT By State Series
State Fitness Rating
Firstly, I want us to understand the state's fitness profile, and it is dependent on how the populace get involve in any form of physical activity.
Let's get started by looking at how Alaska ranks compared to the other 49 states in the health and fitness category.
Alaska is on the fitter side of the scale, according to statistics by exercise.com.
It is ranked as the 21st fittest state in America according to metrics determined by a few factors.
These factors include the obesity prevalence rate and gyms per capita.
In terms of obesity rankings, Alaska comes in at number 31 out of 50. Not a great stat, but far from the worst.
Where Alaska pulls it's socks up is when it comes to top gyms per capita.
With 6.2 top gyms per inhabitant, there is a good amount of service available in the health and fitness sector there.
Top gyms are all the mainstream commercial gyms most people would be familiar with, even if they don't actually use fitness facilities or fitness centers.
These include:
Planet Fitness
Orange Theory Fitness
LA Fitness
Gold's Gym
YMCA
Snap Fitness
Crunch Fitness
Anytime Fitness
24 Hour Fitness
Gyms that are specifically popular with locals to achieve their fitness goals include:
Alaska Fitness
The Alaska Club Downtown
Southside Strength and Fitness
The Alaska Club For Women
Alaska's fitness ranking places it in the top half of America's fitness rankings, which is a good statistic for the population and a promising fact for prospective fitness professionals.
Fitness Market Makeup
It's important to note that Alaska has a tiny population in comparison to most other states.
With a population size of just 741,894, Alaska's numbers are rivaled by some cities in other states.
For that reason, we'll only be looking at Anchorage, which is the only settlement with a population above 100 thousand inhabitants.
What this means is, although the market is relatively active and engaged, it is a tiny space to operate as a fitness trainer and is likely saturated.
That doesn't mean there's no opportunity for you as a CPT in Alaska club classes.
It just means you'll need to really step your game up in order to reap the rewards from the relatively slim pickings of Alaska club careers.
Exclusive PTP Offers



Gold Standard Cert

Most Popular Cert

A Good Option

Best Study Materials

Best online PT course

The Top PT Software

Alaska is an expansive landmass. In spite of its tiny population, it is actually the largest state in terms of physical area.
There is quite a significant nature and outdoor activity culture because of this.
This could also give you some clues and ideas as to what niche you should hone in on when it comes to offering physical fitness services.
You can work with individuals in need of strength conditioning for hiking, and also help older adults with joint-friendly exercises.
Becoming a personal trainer anchorage involves holding personal training sessions or small group fitness classes that are geared at improving the overall well-being of individuals through cardio or pilate exercises.
Personal Trainer Certifications in Alaska
Personal training certification is all that is needed to get a job as a personal trainer in the Alaska club employment circle.
To become a personal trainer in Anchorage or any other city, you'll need to get certified through the right certification training in Alaska.
Exercise science schools in Alaska are sparse, as you can see when you search "personal training school near me" on google, as you will soon learn, so a certification may be your best option.
I have written an article on my best personal trainer certifications.
Overall here are my top 2 best personal trainer certificates in Alabama. Make sure to check all of them.
Personal training schools in Alaska
When trying to figure out how to become a certified personal trainer in Alaska, the options are almost endless for an Alaska fitness trainer. 
Aside from the certs I mentioned or AFPA personal training certification, pretty much any NCCA accredited certification will do.
As far as post-primary institutions go, however, Alaska has just one option.
That being the University of Alaska Anchorage.
With a total state population below 1 million, it's not at all surprising that there's only one tertiary institute available.
For a personal trainer license in Alaska, you're looking at the Health, Physical Education, and Recreation department.
Having a degree can give you some serious leverage in the fitness business, especially in such a tiny market as Alaska.
Personal Trainer Jobs in Alaska
Starting a career in fitness will likely see you looking for a job as a gym employee.
This is a great way for you to start with a secure income as well as benefits while you gain experience and build your reputation.
The main game plan is to elevate your career towards fitness entrepreneurship.
Progressing towards running your own business is the best way to ensure true financial freedom and personal fulfillment as professional trainers.
It's also the best route to take when dealing with such a small local market.
The gyms can only cater to so many members of the general population, but as an independent trainer, you have the opportunity to niche down and price up.
Personal trainer jobs in Anchorage are few but lucrative.
Deciding to become an online personal trainer is also a great idea apart from Alaska club careers.
Best Cities to Be a Personal Trainer in Alaska
As I've already mentioned, you can only really look at Anchorage as a viable option if you want to proceed with a PT career in Alaska.
The rest of the human settlements in the state are basically small towns, with populations in the tens of thousands.
That makes Anchorage not just the best city but the only city you can work as a PT in.
| | |
| --- | --- |
| City In Alaska | Population |
| Anchorage | 282,958 |
| Juneau | 31,848 |
| Fairbanks | 29,859 |
| Badger | 18,911 |
| Knik-Fairview | 17,457 |
| College | 12,791 |
| Wasilla | 11,562 |
Income Potential
Income is the number one outcome, as the saying I just made up goes.
In terms of personal trainer salary in Alaska, the average annual salary is $69,280.00 according to the latest statistics from salary.com.
This is remarkably high if you consider the national average for PT's is just over $61k.
This average salary is also pretty close to the "happiness threshold" of $70,000.00.
The happiness threshold is a theoretical salary figure that has been identified as the ideal amount of money one can earn in order to live the most stress-free lifestyle on average.
Exclusive PTP Offers



Gold Standard Cert

Most Popular Cert

A Good Option

Best Study Materials

Best online PT course

The Top PT Software

A reason why Alaska's PT salary average could be so high, besides the stable economy, is because local wages are set to match the high cost of living.
In any case, the income potential is attractive for a PT in Alaska, which is excellent to know.
Make sure to check out the full guide on personal trainer salary.
Quality of Life Rating
Alaska is generally understood to have a high quality of life.
The low population and active economy allow for a good standard of living and enough resources and services to go around with little opportunity for crime to flourish.
The cost of living in Alaska is, however, fairly high, ranking as the 10th most expensive in America with respect to life in Anchorage.
According to statistics by teleport.org, this also reports a high level of business freedom, healthcare access, social tolerance, and economy.
The business freedom rating offers promise when it comes to setting up shop as an independent fitness instructor.
Lastly, the vast natural environment adds a cherry on top of the QoL rating Alaska enjoys.
Methodology  
After in-depth research, I was able to come up with this detailed review based on the following points:  
The population of the state and its major cities.  
The obesity figures as compared with other states.  
Personal trainer certifications available in Alaska
Availability of personal training schools & colleges.  
Career prospects for personal trainers.  
Earning potential for certified PTs.  
Quality of Life (QoL).  
Final Words on How to Become a Personal Trainer in Alaska
Alaska is a mild, quaint place to live and work for a fitness specialist. As statistics indicate, it's not a bad place to set up a personal training business.
The only major flaw is the tiny population size, which means on a zero-sum scale, finding a big enough clientele is quite tricky.
Your location options are limited in this regard. You can only really become a personal trainer in Anchorage.
If you take up employment in the Anchorage fitness club, your workout plans for clients should include weight loss and fitness plans.
You also have a very limited selection of Kinesiology schools in Alaska, with only one university in the whole state offering personal trainer certification in Anchorage.
The fitness rating, quality of life, and high average PT salary make it worth considering if you don't mind a bit of cold and social isolation.
FAQs on How to Become a Personal Trainer in Alaska
References
https://www.exercise.com/learn/ten-fittest-states-in-the-us/
https://www.americankinesiology.org/SubPages/Pages/Kinesiology%20Institution%20Database