Hey everybody, and welcome to another PT Pioneer career insight article.
In this article, I'll be taking you on a trip to Alabama to help you figure out how to become a certified personal trainer in Alabama.
I'll be breaking down some useful data and looking at some anecdotal indicators of the nature of Alabama's fitness industry.
I'll also look into personal trainer certifications in Alabama.
For the sake of practical insight, I will be looking at Personal trainer jobs in Birmingham, Huntsville, and Montgomery as the major cities in Alabama.
So with that said, let's jump right into it.
Make sure to check out the general guide on how to become a personal trainer.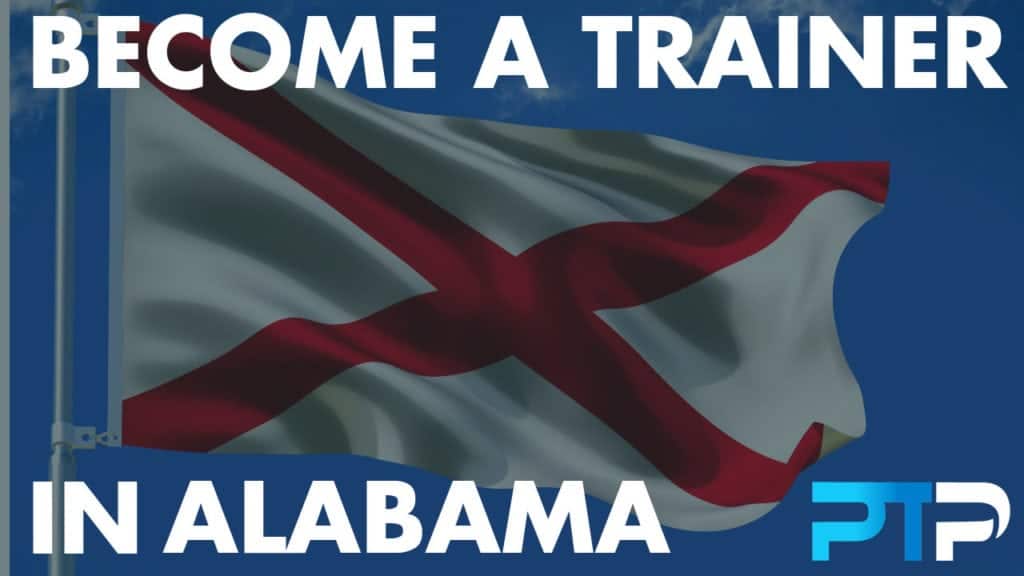 State Fitness Rating


Before I delve into Personal trainer jobs in Huntsville, Birmingham, or Montgomery, I want us to examine the state fitness rating.
This will help you begin to paint a picture of the health and fitness program culture.
By extension, this will provide insight into the market for personal fitness training.
Through my research, I've learned that each state has its own unique health and fitness status.
Many factors contribute to this metric, including the GDP or general wealth of a state, the nature of the economy, its history and heritage, and even the geography and climate.
For example, a wealthy state with a mixed economy and a history as a hub for sports and recreation would likely have a higher fitness ranking.
I also found that states with a prominent coastline or mountainous region tend to have a fitter population due to access to outdoor activities and an economy that encourages them.
In terms of numbers, Alabama is ranked 42nd out of 50 states. This indicates a low fitness rating in relative terms, as shown by the obesity statistics.
With an obese population of 35.7% and only 268 top gyms, Alabama is not big on health and fitness.
The low fitness rating is likely to do with awareness of health and fitness issues at a general, grassroots level.
Evidence of this can be seen in the fact that Alabama ranks last across all 50 states in terms of education, according to statistics from al.com.
Education is the primary driving force behind awareness and adoption of good lifestyle habits both from a civilian and local government level.
Alabama is also 45th in terms of the economy from the same batch of statistics, and as you can guess, the economy also plays a huge role in adopting healthy habits.
That's because an area with a poor economy drives its population toward basic needs, with health and fitness not being at the top of those priorities.
Exclusive PTP CPT Offers



Gold Standard Cert

Most Popular Cert

Best Study Materials

A Good Option

A Good Option

Best CPT for you?

Fitness Market Makeup
The fitness market in Alabama is pretty small, as I've already pointed out. With only 268 centers from the top gyms in America, as determined by exercise.com.
These top gyms are:
Anytime Fitness
Crunch Fitness
Snap Fitness
Planet Fitness
24 Hour Fitness
Gold's Gym
LA Fitness
Orange Theory Fitness
YMCA
Based on these, the state has about 5.2 gyms per inhabitant. These are concentrated in Alabama's major metropoles, which are:
| City | Population |
| --- | --- |
| Birmingham | 212,297 |
| Montgomery | 199,783 |
| Huntsville | 196,219 |
Based on current trends, Alabama's fitness market is growing.
Popular gyms in the state for specialized exercise programs include:
Iron Tribe Fitness
Trinity Fitness
Wellhouse Academy
Battle Republic
The state's fitness rating and general ranking in terms of the economy may paint a gloomy picture, but things are changing.
There are 19,065 employees in the health club industry, which generates just over $300 million in revenue each year.
This is according to stats by IHRSA (International Health, Racquet & Sportsclub Association)
This provides a glimmer of hope for anyone wishing to become a personal trainer in Birmingham, Huntsville, or Montgomery.
Personal Trainer Certifications in Alabama
Personal trainer certification is all that is needed to get a job as a personal trainer in Alabama.
You must get a personal training certification to become a personal trainer in Montgomery or any other city.
I have written an article on my best personal trainer certifications.
Overall here are my top 2 best personal trainer certificates in Alabama. Make sure to check all of them.
Personal trainer schools and diplomas in Alabama
Post-secondary education is well understood as a huge bonus in terms of securing better positions and leveraging success in the job market when it comes to personal trainers.
To obtain a personal trainer license in Alabama, you have a few options regarding kinesiology schools in Alabama.
These include
The University of Alabama
Auburn University
The University of Alabama and Birmingham
Samford University
Here is a complete list of personal trainer schools in Alabama and links to each.
These are your best options for a college or university degree in exercise science in Alabama.
You can opt for an associate's or bachelor's degree in any of these schools part-time or full-time.
As you can see, these institutes are strewn across the state.
The best option for personal training schools in Alabama related to working in the industry would be to get one in one of the three major cities mentioned in this article.
Exclusive PTP CPT Offers



Gold Standard Cert

Most Popular Cert

Best Study Materials

A Good Option

A Good Option

Best CPT for you?

Best Career Opportunities
As a fledgling fitness trainer, you're looking at starting off your career within a gym setting as an employed CPT.
Most personal trainer jobs in Alabama can be found in one of the 268 top gyms, but there are also numerous boutique and private fitness facilities.
Once you've got your personal trainer certification in Birmingham or any other major city, getting your foot in the door with a top gym will be a standard process.
It does not matter whether you are personal trainer in Birmingham, AL, personal trainers in Tuscaloosa, AL, or personal trainers in Huntsville, AL. They generally all follow the same criteria of requiring an accredited certification as a bare minimum.
You'll also discover younger gym lovers who are interested in group fitness training.
You could also strike it out as a private trainer, running your own business and calling your own shots regarding pricing, packages, and schedules.
A useful consideration if you opt to go this route is to build an online training model.
Online personal training is probably the fastest-growing fitness industry segment and can help you achieve massive reach and income figures.
Best Cities to Be a Personal Trainer in Alabama
As I've already mentioned, this article will focus on Personal trainer jobs in Montgomery, Huntsville, and Birmingham.
These are the three biggest cities by population in Alabama.
As you would imagine, the opportunities and odds of success are much greater, given the population size and density.
Setting up a practice for personal training in Birmingham, AL, is worth it due to this population.
Check below for the best cities for exercise science jobs in Alabama.
| City In Alabama | Population |
| --- | --- |
| Birmingham | 212,297 |
| Montgomery | 199,783 |
| Huntsville | 196,219 |
| Mobile | 190,432 |
| Tuscaloosa | 99,390 |
| Hoover | 85,175 |
| Dothan | 67,894 |
Income Potential
Your earning potential is a big factor when considering where you can and should ply your trade as a fitness instructor.
As far as Alabama is concerned, the average PT earns roughly $57,908 annually. This falls under the national average of $61,802.
Since Alabama is one of the lower-income states, this figure is actually quite impressive.
The hourly rate for PTs in the Cotton State sits at $19.89 on average, which is also a bit lower than the national average of $30.00 per hour.
The difference in hourly rates is more significant than the annual turnover.
The key is to get your personal trainer certification in Montgomery, Huntsville, or Birmingham before you can unlock your income potential.
Make sure to check out the full guide on personal trainer salary.
Quality of Life Rating
Aside from earning a whole bunch of money, you also want to be in a place where you can enjoy the fruits of your labor.
Alabama happens to have a quality of life ranking or QoL of 49. That means it is the second-worst state in terms of standards of living.
Factors contributing to the quality of life include employment and education opportunities, social order, access to essential services, and cultural and recreational infrastructure.
With a high crime rate and low employment rate, life in Alabama isn't exactly a picnic.
Alabama also has the 10th lowest household disposable income in America, according to statistics by bizjournals.com.
Methodology
After a thorough review using this methodology, I was able to come up with this complete review based on the following criteria:
The population of the state and its major cities.
The obesity figures as compared with other states.
Personal trainer certifications available in Alabama
Availability of personal training schools & colleges.
Career prospects for personal trainers.
Earning potential for certified PTs.
Quality of Life (QoL).
Final Words on How to Become a Personal Trainer in Alabama
The only place Alabama seems to come out on top is in alphabetical order.
Working as a PT in this state isn't your most lucrative option, I have to say.
However, if you are an Alabama native and have limited relocation options, you can still forge a career as a PT simply by getting your credentials in place.
Start by getting a personal trainer certification in Huntsville or any other city.
There are some great exercise science schools in Alabama. So as far as qualifications go, you're in a good place.
Another promising fact is that despite the low-income stats, a personal trainer salary in Alabama is quite livable.
So, whether you become a personal trainer in Huntsville, Montgomery, or Birmingham, you can still earn a decent living.
I have several articles you can check out on optimizing your PT business.
FAQs on How to Become a Personal Trainer in Alabama
What is the best certification for personal trainers?
The best certifications for personal trainers are:
– The American Council on Exercise (ACE)
– The American College of Sports Medicine (ACSM)
– National Strength and Conditioning Association's Certified Personal Trainer (NSCA-CPT)
– National Federation of Professional Trainers (NFPT)
– National Endurance and Sports Trainers Association (NESTA)
– International Fitness Professionals Association (IFPA)
– The Cooper Institute
What is the best personal trainer certification to get?
The best personal trainer certification to get is those given accreditation by certifying agencies such as National Commission for Certifying Agencies (NCCA), which employers widely recognize.
How to become a personal trainer in Alabama?
If you want to become a personal trainer, you should have the following basic qualifications:
– An High school diploma
– A CPR/AED certification
– A First Aid certification
Then enroll for a personal trainer certification with a certified body or a degree program in an exercise-related field at the university.
References
https://www.exercise.com/learn/ten-fittest-states-in-the-us/
https://www.americankinesiology.org/SubPages/Pages/Kinesiology%20Institution%20Database