Hello everyone, and welcome to another PT Pioneer certification review.
In this article, I'm going to be peeling the lid off the Academy of Applied Personal Training Education.
I aim to provide insight and perspective on what this organization and its flagship certification stand for.
You'll learn about:
This is meant to help you decide whether or not AAPTE is for you.
While you're here, why not take my quiz. This will give you a decent start in revealing which certification is your best bet.
And without further ado, let's jump right into it.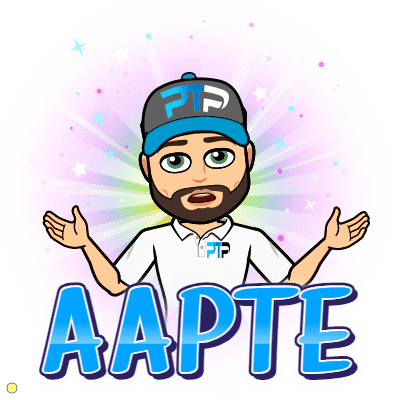 About AAPTE
The Academy of Applied Personal Training Education was founded in 1996, making it one of the newer certification agencies in relevant terms.
Since its inception, AAPTE has gone on to become a well-recognized institution, offering candidates the tools to become reputable and successful fitness professionals.
AAPTE is an NCCA accredited certification, but we'll get more into that later.
For every sweet, there's a sour, and AAPTE is no different. It's important to learn the benefits as well as the drawbacks of any certification, so let's take a look.
Pros
NCCA accredited
Practical, hands-on teaching
A nuanced approach to fitness market trends
As you can see, AAPTE is an accredited certification, something very important, which I'll provide more insight to, but for the time being, it's good to know that this certification agency carries an NCCA badge.
The next big bonus when it comes to AAPTE is the hands-on practical approach to teaching and instruction.
Unlike many other certifications, you aren't just handed over a pile of prep material and left to your own devices. AAPTE provides hands-on training either virtually through Zoom lectures and webinars or through real-world teaching in classroom environments.
You will also be put through 18 hours of in-the-field training. This involves dealing with real-world scenarios in a controlled environment, of course.
The AAPTE CPT-EFS practical hours are conducted in a state-of-the-art fitness facility where you will learn and be assessed on your ability to deliver exercise instruction in real-time.
Another great thing about AAPTE is its contemporary approach to fitness.
While maintaining a grounding in fundamental, evidence-based exercise science, they provide knowledge and teaching that adapts fitness professionals to the market as it is.
This approach allows qualifying candidates to jump into an ever-evolving industry with the foresight to navigate it as professionals.
Cons
One glaring difference from many other certifications is the fact that AAPTE courses have a timed enrollment.
You can't simply sign up at any time and complete the course because there is a schedule and an academic calendar.
This also means there is a limited number of spots for each enrollment cycle, adding an extra limitation.
These factors are probably due to the way AAPTE programs are administered. As I mentioned, the administration is pretty hands-on. Practical, real-time learning activities that prepare you for the final exam.
In order to have this hands-on approach with lecturers and academic personnel on deck throughout the process, having a fixed enrollment calendar and limited intake is necessary.
This is a case of a pro that compromises with a con.
The last sort of drawback is the fact that AAPTE is relatively unknown compared to stalwarts like NASM, ACE, ISSA, or ACSM.
This could be attributed to the fact that AAPTE is quite new in comparison. All the aforementioned cert agencies have been in service for well over 30 years, while AAPTE is barely clocking over two decades.
This doesn't diminish the quality and legitimacy of what their programs offer. It just means it will take time before the industry recognizes it to the same degree as other more established institutes.
I've hinted at accreditation a couple of times in this article, but now let's get into the nitty-gritty.
Accreditation is super important if your motivation behind getting a certification is to progress within the industry's recognized structures.
What I mean by that is if you want your credentials recognized by established businesses, employees, and communities within professional health and fitness.
Accreditation is basically a certification for certifications. It indicated that the institution or agency in question adheres to the strict and necessary protocols around the content and administration of exercise science education.
When it comes to North America, accreditation for certifying agencies is mainly done by the NCCA or the National Commission on Certifying Agencies.
Exclusive PTP CPT Offers



Gold Standard Cert

Most Popular Cert

Best Study Materials

A Good Option

A Good Option

Best CPT for you?

AAPTE is an NCCA accredited organization, which means you can fully trust their programs and rest assured of guaranteed professional recognition.
Making sure that you check for accreditation not only provides you with recognized credentials that get your foot in the door; it also helps you to avoid scams and illegitimate cash grabs.
The world of online courses is teeming with unscrupulous products, and with fitness being one of the biggest online course categories, accreditation is your best safety net.
When it comes to picking out the right certification for you, you'll find an array of prices across all certifications and even within the numerous package options each certification provides.
Your pocket speaks when it comes to pricing, of course, and that's a matter of individual circumstances.
With AAPTE, the standard cost for certification is $995.00. However, if you include the anatomy course as well, the total cost is $1,300.00.
The anatomy course is a prerequisite if you don't have any prior coursework or credentials in that area.
There is also the option to take the anatomy course as a stand-alone certification, which will cost you $350.00.
Most new trainers will need to go for the all-inclusive package, and if you find yourself not being able to enroll for the full program, I suggest you take the anatomy course separately if possible.
This will allow you to have fulfilled the prerequisite criteria once the opportunity for the PT course arises.
Quality of Study Materials (1-10)
Since I've gone over the cost of the available study packages, it's a great idea to evaluate them based on the quality of the materials included.
I will be rating the quality of study materials out of 10 in order to give you a general understanding of what you can expect.
The first thing to consider is the fact that AAPTE is a very practical hands-on program, as I've mentioned.
This means the majority of your prep and learning experience will be guided and assessed on a real-time, in-person basis.
In my opinion, this amplifies the expected outcome in terms of successfully passing the program and adds a few extra points to the overall quality rating.
So let's look at the actual material you will receive in-hand to help you learn and prepare.
Right away, it's good to know that the course material is actually included in the total cost.
As for what you'll be getting, the website doesn't provide much information on the available materials.
I did manage to dig up the course textbook, which is the AAPTE CPT-EFS Textbook.
It seems pretty comprehensive, but with the absence of any information regarding study materials, I'll give this one a tentative 7/10 rating.
The textbook and the hands-on classroom administration of the course allows it to pass the quality test, but without knowledge on anything else included, a 7 rating seems fair.
Exam Layout and Passing Grade
In order to hone your study skills and approach, knowing how the exam is laid out is just as important as understanding the course content.
That's because exam layout is very often based on differently weighted compartments or sections.
This variety of weighting means each section in the exam will count towards the final score differently.
Knowing what percentage each section counts will allow you to focus your efforts on what you will actually be assessed on.
You will be tested on every inch of the course material over 130 questions, so don't leave out anything, but there will be concepts with a much more significant focus.
With that said, the AAPTE CPT-EFS exam is laid out as follows:
Domain V: Professional Responsibilities and Scope of Practice 10%
Domain III: Exercise Prescription, Programming, and Implementation 15%
Domain II: Health Screening and Client Assessment 18%
Domain I Fundamental Knowledge (Anatomy, Physiology, Nutrition, Biomechanics, Kinesiology, Psychology) 27%
Domain IV Resistance Training Biomechanics, Exercise Technique, and Programming Modification 30%
From this, we can see that the majority of your efforts and energy should go towards domain lV: Resistance Training Biomechanics, Exercise Technique, and Programming Modification.
This makes absolute sense considering the concepts within this section and what typical PT is most often tasked with.
Programming and instruction with a full understanding of biomechanics and force is pretty much the meat and potatoes of your job as a certified trainer.
It's a common and necessary trend for fitness certs to have the programming and instruction section or a domain as the main feature in their exams.
Thankfully, AAPTE does the same.
Exclusive PTP CPT Offers



Gold Standard Cert

Most Popular Cert

Best Study Materials

A Good Option

A Good Option

Best CPT for you?

On the same token, the more administrative concepts are often the least present in the exam, as is the case with AAPTE.
In Domain V: Professional Responsibilities and Scope of Practice, we see a 10% weighting, the lowest of the bunch.
With all that considered, you will need a minimum of 70% in total to pass the exam and earn your AAPTE CPT-EFS qualification.
Exam Difficulty and Pass Rate
Knowing what the exam looks like is one thing, but understanding how difficult it is could give you some necessary foresight.
The difficulty, in this case, is measured by annual pass rates, a metric that indicates the number of candidates that manage to be successful out of the total that enrolls.
Based on 2018 statistics, which are the most recent based on the AAPTE website, the pass rate for the AAPTE CPT-EFS exam is 68%.
With a pass rate like that, I would place AAPTE as challenging but not difficult. With an almost 70% chance of passing, the odds are in your favor. Of course, this will depend on your ability to prep adequately.
That's because while you have lower odds of failing, 32% is still a pretty big chance of not making it.
My advice for effective studying is:
Plan Your Studies The Way You Would Plan a Workout
If you fail to plan, you plan to fail, as the saying goes. So when it comes to studying, have a structure of what you're going to study in a particular session and how long you'll spend time on it.
Trainer Academy has some brilliant study blueprint templates you can use to outline your study plan for effective use of time and optimal retention of information.
Aside from just providing structure and direction, planning also allows you to limit stress and feelings of being overwhelmed.
Maintaining sound mental health is key to your exam success strategy, and planning is a major step towards that.
Take Regular Breaks
Mental fatigue is as real as physical fatigue, so make sure you don't strain your brain.
Aside from this, the prolonged sitting required will take a toll on your posture and hip function and have a negative impact on your own health.
Ironic since helping people with their fitness and dysfunction is why you're compromising your own.
Don't Study Past Bedtime
Staying up past your normal sleep schedule can impact your ability to retain information past that certain time.
Your mind is conditioned to dial out at a certain time of the evening for its daily reset. That means any tasks you perform past that point won't be at 100%.
Sleep is also an important contributor to mental and physiological health, and as I've already mentioned, staying healthy is a key ingredient to success.
Free Yourself Of Distractions
Get rid of any external and internal distractions, and whether that's turning off or muting your phone, clearing your desk or room of clutter, freeing your mind, or just turning off the tv, you need to eliminate distractions.
There's no fancy way of rationalizing this since it's pretty obvious that distractions will just make studying less effective.
With these tips and understanding the exam layout, you should be able to pass with flying colors.
But what happens if you fail? What's the retake policy?
Retake Fee
Fortunately, the AAPTE CPT-EFS has a retake policy for candidates who fail to make the cut the first time around.
In order to retake the exam once you've failed, you'll have to wait 14 days after your first failed attempt. If you fail a third time, you will need to wait 30 days before you are eligible for the retake.
Thereafter, any failed attempt will result in a 60 day cooldown period as well as a retake fee.
The retake fee for AAPTE CPT-EFS is the same as the exam registration fee if you retest more than a year after your initial attempt.
That will cost $295.00. If, however, you manage to retake within a year of your initial attempt, you will only be required to pay $110.00.
The moral of the story is: avoid retaking as much as possible! You should only look at retaking the exam as an option if unforeseen circumstances impact your studies.
Expected Study Time
Since the program is classroom-based, your study time is pretty much set in stone.
According to AAPTE, you will be required to complete fifty-eight hours of classroom theory, which will include twelve hours of anatomy if you require that prerequisite.
Aside from that, you'll undergo eighteen hours of practical training in an advanced fitness facility, allowing you to perform the same day to day tasks as a qualified fitness instructor.
These practical and theory-based hours will be spread across a six-week period after which you will take the final exam.
The income for a personal trainer currently sits at a national average of $67,713 per year, according to salary.com.
While we don't have figures specific to AAPTE certified trainers, it's fair to assume that you could easily find yourself in this range or at an even higher percentile with the right approach and application of standard practice.
Many factors will ultimately influence your earning potential as a PT. for one; the amount of experience you have is definitely a factor.
Your location, additional credentials, and areas of specialty will also affect your income expectations.
Another huge factor that has recently come into play regarding PT earnings is online training.
The most successful PTs are either primarily online or have a sizable online component to their business model.
This hybrid model allows you as a trainer to essentially diversify your income streams while remaining in the same industry.
Primary Focus Of Certification
While most PT certs focus on the same core fundamentals and even prioritize them in a similar fashion when it comes to exam layout, each one has a certain signature approach.
This individuality is typically determined by a certification's area of focus.
In this regard, an area of focus is an aspect of health and fitness that a certifying agency has leaned towards as the driving force behind their positioning and mission statements.
It is usually established as a result of the original intent or culture surrounding the institution at its point of inception.
AAPTE CPT-EFS has positioned itself with a focus on resistance training methodologies from what I can gather.
Their course content and curriculum focuses a lot on biomechanics and the action of forces produced by and working against the musculoskeletal system.
Some of their other certs have a more focused approach to resistance training.
CEUs or continuing education units are academic credits that signify your continued effort to learn new things and retain those you already know.
CEUs are measured in terms of the amount of time spent learning in hours.
The main purpose of obtaining CEUs is to allow you to recertify for previously earned credentials.
This is a regular occurrence amongst health and fitness certifications since most of them have an expiry date.
A certification is typically valid for a couple of years before recertification is required.
Aside from the aforementioned CEU requirements, you will also need to pay a recertification fee, as is the case with AAPTE CPT-EFS.
Fifteen hours of credits, as well as an $85 recertification fee, are what you will need to submit to renew your PT credentials with AAPTE.
The CEU requirements for AAPTE CPT-EFS are pretty relaxed, considering many other certs would require at least 20hours of continuing education credits in order for you to be eligible for recertification.
Their website presents many CEU opportunities in the form of courses and workshops.
Earning CEUs this way might be your best bet since AAPTE probably approves them.
And that brings me to an important caveat when it comes to recertification and CEUs, always try to make sure you're gaining your CEUs from a provider that is approved by the certifying agency, in this case, AAPTE.
This limits complications and red tape, allowing you to cut right to the chase.
AAPTE CPT-EFS is a good option for anyone who has zero practical experience in the fitness industry and wants to learn by doing.
Not many of the major certifications allow for such an opportunity, so it's a great program for newbies.
The unfortunate drawback of this hands-on classroom approach is that enrollment is limited both in terms of available space and time.
Most certifications allow you to enroll at any time and have unlimited opportunities for all those interested.
As much as this is a bit of a drawback, it's pretty much the same as the majority of academic experiences, which most people are probably more used to.
My overall rating for the AAPTE CPT-EFS is a 3.5/5.