Why We Created This List
No matter your current level of fitness or the type of fitness you are interested in, we are always looking for sources of information, motivation, and inspiration.
There are many avenues to find such information including books, people at your gym, your trainer, people at work, etc. For many of us though we look online.
The internet can be an excellent source for to find whatever you are looking for in the ways of fitness, but with so many blogs and websites out there, it can be a very daunting and intimidating experience to try to find the right blog that speaks to you and has credible information.
Lucky for you, we have already put in the countless hours of analyzing practically every notable fitness blog out there in the world wide web so we could provide you a list of the best of the best.
How We Created This List
We analyzed and ranked each blog based on seven different criteria: writing quality, content volume, practicality, uniqueness, user experience, design & imagery, and community.
As personal trainers, we know to be able to assess the practicality and accuracy of the information presented in these blogs. Additionally, through our interactions with hundreds of clients from all backgrounds, we have learned what inspires and motivates people.
We utilized this knowledge along with countless hours of research and surveys to determine which are the best women's fitness blogs out there today.
In determining our final list of the top 25 blogs, we attempted to create a diverse set of blogs that ranged in their focus as well as the type of blogger.
Some blogs focused on different types of fitness such as weightlifting, running, etc.
Some blogs are more focused on the exercise portion of fitness as others are more focused on the nutrition side.
Some blogs are more strictly informational based and some are more of a story of one's journey as they strive to meet their fitness goals.
We attempted to encapsulate all of these different types of blogs into our list to ensure that everybody will find the blog(s) that works best for them.
We have decided to create a list of the top women's fitness blogs, and top men's fitness blogs (coming soon) as the needs and requirements of men and women tend to differ when it comes to fitness.
Not to say that a man can not obtain significant value from a women's fitness blog or vice versa, but in the end, we determined it would be more helpful to our readers to split the two.
And Finally….. The List
We want to personally thank every one of these bloggers for what they have done to help people achieve their fitness goals and significantly improve the quality of their lives.
Many of you are already professional personal trainers, but for those who are not, you should consider such a rewarding profession. Based on your blog, there is no doubt you have the gift of providing such training.
If you are considering getting into the personal trainer industry, I highly recommend you check out our articles on how to pick the best personal trainer certification for you and a step by step guide on how to become a personal trainer.
So without further delay, here is PTPioneer's definitive list of the Top 25 Women's Fitness Blogs:
If you happen to have made our list of the Top 25 Women's Fitness Blogs, you are more than welcome to display this award badge on your site any way you see fit (refer to the code below).
Congratulations and thanks again for your contribution to helping people live healthier happier lives!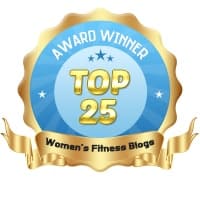 <a href="https://www.ptpioneer.com/top-25-womens-fitness-blogs/"><img src="https://www.ptpioneer.com/wp-content/uploads/2016/06/Award_Winner_Womens_Fitness_Blog.jpg" ></img></a>