In this well-researched article, we will take a look at why you shouldn't get the NASM certification.
This is an opportunity to understand the following:
At, the end of the article, you'll have been well enlightened on your choices.
Let's get started right away!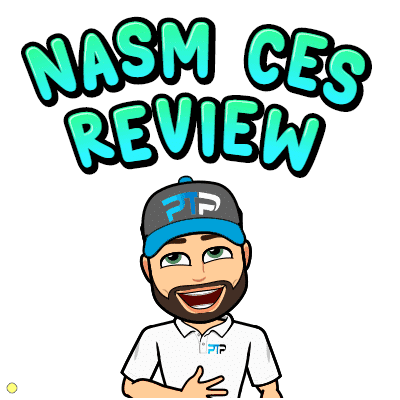 Introduction to Why you shouldn't get the NASM cert
NASM is one of, if not the top-rated certifying agency out there.
Their CPT certification is ranked in the top 3 when it comes to popularity amongst trainers.
But why is there such a drive to get this, or any other certification?
Let's dive in and break it down, shall we?
The Motivation To Get Certified
What motivation do you need to get started on your journey of becoming a certified personal trainer?
Read on below to find out!
So I'm a massive proponent of getting certified.
This entire platform is designed primarily to help trainers like you choose the right option when it comes to getting the educational edge for a lucrative career in fitness.
I am especially fond of NASM, having certified through them myself.
I honestly believe NASM has the best approach to fitness for trainers getting into the game.
This may be slightly biased as far as I'm concerned since NASM leans more towards corrective exercise which happens to be my forte.
Regardless of my preference, the track record speaks for itself. NASM is great.
And because of this greatness and status, there is a huge motivation for many newbie trainers to earn their PT stripes through a NASM cert.
But what does this mean beyond getting a shiny certificate?
What Certification Actually Does For You
Did you know that having the right certification sets you apart from the crowd?
Let's take a look at the facts!
Like any other reputable certification course, NASM is an educational experience.
It teaches you the necessary ins and outs, facts, and figures of health and fitness science for you to be able to subscribe to those principles to people who need them.
For example, you may have a sound intellectual understanding and knowledge of fitness and nutrition science, but do you know how to gather client data, form relationships with collaborators and clients, or create comprehensive programs?
These are the nitty-gritty behind getting certified.
Certification also helps you with securing liability insurance and other legal goodies that will help you stay protected as a fitness professional.
But do you really need a NASM certification for all those things?
Exclusive PTP CPT Offers



Gold Standard Cert

Most Popular Cert

Best Study Materials

A Good Option

A Good Option

Best CPT for you?

The answer is NO, and let's see exactly why not.
Top 5 Reasons Not To Get NASM Certified
Here, I'll be sharing with you the reasons why you should not get a NASM certification.
1. You Don't Need To Get The Cert To Gain The Knowledge
Right off the bat is something I already mentioned.
The fact that you don't need to get certified in order to be educated in matters of health and fitness.
Sure, getting certified introduces you to the technical application of fitness principles which an encyclopedic knowledge wouldn't equip you to do, but the truth is, you can actually learn the technicalities of health and fitness prescription without paying an arm and a leg for it.
By simply getting your hands on a current edition NASM textbook or any other PT training manual for that matter, you can learn how to develop a practical understanding of personal training.
You can purchase just the textbook from NASM directly or you could rent it out through Amazon or other similar services.
You can add to this by taking practice exams and quizzes, many of which are available online for super reduced prices.
This gives you the same educational experience of getting certified without the need to actually go through the motion.
Imagine spending no more than $100 for something that can cost you up to $800.
The savings you make can easily go into advancing your career in other ways which we'll soon get into.
That sounds like a deal to me!
So if you just want to learn how to be a personal trainer, and have no immediate interest in working as one, NASM, or any other certification for that matter, is unnecessary.
2. A Cert Only Gets You Employed
One of the big selling points of the NASM certification and other big-name, gold standard certs is the level of industry recognition and preference.
What does this actually mean?
It means the fitness industry by-and-large holds NASM certification and the trainers who obtain it in high regard.
That means when you walk into a gym, whether it's a boutique, big-box, or specialized facility, touting a NASM certification is almost a guaranteed foot in the door.
But that's just it. It's only relevant when trying to get a job at an established business.
This means that a NASM cert will earn you an audience with most places of employment when it comes to the fitness industry.
But that only matters if being employed is your aspiration.
It might be, but I'd like to challenge you to aim higher.
I'd like to envision yourself starting your own fitness empire and being the one that hires certified trainers, or maybe just go solo and be yours and no one else's boss.
In order to achieve this, you don't really need to get a NASM certification.
In fact, all the time, effort, and money spent on getting certified could be spent on investing in growing your business.
3. Certification Doesn't Teach You The Business
One Important lesson you will learn if and when you get certified through NASM is it doesn't teach you the necessary business skills required to actually transfer your knowledge into a lucrative operation.
Sure it delivers health and fitness prescription as a career option, but it doesn't quite hit the nail on the head when it comes to equipping you with entrepreneurial capabilities.
This doesn't mean you shouldn't get certified if you want to start a business in fitness.
Exclusive PTP CPT Offers



Gold Standard Cert

Most Popular Cert

Best Study Materials

A Good Option

A Good Option

Best CPT for you?

It simply means you shouldn't rely on JUST getting certified if running your own operation is the main agenda.
That goes for pretty much all other top-tier certifications, not just NASM.
You will need to develop business acumen and a sense of entrepreneurship before you can take the practical essence of professional fitness and turn it into a lucrative career.
I suggest you take a business course along with getting your NASM cert.
4. There Could Be Better Certs To Start Off With
When it comes to starting your career as a PT, NASM might not be the best option.
It certainly is a great cert, but as far as launching your career, it's not always the best.
This of course is conditional, it totally depends on your intended career trajectory.
If for instance, your goal is to work in professional sports, your best bet is to get a college degree.
After that, supplement your degree with something more in-depth when it comes to elite training.
I recommend the NSCA CSCS for this very reason.
It is the most respected and complete cert if you want to get yourself in the big leagues.
NASM may be geared more towards professional sports than other certifying agencies, but it doesn't quite hit the sweet spot, at least not to the same degree as the NSCA CSCS.
On the other end of the spectrum, if you're aiming for a more modest approach to your fitness career and are just looking to deal with the average wellness consumer, there still exist other options on par with NASM.
NASM's OPT model is more corrective exercise-oriented, whereas the majority of people who sign up for fitness and personal training either just want to look good, feel better, or have something purposeful to do.
Other options would be something like ACE or ISSA.
These certifications have a more robust, generic approach to fitness prescription, allowing them to cater to the most common needs and demographics.
You will need to pay close attention to what your career objectives are vs what different certifying agencies offer.
You might just discover that NASM isn't the right deal for your goals.
5. NASM Has A Limited Global Appeal
While NASM is certainly one of the top certifying agencies in North America, its influence and reputation seem to dwindle as you venture abroad.
In the US and Canada, as well as some parts of Europe, a NASM cert is a good choice and will give you credibility and access to the best possible job opportunities.
However, if you're reading this and are not a trainer based in North America, or you are, but plan on working abroad, NASM isn't the top prize.
A better certification to get would be ISSA.
ISSA prides itself as the truly international certifying agency.
After all, ISSA stands for INTERNATIONAL Sports Science Association.
This is made further evident by the online accessibility of ISSA certs, meaning you can obtain them from anywhere in the world.
Others such as ACE also has a global prominence with testing centers in some of the most remote places such as Zimbabwe for example.
So if you're planning to be a globe-trotting fitness pro or are from anywhere else in the world but North America, NASM certification shouldn't be a priority.
6. If Your Potential Employer Prefers A Different Cert
If you're looking at employment opportunities in fitness, NASM certification definitely puts your foot in many doors.
But not all doors.
A common trend is how certain gyms or facilities might have their own proprietary certification and training process, which means NASM certification won't get you in.
You'll also come across some gyms or employers who have partnerships or affiliations with one of the other certifying agencies, which means accepting trainers outside of that institution would pose a conflict of interest.
7. If You Have Test Anxiety or Prefer To Test In Private
The NASM CPT exam is no cake-walk.
It will challenge you and place you under pressure.
It's all part of the process, after all, one of the main goals of testing, exams, and assessments is quality control.
Evaluating the quality of individuals as trainers based on how able they are to retain and access the principles and applications of fitness.
The reality, however, is that people learn and apply knowledge differently.
If you have an alternative way of learning and applying knowledge, you shouldn't give up on your dreams of being a Personal Trainer.
You should probably reconsider using NASM as your route towards getting there, but fortunately, there are alternatives such as ISSA.
I've already mentioned ISSA,it is one of the most respected certifying agencies and certainly stands toe-to-toe with NASM.
The exam protocols are way different, allowing you to take the final assessment completely online, in the comfort of your home and with no time constraints.
What's more, ISSA exams are open book, meaning you will have the ability to access any relevant resources as you take the exam.
Some good alternatives to NASM are:
This section will unveil to you other options you can explore apart from NASM.
It's an insightful journey ahead… let's get rolling.
ACE: a great, more generalized approach to health and fitness prescription
ACSM: for a deep, clinical approach to exercise science, great if you're looking at fitness as a care practitioner
ISSA: accessible online certification for trainers anywhere in the world
NSCA CPT: an in-depth performance heavy general cert for entry into elite athletics
NSCA CSCS if you have a degree: the crowning credential for a professional sports exercise specialist
So What Does This Mean For NASM Certification?
Once all is said and done, if you are getting certified, NASM is still one of the best options.
The reasons you shouldn't get it are quite narrow and specific and are mostly applicable to PT certs in general, not just NASM.
For example, not needing a certification because you just want the knowledge and not the training is not a NASM exclusive caveat.
Other reasons such as the lack of international reach and the lack of appeal of the OTP model are more specific, but overall are minuscule when weighing up the benefits and appeal of being NASM certified.
I hope I've been able to assist you with the info you need in deciding which certification will help you achieve your personal training career goals.
NASM is still a top dog in the certification game.
If you are thinking about getting it, it won't fail you.
Careful consideration of your career objectives is always a must, so go through the process of figuring that out first.
And when it comes to figuring out your career options as a PT, you're already in the right place.