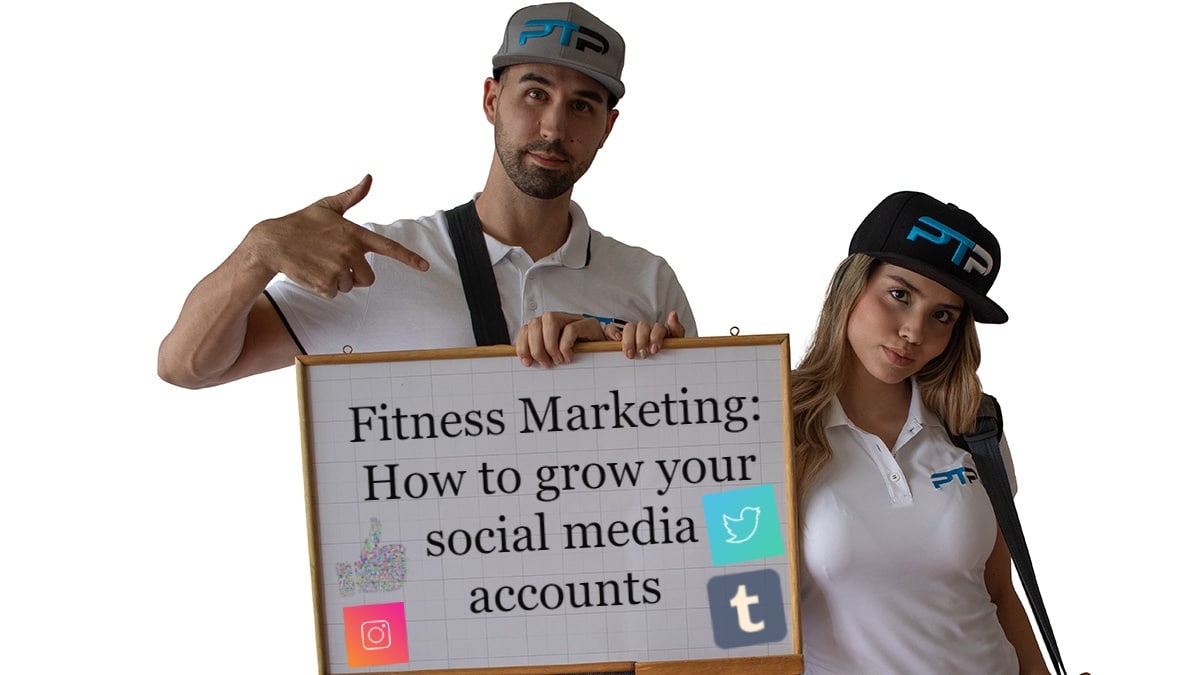 Facebook, Twitter, Instagram, Youtube…
As a personal trainer, you probably have a presence on all of these. And that's awesome because trying to make it as a personal trainer without using social media is one tough gig.
That's because social media has taken over the world, that's for sure!
Today, I want to delve a little deeper into social media and fitness marketing. If this is the first time you have taken a look at some of my blog posts regarding social media, I suggest you start with two that I wrote as an introduction to social media for fitness trainers: Social Media for Personal Trainers Part 1: Facebook, Twitter and Instagram and Social Media for Personal Trainers Part 2: Youtube.
The thing is, it's one thing having social media accounts, but if you only have a couple of followers, how will they benefit you?
That's why I wanted to write this blog that will specifically look at social media and its relation to marketing yourself as a personal trainer. When used effectively, social media is certainly one of the strongest parts of a personal trainers armory, that's for sure.
I highly recommend that you take the quiz and find out which certification is best for your career goals.
But it's difficult to master or find the time to run your social media accounts.
Between your own training, working with clients, and running your business, social media can be a challenge. Because of that, we often use a scattergun approach.
And that will never work! You have to formulate an effective plan, which I want to tackle in this article.
As always, if you have any questions when you are done reading this blog, you are more than welcome to leave a comment below and I will get back to you as soon as possible. Remember, plenty of other articles on PT Pioneer may interest you, so make sure you have a look.
But let's start right at the beginning.
Why You As A Personal Trainer MUST Embrace The Use Of Social Media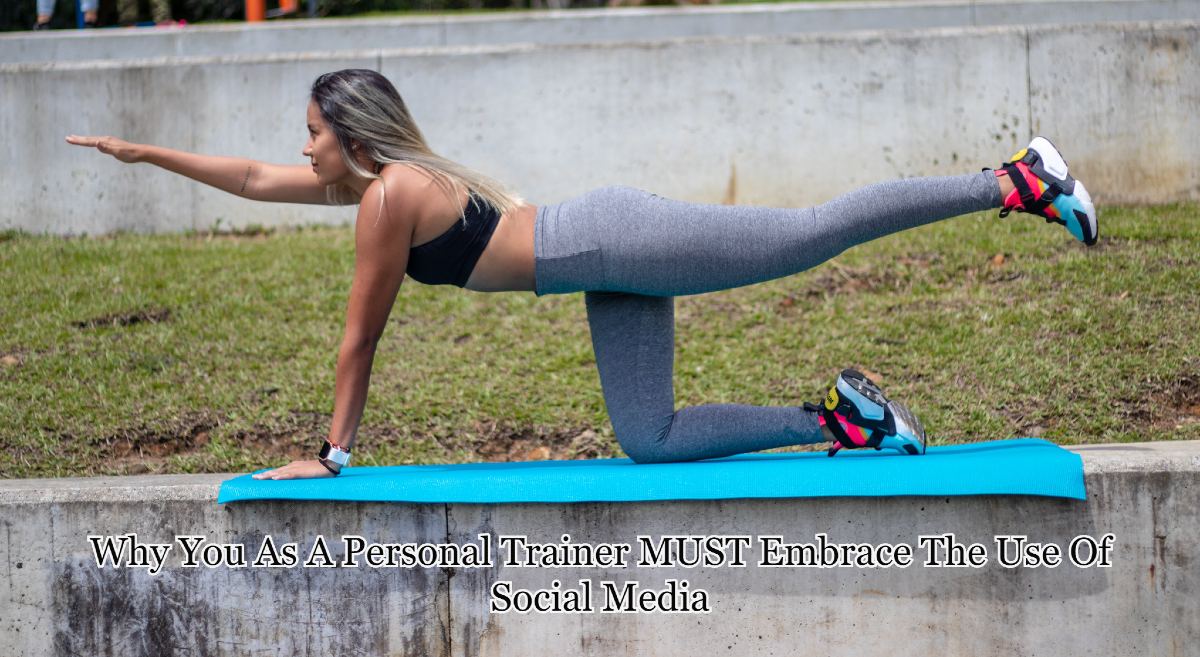 So right from the start, I want to say this. Social media is a tool that you MUST utilize as a personal trainer.
And there are various reasons for that but the biggest is that it is an extremely effective way to grow your business.
Social media can help you reach hundreds, even thousands, of prospective clients. That's a far higher number than word-of-mouth marketing or more traditional methods. That's not to say that you should forego those, that's for sure.
Social media is the perfect platform to help show that you are an expert at what you do.
You can use social media to showcase your personal training niche (if you have one).
Social media keeps you connected. Not only with current clients but with past clients as well. That means that you can keep engaging through social media posts.
Social media allows you to connect with other fitness experts and influencers online. This helps show your credibility and expertise as well.
Social media has excellent reach when expanding your business and finding new areas to train.
Start With A Social Media Strategy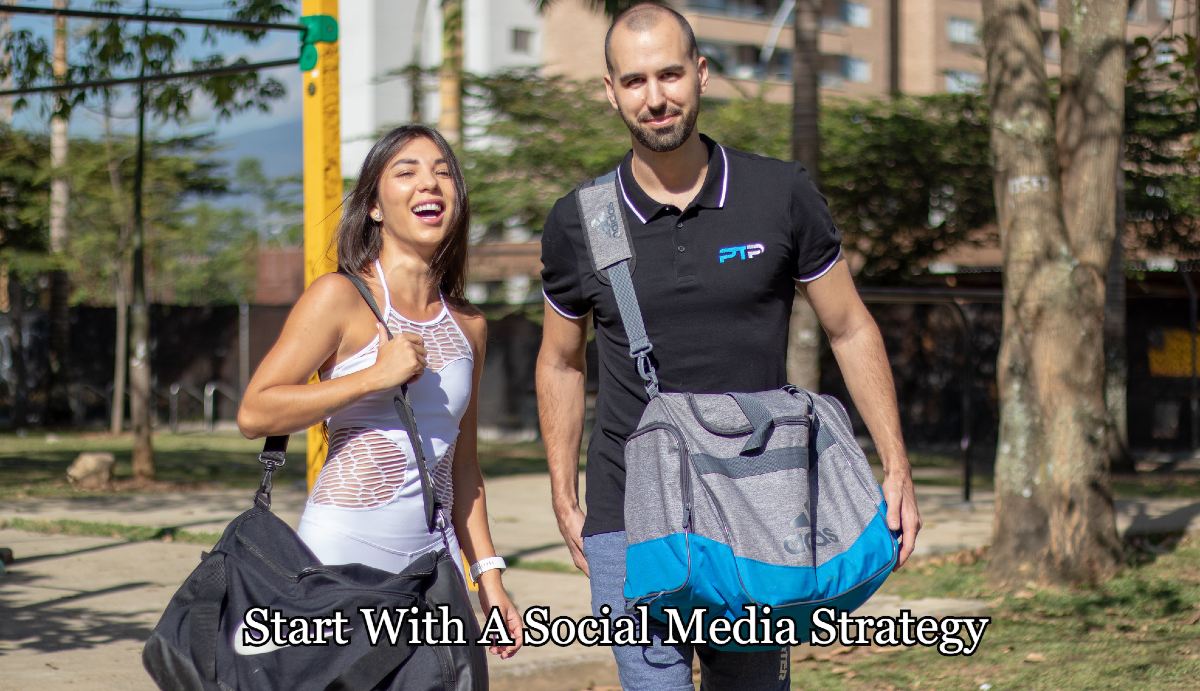 As with everything you do as a personal trainer, making sure your social media works for you and starts to create engagements with more and more prospective clients means that you will need a plan!
As with everything in life, developing a plan or a social media strategy is better than going in blind and just trying things haphazardly. While that might generate a little success every now and again, it certainly isn't sustainable.
One of the easiest ways to start is by doing a little research.
And that means checking out some successful trainers who use social media effectively. Follow them, track what they do, and see the patterns of their posts. You will see that nothing is ever random.
From this, you can form the basis for your own successful social media strategy.
Research and brainstorming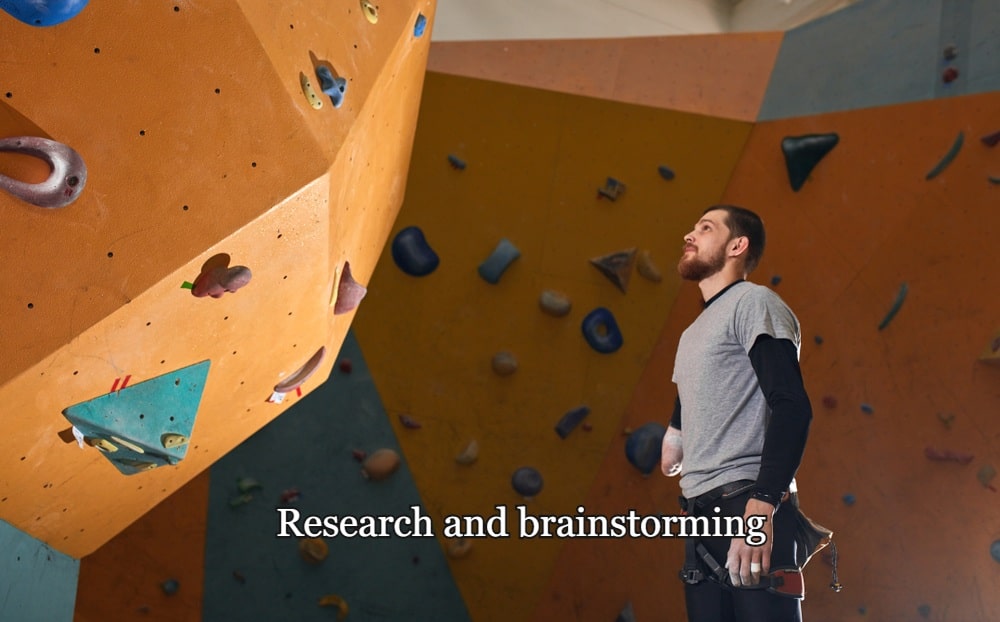 The most effective way to start your social media plan is by conducting some research (as mentioned above) and then brainstorming around that.
As with all good business strategies, you need to determine goals that fit in with your overall mission and brand, both of which you should have established before this point.
While looking at other sites as part of your research, ask yourself:
Do they have a niche?
Many personal trainers build their businesses on a specialty that they excel at. This is called a niche. It could be strength training, training to help weight loss, strength and conditioning, or any other area that could set you apart as a specialist.
Finding your niche might be pretty easy or you might struggle with it. If you are struggling, answer these questions:
What kind of clients do you like working with as a personal trainer?
What aspect of personal training is it that you want to excel in?
Can you fill a niche that many of your clients need help with?
What demographic are you aiming at?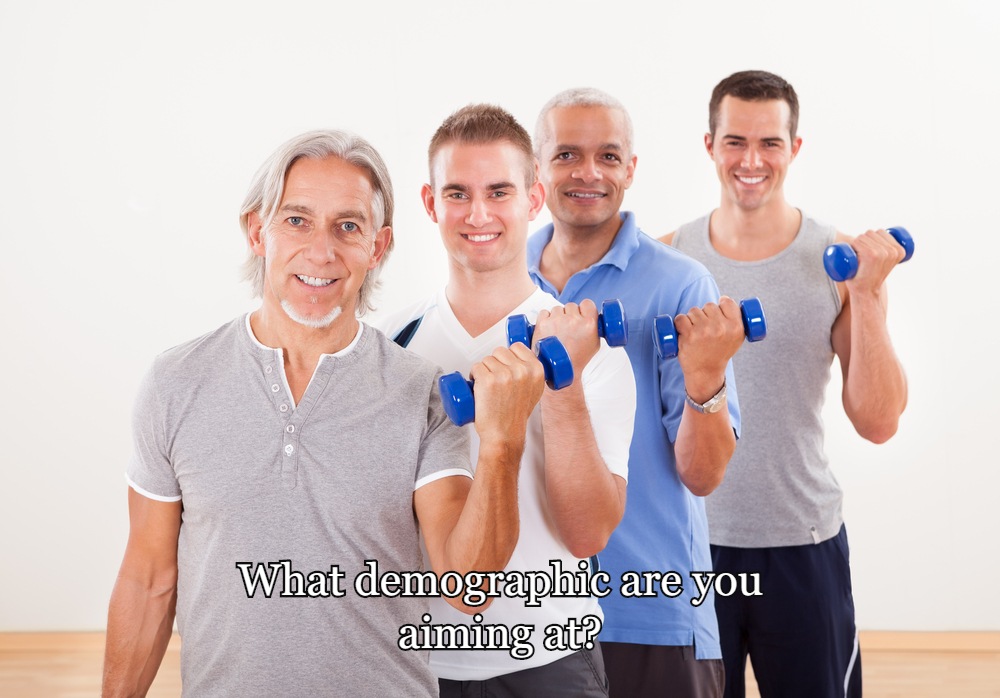 It's always good to determine which demographic you might be targeting. It could be related to your niche, or if you don't have a niche, you might not have a specific target in mind as a personal trainer.
But you understand how much detail you can go into here, right? Demographics include seniors, the youth, people who want to lose weight, athletes, those who want to focus on strength and conditioning training, and many more.
What's your brand and the message you want to convey
In the social media articles I mentioned in the intro, I speak about your personal training brand and the message you convey to prospective and current clients.
What you need to realize is that both your niche as well as the target audience you chose (or don't) will help define just what your brand and your message will be.
Define your goals and ways to measure them effectively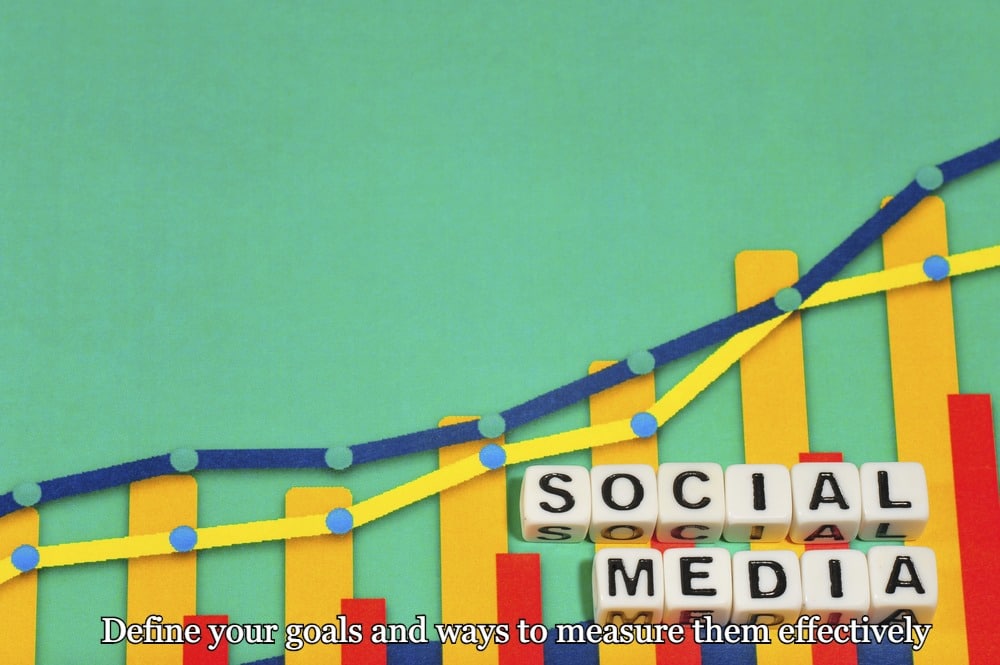 With any social media program that you institute, be it a small competition or a long-running campaign to gain new leads for prospective clients, it's important to define your goals well beforehand.
But goals are useless unless they can be measured as well. By defining your goals and measuring just how well a campaign did, you can judge its overall success.
And any good marketer will tell you that there are some important aspects to setting goals. They need to be:
Specific
Achievable
Measurable
Not too broad
Take note of the last point in particular. Saying you want to get new clients is a broad goal. Rather make it more specific.
So, for example, something like:
Developing a posting schedule with specific posts for specific days
Building your Facebook followers by 250 new followers over the course of three months
Building valid connections with other personal trainers with large followings and sharing content
Those are just examples; there are plenty more that you can come up with that relates to your unique situation.
Design your posting schedule using a content calendar across all your social media platforms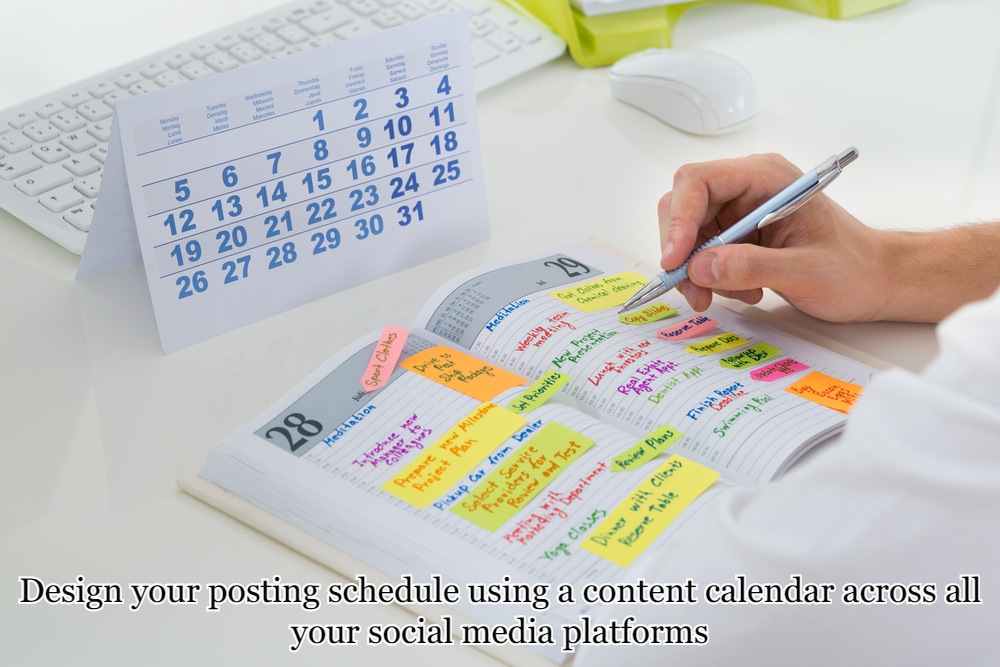 A scattergun approach to posting content on your social media platforms is NOT the way to approach your social media strategy.
Most marketing professionals will tell you that the best way to develop a social media voice and your social media brand in doing so is to use a content calendar. And while it might take some time to plan, once it is in operation, you can easily plan your posts on all social media platforms.
But what exactly is a content calendar?
Well, it's pretty simple, really. It's about structuring posts with a certain theme on a certain day. For example:
Mondays could be posts that engage with your audience by asking them questions. Tuesdays could be content showing incredible body transformations, not just people who have lost weight but also those who have built muscle. On Wednesdays, you could post inspirational stories.
These are just examples, find what works for you and stick to it. That way, your followers will get into a routine with you and know what to expect.
Social Media Posting Tips That Will Help Grow Your Accounts
Now that we have outlined a social media strategy, it's time to start looking at a range of posting tips over and above the content calendar that will help drive engagement and see your social media accounts grow.
Post often, but consistency is key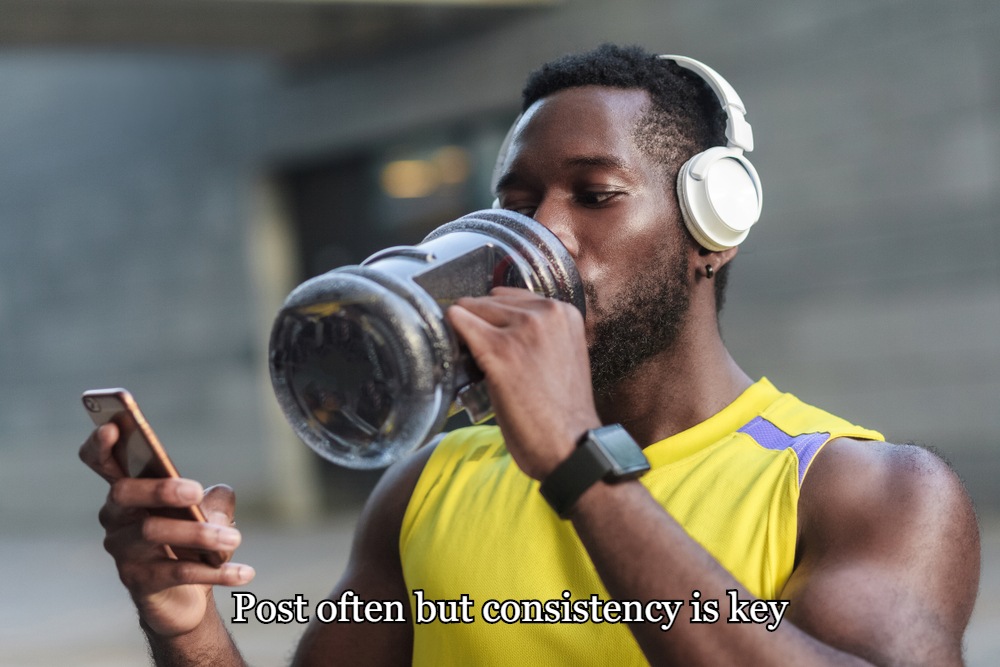 Marketing experts recommend that on a platform like Facebook, you should be posting around four to six times a day. That's because your posts will quickly move down your followers' social feeds.
Posting four or six times a day might seem daunting, especially if you follow a social media calendar. But say Mondays are for transformational posts; they don't always have to be detailed stories about a client's transformation.
In fact, visual posts with a few words work will work just as effectively. It's not only going easy, especially from the outset but its something you will start to get better at as you manage your social media accounts more effectively.
And make sure you use the scheduling system on your social media accounts, set the posts up the day before, and you won't have to worry about logging in to post them on time.
Just a word regarding posting multiple times per day, and I have mentioned this before.
You need to make sure your social media strategy remains consistent. That means these four to six posts that happen each day need to remain consistent with your brand and the voice you are trying to project as a personal trainer.
Undoubtedly, this will help show you as knowledgeable, help you engage with others, and ultimately, grow your social media accounts effectively.
Post at the right times of the day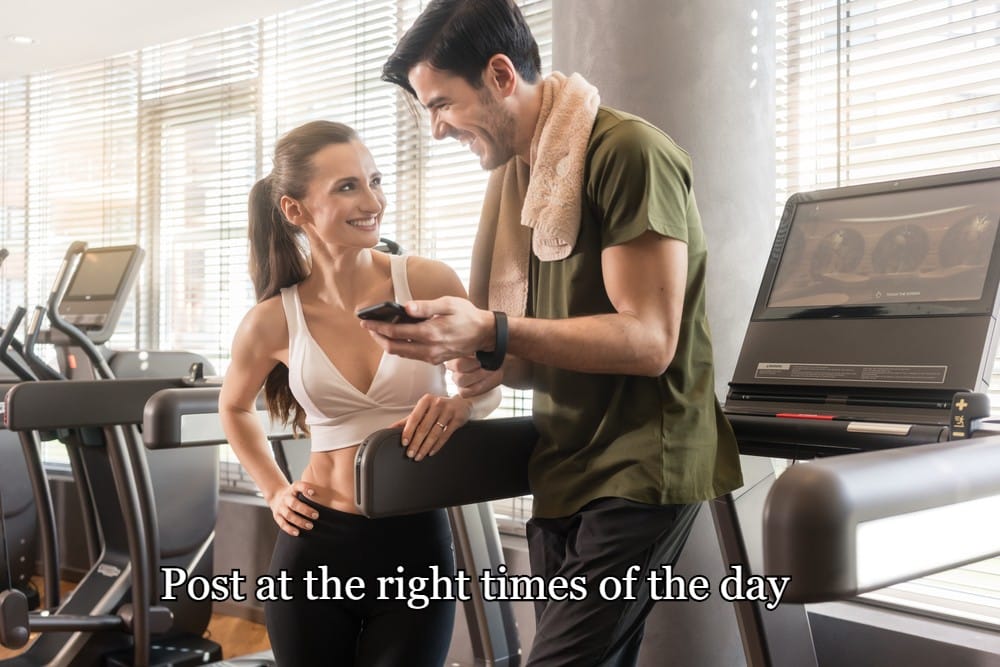 When looking at Facebook, for example, even though you post four to six times a day, you have to ensure that you post at the right times.
Scheduling a post for 3 am in the morning is not going to reach a lot of your audience. Research has shown that posting at certain times of the day means more people see your content and drives far better engagement.
So what are the best times to post on Facebook, for example?
To generate clickthroughs, post at 9 am, 1 pm, and 4 pm.
The best midweek days to post are Thursday and Friday. This sees up to 18% more engagement on posts than on other days of the week.
Finally, weekends generate the highest engagement of all the days of the week. In fact, Saturday and Sunday posts generate 32% more engagement than midweek posts.
Remember these details when drawing up your content calendar.
You're Are The Expert: Don't Forget To Show It!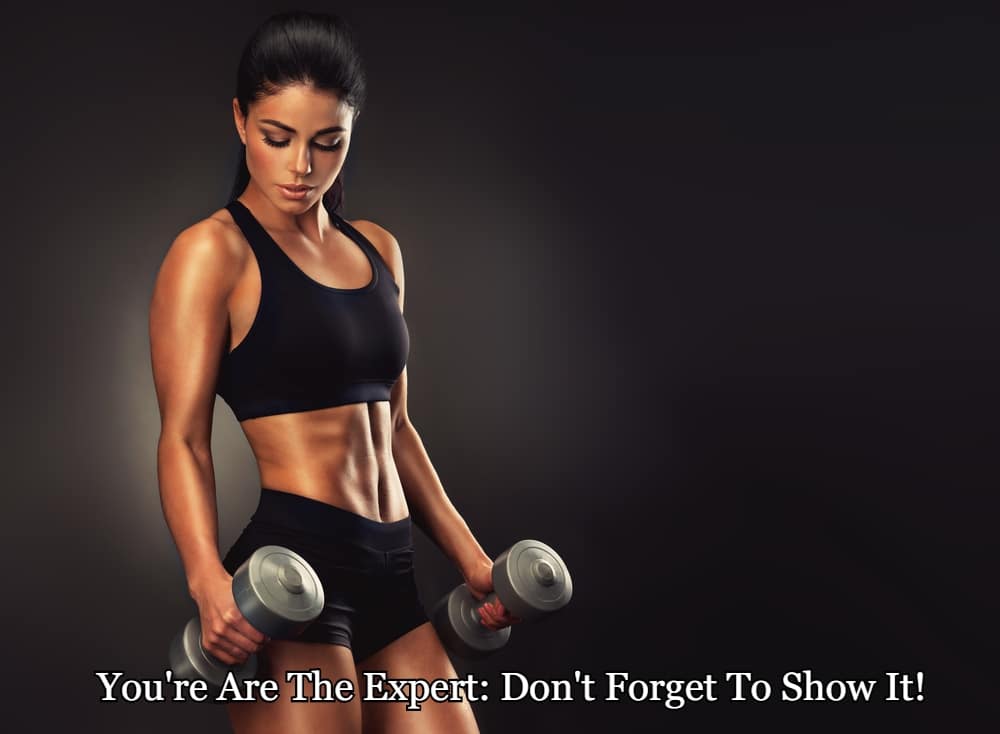 It's not just clients of yours that will have access to your social media posts. Among those followers are those interested in what you can offer as a personal trainer.
In fact, they might just be monitoring your feed and that of others before deciding which personal trainer to sign up with. And for that reason, it's important to show exactly why you are the personal training expert, right? Perhaps most importantly, it shows just how credible you are and portrays your authority in the field of personal training.
If you have a niche expertise, you could post along those lines to convey your knowledge. For example, as a weight loss expert, before and after transformation pictures of a client certainly show that you know what you are talking about and can lead others to success!
Don't forget to use other areas where you display your knowledge. For example, you might have a fitness column in a local newspaper, write blog posts, or even been published in fitness magazines. These are all examples of things that you can post on social media to show your expertise, knowledge, and credibility.
Sharing your knowledge is also a great idea. And it's so easy to do.
To do so, you can post short videos to show the correct way to do an exercise. Or you could share articles that you have found on nutrition, weight loss, or even health-related information.
This can be posted across your social media platforms and will help drive engagement with your audience.
Engage continually
Ok, so you've set up a content calendar, you post regularly and at the right times, and your posts generate interest in shares and comments.
So you are happy, right? And you can just happily continue as you are?
Well, no!
You must continue engaging with your audience if you get shares and comments. A comment can be answered with links to further information, even if it is not a question.
Or even a simple thank you can go a long way.
And questions shouldn't be seen as an irritation. A question means somebody needs your help. It's a chance to engage with potential clients and show your expertise and credibility again.
Engagement can also mean posting client transformations (with their consent) and even posting on their social media feeds where their followers and friends will see it.
This is a great way to build stronger relationships with them.
Hash it up!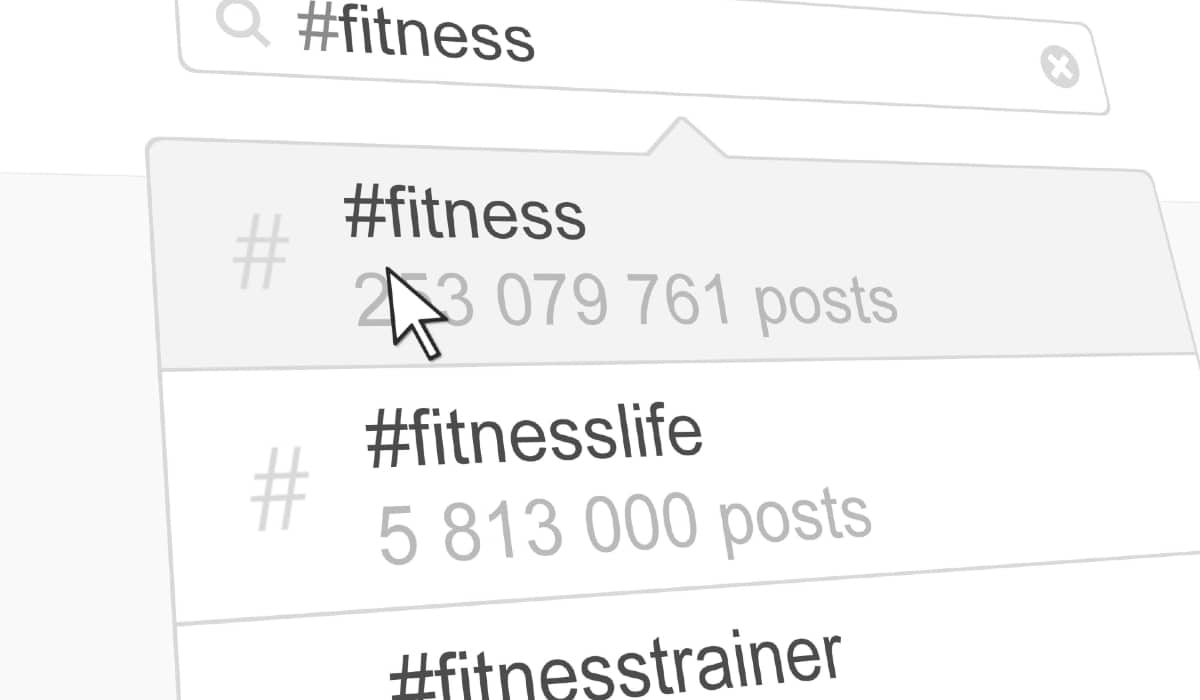 No, don't mess it up but make sure you use hashtags. While Twitter is obviously the most popular platform for using hashtags and the first to do so, Facebook and Instagram also use them.
Hashtags expose your social media posts to people who might not necessarily be following your social media platforms. It's good to take a little time to research the best hashtags for you to use in your social media posts as a personal trainer.
And there are plenty to choose from. A word of warning, however.
While you might think it is a good idea to include as many hashtags as possible to expose your brand to more and more people, it's best not to clutter up your posts with too many.
Rather pick two or three and use those. You can change it up occasionally if there are more hashtags you can benefit from.
This really is the best way to help drive engagements through social media to your various platforms or even a landing page on your website.
Don't forget to include a call to action
A social media campaign without a call to action is pretty pointless. And it's easy to incorporate a call to action into your social media posts.
It can be a simple question at the end of your post. For example, "Want to know more? Comment below or message me, and I will send you an info pack."
If possible, all your posts should include a call to action. We have already talked about driving engagement, and adding a call to action is a simple way to do this.
Highlight your individuality and personality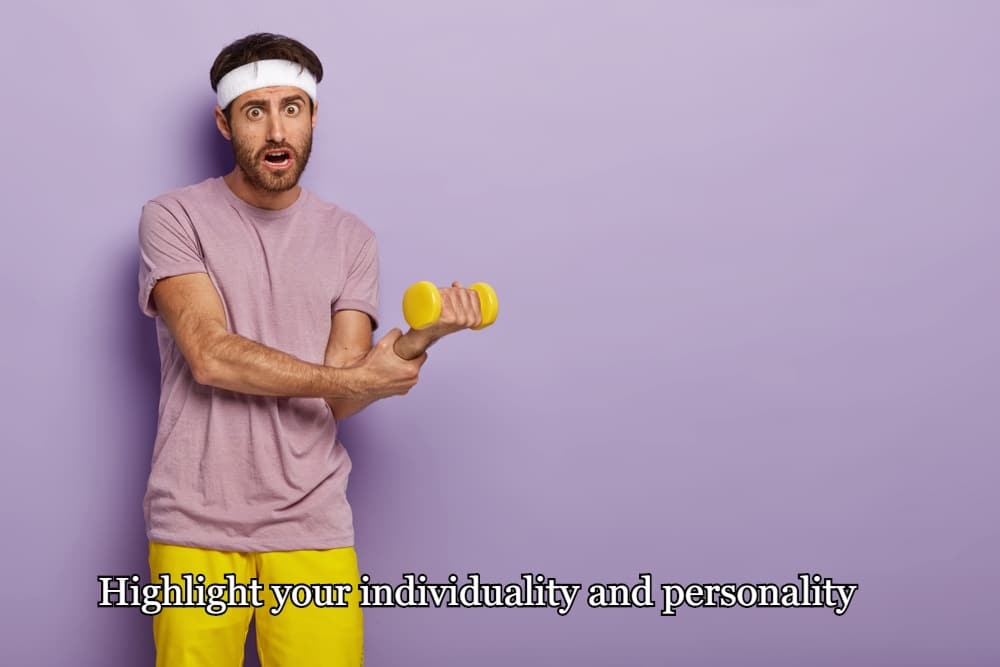 Ok, let's not beat around the bush here. You are one of many personal trainers out there. And everybody is fighting for a piece of the client pie, right?
So while having a social media plan and posting content is important, you can make yourself stand out from the crowd by showing your unique individuality and awesome personality.
And it's pretty easy to do.
Share your personal trainer story, why you became one, what fitness means to you, and more. You can even share your favorite fitness quotes, memes, or healthy recipes.
Keep it fun and light!
Measure Performance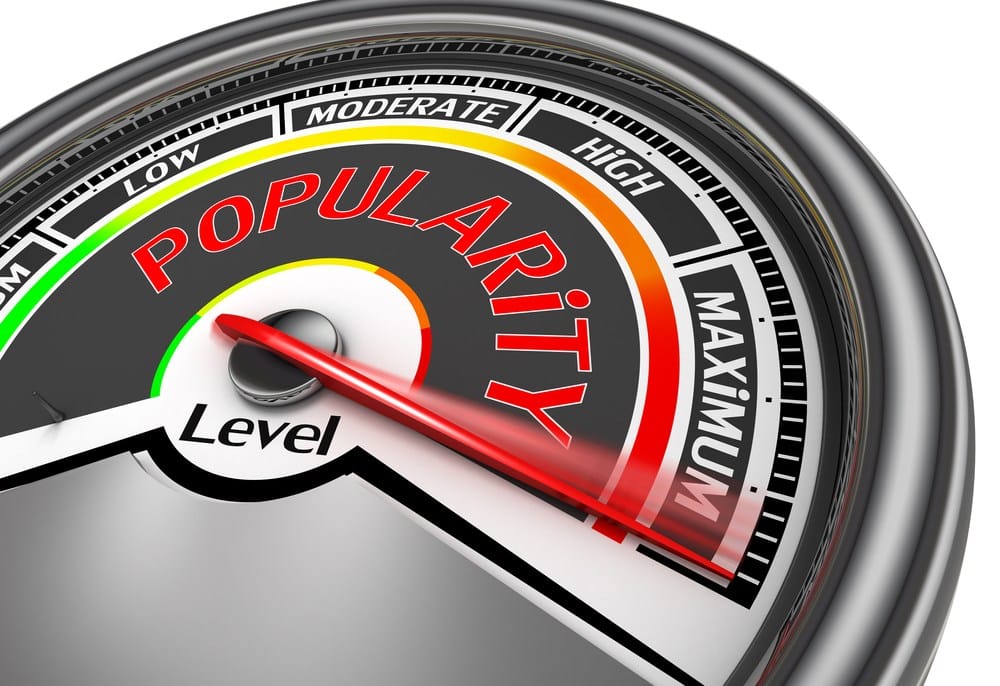 A mistake often made when it comes to social media is measuring performance. And while it's a less glamorous part of your social media endeavors, it is certainly necessary. These are the areas you need to consider.
Overall reach
Keep a note of the overall reach of each individual post and a social media campaign in its entirety when you run one.
Why? Well, this is the perfect way for you to determine which social media posts work and drive engagement and which don't.
There are many ways to measure reach and third-party programs that can help, but when starting out, use the measurement tools afforded to you by each social media platform.
For example, Facebook insights will show you exactly how each post has faired regarding reach and clicks. Things can get pretty in-depth when it comes to clicks as well. Two types will interest you:
Click through rate (the number of people that actually see your post)
Cost per click (this is related to Facebook advertising if you use it)
If you are not paying for advertising, a higher click through rate means more organic reach for your posts that cost you nothing. Monitoring the click through rate for posts is a great way also to judge what works and what doesn't.
Check the performance of hashtags
We have already discussed the use of hashtags and just how effective they can be.
But monitoring their overall performance is just as important, especially on social media platforms like Twitter and Instagram, where hashtags are necessary to drive engagement.
That's because there are so many for you to choose from related to fitness and personal training that finding those that work for you is critical for your social media strategy.
And this is the best way to do it. By monitoring these important metrics, you can adjust your posts and have them work in a more effective manner.
Last Words…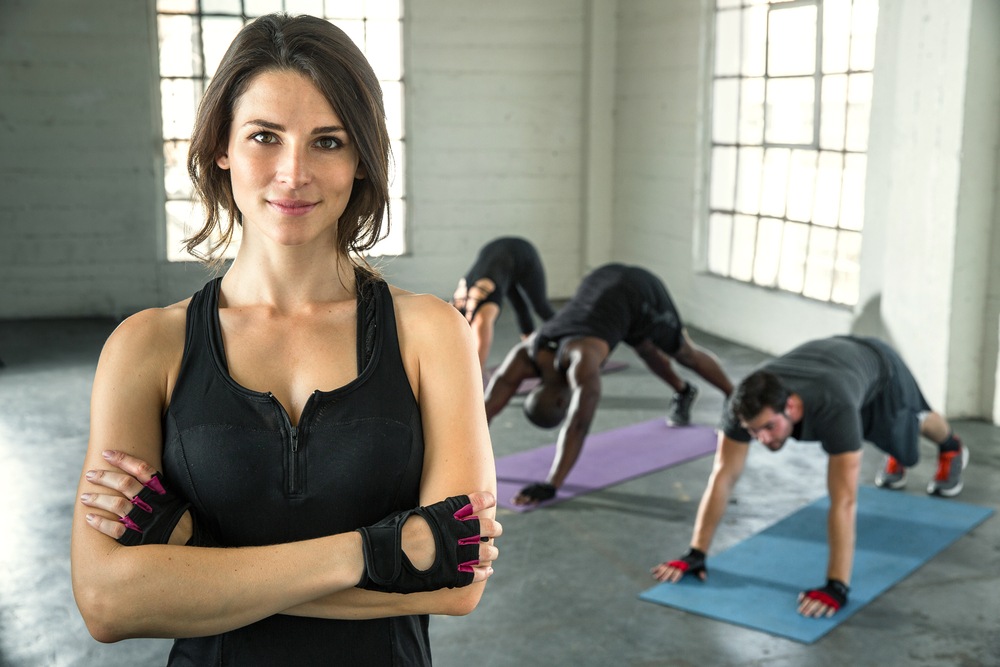 There you have it.
While it might be a lot to take in, it's important that you realize that all these points I have raised are super important in helping you run your social media platforms in a manner that will ultimately lead to more followers.
And more followers not only means more interactions but the chance to turn prospective clients into paying clients.
Just remember building your social media accounts does not happen overnight. It will take time and consistency but I know you can do it!
As always, if you have any questions, please leave me a comment.
Till next time!
References