As a fledgling personal trainer, you probably have many questions, and let's be honest, the most burning, hard-hitting, and urgent matter on your mind is "how much can I earn".
It's quite natural and fairly relevant to wonder about this; you'd be crazy not to, actually, so to put your mind at ease, I'm going to drop a few factoids that will help you maximize your income potential and set your eyes on the prize.
The best way to determine how to maximize your earnings is to compare what the top-earning personal trainers are doing relative to the rest.
This is why we have conducted a nationwide survey of 600 personal trainers and compared the top-earning personal trainers (making $100K+ per year) versus other personal trainers.
This article is a presentation of the most significant findings from this study.
Also, be sure to check out the interesting findings from our survey on the collective opinion/advice of 600 personal trainers.
Methodology
PTPioneer commissioned Pollfish to survey 600 personal trainers throughout the United States for their opinions and experiences about various personal trainer and fitness related topics.
PTPioneer designed and paid for the survey and welcomes the re-use of this data under the terms of the Creative Commons Attribution License 4.0, which permits unrestricted use, distribution, and reproduction in any medium, as long as the original source is cited with attribution to "PTPioneer.com."
Without further ado, let's delve into the minds of 600 personal trainers and hear what they have to say.
So without wasting any more time, let's dive into it.


The Highest Earning Personal Trainer Specialization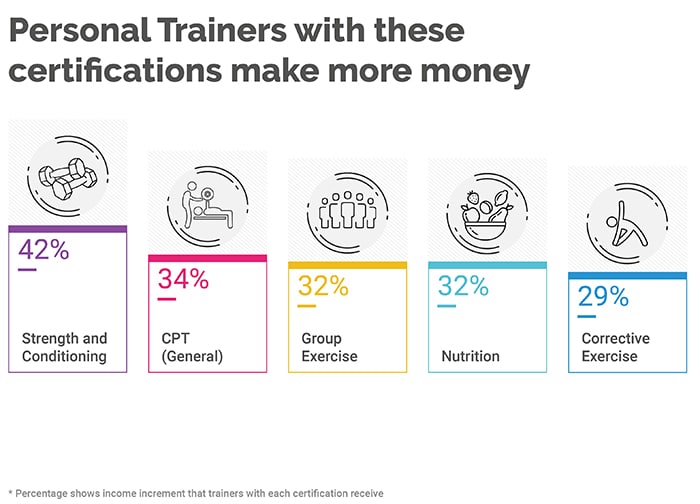 The results of the 600 personal trainers surveyed allowed us to find out a solid ranking of which area of specialization will earn you the most bucks.
That also translates to which certification field offers the most bang for your buck when considering investing in a qualification.
The survey found that strength and conditioning is the most bankable area of expertise, followed by a general personal training certification (CPT) and group exercise coming in at a close 3rd place. Nutrition is neck-in-neck with group exercise with corrective exercise bringing up the tail end.
Exclusive PTP CPT Offers



Gold Standard Cert

Most Popular Cert

Best Study Materials

A Good Option

A Good Option

Best CPT for you?

But why, you may be asking? Well, based on my years in the field, I've recognized that the most lucrative career prospects for any fitness professional lie in working with athletic population groups. Pro-athletes, sports teams, and professional leagues have a demand that is matched by how much they are willing to pay.
The billion-dollar professional sports industry requires its participants to be in tip-top shape. And tip-top shape for any athlete mean tons of strength and conditioning! You can't handle the task of preparing pro athletes for a big game with a general approach.
The other thing about strength and conditioning is that you can easily transfer that knowledge to a general fitness market. That means you have a more diverse area of operation as a fitness pro.
What is definitely made clear from a big-picture perspective is that having any qualified certification significantly increases your earning potential.
So no matter whether you already think you have obtained all the know-how necessary to be an industry-leading personal trainer, getting the appropriate certifications are essential in bringing validity to your abilities and knowledge.
The Most Bankable Certifying Agency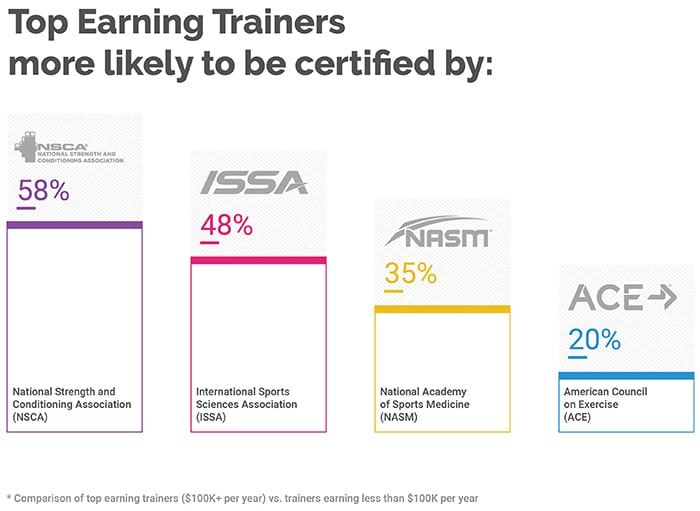 When it comes to earning the big bucks as a PT, it's not just what certification you go for. It's also about where you got it from.
Gone are the days when you only had a handful of dedicated, recognized, certifying bodies. Today there are hundreds of online "legit" courses you can sign up for. Some promise a complete certification in a matter of hours.
The rampant influx of bogus certifications puts a lot of confusion in the pot, but it's not hard to trace your ambitions to the real deal agencies. They have been doing this since day one and are all accredited by the highest authorities. Always look out for NCCA or DEAC accreditation before registering for a cert.
With that said, the survey found that NSCA holders are the highest earners, followed by ISSA, NASM, and ACE, respectively.
NSCA is pretty understandable. I think they offer the closest thing to a college-level sports science education you can get from a certifying agency. The notorious NSCA CSCS (Certified Strength and Conditioning Specialists®) is known as the most difficult PT exam, and those who pass it wield an almost god-like status in the realm of fitness workers.
I guess it is no surprise there seems to be a potential correlation between the type of certification that earns the most money (strength and conditioning) and the certifying organization that provides the gold standard in strength and conditioning certifications (NSCA CSCS).
Coming in second place is ISSA. ISSA is a little different from the others in many ways. The testing protocols, as well as its DEAC accreditation, set it aside from the other 3.
ISSA has recently gained popularity through celebrity endorsements, military work, and international access. It's a high-quality organization offering leading-edge education in all specialist areas.
Exclusive PTP CPT Offers



Gold Standard Cert

Most Popular Cert

Best Study Materials

A Good Option

A Good Option

Best CPT for you?

ACE and NASM are the tried and trusted schools for PTs across America. They present an unwavering quality and recognition that makes them great options.
To Degree or Not to Degree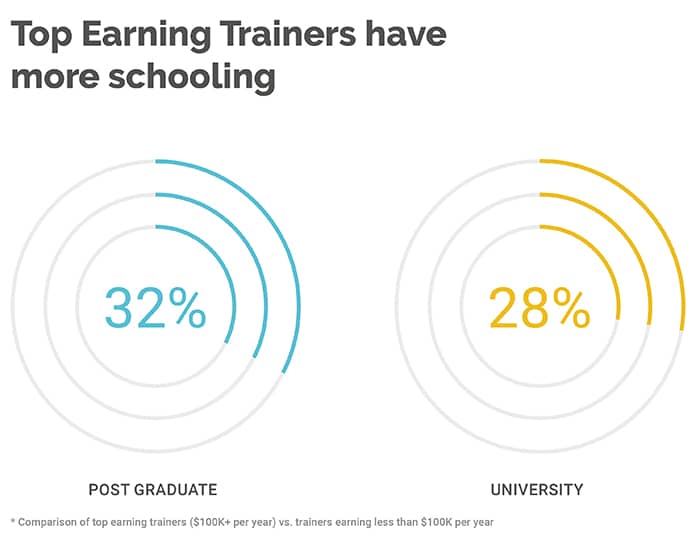 As a personal trainer, you can totally get in and get by with certifications alone. Heck, some successful and skilled trainers are out there without certification to their name, although I strongly advise you to get some form of paperwork to back up your story.
If, however, you REALLY want to maximize your earning potential, you might what to consider enrolling in a college or university.
I personally have a BS in Kinesiology and trust me. It really has made a difference in not only my level of expertise but also how seriously I'm taken and how much I can realistically charge.
Having a degree has also made it easier to branch out into other areas of the fitness business, such as this very platform, PT Pioneer.
As with any form of tertiary education, going post-grad definitely ups your value compared to just having a bachelor's degree.
The Best Personal Trainer Marketing Push!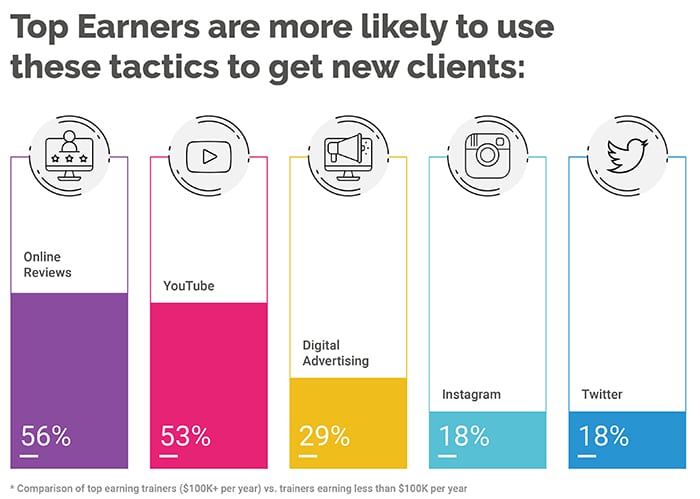 As a personal trainer, marketing is one of the most, if not the most, pivotal areas of focus when growing your business and revenue.
This is where your career as a personal trainer is truly made.
Thousands, if not millions, of trainers have the same certifications, skills, and experience as you. So what sets them aside? It's the marketing, baby!
Putting yourself out there might seem arduous at first, but once the results start rolling in, your business will take a turn for the best.
What I've found in my research is that the best form of marketing is positive word of mouth, and the quickest way to generate word of mouth is through online reviews.
If people observe positive outcomes from other people's experiences, potential clients will naturally gravitate toward your service. Results count more than promises!
A proven, verifiable track record is priceless.
The second-best form of advertising is Youtube. Youtube allows an audience to gain an intimate idea of who you are and what you offer as a trainer. It is also one of the most visited websites on the internet. This is a quick way to generate massive amounts of rapport, an essential step in converting clients.
Next up, you have digital marketing. Strategies such as link building, SEO, and paid ads to help generate traffic and interest.
Last on the list is social media. Platforms like Twitter and Instagram offer a good opportunity but shouldn't be your main focus due to the audience's quick on/off engagement and attention capacity.
Online Personal Training: A Booming Business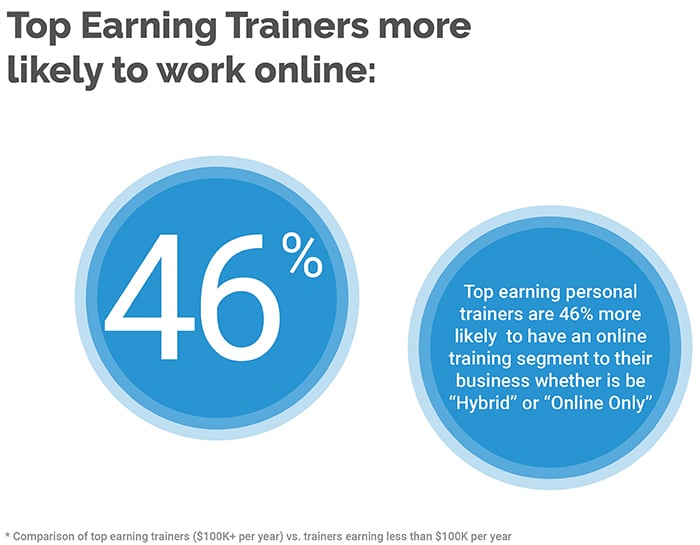 "We live in a digital age," as the cliche goes. But cliches are cliches for a reason. THEY ARE TRUE!
Besides personal training, it's also a great arena for selling and conducting your services besides using the digital world for marketing purposes.
Here's why:
You can reach and service more clients at the same time
You can spend less time engaging with your clients through entire sessions
You can automate all phases of your service
You can work from anywhere in the world and have clients from anywhere in the world
Your liability and risk are drastically decreased.
You can create courses, webinars, and resources that sell themselves, generating passive income
As a personal trainer in the real world with an online segment of your business, you've diversified and essentially created a multiple revenue business.
Takeaway
Well, there you have it, a quick run-through of the survey results that are most illuminating in terms of what makes the top-earning personal trainers so successful.
Use these stats and figures of this study to help guide your direction and decisions.
It doesn't mean that you have to focus on what statistically points to the most successful outcome, though. Stats are stats and there are always outliers.
Your best bet at success is to stick to your passion, nurture your strengths, and learn as much as you can along the way. Don't stay in your comfort zone and always look to progress and grow.
Use this info as a solid guideline, but don't beat yourself up for not falling in the top stats for everything.
Please feel free to reference the results of this study and don't hesitate to reach out through the comment box below or email me at [email protected] for any requests of additional insight or suggestions for the next survey.