Hey everybody, and welcome to PT Pioneer, your one-stop shop for personal training certification and career advice.
In this article, I'm going to tackle a burning question.
A question that tends to confuse a lot of people, especially those entering the fitness industry.
That question is, what is the difference between a Dietitian vs. Nutritionist vs. Nutrition Coach?
We'll look at the following:
The differences between the 3
The required qualifications
The income potential
And the pros and cons of each career field
Before diving right in, take this quiz to figure out which cert is right for you.


And with that said, let's jump right in.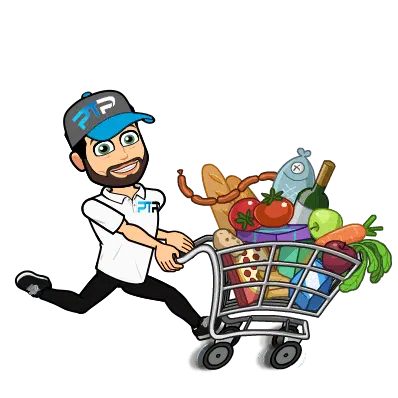 Introduction
The Difference between a Nutritionist, Nutrition Coach, and A Registered Dietitian
Did you know there are differences between a Nutritionist, Nutrition Coach, and A Registered Dietitian?
In very general terms, a nutritionist is a certified professional who has the capability and authorization to instruct and advise on how to eat.
At the same time, a nutrition coach is any certified or uncertified individual, usually a fitness professional, who provides dietary guidelines toward desired outcomes.
Neither of these roles extends beyond mere advice and guidance.
They are non-interventional practices, which brings us to the role of a dietitian.
A registered dietitian is a healthcare professional who determines nutritional needs based on a medical prognosis or diagnosis.
A dietitian will advise and instruct on nutritional protocols such as medical therapy or lifestyle enhancement.
That means a dietitian has a much wider scope of practice since they are a licensed health provider.
To summarize, a nutritionist is a nutrition coach with credentials, while a dietitian is a nutritionist with a medical license.
With that said, it's important to remember that a lot of the terminology around the titles of nutritional practitioners is used loosely and interchangeably.
Nutritionists are often called nutrition coaches, while dietitians are regularly labeled nutritionists.
 When asking what a dietitian is, you may ask the same question as what a nutritionist is, depending on who you ask.
I'll ignore the confusion and use only relevant definitions for educational purposes.
Nutrition Coach
A nutrition coach, as stated above, is simply someone whose task is to administer basic nutritional guidelines.
These guidelines include meal suggestions, recipes, scheduling of meals (meal planning), and macro guidelines.
A nutrition coach provides instructions, motivation, and accountability toward eating habits aimed at the client's desired goals.
Client goals can be:
Weight loss
Lean muscle building
Bulking
Improved energy
Improved mental state
Convenience
A nutrition coach is typically a professional within the health and fitness industry but is not necessarily qualified as a nutrition expert.
Most practicing nutrition coaches soundly understand nutritional guidelines and change principles. 
The only thing is they may not have the credentials to verify those skills fully.
That said, most well-regarded nutrition coaches are certified nutritionists or dieticians.
That means a nutritionist or dietician can function as a nutrition coach, but a nutrition coach isn't automatically a nutritionist or dietitian.
Thus, the scope of practice of a nutrition coach varies on a case-by-case basis.
How To Become a Nutrition Coach
Because a nutrition coach can be anyone with any credentials or none, becoming one means equipping yourself with the fundamentals of nutritional science and coaching practice.
Learn about food, nutrients, and the biochemistry of how our body interacts with the things we ingest.
Learn about coaching practices, change psychology, and nutrition programming (meal planning).
Another common aspect of nutrition coaching is meal prepping.
That is to say, preparing and delivering premade and packaged meals.
These meals are designed as healthy, convenient substitutes for what a client eats.
Of course, to achieve this, you will need the necessary culinary skills.
While you don't need credentials or certifications to earn a nutrition coach's title, it will be an uphill battle to prove your credibility without them.
This is why I advise you to get certified. Many top certifying agencies, such as ISSA, ACE, and NASM, offer globally recognized nutrition coach programs.
Working as a nutrition coach is also more rewarding in combination with credentials in fitness instruction.
Certified Nutrition Specialist
Holding a cert in nutrition coaching isn't necessary, but I highly recommend it.
Your best option would be a cert from an accredited certification agency.
My top 10 are:
Exclusive PTP CPT Offers



Gold Standard Cert

Most Popular Cert

Best Study Materials

A Good Option

A Good Option

Best CPT for you?

ISSA
ISSA has been one of the leaders in fitness certification for some time.
They are certainly ahead of the pack when it comes to distance-based certifications.
They also have one of the most comprehensive nutrition coaching programs and even offer Precision Nutrition through their platform.
Precision Nutrition
Speaking of Precision Nutrition, this one is a goodie.
They offer a well-rounded approach to nutrition coaching, focusing on the business aspect.
PN's enrollment process is restrictive since sign-up only opens through limited windows each season.
However, if you purchase it through ISSA, you can sign up anytime.
PN is one of the few non-accredited certs on this list, but don't let that deter you.
It is still one of the industry's most recognizable and highly regarded certs.
ACE
ACE is another big name in the world of certifying agencies.
With a global reputation, you can find ACE coaches in every corner of the planet, from New Zealand to Zimbabwe.
The ACE Fitness Nutrition. Purse provides a great balance of practical skills and scientific reference.
NASM
NASM is a gold standard certifying body.
According to enrollment stats and Google search data, it is considered the most popular certifying agency.
Suffice it to say; they have one of the best nutrition coaching certs money can buy
ACSM
ACSM is a stalwart in the sports science field.
Not only are they among the top certifying agencies, but they are also leaders in research when it comes to health and fitness.
Their cutting-edge work contributes to the curricula of many institutions listed here.
For this reason, you can expect a great wealth of resources and skills to be gained once you take their nutrition program.
NSCA
NSCA is a titan with a long-standing heritage.
In terms of legacy and industry influence, they are on par with ACSM.
Well known for their CSCS strength and. Conditioning courses also offer nutrition coaching as a credential.
NCSF
NCSF is an NCCA-accredited agency, putting it in league with the big guns.
Although not as revered as ACE, NASM, or ISSA, they still provide a quality approach to nutrition coaching.
The emphasis is on nutrition as a performance-enhancement protocol.
Fitness Mentors
Fitness Mentors started as a platform offering advice and guidance to fledgling fitness professionals.
Today they are a bona fide certifying agency offering accredited certs for industry pros or those choosing to become such.
Expect FN to focus on the entrepreneurial aspect of nutrition coaching.
NESTA
NESTA is an accredited certification agency with a great track record and affordable fitness programs.
Their nutrition coaching cert will allow you to leverage your services for more opportunities.
The resources you will obtain through studying with NESTA will allow you to function in all dietary scenarios.
AFPA
AFPA was recently acquired by ISSA, making it part of the ISSA catalog of programs.
This allows ISSA to deliver NCCA-accredited certifications where they once only supplied DEAC certs.
This includes their nutrition coach cert.
If you want a good in-depth look at the different nutrition coach certifications, check out my article on the eight best nutrition coach certifications here.
Nutrition Coach Salary
Just as diverse as the roles and scope of practice a nutrition coach can have, the earning potential varies greatly.
According to salary.com, a nutrition coach in the US earns an average of $40,559 annually.
Certified Nutritionist
A certified nutritionist is a nutritional expert credentialed in administering dietary guidelines and protocols on a fundamental, noninterventional level.
That means leading and facilitating wellness guidelines based on nutrition.
Exclusive PTP CPT Offers



Gold Standard Cert

Most Popular Cert

Best Study Materials

A Good Option

A Good Option

Best CPT for you?

Developing diet programs, meal plans, and menus and advising and instructing clients on what and how to eat.
A nutritionist can also act as a consultant for food and supplement companies, restaurants, and eateries.
Nutritionists often deal with general population groups, helping people with basic goals such as weight loss.
Certified nutritionists will often work with performance athletes if they have specialized in sports nutrition.
The roles of a certified nutritionist often encapsulate those of a nutrition coach but with a bit more credibility.
That's because a nutritionist is recognized through credentials earned from an accredited organization.
How to Become a Nutritionist
To become a licensed nutritionist, you must complete a medical or human nutrition degree program.
You will also need to complete a 900-hour internship and receive a license from the accreditation council for education in nutrition and dietetics.
As a nutritionist, your scope of practice sits between a nutrition coach and a dietician.
That means you will advise and instruct on dietary protocols based on a client's medical standing.
However, you won't have the authority to intervene medically, which means you can analyze a client's medical situation, but you're not to diagnose or treat any conditions.
Nutritionists study at universities or colleges, including extensive coursework and fieldwork.
Most clinical or human nutrition degrees take about 4 years to complete at the bachelor's degree level.
After completing your internship, it also helps to get certified through an accredited body such as those offering certs in nutrition coaching.
That's why a nutritionist can function as a nutrition coach, while a nutrition coach will need to go through the works to earn the title of a nutritionist.
Nutritionist Certification
To get licensed and operate as a nutritionist, you will need to enroll in a nutrition science program and graduate.
Here are the top 10 nutrition science schools according to collegechoice.net
Tufts University Medford, MA
University of California-Davis Davis, CA
University of Illinois at Urbana-Champaign Champaign, IL
Purdue University-Main Campus West Lafayette, IN
Ohio State University-Main Campus Columbus, OH
University of Minnesota-Twin Cities Minneapolis, MN
The University of Connecticut            Storrs, CT
University of Florida Gainesville, FL
University of Wisconsin-Madison Madison, WI
Rutgers University-New Brunswick, New Brunswick, NJ
Just a word of caution. Enrolling in a degree is a huge time and money investment. Ensure you've thought through your desired career trajectory before making this big step.
Having said that, if you want to work as a licensed nutritionist, you will need to get a degree.
Nutritionist Salary
As with any career path, you want to know how much you can earn.
Income is one of the main outcomes; luckily, when working as a nutritionist, the numbers aren't bad.
According to salary.com, certified nutritionists can net an average of $63,800 annually.
That is a comfortable income for most people in most locations in America.
It is important to remember that this figure is average, and you could earn more or less depending on your situation.
It's also important to remember that your income's value depends on the cost of living in your area or location.
Registered Dietitian
As I mentioned, a registered dietitian is a healthcare professional who administers dietary protocols as therapy.
You can describe a registered dietitian as a clinical nutrition specialist or clinical nutritionist.
This medical nutrition therapy can be in response to chronic or acute diseases and eating disorders.
It can be in response to individual health indicators such as an individual's genetic profile (nutrigenomic) or special needs (pregnancy, pediatric nutrition, elite athletic performance).
Aside from therapy and health optimization, a dietician can also be tasked with the following:
Identifying allergies
Identifying sensitivities
Identifying dietary deficiencies
Identifying disordered eating habits
Identifying diet-related health conditions
Providing nutrition counseling
To become a registered dietitian, you must study a college or university dietetics program.
Unlike a certified nutritionist, a dietician goes through medical school and studies for years before earning their qualifications.
How to Become a Registered Dietitian
The journey toward becoming a registered dietitian includes the following:
Obtaining a bachelor's degree or master's degree in dietetics.
Completing a supervised and accredited internship
Fulfilling state or national requirements by the local governing body for dietetics (for US-based dietitians, that is, the Academy of Nutrition and Dietetics)
Obtaining a health practitioner's license, if locally applicable
Although being a registered dietitian is a form of medical practice, the qualification requirements aren't as stringent as becoming a medical doctor.
You don't need a doctoral degree; you don't need any post-grad studies.
However, if you want to earn the big bucks and access lucrative opportunities, getting a higher-level degree is a great idea.
Once you've graduated, your next step is completing an internship.
A typical internship runs for about a year and includes numerous hours of supervised practice and continued studies.
After completing your internship, passing all board exams, and getting your license as per state or national laws, you're now ready to be a registered dietician.
As an RD, you have numerous employment opportunities.
You can start a  private practice or work with medical centers or care facilities. You can even incorporate other aspects of wellness and become a holistic health coach.
Dieticians aren't confined to medical practice and therapy.
Very often, dieticians form integral components in organizations with no need for medical intervention.
A common example of this is sports teams and athletes.
Nutrition is one of the key components of high performance, so having a nutritional expert at the pinnacle of dietary knowledge is crucial for athletic success.
Registered Dietician Certification
Since working as a registered dietician requires studying at medical school, you'll need to graduate with a bachelor's or any higher-level advanced degree in dietetics.
Here are the top 10 dietetics schools according to collegechoice.net.
You'll notice that these are the same set of colleges and universities as for nutritionist degrees.
That's because each of these universities has top-rated nutrition programs.
Tufts University Medford, MA
University of California-Davis Davis, CA
University of Illinois at Urbana-Champaign Champaign, IL
Purdue University-Main Campus West Lafayette, IN
Ohio State University-Main Campus Columbus, OH
University of Minnesota-Twin Cities Minneapolis, MN
The University of Connecticut            Storrs, CT
University of Florida Gainesville, FL
University of Wisconsin-Madison Madison, WI
Rutgers University-New Brunswick, New Brunswick, NJ
Registered Dietician Salary
As with any profession, what you stand to earn is one of the first considerations and motivating factors.
Regarding working as a dietician, the national average for practitioners in America is $63,735 per year.
This is a decent livable income, and it varies, as you can imagine, based on the following factors.
Location (local economy, population size)
Level of credentials
The institution from which credentials were obtained
Level of experience
Auxiliary services and credentials
Which One is Best For You?
The question of which qualification or job description is best for you is very subjective.
Firstly, you have to decide what you want to do with nutrition and how deep in the field you want to be.
If your goal is to uphold an aspect of dietary adherence with your fitness clients, becoming a nutrition coach will cover your bases.
If you want to play a more pivotal role in nutrition as a business, working as a food product consultant, for example, gaining the nutritionist title, is your best bet.
If your goal is to improve people's health and provide therapy through diet, becoming a dietician is your ideal path.
Besides working out what you want to do, you must also consider what you are willing and capable of sacrificing.
As a nutrition coach, the path to qualification is relatively cheap and time-efficient.
If you take on a nutritionist or dietitian mantle, you must invest much time and money since these are degree programs.
To fully understand your best option, consider some pros and cons.
Nutrition Coach
Pros
Relatively cheap and less time-consuming to obtain
Allows you to work with most general population groups
Allows you to add value to existing health and fitness services
Has more of an emphasis on the business aspect
Cons
Not as prestigious or recognized as a degree.
Most certs have a limited period of validity (usually two years)
Knowledge and skills gained are not as extensive as a degree program
Relatively low-income potential
Nutritionist
Pros
A fully comprehensive degree program with a deep focus on nutrition science
It can be obtained at post-grad levels, giving you more value and credibility.
Numerous powerful career opportunities, such as working in the food service industry or with athletic populations.
Income potential is quite high.
Cons
Time-consuming (3 to 4 years for a bachelor's degree)
Financially demanding with a potential of student loan debt afterward.
Tends to skimp on the more entrepreneurial aspects of nutrition services
Registered Dietitian
Pros
The pinnacle of nutrition science, both from a knowledge and practical skills sides
Allows you not only to advise and administer dietary protocols but also to diagnose and medically intervene where nutrition is concerned
Many diverse and high-power career opportunities
Income potential is quite high
Work in the healthcare field
Cons
Time-consuming (3 to 4 years for a bachelor's degree)
Financially demanding with a potential of student loan debt afterward.
Tends to skimp on the more entrepreneurial aspects of nutrition services
Conclusion
So there you have it, folks, my breakdown of the differences between a nutrition coach, a nutritionist, and a dietician.
Each has its benefits and drawbacks, so it's up to you, your desires, and your circumstances when deciding which path to take.
I also want to point out that the terminology of these career descriptions is very often used loosely, so it can become confusing if you haven't taken the time to research.
Frequently Asked Questions
Are Nutritionists and Dietitians the same thing?
No.
While all are nutrition professionals, a nutritionist is a qualified expert on nutrition science who can use this knowledge to advise on important decisions in the diet, food, and nutrition sectors.
A dietician is a healthcare practitioner who uses nutritional concepts to determine patient outcomes.
Which is better? Dietician or Nutritionist?
Neither. It all depends on what career path you want to take.
Should I see a Dietitian or Nutritionist lose weight?
You can see either, although a dietician would be best suited if your need for weight loss is connected to serious health implications.
What is a Registered Dietitian Nutritionist?
A registered dietician nutritionist is just a dietician.
Much of the terminology is used loosely and interchangeably depending on the source you consult.
What Could be the Harm of Nutrition Advice?
Nutrition advice from an unlicensed professional that extends into the scope of practice requiring advanced credentials could be useless at best and dangerous.
Do Nutritionists make good money?
Licensed nutritionists and registered dieticians have the potential to make a decent income.
Do you need a degree to be a Nutritionist?
Citations
eatrightpro.org
eatright.org
cdrnet.org
bls.gov
theana.org