This is the first chapter of a series covering everything a personal trainer should know about the career and the industry.
To get the ball rolling, I will take you through the important aspects to consider when choosing your certification.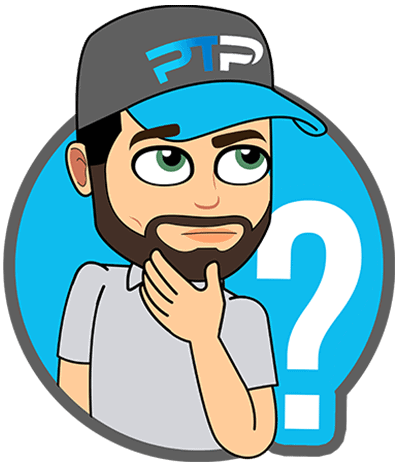 I will also discuss course navigation and how to access all of the important downloadable documents (very important!).
Let's get started!
Introduction to the running start course
Before watching the course intro video below, realize that I filmed this at the time where I was charging money for the course. Here are the main differences between the free course and the paid course I used to have:
Don't worry, all the info is the exact same
You can no longer download the chapters
There is no more study portal/log-in
The document downloads are at the bottom of each chapter instead of in a separate module
The quizzes are at the bottom of each chapter instead of in a separate module
It is all 100% free. No more $299 price tag 🙂
Document downloads and quizzes
At the bottom of each chapter, you will have access to the document downloads, as well as the quizzes (quizzes) for each chapter.
These are extremely important for getting the most out of this course.
The downloadable documents will greatly help you prepare for your career as a personal trainer.
I wish I had all of these when I was starting out.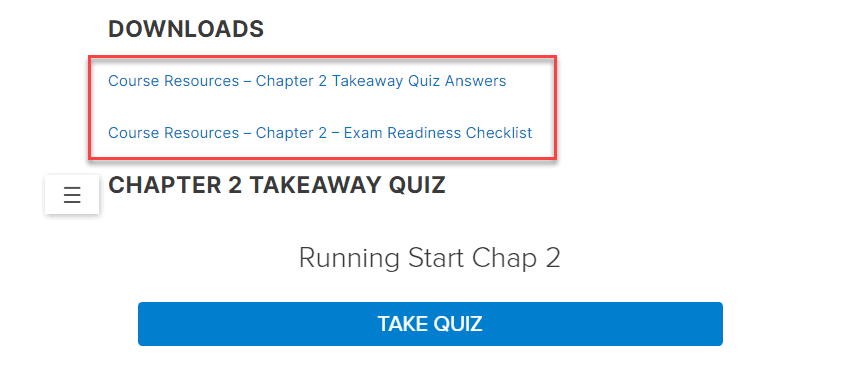 In order to download the documents, just click on the blue link under the downloads section. This will bring up a download option allowing you to save them to your computer or phone/tablet.
Personal trainer certifications
Please note: If you are already certified as a personal trainer, you can skip to Chapter 3 if you so wish.
Although this post is a good intro to PT certs, my main article on the top 5 certs is much more in depth. Here are my overall top 3 that I recommend you check out first.
If you want to become a personal trainer, you need to be certified. It's that simple.
But let's back that up with some reasons why.
Certification not only helps teach you everything you need to know to be able to train others, but it also conveys the fact that you are indeed an expert in personal training.
And that's especially important in an unregulated industry such as fitness where a certification gives you credibility.
Gym owners will also take note of a personal trainer's credentials when looking to employ new staff.
If you aren't certified, the chances of landing a job as a personal trainer are pretty low.
So that's why I think it's important that we start with the question: "How do I choose which certification is best for me?"
And it's a difficult one to answer, especially if you are new to the fitness industry.
It's tough because you have no frame of reference to work from.
Sure you know that you want to become a personal trainer and that you need to be qualified but you don't even know where to start.
In reality, you are probably relying on guides such as this one to give you the answers, right?
While choosing the right certification is important, remember that in this business, you will always be learning.
Many personal trainers will get accredited with more than one certification during their careers, especially if they are looking to specialize in a certain area down the line.
Before we answer that question, let's get clear up a few things.
Exclusive PTP CPT Offers



Gold Standard Cert

Most Popular Cert

Best Study Materials

A Good Option

A Good Option

Best CPT for you?

Shouldn't I specialize straight away?
Even if you are starting out as a personal trainer, you may already have an idea in your head in which direction you want your career to go.
For example, you may want to work with older clients, or perhaps you see yourself as someone who would prefer to only work in the area of strength and conditioning.
Maybe group exercise is something you know you would love to do.
DON'T make the mistake of opting for a specialist certification as the first learning experience in your journey.
It's like wanting to run before you can walk.
Whenever someone comes to me for advice about personal training certifications, I always tell them to find a general certification that covers all the basics first.
This is the foundation that you will need as a personal trainer.
And without a proper foundation, it's easy for everything to come tumbling down.
Once qualified and having worked with a range of clients, then you can start looking at specializing in a certain area.
And yes, we will dedicate a whole chapter of this course to specialization, so it will be covered in great depth, don't worry.
Why a general personal training certification should be your entry point into the fitness industry
Earlier, I just touched on why I think a general personal training certification is a must for anyone wanting to enter the industry.
But I'd like to expand on that a little.
For those who study to become a personal trainer, especially if they have never worked in the fitness industry before, or hold other types of certifications, a personal training certification that covers all the basics will teach you several important key concepts that form the basis of your knowledge going forward.
These are used every day as a personal trainer as you go about your job, working with clients of all types.
Note, however, that certain concepts might be certification specific.
For example, the Optimal Performance Training (OPT) model from the National Academy of Sports Medicine's (NASM) personal trainer certification is unique to them.
The American Council on Exercise (ACE) also has its own fitness model called Integrated Fitness Training.
And while you can see these two popular certifications are different, in general, they are all teaching the same concepts.
General personal training certifications will cover many key concepts.
These include:
Exercise science
How to take a client through a physical training test
How to assess the results of a physical training test
How to draw up physical training programs for each client
Anatomy
Nutritional concepts and best practices
Dealing with clients with special needs, for example, those recovering from injury, asthma sufferers, clients suffering from arthritis and more
As you can see your certification will cover a range of topics from a scientific, biomechanical and physiological standpoint.
You will also learn much about anatomy and how to devise and structure exercise programs.
That said, all of this knowledge is technical and with this guide, I hope to cover a range of other intangibles that are critical for a personal trainer to learn and understand but are not taught in any certification program.
So which certification should you choose?
At PT Pioneer, we pride ourselves on guiding those of you who want to become personal trainers towards the certification that would benefit them the most.
There are several prerequisites that you should consider before you make your decision as well.
For example, depending on where you stay, your choice of certifications might be narrowed down significantly, especially if you live outside of the United States.
But even if you live in America, you should still do some research beforehand to see what the preferred certifications are for gyms in your area.
And all that takes is a simple phone call to a few local gyms to check.
For now, let's highlight some of them that I consider your best options for a general personal training certificate.
Note that these certification options cost between $500 and $1,000.
It's best to find one that you prefer and check the price online as all these organizations offer specials fairly often.
Exclusive PTP CPT Offers



Gold Standard Cert

Most Popular Cert

Best Study Materials

A Good Option

A Good Option

Best CPT for you?

The five top certifications that I recommend are:
NSCA (National Strength and Conditioning Association)
ACSM (American College of Sports Medicine)
I have a full in-depth article comparing all five of these personal training certifications.
Make sure to check that out before choosing which certification is right for you.
After you have read that article, come back and read the rest of this chapter.
Important aspects to consider when choosing your certification
It might still seem a little daunting for you to choose a certification.
And that's understandable because let's be honest here, it's a massive decision to make.
But also think that there are a few considerations that you should look into as a way to help you towards the best decision possible.
The first consideration is related to your budget.
Not all of us have an endless fountain of cash available which means that we are often operating on a specific budget.
And there is a big discrepancy in course prices, even in the various options within certifications themselves.
That's why one of your first considerations when deciding on a course is how much is it going to cost me?
Take your time and even draw up a spreadsheet with all the costs.
You could even factor in the price of a retest in case you don't pass the certification exam the first time.
The next factor that you should think about is the course format.
While all of these have online elements, the certification from the ISSA is web-dependent.
As an international student, that may be an important variable in terms of which course is best suited for you.
Another example is the final certification exam.
Certain certifications like NASM will need you to sit and write the exam at a physical location.
Is this an option for you?
Do your research and find out exactly how the exam works in terms of how it can be completed and if your preferred course has a location nearby if you must physically write the exam.
While the five certifications that I have already covered certainly have the right credentials when it comes to course content, you may have other certifications in mind as well.
It's important to know that they cover all the aspects you will need to know as a personal trainer starting on their journey.
Remember, this industry is unregulated and for that reason, there are plenty of fly-by-night organizations offering personal trainer certifications.
So if you are considering something different, take the time to see exactly what they offer, ask for a full curriculum and compare it against the other well-known certifications that I've covered.
Also, check any reviews they may have received on their Facebook page.
Do a little detective work before you commit.
For most of these courses, you are going to need to put in three to four months of constant study to make sure you get through all the necessary theory work before you write the final certification exam.
While some students are faster in completing their certification and others slower, it's pretty important to factor this into your time frame of becoming a personal trainer.
And it's something that is often overlooked.
Consider the continuing education requirements
Not many people worry too much about the future. It's all about getting accredited and starting their career.
But one thing that you need to consider at some point down the road is your continuing education credits (CECs).
If you don't know what this is, let me explain.
For all the major bodies offering certification, to remain certified, you will need to generate CEC points every two to three years.
The duration and the points needed vary depending on the training body.
Let's take ACE for example.
To remain certified as an ACE personal trainer, once every two years you will need to prove that you have earned 20 hours worth of CEC points.
This can be achieved through ACE workshops.
No matter who you earn your certification through, they will keep in contact with you regarding opportunities to earn CEC points.
How much knowledge do you already have?
When we looked at the five certification options that I would recommend, the offering from NSCA had a digital package that just offered the course textbook as well as 200 practice questions.
For someone with some knowledge in personal training concepts, perhaps who already is certified and wants to add the NSCA certification to their knowledge base, that might be all the information you need to be able to pass the exam.
For someone starting with a blank slate but wanting to become a personal trainer, perhaps a more comprehensive option which includes coursework, practice questions, a solid study guide or extra reading material would be a far better option, if it is within your budget, of course.
Most certification courses and certainly the five I have mentioned above have certain prerequisites that you need to consider when registering.
But what are they?
You will need to be 18 years of age or older
You will need to hold a GED or a high-school diploma
You will need a CPR/AED certificate

For the third point, you will have to have attended a cardiopulmonary resuscitation (CPR) and Automated External Defibrillator (AED) course before you can write the certification exam.
These are often given together by organizations such as the American Red Cross or the American Heart Association.
So when do I start to look at specializing?
For many personal trainers, specializing in a certain area is their ultimate goal but it shouldn't be something you need to worry about at the beginning of your career.
While you may have an idea in your mind as to what your specialization might be one day, it's best when you start as a personal trainer to earn your stripes working with all kinds of clients.
And there is a huge benefit to that because it exposes you to the full range of situations where you can hone your skills.
Who knows, it may even shed more light on an area in which you should specialize that's different than where you originally thought you may end up.
We will cover specialization in greater detail later in this course, but we do have an assignment that you can complete as a way to gauge what that specialization might be.
Online training is another specialization that I cover in my course that looks into how to become a personal trainer on the web.
To sum up this chapter, it's important for you as someone who wants to get certified as a personal trainer to explore all your options.
And no, specialization straight away is not where you start.
You want to get some experience as a personal trainer working with a range of different clients to see the area in which you think you would like to specialize one day.
Much of your decision on which certification is best for you will be based on several factors but there is a range of different options at various price points to choose from.
Your one main takeaway from this chapter should be that getting certified is the start point of your journey as a personal trainer and that specialization is not your goal…just yet.
Don't forget to take the chapter takeaway quiz to make sure you have a good grasp on everything covered here.